Rob Price
Gutbrain Records
rob + gutbrain.com = email
---
The 167th Soundtrack of the Week is Chuji Kinoshita's music from the Japanese TV samurai series Mito Koumon.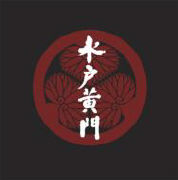 There are 51 tracks on two CDs but the first fifteen tracks of disc 1 are different versions of the theme song, a march-like tune with Japanese lyrics.
It gets much more interesting after that. Track 16 is only whimsical but after that there are a cool guitar instrumental, a piece with interesting percussion and a weird electronic instrument (and always the bass guitar thudding away like a metronome).
Various other moods follow, some more dramatic, some more experimental. There's even a piece that's in 7/4 with some great keyboard and saxophone playing.
The instrumentation and arrangements are consistently interesting and rewarding. You just have to get past that initial onslaught of the same song fifteen times in a row.
---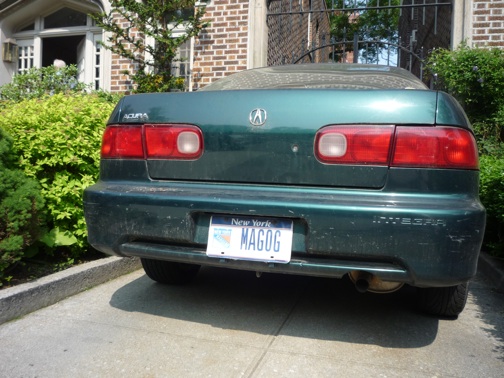 ---
There used to be a British car magazine called Motor. I became aware of it when I noticed one in the Avengers episode "Dead Man's Treasure".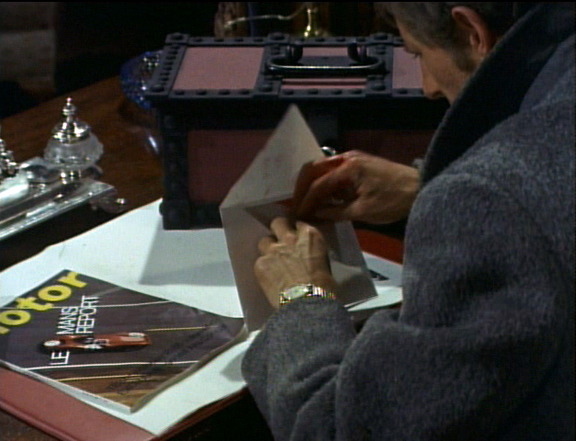 Looking for that particular issue on eBay, I noticed that Motor had consistently eye-catching covers in the 1960s, very nice photography and art direction.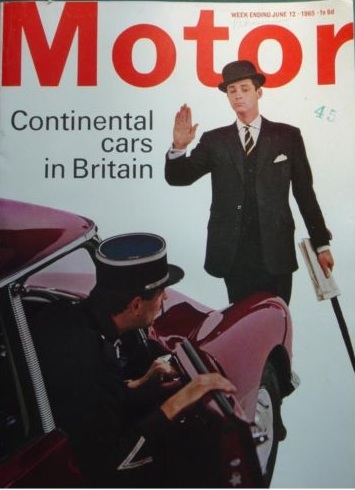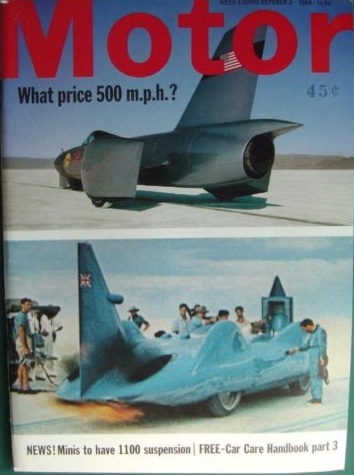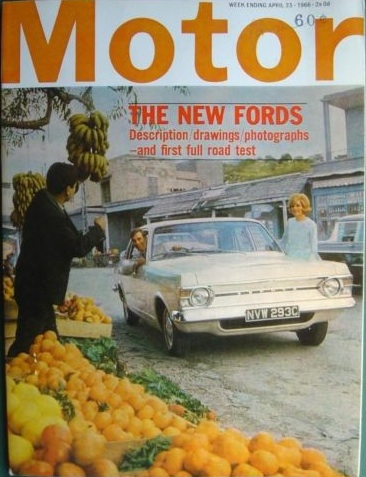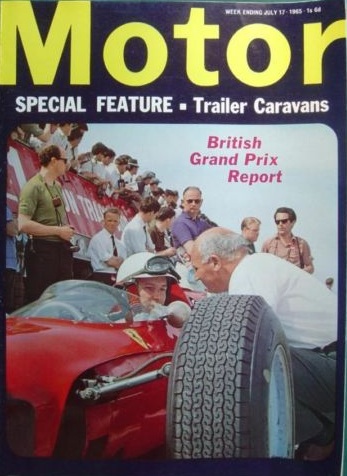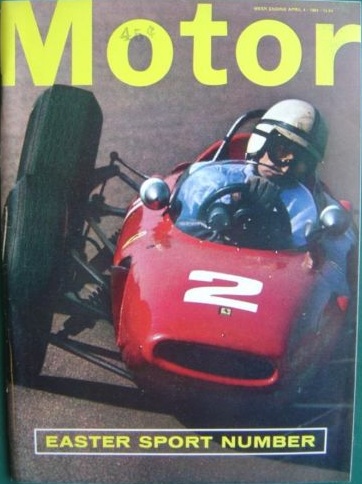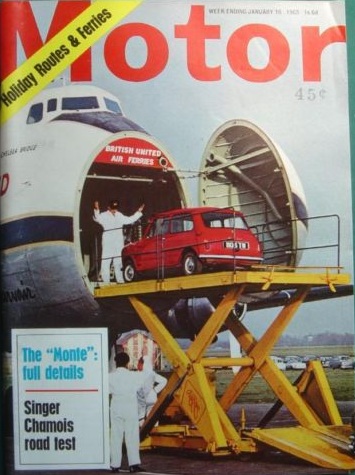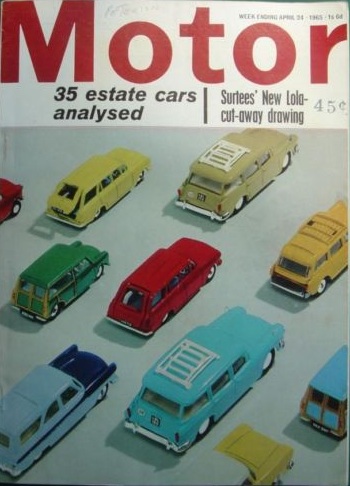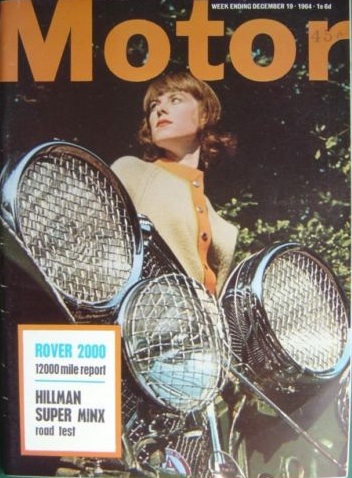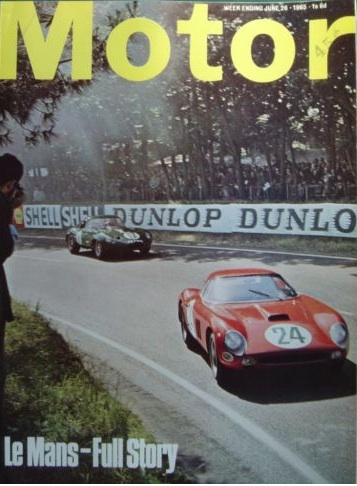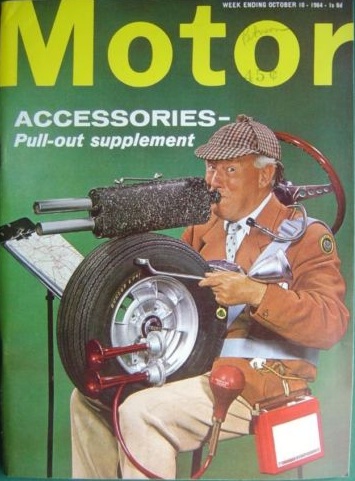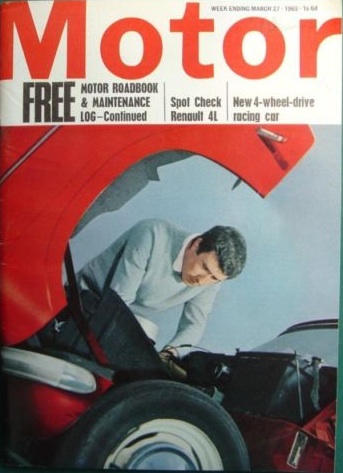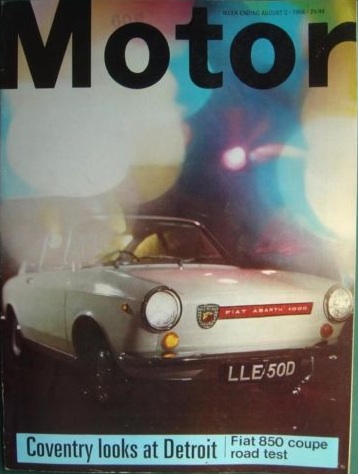 ---
The 166th Soundtrack of the Week is Fukuda Yasuhiko's Bakuhatsu! Sukeban Hunters: Sokatsu Nagurikomi Sakusen (which I've seen translated as Yakuza-Busting Girls: Final Death-Ride Battle).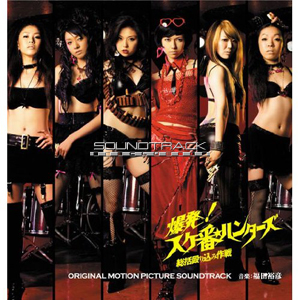 It begins with "Asami's Theme", a stirring melody in 6/8 that's played mostly on cheesy synthesizers. It's good enough to prevail over the instrumentation.
Then comes the theme for the movie, all blaring horns, wah-wah guitar and backbeat drums. This has a '70s TV action music feel to it.
This is followed by a tender ballad played on electric piano with some subtle backing by electric guitar.
Then comes "Yasagure FUNK", for which somebody brought out the fuzz box—and the flute.
Then comes a tune called "Sadistic Junk" It actually has kind of a drunken boogie-woogie feel to it, which is not what I expected.
"The Battle" is straight-up post-blaxploitation action music with a pretty awesome break down. Great bass playing on this one.
"Yayoi" is another sensitive ballad, this time for acoustic piano with string accompaniment. Another delicate melody follows this one, played on something that sounds like a celeste or something like it.
After this comes "Rock Hunter's Blues", a surf-rock vocal number that's really great.
Then comes another vocal number, "Love's Finale", an excellent groovy song.
It's rock and roll verging on heavy metal with the next tune. Great bass line.
After that it's time for sensitive electric guitar and, uh, I'm not sure. Harmonica synthesizer?
Then comes "Aria of Cruelty", which is a sweet, sad song with wordless female vocals. It's basically the same melody as "Yayoi".
A short action cue comes after that, then a longer one that reprises the main theme.
After that comes another surprise, sort of an amplified Spanish guitar number with a Latin rhythm. Then it's backbeat time again, this time with a scratching DJ, on a number called "Just push it!".
Then there's another wordless vocal cue, similar to "Aria of Cruelty" but this time it's "Aria of Flowing Blood". Some nice harpsichord playing on this one.
You never know what's going to come next on this CD. The first sound you hear after "Aria of Flowing Blood" is a Hammond B3 in a Booker T. Jones mood! I didn't see that coming. It devolves into a kind of cheesy '80s rock/pop number with some raunchy saxophone playing and piano work that's probably similar to Billy Joel or somebody like that.
"Sayonara Blues" is a saxophone-driven rock/pop/blues thing, similar to "Georgia on My Mind", with the Hammond B3 again.
Finally there's "Hunter's Blues 2010", a thrash metal version with female vocalist singing Japanese lyrics and some oddly surf-like guitar playing..
What a strange CD! Some great stuff on it, though.
---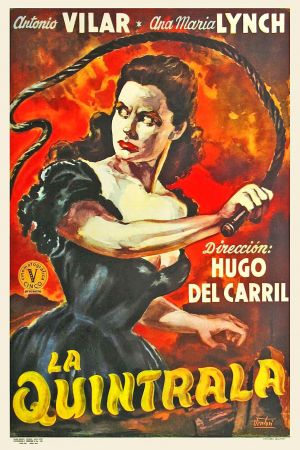 ---
J. G. Ballard wasn't proud of this first novel. Pick up any Ballard book and look at the list of titles by the same author. The Wind from Nowhere won't be there. The earliest book will be his second novel, The Drowned World.
While working my way through The Complete Stories of J. G. Ballard, which presents his published short stories in chronological order, I thought it might be worth reading his novels chronologically at the same time. When the phrase "the drowned world" appeared in a story published a year or so before the novel of that name, I was persuaded.
So after reading a few stories from 1962, I took a break to read The Wind from Nowhere, also ©1962. I liked it. I suppose it's pulpier than most of Ballard's books and has a greater emphasis on action, but it doesn't seem like a embarrassment to me.
The book is divided into eight chapters with intriguing names: "The Coming of the Dust", "From the Submarine Pens", "Vortex over London", "The Corridors of Pain", "The Scavengers", "Death in a Bunker", "The Gateways of the Whirlwind" and "The Tower of Hardoon".
The first line is "The dust came first".
The idea is that wind is blowing constantly around the world. As one character explains, "'it's almost as if a complete shell of solid air, with its axis at the poles, were revolving around the globe. There may be one or two minor variations where local prevailing winds overlay the global system, but its direction is constantly westward'".
The wind never stops or subsides, even for a second, and it's gradually increasing in force at the rate of five miles a day.
At first people take shelter and wait for it to stop. Forced out of their basements or other shelters by hunger or flooding or some other cause, people are plucked by the wind and sent flying half a mile in ten seconds. And it gets much worse.
Ballard is at his best describing the scenes of devastation caused by the wind.
Directly below in the street, a hundred feet away from them, was the entrance to the Hammersmith Underground. The tall office buildings in the street were down to their first stories, walls poking up through piles of rubble, but the entrance to the station had been fortified with a heavy concrete breastwork that jutted out into the roadway, three circular doors fitted into its domed roof.
These were open now, and emerging from them was a press of struggling people, fighting and pulling past each other in a frantic effort to escape from the station. The doorways were packed with them, some peering out hesitantly when they reached the entrance, then being propelled out into the open street by the pressure of the mob behind them.
Like petals torn from a wind-blown flower they detached themselves from the doorways, took a few helpless steps out into the street and were whipped off their feet and hurled across the road, bouncing head over heels like sacks of feathers that burst and disintegrated as they ripped into the ragged teeth of reinforcing bars protruding from the debris.
While all this is going on, a wealthy industrialist named Hardoon has assembled a private army and hordes of food, weapons and other supplies. He's also gone to the trouble of building a massive pyramid. At first he seems like the kind of villain James Bond encounters in movies, but his plan is unusual and unexpected.
Maitland pressed on. "What are you hoping to gain? Supreme political control when the wind subsides?"
Hardoon turned and stared at Maitland, an expression of incredulity on his face.
"Is that what occurs to you, Doctor? You can think of no other motive?"
Maitland shrugged, somewhat taken aback by Hardoon's reaction. "Your own immediate survival, of course. With the backing of a large, well-run organization."
Hardoon smiled bleakly. "It's astonishing, how the weak always judge the strong by their own limited standards."
You'll have to read the book yourself to find out what he's up to!
---
The 165th Soundtrack of the Week is All Star Show: Atsumi Kiyoshi, a CD of songs from the series of "Tora-san" movies, Otoko wa tsurai yo.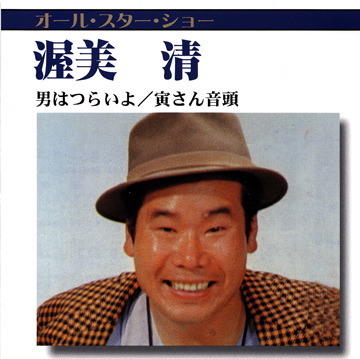 My penpal Akira, who lives in Nagoya, sent this to me after I told him I'd watched the first movie in the series.
The CD has five songs, all sung by Atsumi Kiyoshi, who played Tora-san.
The first song, Tora-san's theme, is composed by Yamamoto Naozumi. Track two is by Takaishi Tomoya. I'm not sure who composed the other three. In Japanese the name is 米山正未.
The music is pretty standard for Japanese pop songs of the time, lilting and melodic, easy to imagine as karaoke tracks.
I'm happy to have this pretty obscure CD. I can't find much of anything about it online. Thanks, Akira-san!
---
You all know what pachinko is, right? It's this.
Somehow I managed not to play pachinko when Alice and I were in Japan. That was an oversight.
Here's a website about pachinko in the movies. I found it when I was searching for any special connection between the Otoko wa tsurai yo series of movies (known in English as "Tora-san" movies).
I was looking for that because apparently there's an Otoko wa tsurai yo pachinko game. I only know that because there's a soundtrack CD for the pachinko game.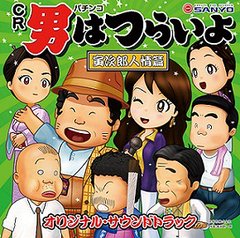 It only has three tracks on it. If I were really into Tora-san, I'd get it.
---
Stoop sales are back! It's going to be hard to beat last Sunday's haul of free Diabolik books! This nice guy on 8th Avenue was giving them away along with a bunch of Italian books and comics. I took as many as I could carry.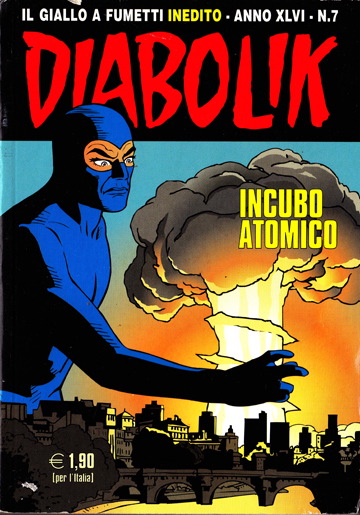 Most of them are from the last few years though some are from the 1980s.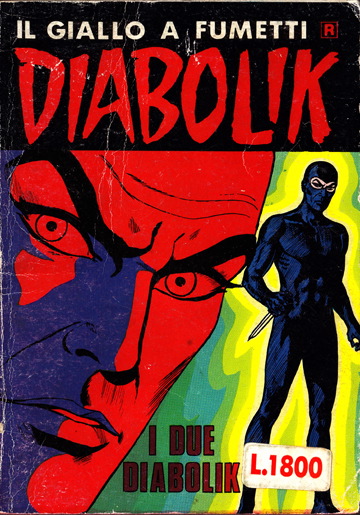 Some of them them came with Diabolik postcards.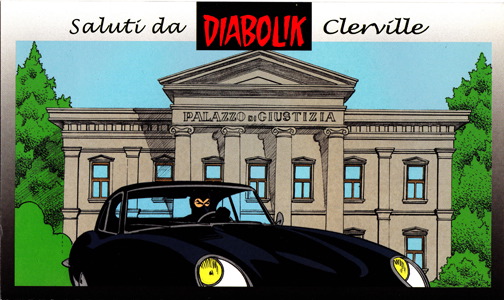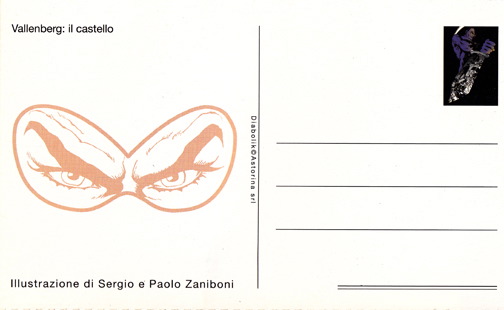 It's hard to tell from this image, but the placeholder for the stamp is an illustration of Diabolik holding a knife.
There are ads for Diabolik calendars in the books, as well as some more intriguing gear.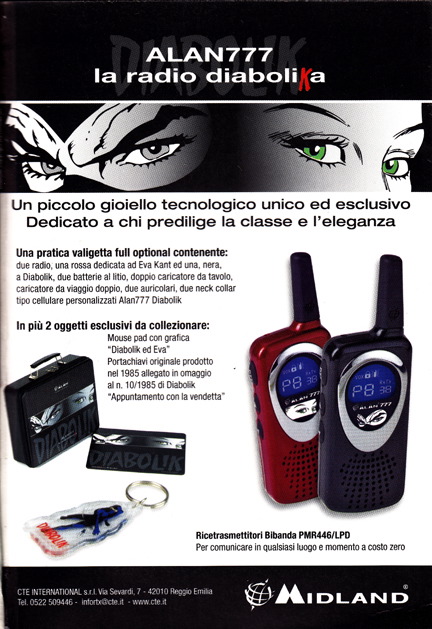 And Eva has her own books now!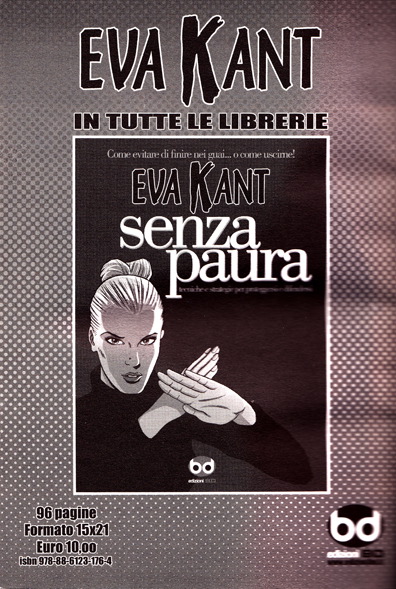 ---
The 164th Soundtrack of the Week is A Thousand & One Nights, a 1969 anime version of the famous Arabian Nights stories with a dramatic score by Isao Tomita and rock songs by The Helpful Soul.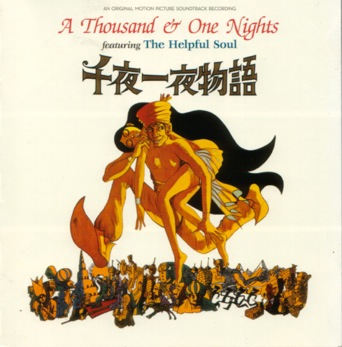 The "Main Title" is a beautiful piece for orchestra and chorus and recalls the work of Hollywood Golden Age composers such as Franz Waxman, Bernard Herrmann and Miklos Rozsa. It's really great!
Things change right away with the second track, "Aladdin's Theme". It starts out with an acoustic string instrument and hand percussion but then the fuzz guitar and electric bass guitar come in. Must be The Helpful Soul! There are ethereal wordless vocals and occasionally lyrics ("Aladdin, Aladdin").
"Lovely Milliam" features another sumptuous orchestral arrangement in the mood of the "Main Title". The harpsichord is used well. "An Enchanted Night" continues this theme with violin taking the lead.
"Plundering of a Slave" reminded me of some of Peter Thomas's outer-space action music. There are blaring horns, driving hand percussion and busy strings.
The Helpful Soul come back for "The Torture" with a sludgy bass and drums groove and sick fuzz guitar. The singer mostly moans, perhaps giving voice to a torture scene on screen. Near the end he starts screaming "Somebody help me! Help!". Keiji Haino could cover this piece.
"The Dance of the Bandits" finds The Helpful Soul in an upbeat mood, with the guitar opting for less fuzz on top of a sprightly groove from the rhythm section. Again the singer expresses himself more in sounds than in words. This time he seems to be doing animal noises.
"Media's Theme" is a laidback and groovy instrumental from The Helpful Soul. The guitar sound is clean this time, with a touch of reverb.
The orchestra returns for "The Flying Wooden Horse". They start out in Peter Thomas mode again, with the reverberating horns up front, but then the strings take things in a different melodic direction.
The chorus begins "The Love of Jallis" with gentle support from a few of the orchestra's instruments, notably the harp. Other instruments gradually join in and create a swirling and wistful atmosphere.
"Cheerful Aladdin" has The Helpful Soul returning to its "Aladdin's Theme". "The Contest of Plundered Treasures" funds The Helpful Soul in a Black Sabbath sort of groove, though nowhere near as heavy. It's an instrumental piece with fuzzed-out guitar.
The band gets upbeat again for "The Horse Racing". The singer this time is doing a lot of "Hup-hup, ya-ya" sort of stuff. More fuzz guitar. The bass guitarist does some cool embellishments.
"The Construction of Aladdin's Tower" is an instrumental version of "Aladdin's Theme".
The "End Title" is a reprise of the "Main Title", a superb piece.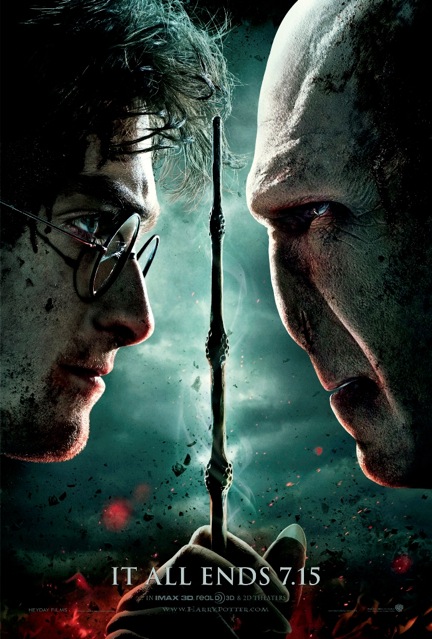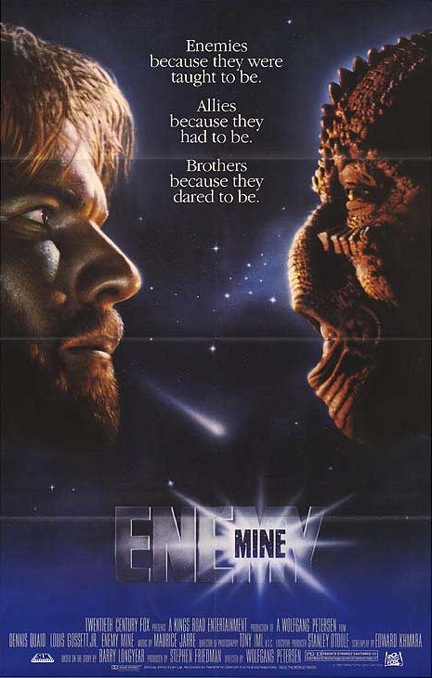 ---
Ellery Eskelin's new CD, Trio New York, is one of the best records I've heard in a really long time.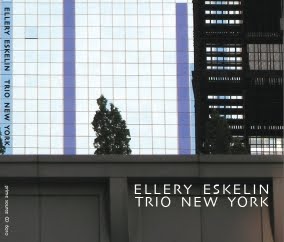 You can check out some samples here and order it here.
It's an organ trio with Gary Versace and Gerald Cleaver and it's dedicated to Ellery's mother, herself a professional jazz organist.
The program consists of five standards, including one Monk tune and one tune, "Witchcraft", that I think I've only ever heard Frank Sinatra do. What makes the performances so great is how the players explore not just the song but the spaces around the song and inside the song.
One of the interesting things about Ellery's own music is that he and his group will start with improvisation and go to written material. It's usually the other way around, of course. It sounded to me like he was approaching this music the same way. It's great and I don't think I've ever heard anything quite like it.
---
The 163rd Soundtrack of the Week is Takeo Yamashita's music from the television series Playgirl and Playgirl Q.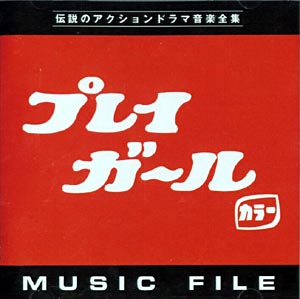 I'd love to see these shows but haven't found English-subtitled videos of them yet. It's basically a Japanese Charlie's Angels but it predates Charlie's Angels, has more sex and violence, and features female detectives who work for another woman, not for a man. The music is some of the best I've heard.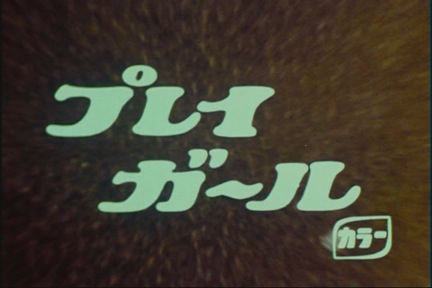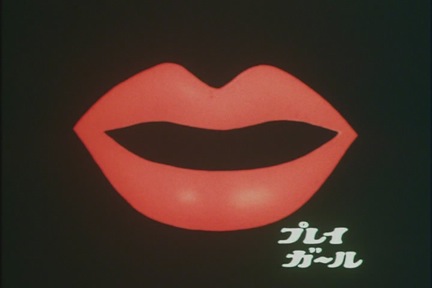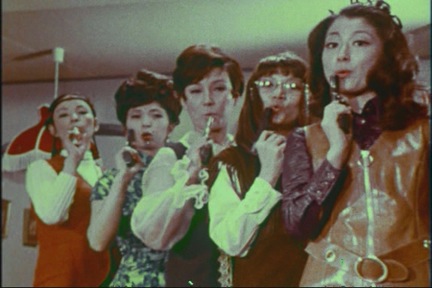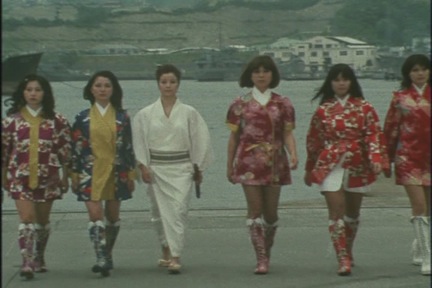 "Playgirl Opening Theme '69" is one of the masterpieces of television theme writing. A lilting, swinging rhythm which mixes drums, guitar, vibes and jaw harp create a lush background for female vocals: "Ku-si-ku-si-ku—plaaaaaaaygirl!".
"The Girls in Sexy Tone" has another groozy jazz feel with some fine sax playing while the women breathily sing "Playgirl" over and over, taking it through various changes. Then it switches gears to a much more uptempo jazz feel. They still sing "Playgirl" over and over again.
"Playgirl Ending Theme" brings back the jaw harp to play a line in unison with the women's scatting. It's more of a laidback feel this time, starting out jazz but with a mellow rock bridge. The opening theme is recalled.
"Playgirl Opening Theme '70" gives the familiar theme a sprightlier, sunnier arrangement and has the melody expressed by wordless vocalist and whistler.
"In the Mood" has nothing to do with the Glenn Miller tune but is kind of a bossa lounge piece which features the strings.
"Get a Thrill!" is actually a spooky sort of piece, with weird percussion sounds, eerie flute, wordless vocals and organ. It sounds like it could be free improv—awesome free improv. Then after about a minute it goes into an easy listening mode. All the instruments settle down into a kind of groove and play around. Yet it builds in intensity, making the listening not as easy as it seemed at first to be.
"The Music of Chase Scene" has fast walking bass, moaning organ, percussive rhythm guitar and deft piano playing. On top of it all a female vocalist intones "Playgirl" (what else?) over and over in different ways. Like many of the other cues, it changes about halfway through, becoming spacier, creepy but sunny at the same time.
"Opening Theme Variations #1" is, as you'd expect, a different arrangement of the title theme. The guitar playing is interesting on this one, with the guitarist being a bit more psychedelic than jazzy this time around. Then there's the slow, sexy jazz/blues version.
"The Getaway" has a lively beginning, lots of hand percussion, cymbal, anxious rhythm guitar, stabbing organ, free sax playing, then switches to a more straight-ahead "action music" section.
"Playgirls in the Action!" is a deranged fast polka arrangement of the ending theme featuring the accordion.
"The Happy Ending" has sweet strings over what sounds like a hotel lounge or cruise ship band playing for after-dinner dancing. Then it goes into tranquilized easy listening music. The opening theme is tagged at the very end.
"Trailer Music—Eyecatcher" begins with a kind of New Orleans-ish swing version of the opening theme that breaks down at the end for the organ and sax to stagger their parts, creating an off-kilter feel to the music.
"Playgirl Opening Theme '72" is the latest version of the classic theme. (The first one's still the best.) Piano and electric bass guitar do a lot of the work this time, and there's some good guitar playing.
"License to Love" is a ballad arrangement of the ending theme for vocalists, whistler and jazz combo featuring the piano. Yamashita is quite the resourceful arranger!
"Opening Theme Variations #2" has a percussion-heavy version of the theme with a very straight and staccato playing of the melody by brass instruments. With the snare drum it has a martial feel to it. When the sax and guitar come in, the piece sounds a bit more groovy but it's still not exactly relaxed.
"The Duel at Hotel" has the kind of driving rhythm and urgent playing from the drums, bass, guitar, sax and electric keyboard that falls somewhere between Miles Davis's early '70s bands and the music for American television cop shows of the same period.
"Dressing for Pleasure" starts as a psychedelic rock/jazz combo arrangement of "The Girls in Sexy Tone". Then it shifts into a dreamy, ethereal mood that features the jaw harp. As usual there's lots of crooning of "Playgirl".
"The Girl from 'Playgirl'" is a fast, syncopated vocal version of the ending theme, with the women scatting the melody. Hand percussion, bass and guitar back them up. Then there's a cool sax solo.
"Playgirl Ending Theme" again comes next and is very similar to the third track on the CD.
"Playgirl Q Opening Theme—Subtitle" is yet another arrangement of the theme, this time with a rock backbeat and blaring brass accompaniment.
"What's New, Playgirls?" is a cheery and humorous-sounding piece with a swing feel and prominent violin playing. Then it goes into a funk/rock groove with a soaring vocal line Finally it ends with a 6/8 swing section with the women singing "Playgirl Q" over and over.
"Back in Action Again" starts as fast jazz with piano soloing under brass punctuation. Then it switches to a syncopated 6/8 rhythm and a mood that's a cross between border town cantina and John Barry's Stringbeat album. Then it goes into a brisk 4/4 section with organ, bongos, trumpet, guitar, bass and strings.
"Twilight Town" has violins playing a sweet melody over a mid-tempo shuffle. Then it goes into a blues with a hard back beat and Hammond organ improvisations. Saxophone takes up the melody.
"Girls on the Move—Eyecatcher" starts out as funk/soul with the women shouting out "Playgirl!" over and over. Then it goes into an uptempo jazz groove with solos from guitar and trumpet. A drum break takes it into a kind of deranged section that's like Muzak played at the wrong speed (too fast).
"Welcome to Hot Spring!" is a country-inflected instrumental pop tune. Then it goes into another Stringbeat sort of thing, with pizzicato strings, organ, bass and drums supporting wordless vocalizing from the female singers. Then it's back beat time again, with electric piano and short, sharp statements from the brass instruments.
"Theme Variations" starts out with a Peter Thomas-like instrumental take on the main theme. It has kind of a samba feel to it. Then it goes into a very relaxed, bluesy version with whistling, organ and the women once again singing "Playgirl" and "Playgirl Q".
"Chase Again" has the horns doing the "Playgirl" singing while a pianist plays, sounding agreeably like Charlie Palmieri. The rhythm section is pushing things along very quickly. Then it goes into another warped, sped-up, Muzak-like section.
"Fight, Playgirls Fight!" sounds like a hybrid of a blaxploitation soundtrack with a Lambert, Hendricks and Ross as the women once again do their signature vocalizing on top of a funky groove with lots of horns and percussion. Then there's a break which sounds like something you'd hear in an American cop TV show from the 1970s, then it goes into a bit that sounds like it was inspired by Kool & The Gang's "Jungle Boogie".
"Bye Bye Playgirls" has a gentle bossa groove and an atmosphere of tenderness and melancholy. It changes to a 6/8 rhythm about halfway through but keeps the same sad but pretty feeling.
Finally there's "Playgirl Q Ending Theme", this time played as a kind of carnival march.
---