2011 May 02 • Monday
The 163rd Soundtrack of the Week is Takeo Yamashita's music from the television series Playgirl and Playgirl Q.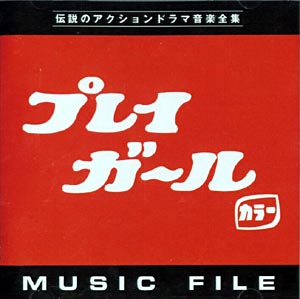 I'd love to see these shows but haven't found English-subtitled videos of them yet. It's basically a Japanese Charlie's Angels but it predates Charlie's Angels, has more sex and violence, and features female detectives who work for another woman, not for a man. The music is some of the best I've heard.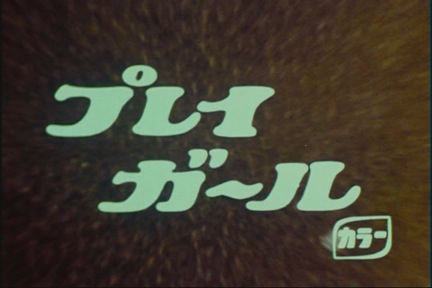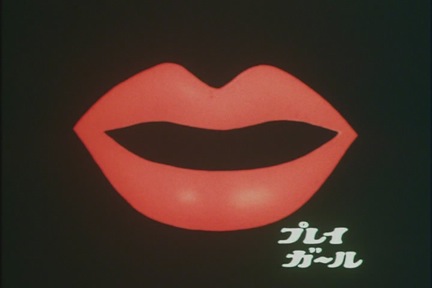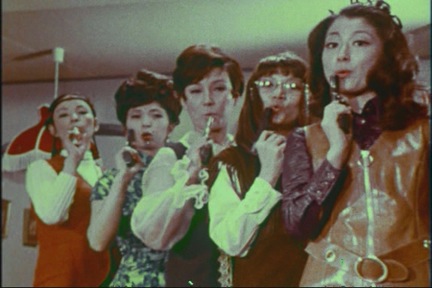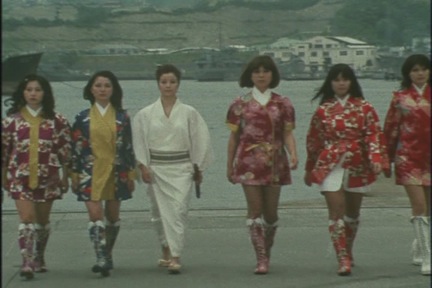 "Playgirl Opening Theme '69" is one of the masterpieces of television theme writing. A lilting, swinging rhythm which mixes drums, guitar, vibes and jaw harp create a lush background for female vocals: "Ku-si-ku-si-ku—plaaaaaaaygirl!".
"The Girls in Sexy Tone" has another groozy jazz feel with some fine sax playing while the women breathily sing "Playgirl" over and over, taking it through various changes. Then it switches gears to a much more uptempo jazz feel. They still sing "Playgirl" over and over again.
"Playgirl Ending Theme" brings back the jaw harp to play a line in unison with the women's scatting. It's more of a laidback feel this time, starting out jazz but with a mellow rock bridge. The opening theme is recalled.
"Playgirl Opening Theme '70" gives the familiar theme a sprightlier, sunnier arrangement and has the melody expressed by wordless vocalist and whistler.
"In the Mood" has nothing to do with the Glenn Miller tune but is kind of a bossa lounge piece which features the strings.
"Get a Thrill!" is actually a spooky sort of piece, with weird percussion sounds, eerie flute, wordless vocals and organ. It sounds like it could be free improv—awesome free improv. Then after about a minute it goes into an easy listening mode. All the instruments settle down into a kind of groove and play around. Yet it builds in intensity, making the listening not as easy as it seemed at first to be.
"The Music of Chase Scene" has fast walking bass, moaning organ, percussive rhythm guitar and deft piano playing. On top of it all a female vocalist intones "Playgirl" (what else?) over and over in different ways. Like many of the other cues, it changes about halfway through, becoming spacier, creepy but sunny at the same time.
"Opening Theme Variations #1" is, as you'd expect, a different arrangement of the title theme. The guitar playing is interesting on this one, with the guitarist being a bit more psychedelic than jazzy this time around. Then there's the slow, sexy jazz/blues version.
"The Getaway" has a lively beginning, lots of hand percussion, cymbal, anxious rhythm guitar, stabbing organ, free sax playing, then switches to a more straight-ahead "action music" section.
"Playgirls in the Action!" is a deranged fast polka arrangement of the ending theme featuring the accordion.
"The Happy Ending" has sweet strings over what sounds like a hotel lounge or cruise ship band playing for after-dinner dancing. Then it goes into tranquilized easy listening music. The opening theme is tagged at the very end.
"Trailer Music—Eyecatcher" begins with a kind of New Orleans-ish swing version of the opening theme that breaks down at the end for the organ and sax to stagger their parts, creating an off-kilter feel to the music.
"Playgirl Opening Theme '72" is the latest version of the classic theme. (The first one's still the best.) Piano and electric bass guitar do a lot of the work this time, and there's some good guitar playing.
"License to Love" is a ballad arrangement of the ending theme for vocalists, whistler and jazz combo featuring the piano. Yamashita is quite the resourceful arranger!
"Opening Theme Variations #2" has a percussion-heavy version of the theme with a very straight and staccato playing of the melody by brass instruments. With the snare drum it has a martial feel to it. When the sax and guitar come in, the piece sounds a bit more groovy but it's still not exactly relaxed.
"The Duel at Hotel" has the kind of driving rhythm and urgent playing from the drums, bass, guitar, sax and electric keyboard that falls somewhere between Miles Davis's early '70s bands and the music for American television cop shows of the same period.
"Dressing for Pleasure" starts as a psychedelic rock/jazz combo arrangement of "The Girls in Sexy Tone". Then it shifts into a dreamy, ethereal mood that features the jaw harp. As usual there's lots of crooning of "Playgirl".
"The Girl from 'Playgirl'" is a fast, syncopated vocal version of the ending theme, with the women scatting the melody. Hand percussion, bass and guitar back them up. Then there's a cool sax solo.
"Playgirl Ending Theme" again comes next and is very similar to the third track on the CD.
"Playgirl Q Opening Theme—Subtitle" is yet another arrangement of the theme, this time with a rock backbeat and blaring brass accompaniment.
"What's New, Playgirls?" is a cheery and humorous-sounding piece with a swing feel and prominent violin playing. Then it goes into a funk/rock groove with a soaring vocal line Finally it ends with a 6/8 swing section with the women singing "Playgirl Q" over and over.
"Back in Action Again" starts as fast jazz with piano soloing under brass punctuation. Then it switches to a syncopated 6/8 rhythm and a mood that's a cross between border town cantina and John Barry's Stringbeat album. Then it goes into a brisk 4/4 section with organ, bongos, trumpet, guitar, bass and strings.
"Twilight Town" has violins playing a sweet melody over a mid-tempo shuffle. Then it goes into a blues with a hard back beat and Hammond organ improvisations. Saxophone takes up the melody.
"Girls on the Move—Eyecatcher" starts out as funk/soul with the women shouting out "Playgirl!" over and over. Then it goes into an uptempo jazz groove with solos from guitar and trumpet. A drum break takes it into a kind of deranged section that's like Muzak played at the wrong speed (too fast).
"Welcome to Hot Spring!" is a country-inflected instrumental pop tune. Then it goes into another Stringbeat sort of thing, with pizzicato strings, organ, bass and drums supporting wordless vocalizing from the female singers. Then it's back beat time again, with electric piano and short, sharp statements from the brass instruments.
"Theme Variations" starts out with a Peter Thomas-like instrumental take on the main theme. It has kind of a samba feel to it. Then it goes into a very relaxed, bluesy version with whistling, organ and the women once again singing "Playgirl" and "Playgirl Q".
"Chase Again" has the horns doing the "Playgirl" singing while a pianist plays, sounding agreeably like Charlie Palmieri. The rhythm section is pushing things along very quickly. Then it goes into another warped, sped-up, Muzak-like section.
"Fight, Playgirls Fight!" sounds like a hybrid of a blaxploitation soundtrack with a Lambert, Hendricks and Ross as the women once again do their signature vocalizing on top of a funky groove with lots of horns and percussion. Then there's a break which sounds like something you'd hear in an American cop TV show from the 1970s, then it goes into a bit that sounds like it was inspired by Kool & The Gang's "Jungle Boogie".
"Bye Bye Playgirls" has a gentle bossa groove and an atmosphere of tenderness and melancholy. It changes to a 6/8 rhythm about halfway through but keeps the same sad but pretty feeling.
Finally there's "Playgirl Q Ending Theme", this time played as a kind of carnival march.
---