2011 May 23 • Monday
The 166th Soundtrack of the Week is Fukuda Yasuhiko's Bakuhatsu! Sukeban Hunters: Sokatsu Nagurikomi Sakusen (which I've seen translated as Yakuza-Busting Girls: Final Death-Ride Battle).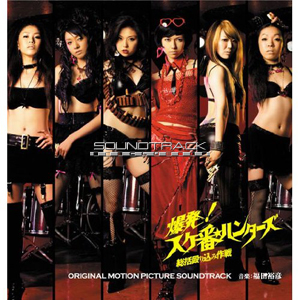 It begins with "Asami's Theme", a stirring melody in 6/8 that's played mostly on cheesy synthesizers. It's good enough to prevail over the instrumentation.
Then comes the theme for the movie, all blaring horns, wah-wah guitar and backbeat drums. This has a '70s TV action music feel to it.
This is followed by a tender ballad played on electric piano with some subtle backing by electric guitar.
Then comes "Yasagure FUNK", for which somebody brought out the fuzz box—and the flute.
Then comes a tune called "Sadistic Junk" It actually has kind of a drunken boogie-woogie feel to it, which is not what I expected.
"The Battle" is straight-up post-blaxploitation action music with a pretty awesome break down. Great bass playing on this one.
"Yayoi" is another sensitive ballad, this time for acoustic piano with string accompaniment. Another delicate melody follows this one, played on something that sounds like a celeste or something like it.
After this comes "Rock Hunter's Blues", a surf-rock vocal number that's really great.
Then comes another vocal number, "Love's Finale", an excellent groovy song.
It's rock and roll verging on heavy metal with the next tune. Great bass line.
After that it's time for sensitive electric guitar and, uh, I'm not sure. Harmonica synthesizer?
Then comes "Aria of Cruelty", which is a sweet, sad song with wordless female vocals. It's basically the same melody as "Yayoi".
A short action cue comes after that, then a longer one that reprises the main theme.
After that comes another surprise, sort of an amplified Spanish guitar number with a Latin rhythm. Then it's backbeat time again, this time with a scratching DJ, on a number called "Just push it!".
Then there's another wordless vocal cue, similar to "Aria of Cruelty" but this time it's "Aria of Flowing Blood". Some nice harpsichord playing on this one.
You never know what's going to come next on this CD. The first sound you hear after "Aria of Flowing Blood" is a Hammond B3 in a Booker T. Jones mood! I didn't see that coming. It devolves into a kind of cheesy '80s rock/pop number with some raunchy saxophone playing and piano work that's probably similar to Billy Joel or somebody like that.
"Sayonara Blues" is a saxophone-driven rock/pop/blues thing, similar to "Georgia on My Mind", with the Hammond B3 again.
Finally there's "Hunter's Blues 2010", a thrash metal version with female vocalist singing Japanese lyrics and some oddly surf-like guitar playing..
What a strange CD! Some great stuff on it, though.
---