Rob Price
Gutbrain Records
rob + gutbrain.com = email
---
The 141st Soundtrack of the Week is another Nico Fidenco Emanuelle score, this one for Emanuelle e Gli Ultimi Cannibali.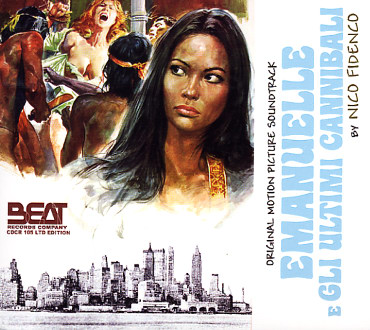 The main theme/song for this one is "Make Love on the Wing", uptempo disco rhythm with hand percussion and flutes and a female vocalist who has kind of a Shirley Bassey quality. There are ten tracks called "Make Love on the Wing" on the CD, and most of them are slower, instrumental versions that recall Fidenco's "Emanuelle's Theme".
You hear "The Dark Side of the Soul" a few times, too, a groovy stomp given different arrangements. The melody recalls "Make Love on the Wing". "Wild Nightmare" is another variation of "Make Love on the Wing" that you hear a few times.
"The Meal Is Over" is a cool instrumental which mixes hand percussion and electric instruments, starts slow and speeds up. It's followed by "Cannibals in Pursuit", which starts out with frantic hand drumming but gets a little bit mellow and groovy, almost dubby, when the electric bass guitar and flute come in.
---
A disarmingly innocent-looking ad libber is Wally Cox, the mild, bespectacled little actor best known for his role of Mr. Peepers on television. One night I asked Wally if he ever watched our show.
"Oh, yes," he said, in his wispy voice. "I watch you more than other shows."
I beamed at this compliment from a witty and accomplished actor.
"I should point out," he added quietly, "that there is a syntactical pitfall in that sentence. Other shows may not watch your show very much."
—Jack Paar, I Kid You Not, 1960
---
While ransacking my closets and shelves for some old movie memorabilia (a Five Million Years to Earth press kit) I came across this score that I wrote last century.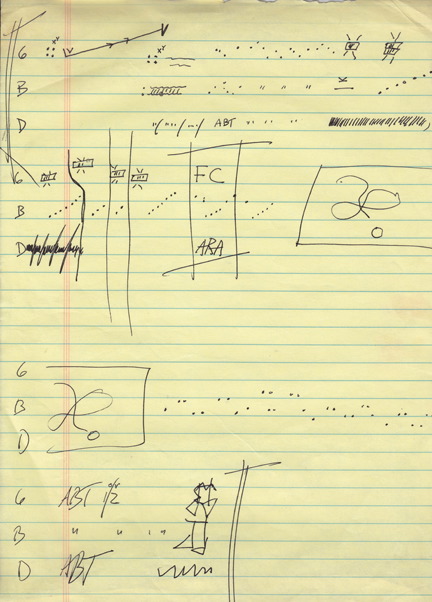 The G, B and D stand for guitar, bass and drums. There are four lines for each of them. This would be the conductor's score, a reminder of those years of my adolescence that I spent sitting in the last chair of the second violin section of the Greater Boston Youth Symphony Orchestra, eating M&Ms while sawing my way through Bizet.
I have almost no idea what I thought this should sound like.
"ABT" might stand for "A Better Tomorrow" and could indicate a feel similar to that of the main title music from that movie.
"ARA" in the second line of the drum part surely means Ara Babajian, the excellent drummer who played with me many times in the 1990s. Why I needed to write his name in that one spot when he's playing throughout is a mystery to me.
"FC" in the second line of the guitar part means, I think I remember, "Find Chords". Usually you would have found the chords when you were writing the chart, possibly even before you wrote the chart. (Some of the real pros work that way.)
The rest of it is baffling. I might know what the title means, but of course it doesn't have a title.
I eventually abandoned this approach and started writing standard notation, or trying to. My collaborators on the At Sunset recording were very kind and gently pointed out how such and such should have been written or politely inquired whether this or that note was really what I meant.
Now when I write music I can take some comfort from the fact that my scores are not quite as maladroit as they used to be!
---
After Emanuelle in America comes Emanuelle Around the World, another Nico Fidenco score for this series of sex films and the 140th Soundtrack of the Week. While they began as softcore, the later films, according to Wikipedia, "feature scenes of extreme violence and depravity".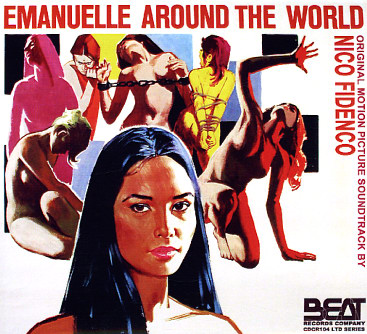 Fidenco's music is more synth-driven than before, and much of it has a laid-back but pulsating feel, almost like new age disco in places. This might seem like something awful, but it's really not bad.
Some of the sounds, like the keyboard lead for "Where To Begin?", might take some getting used to. As usual, a couple of themes get a work out. "A Picture of Love" is the big song from this movie, and is an elaborate rock band number that combines some David Bowie-like pseudo-prog arranging with elements from 1950s rock and roll. It's pretty cool.
There's an echo of "Emanuelle's Theme" in "Confused Girl", and some unexpected instrumentation in "Come Back Rhythm", disco drums with rapidly sawing cello. "Dancing Slave" has rocking acoustic guitar.
As always, the use of percussion is excellent.
---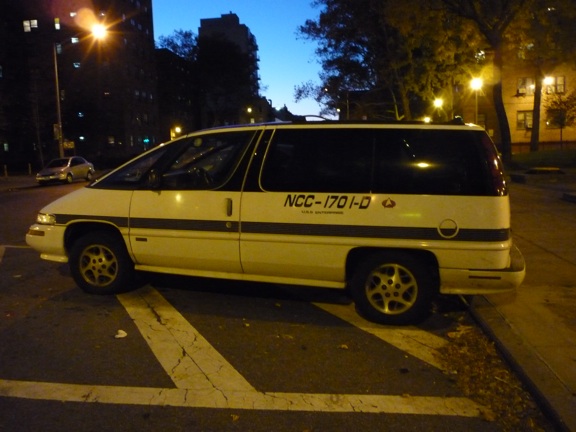 ---
Thanks to everybody who came to the Chris Cawthray, Lucio Menegon, Rob Price gigs!
Thanks also to my brother for taking me to Birdland last week to see Jim Hall with Greg Osby, Steve LaSpina and Joey Baron.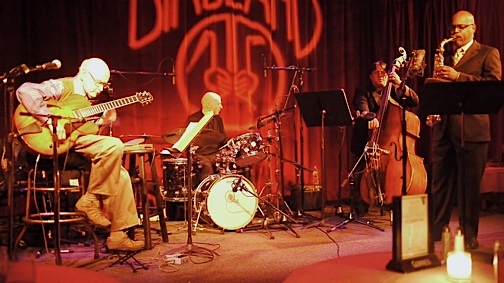 Ed Price +1 (me) were on the list since he gave considerable support to the recording of this new CD of duets by Jim Hall & Joey Baron.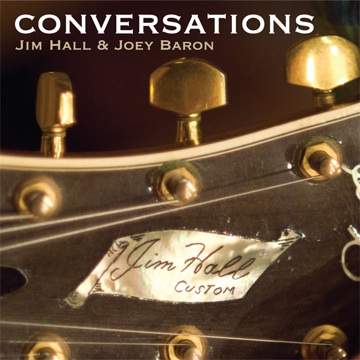 Great record, check it out!
---
The 139th Soundtrack of the Week is Nico Fidenco's Emanuelle in America, the sequel to Black Emanuelle Goes East (a.k.a. Emanelle in Bangkok).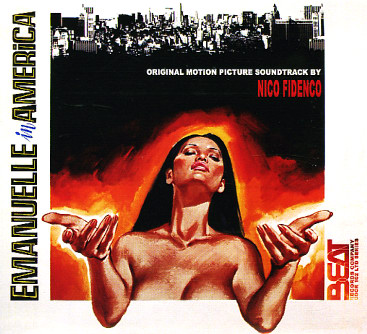 It begins with the song "I Celebrate Myself", which sounds almost like a collaboration between Styx and Goblin. I like it. Flute and strings bring back the melody in the next track, "On the Stage". The melody returns again, this time on horns, backed with wah-wah guitar and some discoish electric bass and percussion. It's a good thing it's a great melody, otherwise you might be sick of it by now.
"Twelve Girls" manages to be jaunty and ethereal at the same time, but it's sunny atmosphere is blotted out by the cloudiness of the following track "Emanuelle in America Sweet". Dark bass playing and very minimalist drumming are accompanied by moaning. Strings and wah-wah guitar bring back the "I Celebrate Myself" melody.
"Venice Dawn" picks up the pace again with what sounds like synth harpsichord; then it's "Emanuelle in America Sweet" again. Then an instrumental take of "I Celebrate Myself". After this comes "Hot Phone Call" which begins exactly as "Emanuelle in America Sweet" but has some great distorted guitar playing.
"Rhubarb" is basically the same as "Twelve Girls". Both pieces sound a bit like "The Breeze and I" or any number of other surf standards. "Hidden Pictures" has a serious backbeat and a real Morricone feel, particularly in its use of piano and distorted guitar. There are some unusual percussion sounds and overdriven flute. On this track and most of the others, the electric bass player deserves special credit for holding down the bottom while more or less constantly soloing.
Track 12 is another instrumental version of "I Celebrate Myself". It still sounds great. "Revulsion Tango", track 13, is a tango with accordion and a serious ill bass sound, maybe a keyboard of some kind being run though something or other. (It sounds like the sound in the beginning of Morricone's opening credits music for the movie Ad Ogni Costo, a.k.a. Grand Slam.) "So It Pleases You" begins with a distorted guitar note, then has some jaunty flute and Morricone-like piano and harpsichord. The distorted guitar returns to run through the "I Celebrate Myself" melody again.
"Flee Emanuelle" has wah-wah guitar and string washes for more staccato keyboard playing and raspy flute. Then it lays back for another "I Celebrate Myself" reprise. And guess what melody you hear in "Emanuelle in America Dream"? I'm still not tired of it!
After that comes "Something Strong", which opens with distorted guitar and sci-fi keyboard work. There are also organ and a cello solo, accompanied by some sparse and interesting percussion. "In the Nest" has a very upbeat, triumphant melody on strings accompanied by a buoyant percussion section. Similarly bubbling percussion work begins "Queen for a Joke". Wooden flute plays a new melody. Some exciting chants and calls take over at the end.
Then it's track 20 and "I Celebrate Myself" again, another vocal version. "Venice Reportage" is somewhere in the neutral zone between drama and disco. Guess what melody it uses? I still love it!
"Your Solstice" presents a different melodic idea, beginning with just flute, bass and percussion before the string section comes in. Track 23, "Emanuelle in America Theme", offers another arrangement of "I Celebrate Myself", stretching out the melody in unexpected ways. Fidenco has really got a lot of mileage out of this tune!
After that is "Rhubarb" again, also a nice piece. It's all about the instrumentation: wordless chorus, banjo, electric bass, synthesizers and percussion. "Trouble" has the percussion section increasing the intensity of their rhythms while wooden flutes deliver the expected melody in yet another altered form.
The last piece, "Spellbound", opens with call and response between distorted guitar and flute, then adds what sounds like somebody scraping the strings inside a piano. Cello delivers the "I Celebrate Myself" theme one more time. Some exciting drum kit playing comes in after a bit, with lots of snare rolls, different instruments join in on the main theme and bring everything to a satisfying climax.
---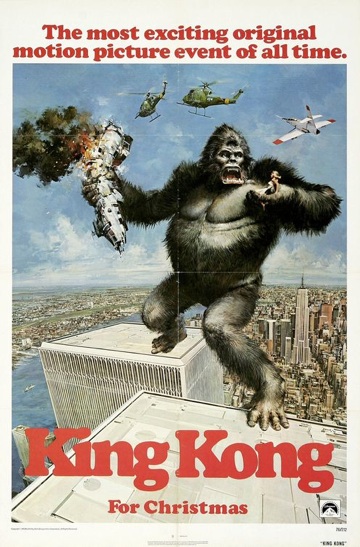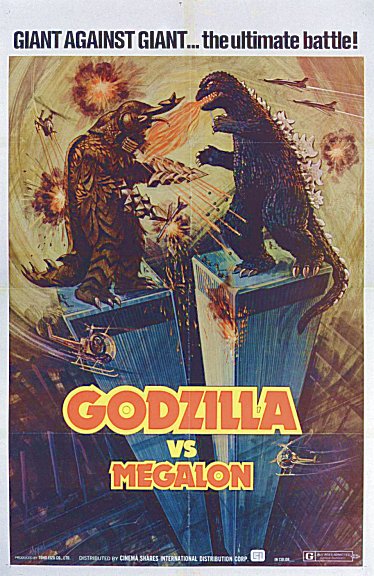 In 1976, Cinema Shares released Godzilla vs. Megalon theatrically [in the United States]. Riding the coattails of Dino De Laurentiis' big-budget King Kong remake, poster art showed Godzilla and Megalon battling on top of the World Trade Center, despite the fact that no scenes were set in New York City.
—Godzilla vs. Megalon Wikipedia page
---
Here's another recent DVD release of interest.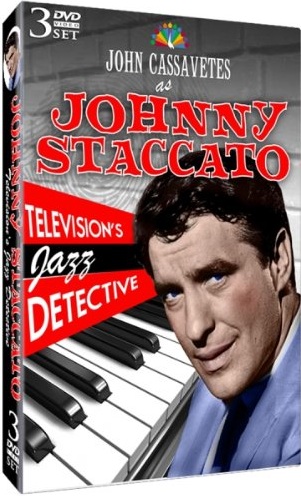 I had almost all of these on videotape. It's a fun show, especially if you're into the West Coast jazz scene.
Johnny Staccato is a private detective who hangs out at a New York City jazz club called Waldo's.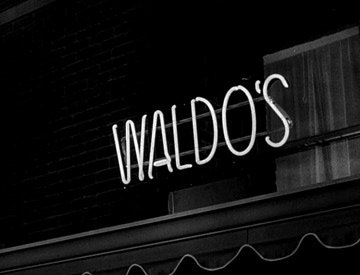 It's like an idealized version of the Village Vanguard. When we first meet Staccato, he's playing piano in some very impressive company.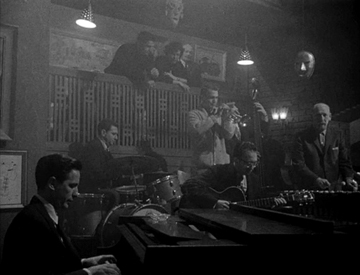 In the first episode they give each musician a close-up. Here's John Cassavetes.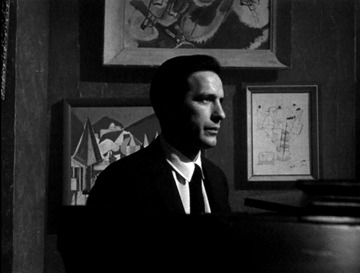 Then Red Norvo.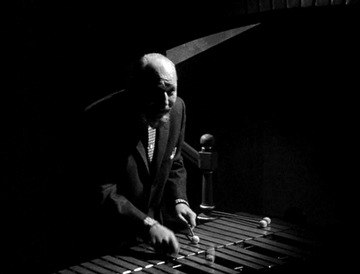 Then Barney Kessel.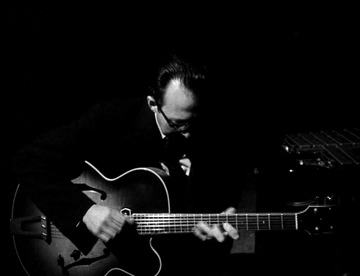 Pete Candoli.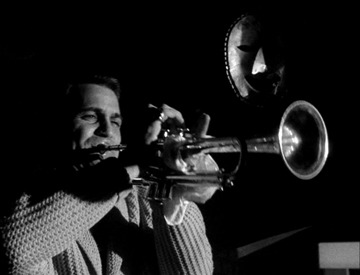 Shelly Manne.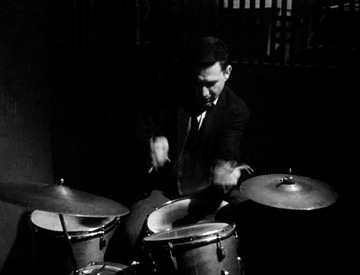 And Red Mitchell.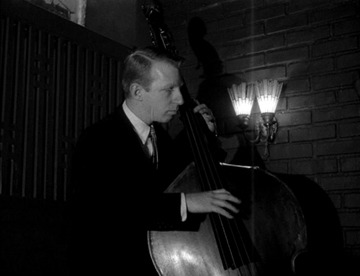 When Staccato has to leave to attend to business, Johnny Williams—also known as John Williams, composer of the soundtracks to Star Wars, Jaws, Raiders of the Lost Ark, Schindler's List and probably a few other movies—takes his place.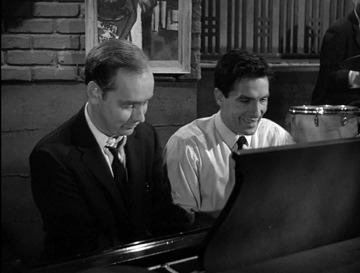 The music is by Elmer Bernstein, very much in the vein (ahem) of his The Man with the Golden Arm.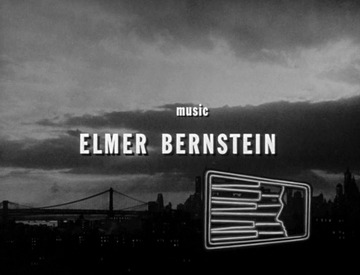 The neat graphic below Bernstein's name refers back to the opening credits.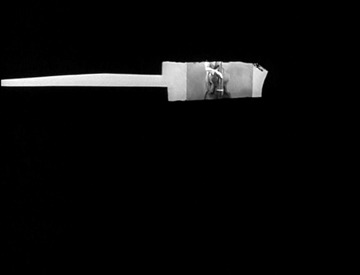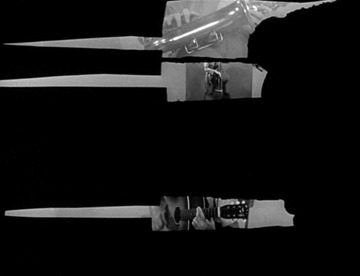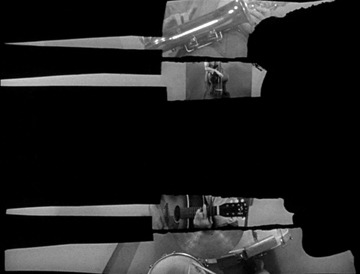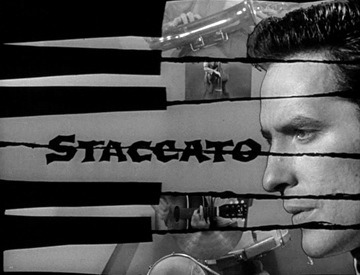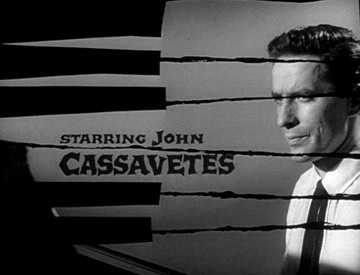 Eduardo Ciannelli plays Waldo.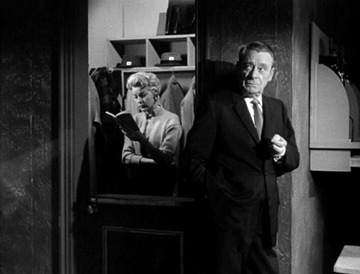 While it's especially fun for musician spotting, it's an enjoyable show in its own right. Film scholars will be most interested to watch those episodes that carry the following credit.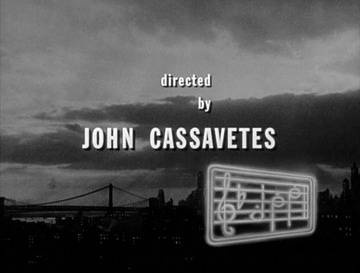 As you can see, after the first episode the neat graphic was changed to the three notes of a B-flat major triad—marked staccato. The opening credits changed also.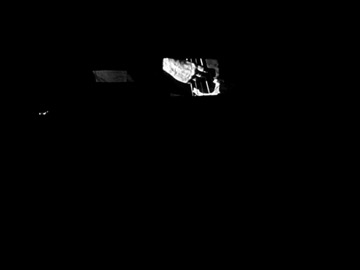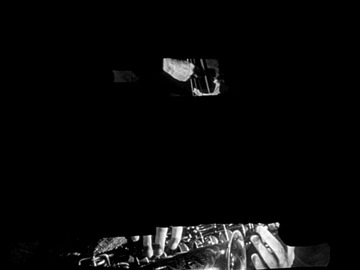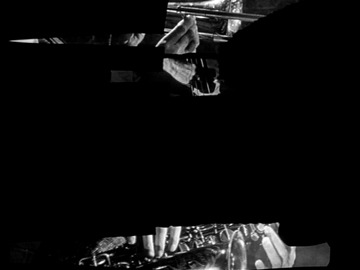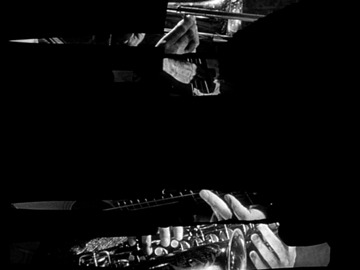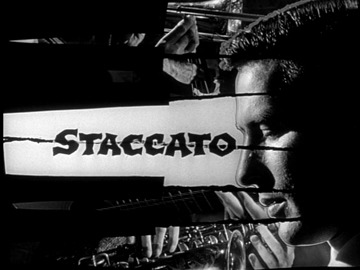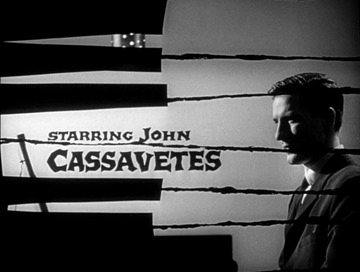 Later on they made new credits with an emphasis on action and changed the title from Staccato to Johnny Staccato.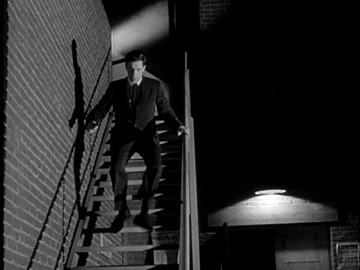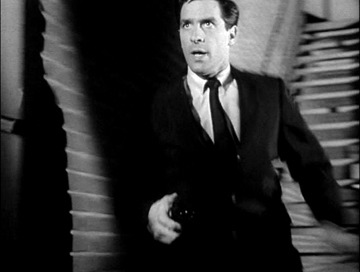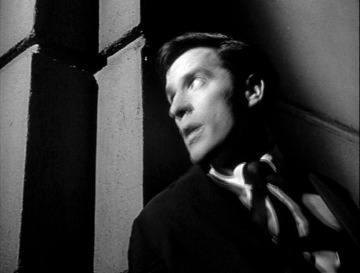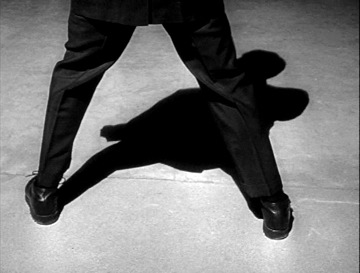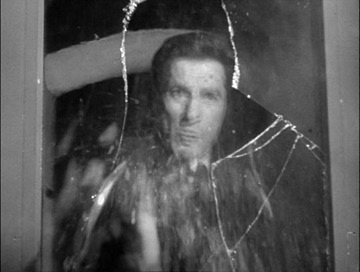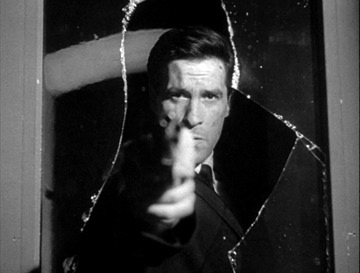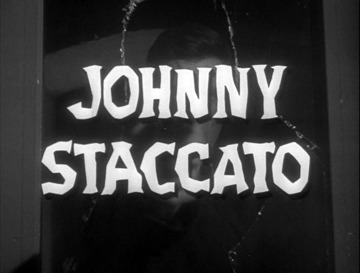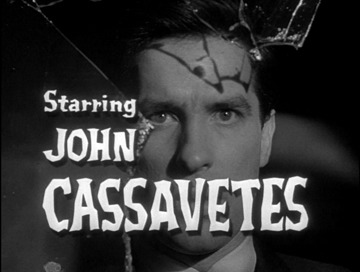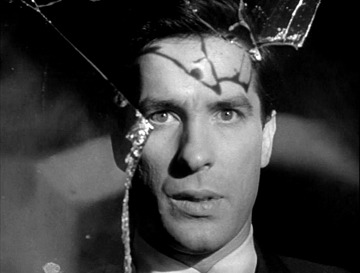 I look forward to watching these on the snowy winter nights that will be here soon.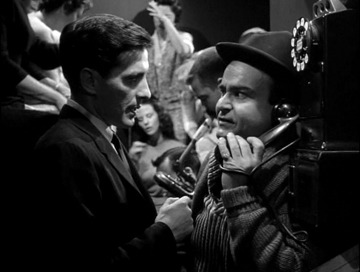 That's Gerry Mulligan in the background!
---
The 138th Soundtrack of the Week is Nico Fidenco's Black Emanuelle Goes East, also known as Emanuelle in Bangkok. It's apparently not a continuation of the Black Emanuelle series but a continuation, perhaps not official, of the Emmanuelle series.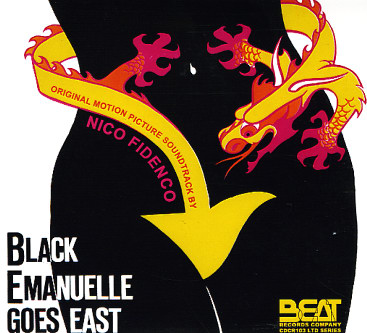 It starts with "Like a Sailing Ship", a song with the absurd bounciness of pop "novelty" songs. It opens with whistling and a wordless male vocalist . Eventually female vocalists come in with lyrics and are joined by distorted electric guitar. It's a strange tune and I'm not exactly crazy about it.
The second track is "Of Your Body", also known as "Emanuelle's Theme", a very cool piece that we heard about a dozen times on Fidenco's Black Emanuelle soundtrack. This time, though, there's an extra bar of 2/4 in the chorus of this otherwise 4/4 song. It's a neat addition. The instrumentation this time has something that sounds vaguely like what you hear in gamelan music.
And why not? The next track is called "Thailand Sweet Sound" and is typical of the music for this series of films. Prominent electric bass, multiple percussionists, flute and unusual electronic keyboard sounds.
"Unavoidable" sounds a lot like Muzak, which is, of course, unavoidable. "Sweet Feeling (Part Two)" is a sensitive romance cue for fingerstyle guitar, flute and bass. It sounds a bit like "Memories" from Cats and Henry Mancini's "Moon River". "Thailand Market Theme" uses that cliché of movies set in "the Orient", choppy strings running through the pentatonic scale.
"Thoughtless" is another cue previously heard in Black Emanuelle. I'm not sure if it's a different take or a different mix or what. They're very similar, in any case. "Sweet Bossa" sounds like its name. It's a bit too sweet for my taste, actually.
The intriguingly named "Ping Pong Dance" is like a slow Hully Gully with a very simple melody. "Red Hot Wax" is a groovy but wistful number and "Sweet Living Thing" is the vocal version of "Sweet Feeling" ("A tree can count its leaves / and you can count my dreams" etc.).
"Sweet Feeling (Part One)" should be self-explanatory at this point. "Sudden Ride" is another reprise of a Black Emanuelle cue. "Sweet's Variations" is that "Sweet Feeling"/"Sweet Living Thing" song again, this time with banjo.
The next track, number 15, is "Emanuelle's Theme" again. Then "Bellies Orient Dance", presumably music for a belly-dance scene. It's mostly just flute and percussion, with an Algerian feel, but strings come in near the end.
Then another run through of "Like a Sailing Ship", which hasn't grown on me yet. "Arabian Evasion Theme" is mellower than its title might lead you to expect. "Orient Riders" suggests people hurrying through the desert. "Body to Body" is another "Eastern" groove with the odd keyboard sounds typical of this record.
The last track is "Sweet Feeling" again, a very slow version. Nico Fidenco's versatility is impressive. These Emanuelle scores have their own identities and spin out several interesting variations on just a few themes.
---
In the last few years of his life, [Karel] Čapek confronted a world that seemed to belie his faith in human goodness. Witnessing the rise of Nazism, he marvelled at the way "one whole nation, one whole empire has spiritually acceded to a belief in animality, race and nonsense like that". The success of such "nonsense" could only be due to a failure to uphold the principles of intellectual life: "nothing less than colossal treason has been committed here by intellectuals …. In every place where violence against cultural humanness is perpetrated we find intellectuals who join in performing it en masse, and what's more, brandishing ideological justifications". Confronted with such perfidy, there was only one conscionable response: "not to betray one's spiritual discipline; not to deny in oneself, under any circumstances, under any pressure, the untrammelled and knowing spirit". As the crisis in Europe worsened, he wrote the last of his "apocryphal tales" — stories in which he reworked historical or biblical scenes. Contemplating the "treason" of the intellectuals, he imagined Alexander the Great writing to Aristotle, explaining that "it would be in the interest of peace and order, and entirely within reason given our political interests, if I were recognized as a god", and asking Aristotle "to philosophically prepare the way and to justify to my Greeks and Macedonians, on logical grounds, my proclamation as a god". In the last of his apocryphal tales, composed not long before his death, he imagined a conversation between Archimedes and one of the Roman soldiers who has conquered his city, Syracuse. The soldier tries to entice Archimedes into using his scientific knowledge to help the Romans conquer the world. "'Hm, the world', Archimedes said, engrossed in his drawing. 'Please don't take offence but I'm doing something more important here. Something more lasting, you see…. It's a method for calculating the area of a sector of a circle.'" The next, and last, sentence of the story: "it was reported that the learned Archimedes had met his death through an accident".
—Bernard Manzo, The Times Literary Supplement, October 15 2010
---
New on the Gutbrain shelf is the complete Larry Sanders Show on DVD!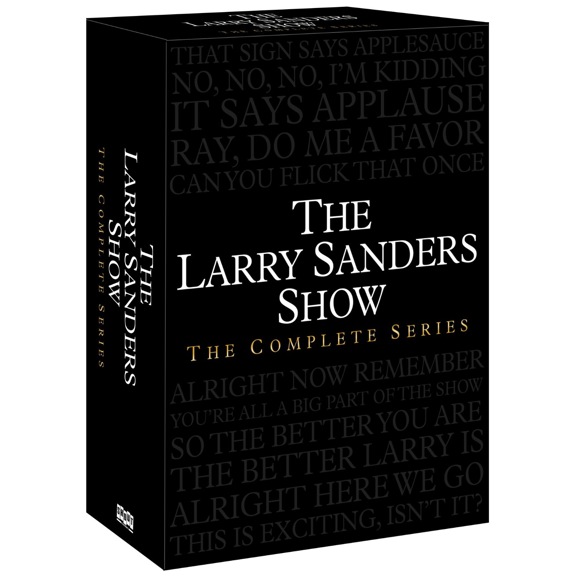 Thanks to Shout! Factory for finally putting it out. I had them all on videotape and watched them over and over, so this is one time when I'll actually be checking out the commentary tracks and watching all the extras (something I almost never do). The set also comes with a book.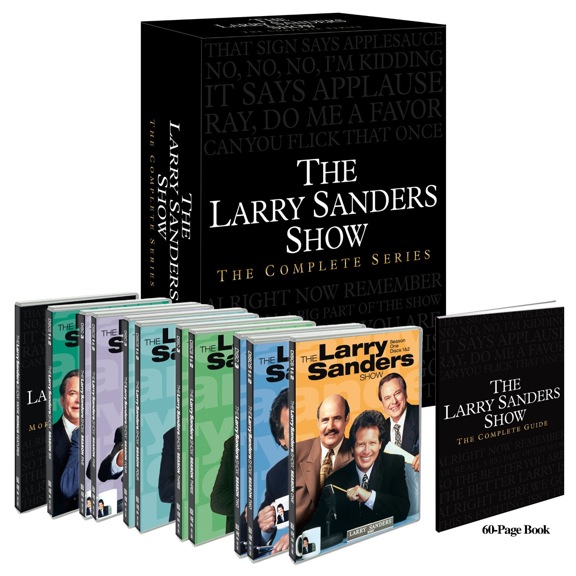 The book gives glimpses of what a really serious book might be like. I'd like to see the complete scripts, reproduced as these two pages are.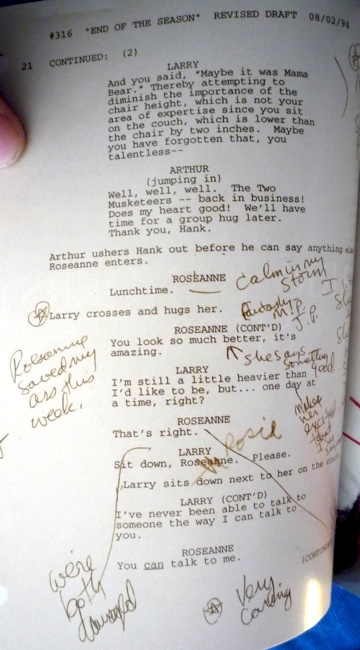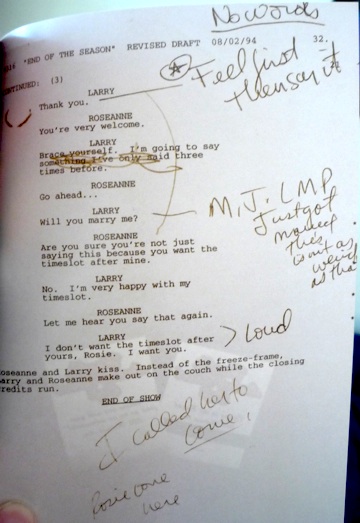 The Larry Sanders Show is one of the greatest English-language television series, perhaps the greatest. Nicholson Baker knows what I'm talking about. In his most recent novel, The Anthologist, the narrator Paul Chowder has this to say.
One day the English language is going to perish. The easy spokenness of it will perish and go black and crumbly—maybe—and it will become a language like Latin that learned people learn. And scholars will write studies of Larry Sanders and Friends and Will & Grace and Ellen and Designing Women and Mary Tyler Moore, and everyone will see that the sitcom is the great American art form. American poetry will perish with the language; the sitcoms, on the other hand, are new to human evolution and therefore will be less perishable. Some scholar will write, a thousand years from now: Surprisingly very little is known of Monica McGowan Johnsons and Marilyn Suzanne Miller, who wrote the "hair bump" episode of Mary Tyler Moore. Or: surprisingly little can be gleaned from the available record about Maya Forbes and Peter Tolan, who had so much to do with the greatness of Larry Sanders.
You will notice that Larry Sanders is mentioned both first and last. And part of Nicholson Baker's greatness is contained in that "—maybe—".
If you pre-ordered the set, as I did, you also got this hat.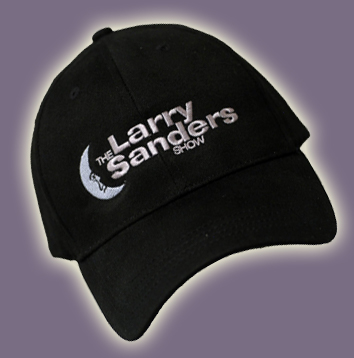 No flipping!
---
The 137th Soundtrack of the Week is Black Emanuelle by Nico Fidenco.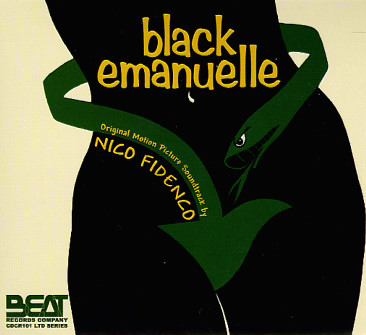 This is the soundtrack to the first in a series of movies made to cash in on the success of Emmanuelle, a French softcore sex movie that was an international hit in the 1970s. The major studio Columbia, according to Wikipedia, distributed it in the United States "after noting that most of the film's audience in French cinemas were women. The studio reasoned that female interest meant Emmanuelle could not be regarded as mere pornography".
Emmanuelle is apparently about a woman in Bangkok who, bored with her marriage to a diplomat, has a series of sexual encounters. In Black Emanuelle the title character is an investigative journalist who, presumably, also has a series of sexual encounters.
Black Emanuelle's soundtrack begins with "Emanuelle's Theme", a great tune that creates an ethereal atmosphere with just percussion and flute with lots of reverb. Guitar and bass come in, then strings and vocals. One chunk of it sounds a bit like "The Breeze and I".
The second track, "Of Your Body", is "Emanuelle's Theme" with lyrics. It begins with just voice and percussion, then bass, drum kit and back-up vocals come in, followed by keyboards. It's also quite groovy. You hear this melody a lot, so it's for the best that it's so agreeable.
Track 3 is "Emanuelle's Theme". Do you see a pattern emerging here? It's similar to the treatment in the first track.
After this we get some other tunes. First is the uptempo "Samba Safari" with a sprightly tape-echo guitar part that would be at home in a Ventures Christmas album or some such thing. The backing band sounds like it came from a seedy Las Vegas hotel ballroom. "Sudden Ride" combines funky rhythm guitar with a Morricone-like piano part and slightly ominous electric bass playing.
The first few seconds of "Black Rhythm" suggest the Hawaii Five-0 theme but turns out to be a workout for multiple percussion intruments, some vocals low in the mix and what sounds like it could be a clavinet. "Wild Cry" continues where it leaves off.
After that it's "Emanuelle's Theme" again! It really is a cool number. I never mind hearing it. Then it's "Sudden Ride" again. Then it's "Thoughtless", which begins with what I can only describe as "action guitar" before slouching into a kind of Vegas-style section with a tenor sax and keyboard melody. Then there's a guitar solo.
"Unavoidable" is laid back and a little bit goofy. It sounds like it's meant to accompany a tender and romantic scene. Then "Emanuelle's Theme" again!
After that it's "Hawaiian Sand", with delightfully echoey electric guitar sliding around a Hawaiian melody, accompanied by electric bass and percussion. Then "Emanuelle's Theme" again. Then "Samba Safari" again.
Then there's something called "Skin in the Wind". Percussion and a strange keyboard sound similar to the Ondes Martenot. Then strings come in and it turns out to be a quiet but dramatic cue, perhaps to accompany a pivotal scene. "Flute and Skin" is a lounge-type cue and "Rhythm Again" is another group percussion exercise with some shouts and chants.
Then there's "Emanuelle's Dream", with something that sounds a bit like marimba but probably isn't, some bizarre keyboard sounds, flute and strings. "Un Amore Impossible" begins with a romantic solo piano flourish and a melody somewhat similar to the "Love Story" theme or John Barry's "Somewhere in Time" theme.
Then we're back to another version of "Emanuelle's Theme", followed by "Wild Strength", percussion, chanting and some weird flute playing. Then it's "Wild Strength" again, a different take, I guess, and then the record concudes with one more "Emanuelle's Theme" for the road.
---