2010 November 15 • Monday
The 139th Soundtrack of the Week is Nico Fidenco's Emanuelle in America, the sequel to Black Emanuelle Goes East (a.k.a. Emanelle in Bangkok).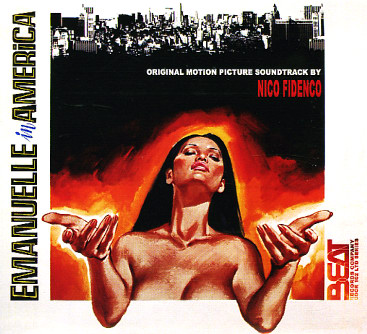 It begins with the song "I Celebrate Myself", which sounds almost like a collaboration between Styx and Goblin. I like it. Flute and strings bring back the melody in the next track, "On the Stage". The melody returns again, this time on horns, backed with wah-wah guitar and some discoish electric bass and percussion. It's a good thing it's a great melody, otherwise you might be sick of it by now.
"Twelve Girls" manages to be jaunty and ethereal at the same time, but it's sunny atmosphere is blotted out by the cloudiness of the following track "Emanuelle in America Sweet". Dark bass playing and very minimalist drumming are accompanied by moaning. Strings and wah-wah guitar bring back the "I Celebrate Myself" melody.
"Venice Dawn" picks up the pace again with what sounds like synth harpsichord; then it's "Emanuelle in America Sweet" again. Then an instrumental take of "I Celebrate Myself". After this comes "Hot Phone Call" which begins exactly as "Emanuelle in America Sweet" but has some great distorted guitar playing.
"Rhubarb" is basically the same as "Twelve Girls". Both pieces sound a bit like "The Breeze and I" or any number of other surf standards. "Hidden Pictures" has a serious backbeat and a real Morricone feel, particularly in its use of piano and distorted guitar. There are some unusual percussion sounds and overdriven flute. On this track and most of the others, the electric bass player deserves special credit for holding down the bottom while more or less constantly soloing.
Track 12 is another instrumental version of "I Celebrate Myself". It still sounds great. "Revulsion Tango", track 13, is a tango with accordion and a serious ill bass sound, maybe a keyboard of some kind being run though something or other. (It sounds like the sound in the beginning of Morricone's opening credits music for the movie Ad Ogni Costo, a.k.a. Grand Slam.) "So It Pleases You" begins with a distorted guitar note, then has some jaunty flute and Morricone-like piano and harpsichord. The distorted guitar returns to run through the "I Celebrate Myself" melody again.
"Flee Emanuelle" has wah-wah guitar and string washes for more staccato keyboard playing and raspy flute. Then it lays back for another "I Celebrate Myself" reprise. And guess what melody you hear in "Emanuelle in America Dream"? I'm still not tired of it!
After that comes "Something Strong", which opens with distorted guitar and sci-fi keyboard work. There are also organ and a cello solo, accompanied by some sparse and interesting percussion. "In the Nest" has a very upbeat, triumphant melody on strings accompanied by a buoyant percussion section. Similarly bubbling percussion work begins "Queen for a Joke". Wooden flute plays a new melody. Some exciting chants and calls take over at the end.
Then it's track 20 and "I Celebrate Myself" again, another vocal version. "Venice Reportage" is somewhere in the neutral zone between drama and disco. Guess what melody it uses? I still love it!
"Your Solstice" presents a different melodic idea, beginning with just flute, bass and percussion before the string section comes in. Track 23, "Emanuelle in America Theme", offers another arrangement of "I Celebrate Myself", stretching out the melody in unexpected ways. Fidenco has really got a lot of mileage out of this tune!
After that is "Rhubarb" again, also a nice piece. It's all about the instrumentation: wordless chorus, banjo, electric bass, synthesizers and percussion. "Trouble" has the percussion section increasing the intensity of their rhythms while wooden flutes deliver the expected melody in yet another altered form.
The last piece, "Spellbound", opens with call and response between distorted guitar and flute, then adds what sounds like somebody scraping the strings inside a piano. Cello delivers the "I Celebrate Myself" theme one more time. Some exciting drum kit playing comes in after a bit, with lots of snare rolls, different instruments join in on the main theme and bring everything to a satisfying climax.
---