2010 November 29 • Monday
The 141st Soundtrack of the Week is another Nico Fidenco Emanuelle score, this one for Emanuelle e Gli Ultimi Cannibali.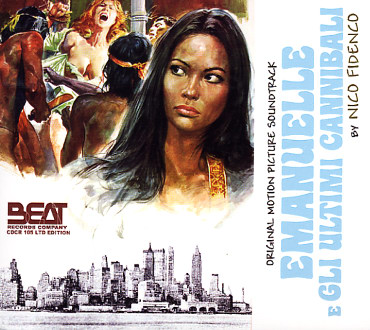 The main theme/song for this one is "Make Love on the Wing", uptempo disco rhythm with hand percussion and flutes and a female vocalist who has kind of a Shirley Bassey quality. There are ten tracks called "Make Love on the Wing" on the CD, and most of them are slower, instrumental versions that recall Fidenco's "Emanuelle's Theme".
You hear "The Dark Side of the Soul" a few times, too, a groovy stomp given different arrangements. The melody recalls "Make Love on the Wing". "Wild Nightmare" is another variation of "Make Love on the Wing" that you hear a few times.
"The Meal Is Over" is a cool instrumental which mixes hand percussion and electric instruments, starts slow and speeds up. It's followed by "Cannibals in Pursuit", which starts out with frantic hand drumming but gets a little bit mellow and groovy, almost dubby, when the electric bass guitar and flute come in.
---