Chiang [Kai-shek]'s political choices made a huge difference in the lives of many people in China, sometimes disastrously so. … His greatest crime was ordering the destruction of dykes on the Yellow River in 1937 in an effort to slow Japanese advances. The explosions shifted the course of the river and flooded parts of three provinces. At least 800,000 Chinese villagers drowned in the floods, a figure that is more than double the highest estimated number of Chinese casualties during the Rape of Nanjing several months earlier.
—Jeremy Brown, Times Literary Supplement (January 29, 2010)
In other news, here's a bizarre article in Slate (via jwz) about our Prohibition-era "federal poisoning program".
---
After watching 13 Ghosts, I decided to check out The Mask (1961), apparently Canada's only 3-D movie.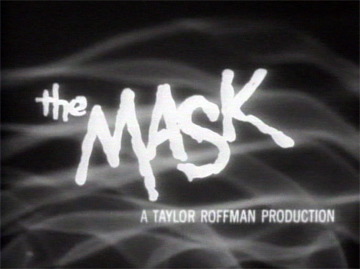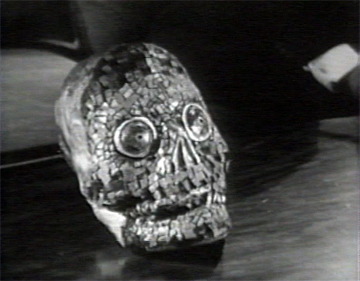 Like 13 Ghosts, The Mask asks you to use your special viewer—in this case just plain old 3-D glasses, one lens red and one lens blue—whenever somebody wears the mask. A voice intones "Put the mask on now" or something similar, which is your cue to put on the glasses.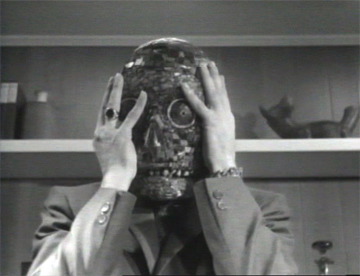 Whoever wears the mask gets transported to a freaky dream world that's a bit like a cross between Nobuo Nakagawa's Hell (Jigoku, 1960) and what I imagine a movie adaptation of The Manuscript Found in Saragossa directed by Edward D. Wood, Jr., could have been like.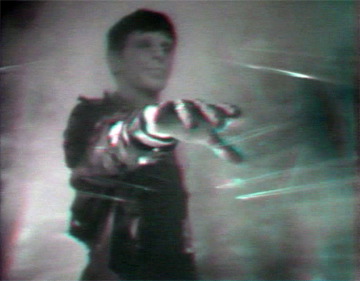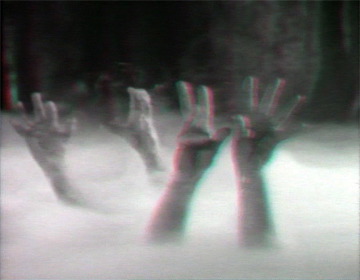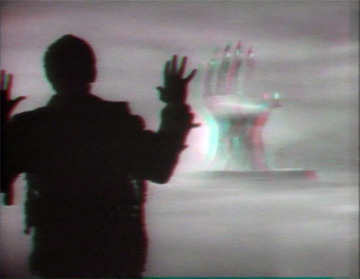 The dream tells a sort of story about a man trying to save a woman from being sacrificed to the demon of the mask. Interestingly, the woman wears a mask that's straight out of Eyes Without a Face (Les Yeux Sans Visage, 1959).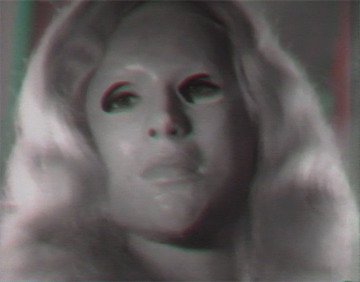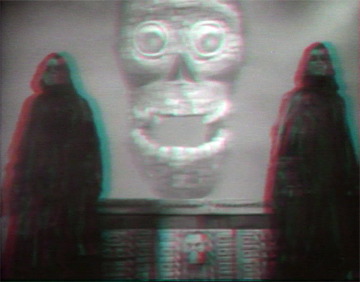 These eyeballs come flying at you—in 3-D!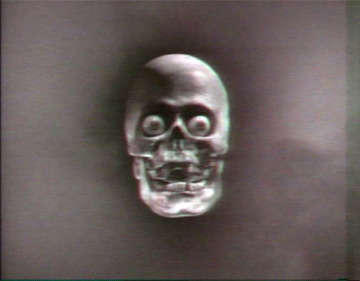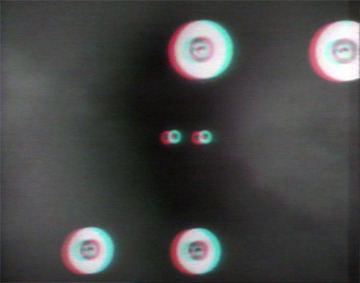 The demon of the mask is pretty cool.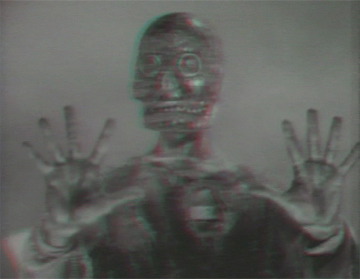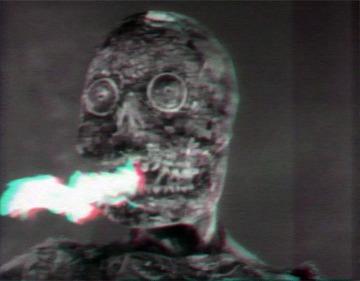 Later on a huge masked head flies around belching flames all over the place. This is probably where John Boorman got the inspiration for Zardoz (1974).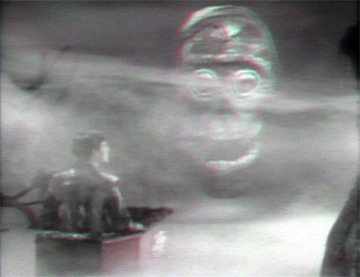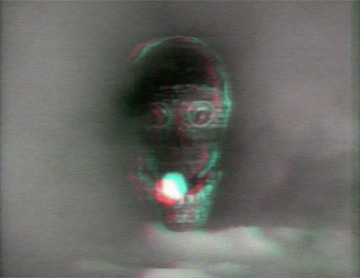 There are three of these dream sequences, credited to Slavko Vorkapich, and I thought they were very impressive. The music by Louis Applebaum is also quite good; it sounds like it's all solo keyboards/organ.
The rest of the movie is pretty bad. The acting, writing and directing of the not-dreaming scenes are tedious. Perhaps this makes the dream sequences seem even better when they finally arrive.
---
Soundtrack of the Week #101 is The Reporter by Kenyon Hopkins.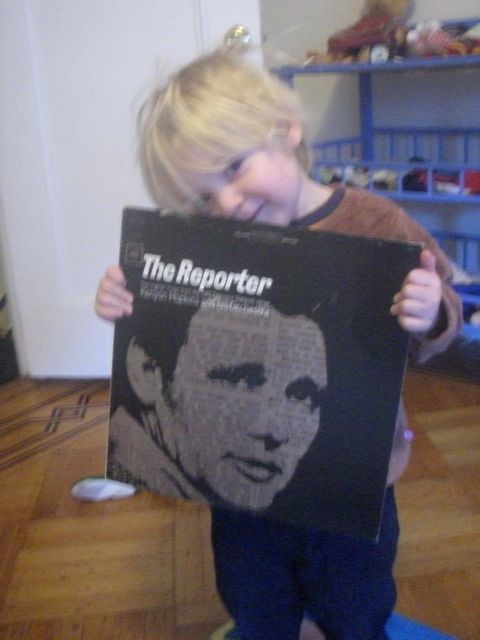 I first started paying attention to Kenyon Hopkins after seeing the movie Baby Doll, for which he wrote a great score. (John Zorn's Naked City used to cover the theme for that movie.)
I picked up this LP of music from The Reporter when Footlight Records on East 12th Street was having a going-out-of-business sale. Vinyl was something like 70% off.
The record begins with the main title theme, a high-energy big band swing/bop tune, with spirited soloing by Phil Woods, who's heard a lot on this record. Also featured are Zoot Sims, Barry Galbraith, George Duvivier and Ed Shaughnessy, among others.
"By-line" is chirpy almost to the point of silliness. It's followed by the driving yet haunting "Extension 7, which begins with combined Latin and Middle Eastern feels (sounds a bit like "A Night in Tunisia"), then slides into a bluesy swing. Awesome bongo playing by Joe Venuto!
"Lonely Girl" is a sensitive ballad with music that suits the title. "Press Party Waltz" is in 3/4, as you would expect, and a bit too chirpy for my taste. "Are You Busy?" is a stomp that could easily accompany a strip tease.
The B side begins with "A Nose for News", another somewhat chirpy tune, but one with an off-kilter rhythm and nice arrangements for the winds. "Bossa Blu Nova", the second tune on this side, is the one whose title persuaded me to buy the record. (It seems that everybody had to do some kind of bossa nova thing at this time, early to mid '60s. Paul Desmond, who recorded several sublime bossa nova cuts, poked fun at the trend by calling one of his records Bossa Antigua. It sure wasn't "nova" anymore.) A great tune, quiet and restrained yet very suspensful and exciting.
"Headline" sounds like an action cue, all propulsive rhythms and energetic blowing. Shaughnessy is particularly good on this one. "The Lady Didn't Say" is another ballad, perhaps a bit similar to Henry Mancini's "Dreamsville", from the Peter Gunn soundtrack.
"Stop the Presses!" is a bluesy tune in 6/8. "Tick-Along Juke" begins with a kind of mutated "Night Train" rhythm before relaxing into straight swing. Source music for a juke box, I guess.
The last tune on the record, "Danny's Theme", is a slowed down version of the main title. (The series is about a reporter named Danny Taylor.) Strings take the place of horns and poignancy replaces pugnacity.
I watched a couple episodes of The Reporter recently, and it sounds to me like the music on the LP is a re-recording for the album release. I wonder if the original music elements are somewhere in a vault at CBS….
---
On Monday night I decided to watch William Castle's 13 Ghosts in Illusion-O.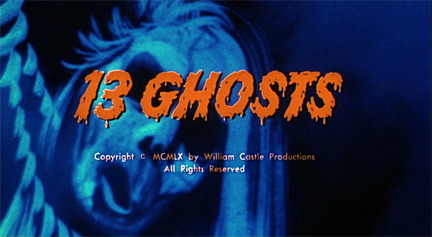 The DVD has been sitting on my shelf for eight years or so. The DVD is double-sided, one side containing 13 Ghosts with Illusion-O, the other without. As seems to be the case with every double-sided DVD ever made, the sides are labeled incorrectly. The Illusion-O side begins in color, then has an introduction by Castle.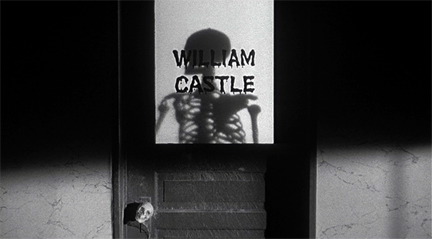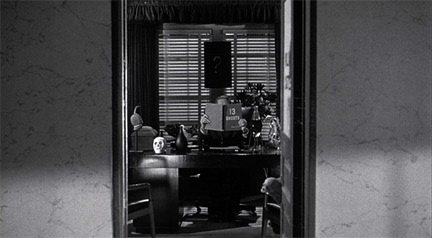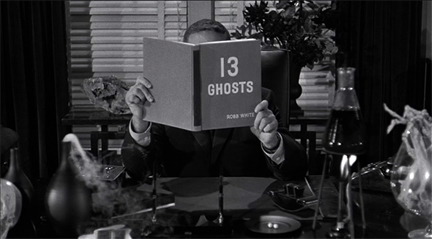 Castle puts down the book and explains that when the screen gets blue, you should look through your ghost viewer.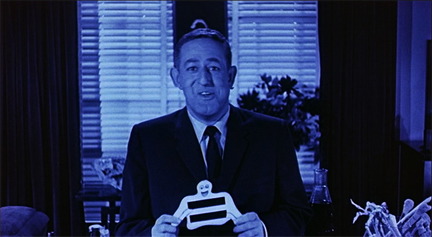 Look through the red part if you want to see the ghosts…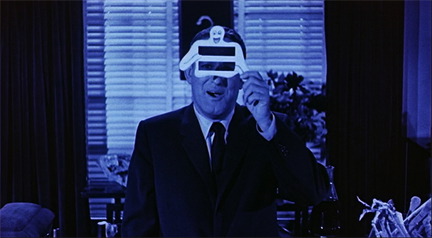 and through the blue part if you don't.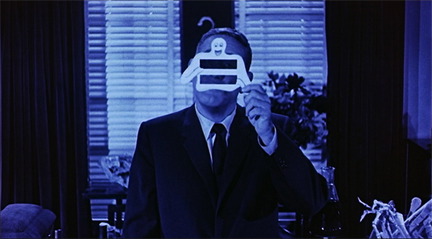 I like his ghost-shaped ghost viewer. The one that came with the DVD looks like this: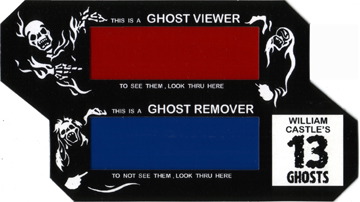 The DVD only came with one of these ghost viewers, which is kind of a drag if you were hoping to watch the movie with somebody. (Apparently at some point the DVD no longer came with a viewer at all. And according to Home Theater Forum, Sony's latest reissue of the DVD only presents the black-and-white version without Illusion-O!)
Just in case the blue tint is too subtle for you, you're reminded whenever ghosts are about to appear. The main character in the movie also has to look through a ghost viewer to see the ghosts.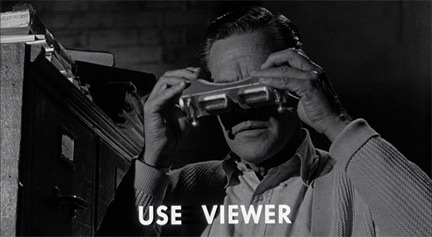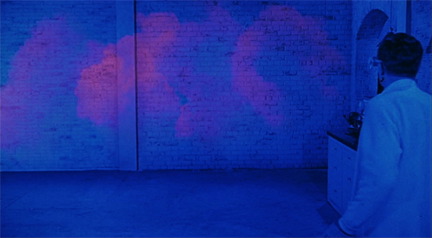 The red stuff, when viewed through the red part, seems to glow. The ghosts are very bright and it's a neat effect.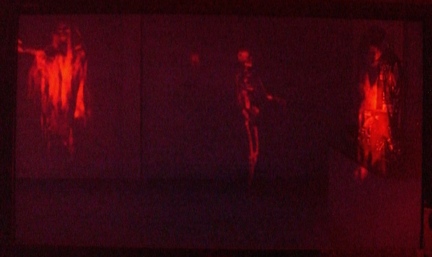 It doesn't look like much here—I took a photo of the screen with the camera pointing through the ghost viewer—but it works well when you're watching the movie. It's also fun to peek through the blue part and see the ghosts disappear.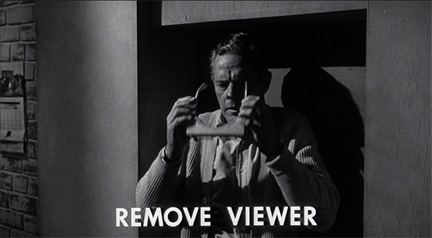 It's not a great movie but I bet it was a lot of fun for kids who saw it in 1960.
---
If we're going to have another 3-D craze, how about an insanely expensive remake of Jaws 3-D?
How about a screening of Second Chance?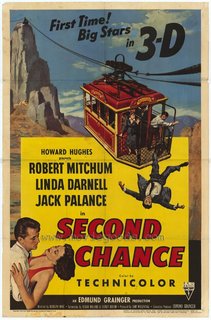 Lee Server, in his excellent Robert Mitchum: "Baby, I Don't Care", had this to say about it:
Second Chance opened to good business and moderately positive reviews. Critics were distracted by the ocular assault of the 3-D effects, not by the story, which seemed even more threadbare on screen than it had on paper. For RKO's vaunted big picture of the year, the film was sloppy and cheap. The location trip to Mexico had provided little more than some raw-looking, second-unit-type footage. The rest was a cramped, operetta-style soundstage South America, the cable car climax a cheesy mix of obvious toy miniatures and back projection. Even the music sounded subpar, like the generic library cues used by Poverty Row studios for their three-day Westerns. But the "great unwashed," as Mitchum referred to his loyal fans, seemed to enjoy it. What the hell. The film was as effortlessly watchable and as easily forgotten as a gaily colored dream. Mitchum performed his empathetic tough guy characterization with refined minimalism. Given nothing to do, he did it to perfection.
It sounds better than Avatar.
---
The one hundredth Soundtrack of the Week is Quincy Jones's The Deadly Affair.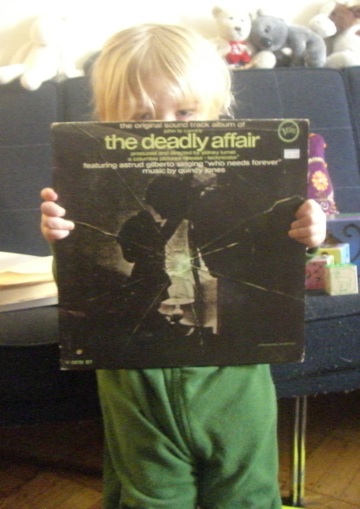 The Deadly Affair was a movie version of Call for the Dead, John Le Carré's first novel, the book that introduced the world to George Smiley, one of the most famous characters in espionage fiction.
The music on this record is wonderful, but there's not much to say about it. Jones came up with a melancholy bossa nova tune, "Who Needs Forever", and got the great Astrud Gilberto to sing it. Pretty much every track is a reworking of this theme, with different atmospheres and feels, sometimes with some dramatic scoring before and after it.
I'd like to see the movie sometime. I suspect there's a lot more music in it than you hear on this LP, which has a running time of less than half an hour.
Hey, we've done a hundred Soundtracks of the Week!
---
Happy birthday, Alice!
In 1898, the research ship Belgica became trapped in the ice around Antarctica. Men on board spied what they believed to be a mission group approaching, and dressed to meet their rescuers. The great polar explorer Roald Amundsen, sent out to greet the group, saw that the figures moving across the ice were penguins.
—Barbara J. King, Times Literary Supplement (January 29, 2010)
---
John Dankworth died on Saturday. I didn't know that he was married to Cleo Laine.
His music for the pre-Emma Peel Avengers was great, especially the theme. It's included in this recent compilation of Dankworth's film and television music.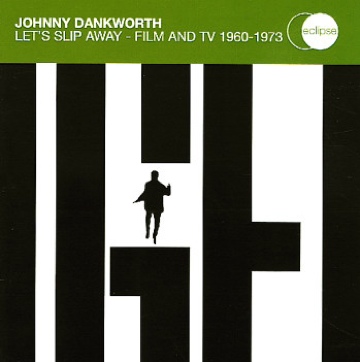 That image on the cover is from The Avengers credits, in fact. The person is in the middle of the G in AVENGERS.
We recently noted here (last November) Dankworth's involvement in the movie All Night Long. On Saturday, the day of his death, I watched The Knack …and How To Get It and noticed a poster in the background of one scene, advertising a Johnny Dankworth concert with openers The Flee-Rekkers at the Royal Albert Hall.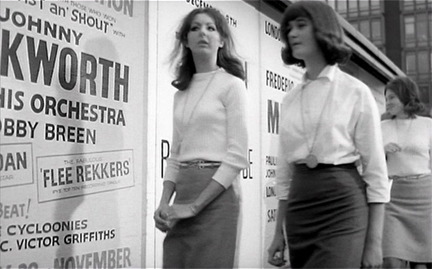 I also like The Flee-Rekkers. They were recorded by Joe Meek and covered Barry Gray's theme to Fireball XL5.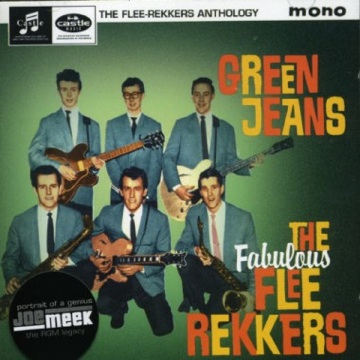 I would rather have watched a film of that Dankworth/Flee-Rekkers concert than The Knack, though The Knack has some great music by John Barry.
---
The ninety-ninth Soundtrack of the Week is The Endless Summer by The Sandals.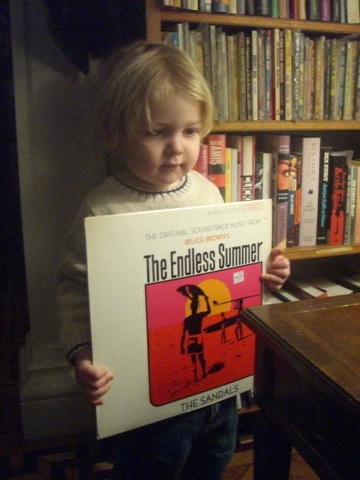 It begins with the sound of a revving engine. Then come the drums, the guitars and the bass. As they run through the up-tempo "Scrambler", the engine sound comes in and out, passing by.
The Endless Summer is a surfing documentary in which filmmaker Bruce Brown, who had already made several such features, followed a group of surfers as they went literally around the globe, catching waves in Hawaii, Africa, Japan and so on. It was summer everywhere they went, all year long, thus the title. Summer never ended that year.
I haven't seen The Endless Summer in fifteen years or so, but I remember it as a beautiful movie, innocent, joyful and poignant.
"6-Pak" begins with the band shouting out the title. Then there's the sound of beer or soda cans being opened. Another up-tempo surf rocker.
This is the greatest surf record of all time.
The third track on the A side is "Driftin'", by Hank Marvin of The Shadows. His name's spelled wrong here ("Hank Mervin"). Another fun up-tempo piece.
But it's the piece after this, the "Theme from 'The Endless Summer'", that makes the strongest statement. Whatever "'Round Midnight" is to jazz, the "Theme from 'The Endless Summer'" is to surf music. It's one of the essential compositions of the genre.
It's strange that it's buried in the middle of the A side like this. It should open or close the record, shouldn't it? Maybe it's too powerful for that. It might swamp everything else.
"Good Greeves" begins with a playful keyboard figure, a new sound that catches your attention, just as the wordless background vocals used for the first time on the "Theme from 'The Endless Summer'" did.
The first side concludes with "Decoy", an upbeat yet haunting tune that sounds like it was inspired by music for TV or film westerns, a genre that was hugely popular in the late '50s and early '60s.
The B side begins with those revving engins again, then the revving drums. The engines come back a few times. It's very similar to the opening of the A side. "Wild as the Sea" begins with the sounds of waves. The piece turns out to be a very sensitive tune, with heavy tremolo on the guitars and some other instrument, probably a clavietta, taking a lead.
The tremolo is still very much evident on "Trailing", which has a '50s feel. It's similar in structure to any number of doo-wop songs. "Jet Black" is by Jet Harris, bass player for The Shadows. No surprise, then, that the bass takes the lead. The piece shows a Spanish influence, and there's a vocal break where each member of the band says "Jet black".
"Lonely Road" is basically a reprise of the "Theme from 'The Endless Summer'". It's not as intense, but functions as a reminder of the wistfulness of the story.
The revving engines come back one more time for the last track, "TR-6", which opens with some Dick Dale-style guitar strumming. Then it's another up-tempo but lonely track. The music on this album puts The Sandals at the top of the list of great surf bands.
I got my copy at Stereo Jack's.
---
Edgar Allan Poe's Raven is "Perched upon a bust of Pallas just above my chamber door", "on the pallid bust of Pallas just above my chamber door".
Fine. But who is Pallas? Wikipedia—I'm too lazy right now to search elsewhere—offers several from Greco-Roman mythology:
Pallas (son of Crius), a Titan associated with war
Pallas (Giant), the son of Uranus and Gaia
Pallas (son of Pandion), the son of Pandion II, king of Athens, and father of the fifty Pallantides
Pallas (son of Evander), the son of Evander, king of Latium
Pallas (daughter of Triton)
Pallas (son of Lycaon), teacher of Athena
Athena, who used the epithet "Pallas"
Sax Rohmer, the famous and perhaps infamous creator of Fu Manchu, wrote several stories about an antique dealer named Moris Klaw, who is sort of a psychic Sherlock Holmes. These stories were collected in a book called The Dream-Detective.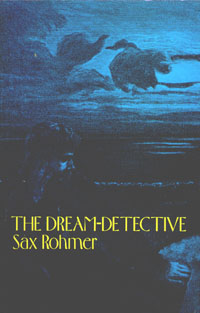 The first story concerns a locked room mystery, a murder in the Greek Room of a London museum. Whatever happened appears to have had something to do with an ancient Greek harp, "said to have belonged to a Temple of Pallas".
It was when I read this that I wondered if the author was paying a tribute to Edgar Allan Poe, whose C. August Dupin is the original inspiration for countless fictional detectives who followed him.
Sherlock Holmes dismissed Dupin as "a very inferior fellow", but this almost certainly does not reflect the views of Holmes's creator, Arthur Conan Doyle, who said that "a whole literature developed" from Poe's detective stories and that "Poe breathed life into" the genre.
The atmosphere of the Moris Klaw stories and their narrative structure owe more to Conan Doyle's writing than to Poe's, however.
In the first story, "Tragedies in the Greek Room", Klaw sleeps at the scene of the crime with "a red silk cushion" in order to take a sort of psychic photograph of what occurred there. Asked if he would like pillows and a blanket, he declines. "'They would be saturated with alien impressions. My cushion it is odically sterilised! The "etheric storm" created by Conway's last mental emotion reaches my brain unpolluted.'"
The word "odically" sent me to my dictionary, which told me that it referred to "od", "a force or natural power formerly held by some to reside in certain individuals and things and to underlie hypnotism and magnetism and some other phenomena".
The dictionary informed me further that the word "od" was coined by a certain Baron Carl-Ludwig von Reichenbach. If you're still reading this, than you probably don't need to click here to discover why Klaw's "odically sterilised" pillow might also be a scarlet strand connecting him to the world's most famous consulting detective.
And it might not. Is there any significant connection between Baron von Reichenbach and the Reichenbach Falls? Did Conan Doyle, who was very serious about spiritualism and other such things, pick those falls because of the name? I don't know. Do Klaw's actions in his first case make him a sort of "Greek interpreter"? Somewhere in all of this is a thesis paper for somebody.
There is another potential literary connection worth mentioning. Douglas Greene, in his introduction to the Dover edition of Sax Rohmer's The Insidious Fu Manchu, notes that the author's real name was Arthur Sarsfield Ward. Sax Rohmer is a pseudonym, "a name, the author explained, that means 'blade roamer'".
It's not a great distance from blade roamer to Blade Runner. Is it a conicidence? In what language is "sax rohmer" supposed to mean "blade roamer"? I don't know.
---
For my birthday last August, my brother conspired with my parents to give me an impressive collection of James Tiptree, Jr., stuff. There were rare books, inscribed first editions, even this letter, which is quoted in Julie Phillips's great Tiptree biography.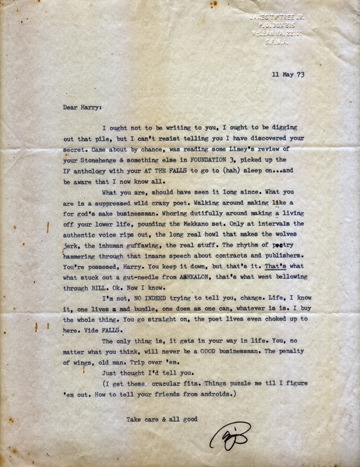 Among the books was this hardcover copy of 10,000 Light-Years from Home, signed and inscribed by the author.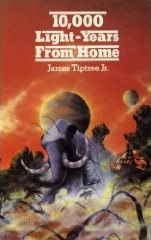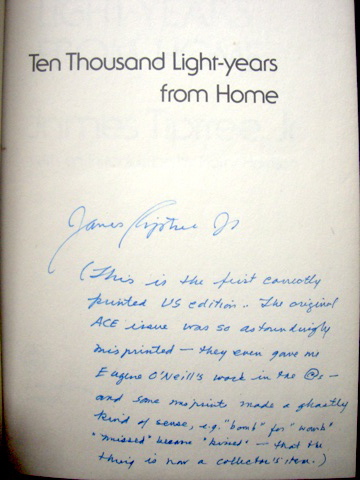 This is the first correctly printed US edition. The original ACE issue was so astoundingly misprinted — they even gave me Eugene O'Neill's work in the ©s — and some misprints made a ghastly kind of sense, e.g. "bomb" for "womb" "missed" became "kissed" — that the thing is now a collector's item.
It's true, the Ace paperback has more errors of that kind than any other book I've ever read.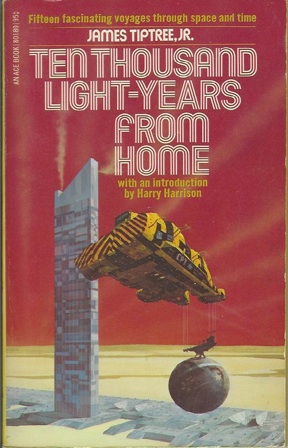 It's not O'Neill's work that they give to Tiptree on the copyright page, though, but Arthur Miller's. Tiptree's "Birth of a Salesman" is born again as "Death of a Salesman" on the copyright page.
In addition to the poor printing, the layout of the book is awful. New stories don't start on the next page but get going just a few lines after the end of the last one. Story titles are in all caps, but Tiptree sometimes uses all caps within the stories, so this is inadequate and potentially confusing.
It is an excellent collection, though, if you can get past all that crap. The first story, "And I Awoke and Found Me Here on the Cold Hill's Side", is a powerful demonstration of one of Tiptree's main themes, the coupling of sexual desire with self-destruction.
"Painwise" also typically links longing with doom but uses a wonderfully imaginative narrative: a man who can't feel pain is welcomed by empaths who want nothing more than to travel around the universe sampling all the most delicious foods of the various galaxies. The empaths can't get their own take-out, though, because everywhere they go, there are beings in pain, and the empaths' particular sensitivity amplifies pain to an unbearable degree. But "No-Pain", as they call the main character, can do it for them and his company won't cause them any distress.
"The Man Doors Said Hello To" shows a lighter, more whimsical side of Tiptree. A lightness of tone often accompanies her heaviest stories, but here that ratio is flipped to create an amusement with a dash of menace.
Tiptree loved Star Trek and there is a reference to her favorite character, Spock, in "I'll Be Waiting for You When the Swimming Pool Is Empty". This collection's final story, "Beam Us Home", is a tribute to Star Trek that focuses on another familiar Tiptree theme, the despair over senseless and apparently inevitable human violence. Once again a desire to leave one world for another is what drives the main character. Once again this longing might lead only to suicide—but here, significantly, it might not.
---
February will be vinyl month here at Gutbrain Records. The Soundtracks of the Week will be from our LP collection. Perhaps some or all of these recordings are available on CD. I don't know.
We begin with SotW number ninety-eight, Jazz Gunn: Shelly Manne & His Men Play Henry Mancini's Music for the Film "Gunn".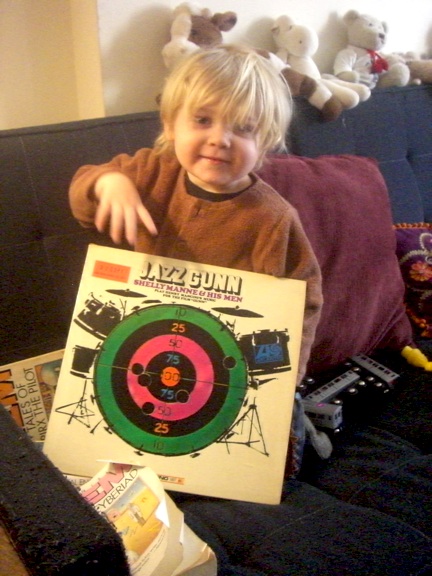 Shelly Manne played on the original sessions for Henry Mancini's Peter Gunn music, back in the late '50s. He put out two albums of his arrangements of some of the tunes, Shelly Manne & His Men Play Peter Gunn and Son of Gunn!!: Shelly Manne & His Men Play More Music from Peter Gunn.
Jazz Gunn consists of Manne's arrangements of tunes from the 1967 Peter Gunn movie, called Gunn. The band is Shelly Manne on drums, Conte Candoli on trumpet and flugelhorn, Frank Strozier on alto sax and flute, Mike Wofford on piano and Monte Budwig on bass.
If you've heard Shelly Manne's arrangements of "Take the A Train" and "Cherokee" on his 2-3-4 record, then you know he's capable of interesting and unusual approaches to familiar material. That talent is on display here.
A few years ago I asked Joey Baron if he knew this record and he immediately replied, "Is that the one with the fast walking bowed bass?". Sure enough, that's what Budwig is doing on the first track, "A Bluish Bag". I don't think I've ever heard any other bassist do this. It really grabs your ears and pulls you into the music.
The trumpet begins solo, then is joined by the sax. The B section contains a surprise: still in unison rhythmically, the two wind instruments are separated harmonically by a major second. It's startling, almost dissonant. It's like the fast arco walking: unexpected, weird, but totally right and swinging.
This is really Monte Budwig's record, if you ask me. Throughout his playing and his musicality are extraordinarily impressive. On "Silver Tears", a slow tune, he's remarkably tasteful yet spectacular, in the same way that Bob Cranshaw is on Sonny Rollins's record The Bridge.
"Sweet" is another restless and inventive arrangement that begins with a solo drums intro. When the band comes in, they start and stop over and over again, keeping the listener slightly off balance. Then when they get into the groove, it's like being swept away by a strong ocean current.
"Theme for Sam" is a swinging blues that starts without drums. Strozier plays flute on this one. "A Quiet Happening" is a pensive, mid-tempo swing tune, with a great drum solo. "Night Owl" features the flute again, and is in 3/4 time.
Then there's the last tune, the famous "Peter Gunn" theme. For whatever reason, neither of Shelly Manne's previous Peter Gunn records included this crowd-pleaser. Was he avoiding it? Was he asked not to do it? I have no idea. He does it here, though, and gives it the same treatment that, decades later, Cat Power would give The Rolling Stones' "Satisfaction". He removes the famous riff—the bass line, in this case—and slows the tempo way, way down.
The liner notes make a big deal out of this ("there's nothing wrong with your turntable") and it is a big deal. It's amazing! And if you still weren't convinced that Monte Budwig is one of the great bass players, his contribution to this piece should win you over.
---