2010 February 22 • Monday
Soundtrack of the Week #101 is The Reporter by Kenyon Hopkins.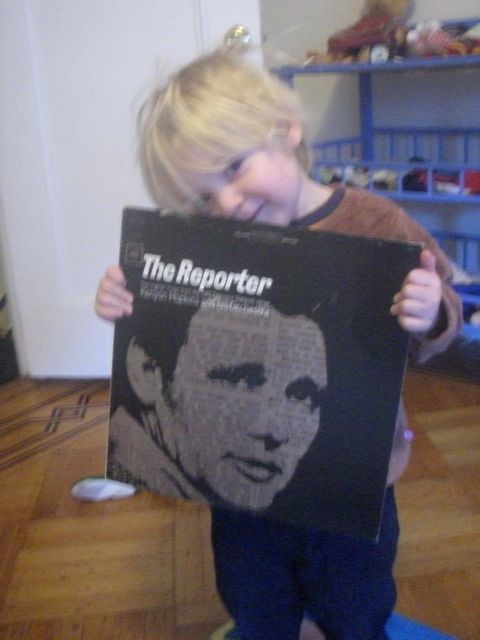 I first started paying attention to Kenyon Hopkins after seeing the movie Baby Doll, for which he wrote a great score. (John Zorn's Naked City used to cover the theme for that movie.)
I picked up this LP of music from The Reporter when Footlight Records on East 12th Street was having a going-out-of-business sale. Vinyl was something like 70% off.
The record begins with the main title theme, a high-energy big band swing/bop tune, with spirited soloing by Phil Woods, who's heard a lot on this record. Also featured are Zoot Sims, Barry Galbraith, George Duvivier and Ed Shaughnessy, among others.
"By-line" is chirpy almost to the point of silliness. It's followed by the driving yet haunting "Extension 7, which begins with combined Latin and Middle Eastern feels (sounds a bit like "A Night in Tunisia"), then slides into a bluesy swing. Awesome bongo playing by Joe Venuto!
"Lonely Girl" is a sensitive ballad with music that suits the title. "Press Party Waltz" is in 3/4, as you would expect, and a bit too chirpy for my taste. "Are You Busy?" is a stomp that could easily accompany a strip tease.
The B side begins with "A Nose for News", another somewhat chirpy tune, but one with an off-kilter rhythm and nice arrangements for the winds. "Bossa Blu Nova", the second tune on this side, is the one whose title persuaded me to buy the record. (It seems that everybody had to do some kind of bossa nova thing at this time, early to mid '60s. Paul Desmond, who recorded several sublime bossa nova cuts, poked fun at the trend by calling one of his records Bossa Antigua. It sure wasn't "nova" anymore.) A great tune, quiet and restrained yet very suspensful and exciting.
"Headline" sounds like an action cue, all propulsive rhythms and energetic blowing. Shaughnessy is particularly good on this one. "The Lady Didn't Say" is another ballad, perhaps a bit similar to Henry Mancini's "Dreamsville", from the Peter Gunn soundtrack.
"Stop the Presses!" is a bluesy tune in 6/8. "Tick-Along Juke" begins with a kind of mutated "Night Train" rhythm before relaxing into straight swing. Source music for a juke box, I guess.
The last tune on the record, "Danny's Theme", is a slowed down version of the main title. (The series is about a reporter named Danny Taylor.) Strings take the place of horns and poignancy replaces pugnacity.
I watched a couple episodes of The Reporter recently, and it sounds to me like the music on the LP is a re-recording for the album release. I wonder if the original music elements are somewhere in a vault at CBS….
---