2010 February 01 • Monday
February will be vinyl month here at Gutbrain Records. The Soundtracks of the Week will be from our LP collection. Perhaps some or all of these recordings are available on CD. I don't know.
We begin with SotW number ninety-eight, Jazz Gunn: Shelly Manne & His Men Play Henry Mancini's Music for the Film "Gunn".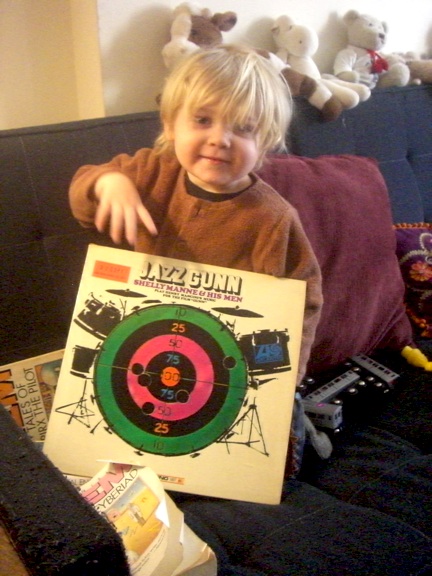 Shelly Manne played on the original sessions for Henry Mancini's Peter Gunn music, back in the late '50s. He put out two albums of his arrangements of some of the tunes, Shelly Manne & His Men Play Peter Gunn and Son of Gunn!!: Shelly Manne & His Men Play More Music from Peter Gunn.
Jazz Gunn consists of Manne's arrangements of tunes from the 1967 Peter Gunn movie, called Gunn. The band is Shelly Manne on drums, Conte Candoli on trumpet and flugelhorn, Frank Strozier on alto sax and flute, Mike Wofford on piano and Monte Budwig on bass.
If you've heard Shelly Manne's arrangements of "Take the A Train" and "Cherokee" on his 2-3-4 record, then you know he's capable of interesting and unusual approaches to familiar material. That talent is on display here.
A few years ago I asked Joey Baron if he knew this record and he immediately replied, "Is that the one with the fast walking bowed bass?". Sure enough, that's what Budwig is doing on the first track, "A Bluish Bag". I don't think I've ever heard any other bassist do this. It really grabs your ears and pulls you into the music.
The trumpet begins solo, then is joined by the sax. The B section contains a surprise: still in unison rhythmically, the two wind instruments are separated harmonically by a major second. It's startling, almost dissonant. It's like the fast arco walking: unexpected, weird, but totally right and swinging.
This is really Monte Budwig's record, if you ask me. Throughout his playing and his musicality are extraordinarily impressive. On "Silver Tears", a slow tune, he's remarkably tasteful yet spectacular, in the same way that Bob Cranshaw is on Sonny Rollins's record The Bridge.
"Sweet" is another restless and inventive arrangement that begins with a solo drums intro. When the band comes in, they start and stop over and over again, keeping the listener slightly off balance. Then when they get into the groove, it's like being swept away by a strong ocean current.
"Theme for Sam" is a swinging blues that starts without drums. Strozier plays flute on this one. "A Quiet Happening" is a pensive, mid-tempo swing tune, with a great drum solo. "Night Owl" features the flute again, and is in 3/4 time.
Then there's the last tune, the famous "Peter Gunn" theme. For whatever reason, neither of Shelly Manne's previous Peter Gunn records included this crowd-pleaser. Was he avoiding it? Was he asked not to do it? I have no idea. He does it here, though, and gives it the same treatment that, decades later, Cat Power would give The Rolling Stones' "Satisfaction". He removes the famous riff—the bass line, in this case—and slows the tempo way, way down.
The liner notes make a big deal out of this ("there's nothing wrong with your turntable") and it is a big deal. It's amazing! And if you still weren't convinced that Monte Budwig is one of the great bass players, his contribution to this piece should win you over.
---