The ninety-seventh Soundtrack of the Week is Bruno Nicolai's La Battaglia del Deserto.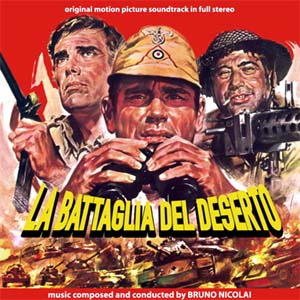 It's about time we got around to Bruno Nicolai. He was a close and frequent collaborator with Ennio Morricone, perhaps the Billy Strayhorn to Morricone's Duke Ellington, or the Fred Wesley to his James Brown. Quite a few of Morricone's soundtracks were conducted by Nicolai; Morricone conducted Nicolai's soundtracks also. The two of them also co-composed scores.
It's hard to tell where Morricone ends and Nicolai begins sometimes. La Battaglia del Deserto's main theme is very Morricone-like: surprisingly lilting and hummable while also suggesting stoicism and grandeur.
"Vite in Pericolo" and "Campo Minato" are typical of many of the tracks: pure atmosphere, mostly tension and suspense. The staccato piano playing you hear at the end of "Vite in Pericolo", and in various other places, is reminiscent of Morricone's La Battaglia di Algeri.
There are two cues called "Red Blues". One of them is an uptempo jazz tune, the other a slow jazz blues. There's also a waltz, "Valzer Souvenir", and an acoustic guitar piece, "Nancy", apparently a love theme.
The electric guitar and snare drum are featured throughout and I would bet it's the same guitarist whose work on many a Morricone score has been so thrilling. Nicolai probably used many of the same musicians and the same recording facilities that Morricone employed.
---
An old Japanese proverb observes that there are four truly terrifying things in the world: earthquakes, thunder, fires, and fathers.
—Alan Booth, The Roads to Sata: A 2000-Mile Walk Through Japan, 1985
---
The ninety-sixth Soundtrack of the Week is Seitaro Omori's jazz score for Arashi o yobu otoko (1957, Man Who Causes a Storm).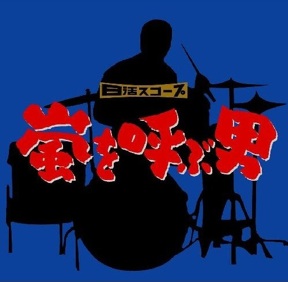 This movie was a big hit for movie and pop star Yujiro Ishihara. As Mark Schilling wrote in his book No Borders, No Limits: Nikkatsu Action Cinema, "It inspired rock-concert reactions from audiences, who clapped and yelled when Yujiro sang about being 'a drummer, a no-good drummer, when I get mad, I start a storm.'"
(What Schilling describes here is re-created in the second of Takashi Yamazaki's Always: Sunset on Third Street movies, nostalgic celebrations of life in mid-twentieth century Tokyo.)
The idea of doing a "jazz drummer getting in trouble" movie was no doubt suggested by The Man with the Golden Arm; the thunderous opening music sounds very much like it was inspired by Elmer Bernstein's legendary theme for that film.
After that, things settle down into a more straightforward jazz feel, sometimes mellow, sometimes swinging. Another milestone of jazz scoring, Henry Mancini's Peter Gunn music, seems to be the model here.
Tunes here and there reminded me of certain standards, "Nice Work If You can Get It" and "It's Only a Paper Moon" being two examples. It's mostly blowing-session stuff but there is some straight dramatic scoring and it's quite well done. (One such cue nods to "Rhapsody in Blue".)
The guitarist on these recordings is quite good and unafraid of reverb. The alto sax player is also really good and sounds like he's into Johnny Hodges. (Who isn't?.)
Of course the drummer is also really good and (as you'd expect) prominently featured.
---
As I walked on through the villages I began to take more notice of the posters in shop windows. In the camera shops Yul Brynner was advertising Fuji Film and Candice Bergen was cocking a Minolta. In the grocers' shops Kirk Douglas, Paul Newman, Pat Boone, and Telly Savalas were sniffing different brands of instant coffee. In the clothing shops Alain Delon, Peter Falk, James Coburn, and Giulliano Gemma were all sporting Japanese three-piece suits, and in the chemist's Charles Bronson was splashing himself with a Japanese after-shave called Mandom. Sophia Loren was straddling a Honda, Olivia Hussey was pursing Kanebo lips, and Jimmy Connors had just won a tournament without needing to remove his Seiko watch. In the sakè shops a varied crew that included Orson Welles, Sammy Davis, Jr., Herman Kahn, Paul Anka, and Alexis Weissenberg all vied in their praise of Suntory or Nikka with phrases like "Quel bon whisky."
—Alan Booth, The Roads to Sata: A 2000-Mile Walk Through Japan, 1985
More on this fascinating book after I finish reading it. Last November, when we were celebrating Charles Bronson month here at Gutbrain Records, I wondered what Mandom might be, having noticed one of its billboard advertisements in a Japanese movie from 1970. Now I know!
---
The ninety-fifth Soundtrack of the Week is Max Steiner's She, another brilliant Tribute Film Classics production.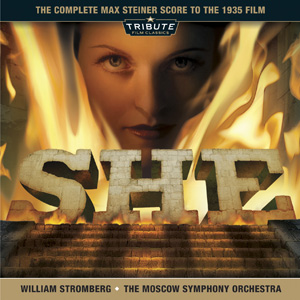 This is one of my favorite Max Steiner scores. Some cues, like "The Terrace", have an emotional intensity that reminds me of Bernard Herrmann's music, and there are also some Herrmannesque ostinati, such as in "Time Passes".
"To the Northern Rim", "The Barrier" and "Avalanche", to name a few, are classic golden age Hollywood adventure music, while "At the Campfire" is a delicate waltz: the cello and the harp are doing the dancing. "Leo Asleep" and "Forgotten Palace" are both beautifully ethereal.
All and all, an excellent program of music. And it even has a bonus track, the "Main Title" to Frankenstein, composed by Bernhard Kaun, the arranger for some of Steiner's She music.
The accompanying 32-page booklet, with notes by James V. D'Arc, is almost as impressive as the recording. Each cue is given its context within the film (e.g., "Leo, Tanya, and Holly enter the throne room. Steiner scored this with 4 horns, 3 trumpets, 3 trombones, and gong.") and the history of the production—it was originally planned to be in Technicolor—is gone over, along with a quick look at what the movie world was like then ("In 1935 approximately 75 million Americans attended movies every week, paying an average of 25 to 50 cents for their screen entertainment").
In those days film reviewers actually mentioned the music in movies, and Steiner's work for She was considered very impressive: the Los Angeles Times said it was "the last word in dissonance—and harmonies" while the Hollywood Citizen-News pronounced it to be "an original score of such scope and breadth as to be practically an opera wherein the vocal lines are spoken".
Not only does D'Arc tell you how the music was received by critics at the time, he also gives you such information as this: "At its largest, the Hall of Kings ballet music consisted of 2 flutes, 1 piccolo, 2 oboes, 1 English horn, 2 B-flat clarinets, 1 E-flat clarinet, and 3 saxophones playing E-flat soprano, B-flat soprano, alto baritone, and tenor. The brass consisted of 6 trumpets, 6 horns, 4 trombones, 2 baritone horns, and 2 tubas in addition to 2 harps, piano and celesta. And, finally, a large percussion section utilized 8 players playing 2 sets of timpani, 3 sets of tom-toms, various-sized gongs, 3 sets of street drums, finger cymbals, 2 sets of carracas, sleigh bells, xylophone, marimba, glockenspiel, various-sized cymbals, and a large bass drum. With the addition of a female choir the orchestra reached 60 players in a few cues".
No wonder, perhaps, that one of Steiner's notes to Kaun was "If you want to add other instruments, it's o.k. with me, but for god sakes, Don't make it sound funny!".
---
Apparently there are plans to make a movie or three out of the TV show UFO. Via Fanderson, I found this interview with director Matthew Gratzner.
At first I was pleased to read that Barry Gray's theme music for the series would be used in the film, but then Gratzner said, "I'm a huge fan of the original UFO theme. If you take away the Herb Alpert trumpet and the Hammond B3 organ and you listen to the music itself, there's a really spectacular orchestral score there".
Um, I always thought that the Hammond was a big part of "the music itself". And I don't remember a "Herb Alpert" trumpet.
---
When Maurice Jarre died last year, every obituary mentioned his Academy Award for the Lawrence of Arabia score. Of course I'd seen the movie before but that was when I was about twelve years old.
Twenty-five years later I couldn't remember a single thing about it. Oh, if pressed I could come up with the facts that it was about someone named Lawrence who spent a lot of the movie around sand, but other than that….
I borrowed a DVD of the movie from the library and put it on. It begins with an overture that I considered skipping as the movie is quite long, but Jarre's majestic and moving score, as grand as it is alluring, kept my hand from the remote control. His music repeated this trick again, for the intermission that comes about halfway through the movie.
Lawrence of Arabia is the ninety-fourth Soundtrack of the Week.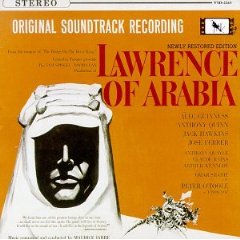 After enjoying this splendid movie, which I would love to see projected in 70mm someday, I turned my thoughts to acquiring the soundtrack on CD. I got a re-recording and it kept me satisfied for a while. I think I listened to it about a dozen times.
But it seemed to be missing something. And the sound quality wasn't as good as I'd hoped it would be. It seemed muted, lacking presence and clarity. I could appreciate Jarre's writing, the melodies and his use of percussion, but I couldn't hear all the colors.
The original recording, conducted by Jarre, is out of print but not so hard on the wallet to obtain as many other such things. $25 and it was mine. This is the one to have, but only for the moment: it has only twelve tracks and a running time of about 37 minutes. Where's the rest of the music?
Is this a re-recording of selections from the soundtrack, conducted by the composer and released as an album to capitalize on the movie's success?
l don't know. But I love it. The theme gets stuck in my head all the time, which is a great thing. That reminds me, the theme was played by Shelly Manne and Jack Marshall on Sounds!, one of their guitar/drums duo records from the early '60s.
"Drums" is putting it mildly as Manne plays a score of different percussion instruments, including a box of rice. (It makes a great shaker.) He even plays prepared guitar with mallets, on their version of the theme to Lawrence of Arabia.
There are quite a few places in Europe, apparently, that show movies in 70mm, some using a curved screen. I wouldn't mind going to Germany to see 70mm projections of Scent of Mystery (in Smell-O-Vision?), Kelly's Heroes and The Golden Head. Those will all play in Karlsruhe, where they have a 70mm film festival. Another 70mm festival happens in England. Vertigo in 70mm is a good excuse to visit Melbourne, Australia. The US hasn't as much to offer, though there are tentative plans for John Wayne's The Alamo to tour in 70mm.
---
It's becoming tough for a movie that isn't a big media-created event to find an audience, no matter how good it is. And if a movie has been turned into an event, it doesn't have to be good; an event … draws an audience simply because it's an event. You don't expect Mount Rushmore to be a work of art, but if you're anywhere near it you have to go….
—Pauline Kael, Reeling, "On the Future of Movies", August 5, 1974

---
Happy New Year!
Here are brief notes about some of the movies we watched in 2009. This isn't exactly a "best of" list, but a list of movies that were unusually memorable, had some magic ingredient or are likely candidates for a repeat viewing someday. They're listed here in chronological viewing order.
Ip Man (2008):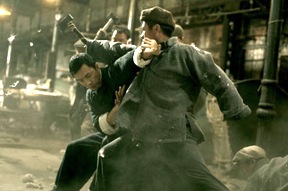 Great action scenes punctuate this movie about Ip Man, Bruce Lee's kung-fu teacher. The action takes place in the '30s, much of it during the savage Japanese occupation of Foshan. Ip Man starts out prosperous and respected but starves and works in a coal mine to feed his family after the Japanese invasion. (While there's nothing good to be said about Japan's actions here, the movie is uncomfortably anti-Japanese. Ip Man even says at one point that the Japanese lack compassion and are therefore unable ever to learn Chinese kung fu. Since people in China are forbidden to protest their own government, it seems that protesting Japan's actions of more than half a century ago is the government-approved method of releasing tension. At the same time, several recent mainstream Japanese films are unabashedly militaristic and nationalistic. The whole thing makes me uneasy.) Ip Man is very well played by Donnie Yen and the fight scenes are spectacular, though of course they suggest (as so many movies do) that violence must be met by greater violence.
The Fallen Idol (1948):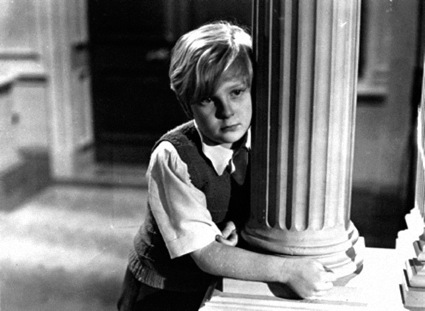 Told almost entirely from the point of view of a neglected boy—he doesn't remember what his mother looks like and his ambassador father puts business first—this adaptation of a Graham Greene short story is brilliantly constructed, poignant, suspenseful and funny, with a devastatingly ironic final twist. In the absence of parents, Phillipe has become attached to the butler at the embassy where he lives. At the same time, he's terrified of the butler's stern wife. Philippe accidentally enters a very adult web of deception by blundering into the middle of the butler's affair with an embassy typist. When the butler's wife is killed by a fall down the stairs, Philippe is not only frightened that the butler might be her murderer but that his arrest would deprive Philippe of his only loving parental figure. Directed by Carol Reed, who also filmed adaptations of Greene's The Third Man and Our Man in Havana.
Even So, I Didn't Do It (Soredemo boku wa yattenai, 2006):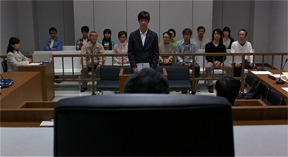 We know that Teppei didn't grope the 15-year-old girl on the train. The culprit was the guy standing next to him. But Teppei is accused, the police presume his guilt and the public defender advises him to plead guilty despite his innocence. The odds are against acquittal and a plea bargain will guarantee his quick release with the payment of a modest fine. The story is of an individual's rebellion against the system, a popular theme in Japanese movies and TV shows. Though almost two and a half hours long, the movie never drags. It's a model of pacing, suspense, economy and restraint. All the performances are great, particularly from Ryo Kase, who plays Teppei, and the wonderful, radiant Masako Motai, who plays his mother. Koji Yakusho, another consistently brilliant performer, is typically engaging as the defense attorney. Since this movie could be seen as a rebuke to the "good guys always win" fantasy of the popular (and quite good) Japanese television series Hero—about public defenders and which had both an episode involving a groping case and a spin-off major motion picture—it's noteworthy that the unsympathetic judge in the case is played by Hero's Fumiyo Kohinata.
He Walked by Night (1948):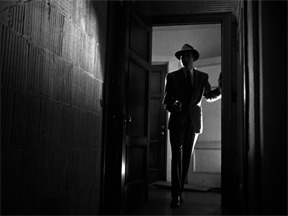 John Alton's brilliant photography almost overwhelms this hard-hitting, noirish police manhunt film. His exhilarating use of light and shadow is balanced by the terse and gritty atmosphere, though. The copkiller/thief the police are tracking is ruthless and clever. Even out-numbered and surrounded, the villain is formidable enough to make you concerned about the dozens of cops creeping up on him. The climax is a chase through the sewers. Could this have been an influence on The Third Man, which came out a year later?
The Best of Everything (1959):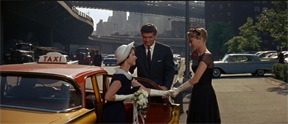 Great Technicolor, Cinemascope, late-'50s drama about young women working at a publishing company on Park Avenue. (Great New York City locations, too.) They face a surprisingly adult series of challenges: adultery, abortion, sexual assault, back-stabbing, insanity, stalking, etc. Alfred Newman's music is typically stirring. Johnny Mathis sings the theme song. William Mellor's cinematography is beautiful without being flashy. All the performances are believable, even though the situations are written more as soap opera than as real-life drama. I enjoy this sort of movie immensely when it's well done (as this one is). The experience is an immersion in a certain kind of style (and almost certainly the template for Mad Men—a first-season episode even refers to The Best of Everything).
Silent Running (1972):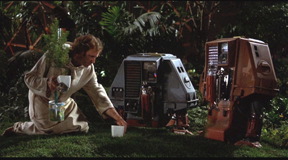 Bruce Dern plays the world's last gardener, in space with Earth's forests and vegetation preserved in domes, salvaged from the environmentally devastated planet. When the planet can be re-foliated, the forests will be returned. That's the plan, anyway. What happens is that people on Earth simply adapt to an environment without nature and decide to destroy the forests and use the space ships for commercial purposes. (The space ships are courtesy of American Airlines; Coca-Cola and Dow are among other corporate sponsors.) Dern kills his shipmates and attempts to escape with the last remaining forest. This was the inspiration for Mystery Science Theatre 3000 and, no doubt, for Wall-E.
Night Nurse (1931):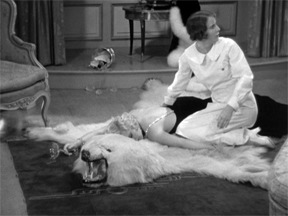 Hair-raising ambulance rides, shot through the windshield, book-end this breathtakingly exploitative and unpredictable melodrama, the best Pre-Code talkie I've ever seen. Barbara Stanwyck and Joan Blondell are young nurses who booze it up, live wildly, get involved with gangsters and murderers, talk tough and keep the viewers entranced. There's some really fantastic dialogue and the camerawork and editing are unusually fast-paced and exciting. I've wanted to see this ever since I read the first sentence of Pauline Kael's review of it (in 5001 Nights at the Movies): "There's a memorable moment in this hardboiled early talkie melodrama when a drunken rich woman has passed out on the floor of her home, and Barbara Stanwyck, the nurse who is tending the woman's sick children, stands over her and says disgustedly, 'You mother!'".
Ice Cold in Alex (1958):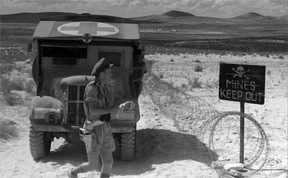 This British WW2 movie has things in common with Wages of Fear, Sahara and Lifeboat. It's about a small group of British men and women trying to cross the North African desert in a beat-up ambulance as German forces encroach on the surrounding territory. There are brilliant suspense sequences, great photography and unusually exciting and intelligent performances. The only flaws are an awkward narrated introduction and an unconvincing romantic subplot. This latter deficiency is more serious, as it weakens the narrative structure. The story is about strangers who become comrades. Having two of them fall in love panders to convention and weakens the story. This is also one of the great beer movies: the title refers to the lager they hope to drink in Alexandria.
Strangers When We Meet (1960):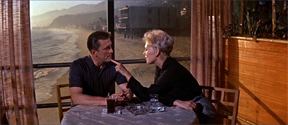 Almost like a Douglas Sirk movie, but more drama than melodrama, this is a surprisingly believable and poignant story of adultery in suburban Los Angeles circa 1960. Douglas is an architect who wants to express a wilder side of himself and feels he can't because of his more conventional wife. Novak is a beautiful woman trapped in a sexless marriage; her husband is terrified when she comes on to him. (That scene and a scene in which Novak and another woman from the neighborhood discuss their sex lives almost certainly informed Todd Haynes's Far From Heaven.) George Duning's music is mostly discreet and quotes, aptly enough, "Funny Face" and, uh, some other standard, I forget what. Screenplay and based on a novel by Evan Hunter, a.k.a. Ed McBain.
The Return (Vozvrashcheniye, 2003):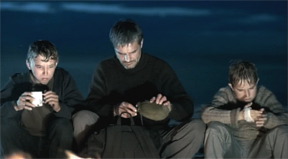 A father returns home after a twelve-year absence and takes his two sons, who recognize him only from photos, on a fishing trip. The trip becomes much longer than anticipated as a result of a mysterious phone call that sends the father on something of a treasure hunt. His attempt to recover a hidden material prize is mirrored nicely by his trying to recover an emotional one, the love of his children. This is one of those rare movies that command your attention by remaining quiet and still.
The Naked Prey (1966):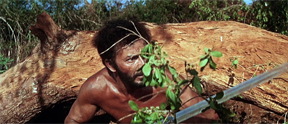 Mel Gibson's Apocalypto was basically a remake of this. (It was pretty good, too.) Cornel Wilde, who stars as well as directs, plays a man leading his last African safari before retiring. (Whenever a character in a movie is doing one last job—watch out.) His boorish client refuses to pay respects to a tribe they meet and these natives later capture them and kill them in horrifying ways: one man is cooked alive, another is killed by a cobra and so on. Since Wilde's character was not at fault, they give him a chance by stripping him naked and giving him a bit of a head start. Then they hunt him. This movie is a great achievement, with brilliant acting, photography and music (African music played by Africans on African instruments).
The White Buffalo (1977):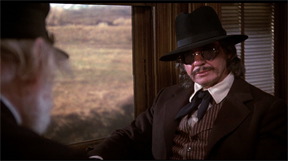 Wild Bill Hickock and Crazy Horse are both traveling incognito and under different names, both hunting a huge white buffalo. Hickock sees it in a recurring nightmare and has to get it before it gets him. Crazy Horse needs to avenge the death of his young daughter who was trampled beneath its hooves. This is a very unusual western, melancholy and surreal, sort of like a land-locked Moby Dick. It's quite good but will probably disappoint most people in the mood for more of a shoot-'em-up western (though there are several good action scenes). In the end, the pieces don't fit together quite as neatly as they should, but it succeeds in telling an old story (changing times on the frontier, "progress" leaving behind the people who cleared the way for it) in a new way. Great score by John Barry.
Split Second (1953):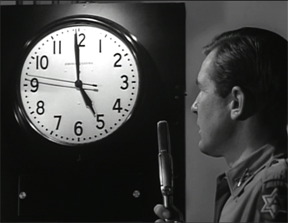 While this atomic-age crime drama has a pessimistic view of humanity that would fit a film noir, it is itself not an example of that style/genre hybrid. This is surprising since it was shot by Nicholas Musuraca, one of the greatest of noir cinematographers. His work here is more unobtrusive than expressive; I would never have guessed that he shot this film. The story is familiar: escaped killer holds a group of people hostage. Fortunately the script and direction evade the standard histrionics and dramatic set pieces, already trite in 1953. What makes the movie great is the main device: the characters are holed up in a deserted Nevada mining town, soon to be ground zero for atomic bomb tests. The movie ends with the survivors unhappily entering a new world of wholesale death and destruction, courtesy of nuclear weapons. This movie, the directing debut of actor Dick Powell, would probably be much better known if it were visually more exciting.
The Beast from 20,000 Fathoms (1953):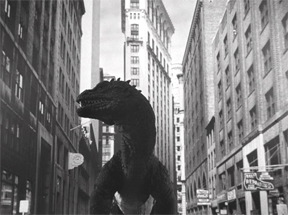 One of the best written and most interesting giant monster movies ever made (and suggested by a Ray Bradbury story) this movie delivers a series of exciting confrontations between human and dinosaur, beginning with the beast's appearance in the Arctic and ending with its rampaging among the wooden beams of Coney Island's Cyclone rollercoaster. (It's also at this moment that Lee Van Cleef shows up to tell us that he picks his teeth with grenade launchers!) The fate of the paleontologist could be very touching, but is dealt with too brusquely to be poignant; of course, this is preferable to overdoing it. Great effects by Ray Harryhausen who ingeniously manages to insert his stop-motion monster into the middle of sets, as opposed to only in front of or behind the action. There's also great real footage of a fight between a shark and an octopus.
Suspect X (Yogisha X no kenshin, 2008):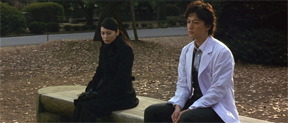 Only the first few minutes of this film continue in the same vein as the popular television show (called Galileo) that preceded it. After this tip of the hat to its origins,the filmmakers take us on a melancholy character study as two old friends, a physics professor and a math teacher, both geniuses, quietly try to out-think each other. The math teacher has constructed an ingenious system of some kind to keep the police from being able to prove that his neighbor has killed her ex-husband. (She did kill him, but it was both an accident and self-defense.) The viewer, being sympathetic to all involved, is left uncertain as to how to feel about the efforts of the characters on screen. Fans of the television show expecting the debunking of the supernatural and television program's spasms of equation writing accompanied by the surf-guitar theme music will feel bereft—but only temporarily, as this drama is serious, cerebral and affecting. Utsumi, the other main character from the tv series, has too little to do, though she holds the key to the puzzle from the very first scene; both the physics professor and the math teacher overlook the crucial component that's obvious to her but obscure to them.
They've Changed Faces (…hanno cambiato faccia, 1971):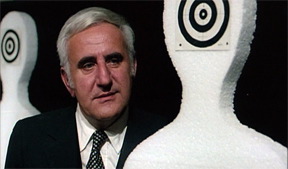 This bloodless, amateurishly made vampire movie is actually a very imaginative and strange satire of consumerism and corporate culture. Giovanni Nosferatu is a business tycoon who controls the media, the church, the police and everything else through successful big business practices and advertising campaigns. When he bites you on the neck, you become a consumer. This is the meaning of the title, that consumers and corporations are the new vampires. It's hard to argue with that. Near Dark made the same point (in a subtler way) with its use of oil wells as backgrounds for bloodsucking and drawing parallels between thirsting for blood and thirsting for Bud.
Sound of the Mountain (Yama no oto, 1954):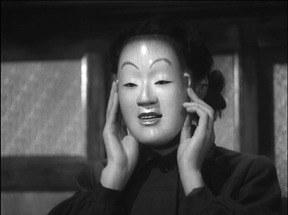 Based on a novel by Yasunari Kawabata, this is a bitter story about a family of people who don't love each other. The mother and father don't love each other or their children; their children don't love their respective spouses. The only real feelings of affection are between the son's wife and her father-in-law. Ultimately, the father decides that while he and his daughter-in-law make each other happy, their happiness makes everybody else miserable. Another of director Mikio Naruse's "everybody loses" family films. They're similar to Ozu's movies (also about families falling apart) but Ozu's families usually fail to withstand external pressure, while Naruse's families tear themselves apart from within.
Teenage Doll (1957):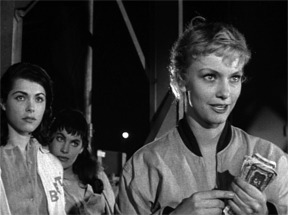 In a chiaroscuro world of juvenile delinquents, boy gangs and girl gangs spiral out of control thanks to their neglectful, absent, clueless, drunk or callous parents. The Vandals and The Vandalettes are feuding with The Tarantulas and The Black Widows. A "good girl" not in any gang has a thing going with the leader of The Tarantulas—her mother's great love had been a bootlegging gangster way back when—and when she accidentally kills, in self-defense, a Black Widow, she finds herself the target of the meanest girls in town. Excellent photography and writing, great music and acting, intelligent and exciting direction. If only all Roger Corman movies were this good! (If only Rebel Without a Cause were this good!)
Men in War (1957):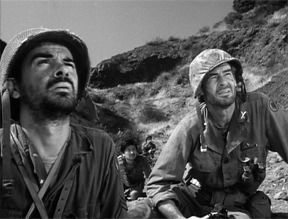 It's a surprise that a movie this bleak and downbeat about war was made in the supposedly self-congratulatory, conformist '50s. (According to Pauline Kael, however, it "came and went quietly and too quickly".) The story is about a platoon of American soldiers in Korea, surrounded by the enemy and struggling to make it back to their battalion, which may or may not be over the hill. All the actors have a lot of pathos and desperation to convey and do it very well, with admirable restraint and agility. Robert Ryan is especially impressive, in one of his rare non-villain, non-psycho roles. Anthony Mann directed. Elmer Bernstein's music and Ernest Haller's photography are also very good. This is like an anti-war comic such as Blazing Combat come to life with greater daring and sophistication. The film opens with a quotation: "Tell me the story of the foot soldier and I will tell you the story of all wars".
Destry Rides Again (1939):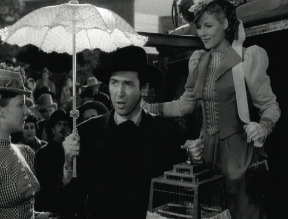 Brilliant western comedy with James Stewart as a lawman who hopes to restore order in a corrupt and violent town called Bottleneck. He speaks softly, carries no gun nor any other weapon and passes the time by making napkin rings as a hobby. Everybody thinks he's a coward and a fool but people soon learn that his gentle demeanor is as misleading as Hamlet's mad act was. Marlene Dietrich is the saloon singer (called "Frenchy" for some reason) who falls in love with him. (This character is parodied in Blazing Saddles.) The big shoot-out at the end has a surprising element, an all-woman army organized by Dietrich. This came out the same year as Stagecoach, which was perhaps an influence. Whatever the story, those two films alone made it a great year for the western.
Black Cat (Yabu no naka no kuroneko, 1968):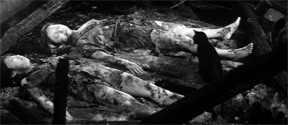 A young woman and her mother-in-law are raped and murdered by starving samurai who burn down their house before disappearing back into the war that consumes the country. The women come back as demons, evil cat ghost/vampire creatures who have vowed to kill and drink the blood of all samurai. Their first victim tells them not to worry about the young farmer who was, respectively, their husband and son. He explains that he, too, had been a farmer but the war made him a samurai, a nobleman. He's sure their young man will return similarly improved. "The world is ours for the taking," he says. They kill him and several others until, sure enough, their son does return as a respected samurai, under orders to destroy whatever local monster is ripping out samurai throats. This is a powerful anti-war movie disguised as a horror thriller. The first samurai's words are true enough: war always brings power, wealth and prestige to a few. The two ghost women have similarly and perversely gone up in the world. Their real house lies in ruins but their ghost house is a mansion and they now have the appearance of noblewomen. If you profit by war, you become a monster, one way or another. (The young samurai's boss is obscenely decadent and self-serving, and photographed like a horror-movie star, as if he's holding a flashlight under his chin.) Nine and a half minutes pass before the first word is spoken; director Kaneto Shindo displays a mastery of atmosphere and cinematic technique, using only deft camera movements and edits, lighting and slow motion to create superb supernatural effects. Hikaru Hayashi's sparse, percussion-dominated score perfectly complements the visual tension
36 Quai des Orfèvres (2004):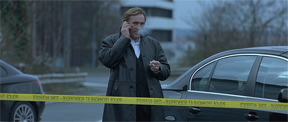 Downbeat policier about two rival cops who make a travesty of the law in their attempts to get promoted to the top job. One, played by Daniel Auteil, turns a blind eye to a murder in exchange for information about a gang that's been successfully robbing armored cars and embarrassing the police. The other, played to slimy perfection by Gerard Depardieu, gets a beloved member of the force killed in his attempt to steal his rival's thunder. Things go steadily downhill with various people getting brutalized, killed and/or imprisoned. Good and grim.
The Flowers of St. Francis (Francesco, giullare di Dio, 1950):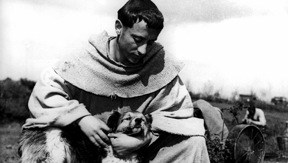 Francis of Assisi and his followers are the subjects of a series of stories comprising this Roberto Rossellini movie, which is impressively not didactic or overbearing. It's not even particularly religious, for the most part eschewing preaching while practicing humility, love, kindness and meekness. The most impressive scene is when Francis's most clueless disciple is finally allowed to go forth and preach the word, but with Francis's instruction that he must always begin his preaching by saying "I talk and talk but accomplish very little". Hearing that a tyrant has been laying siege to Venice, he goes there and is beaten, tortured and condemned to death. But his gentleness and purity turn out to be more powerful than the mighty forces that surround him. At the end, when all of Francis's followers strike out on their own, deciding which direction they should go by spinning around until they get dizzy and collapse, the various short stories have added up to something impressive and poignant.
The Hurt Locker (2009):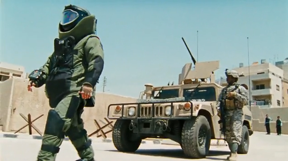 Kathryn Bigelow's latest is an excellent war movie about a bomb expert who defuses Improvised Explosive Devices in Iraq. There are several scenes of excruciating tension and suspense, and everything is beautifully photographed. The score is also mostly very good. The bomb expert turns out to be somebody who finds no excitement in life other than his job and what appears to be recklessness on his part is actually part of a survival strategy. The first scene in the movie makes it clear that getting bored comes right before getting killed. While his impulsive actions result in the injury of another soldier, the injured soldier's fear of death had earlier caused the death of someone else.
The Sniper (1952):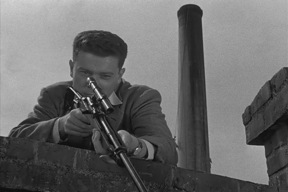 A movie with a similar plot to Dirty Harry, but with a left-wing message. A psycho-killer is shooting women with a rifle and terrorizing the city: San Francisco, as in Dirty Harry. Dirty Harryand The Sniper also both have scenes in which the mayor and other politically powerful people refuse, for political reasons, to do what's right. In Dirty Harry the right thing is to blow the creep away, and the movie leaves no reasonable doubt about it. In The Sniper, the right thing is to identify the psychological and sociological causes of the criminal, to change the system so psychosis is treated and the psychotics are hospitalized instead of thrown in jail for a couple of months, then let go. (This movie from 1952 seems very current when the politicos object to this because it would mean raising taxes.) Just as the killer in Dirty Harry so obviously wants only to kill, the killer in The Sniper just as obviously wants only to be stopped and helped. The conclusions of the two movies differ accordingly. The biggest problem with The Sniper is that its best scenes are the murder scenes. Almost sixty years later they still shock and surprise. Everything else is mostly dull.
Island of Lost Souls (1932):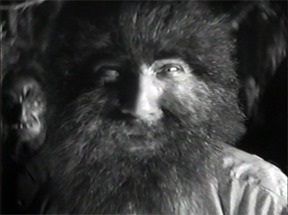 This adaptation of H. G. Wells's The Island of Dr. Moreau benefits from pre-Code lasciviousness and the obvious pleasure Charles Laughton takes in his performance as the sadistic Moreau. Having worked out how to transform animals into humans, by means of excruciatingly painful surgical procedures, Moreau is interested in seeing what would happen if one of his creations mated with a natural-born human. He thinks he'll get his chance when a castaway happens upon his island and appears receptive to the attention of the Leopard Woman. The man's fiancee shows up and attracts the interests of several beast men, though, which Moreau thinks is all the better, as the beast men are more likely than the civilized man to make the first move. There's a lot of sex and violence packed into this pre-Code feature. Bela Lugosi has a couple of short scenes as one of the beast men. The script was co-written by Philip Wylie, the author of Gladiator.
The Brothers Rico (1957):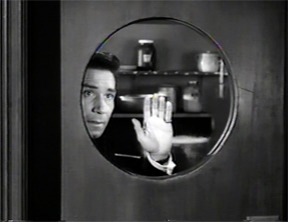 In this great crime drama with a Mr. Arkadin-like story, Richard Conte is an ex-mob accountant who wants only to run his laundry business and adopt a baby with his wife. His former boss pulls him back into the underworld by telling him that the syndicate fears that his two brothers are going to inform on them and must be killed. Nobody knows where they are, so send a brother to find a brother. Like director Phil Karlson's The Phenix City Story, this movie is extremely harsh and unusually violent for the time. The obligatory "happy" ending, really a brief coda that fails (as it should) to lighten the tone of the movie, is less convincing here than it was in Phenix. Both of these Karlson pictures should be much better known.
Ride the High Country (1962):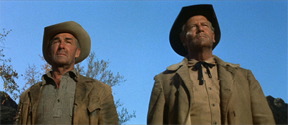 One of Sam Peckinpah's funerals for the traditional western, with Joel McCrea as the aging hero hoping to regain his self-respect by pulling an honest job, making sure a large amount of money makes it from mining camp to a bank without being intercepted by bandits. One of the themes of the movie is the upsetting of expectations: when McCrea shows up to work, the bank managers are uneasy about hiring the older man. ("We thought you were younger," they say. "I was," he replies.) Randolph Scott is McCrea's old friend who appears to be helping him out but hopes to steal the gold, with or without McCrea's collusion. Mariette Hartley is a young woman who wants to escape her bible-thumping father who warns her that the outside world is a cesspool of depravity. She leaves home and immediately falls into a cesspool of depravity, thus requiring rescue by McCrea and company. Beautifully photographed by Lucien Ballard (who shot most of Peckinpah's movies), on location in a national park, with an intelligent screenplay and assured direction. Pauline Kael said that this was "Perhaps the most simple and traditional and graceful of all modern Westerns" and that cinematographer Ballard was "at his peerless best" here.
District 9 (2009):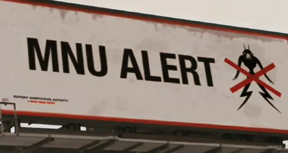 Excellent sci-fi action with an amusing and occasionally disturbing vein of social satire. An alien space ship appears and hovers over Johannesburg. After three months in which nothing happens, people reach the ship in helicopters and cut open the doors. Inside they find a large group of malnourished aliens, refugees, perhaps. They bring them down to the surface but don't know what to do with them. Eventually the aliens' holding area becomes a shanty town and Earth has two million or so new immigrants. Using news reports and documentary-style photography, we follow an effort to move the group to a concentration camp-like facility. This doesn't go particularly well and gets considerably worse when the bureaucrat organizing the move begins to transform into one of the aliens.
Plunder Road (1957):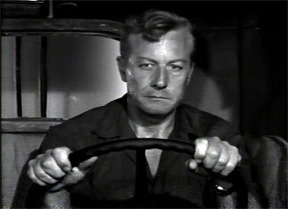 Something of a hybrid of The Asphalt Jungle and Wages of Fear, it starts with a heist, the robbery of a train carrying Federal Reserve gold. The thieves divide the gold into separate trucks, disguised as something else, and take off separately, planning to meet in California where they can more easily dispose of their loot. You can't help hoping they get away with it. It's a tightly constructed, well made crime drama, unpretentious and satisfying. Great photography by Ernest Haller, who also shot Men in War (and Mildred Pierce and Rebel Without a Cause and Gone With the Wind and many others).
Twentieth Century Boys Parts 1 & 2 (20-seiki shonen, 2008, & 20-seiki shônen: Dai 2 sho - Saigo no kibo, 2009):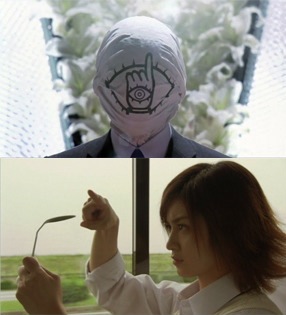 Near the end of the twentieth century, a masked religious cult leader known only as "Friend" becomes more and more powerful with more and more devoted followers, and predicts that mankind will cease to exist in the second decade of the twenty-first century. The really strange thing, though, is that Friend and his prophecies follow exactly a fantasy concocted and crudely written and drawn by a group of young kids in the seventies. The author of that text struggles to find out who Friend might be—the strange masked kid who was spying on the group seems like the best bet—while taking care of his niece, whose father is revealed to be Friend. Part two focuses on Friend's daughter and another adult member of the children's group, an action-hero type who returns from Thailand and becomes involved in fighting Friend's conspiracy. The second movie raises the ante considerably and calls the bluff inherent in the story, namely whether Friend will wipe out mankind by releasing deadly poison gas in the world's cities (using "satanic salesmen" with elegant briefcases to carry the deadly toxin). A second book of prophecies from the characters' childhoods comes into play, Friend's popularity becomes worldwide and seemingly greater than anything—in a meeting with the pope, the pope comes across like an amateur—but leads to an assassination attempt. Part three opened in Japanese cinemas last August; having to wait for an English-subtitled dvd of the conclusion is a kind of torture. If it's as good as the first two, than Twentieth Century Boys can serve as the model for how to make a great movie adaptation of a comic book.
The Loveless (1982):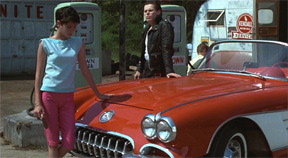 This sort-of remake of The Wild One is better than that movie in almost every way. It's more of a textural movie than a narrative one—and thus somewhat betrayed by its melodramatic conclusion—and beautifully photographed in what appears to be an intentionally Hopperesque manner. (Director Kathryn Bigelow was a painter before she became a filmmaker.) Willem Dafoe is a biker who's just got out of prison and meets up with the rest of his biker gang to regroup and head on down to Florida for races. Stuck in a small American town, nothing more than a few shops near a highway, the stagnancy of their environment begins to corrupt them like rust corrupts cars.
La Jetée (1962):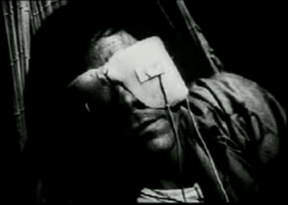 Extraordinary short film that uses only still photographs to tell a science-fiction story about nuclear war, time travel, love, memory and dreams. It has a thing or two in common with George du Maurier's novel Peter Ibbetson, which was made into a movie and also adapted for radio by Orson Welles. In La Jetée a man whose vivid memory of a woman he saw when he was a child, and with whom he fell in love at first sight, makes him unusually well suited for a time-travel experiment that has ruined the minds of all previous subjects. In an underground shelter from our future nuclear wasteland, scientists send him back to the time he longs for. The idea is that once he figures out how to go back in time, he should be able to go to the future and get help from our technologically advanced descendants. It's an ingenius film, a brilliantly constructed artistic triumph that also manages to provide the same satisfactions as an O. Henry story or Twilight Zone episode.
The Marcus-Nelson Murders (1973):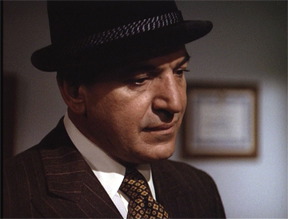 Surprisingly downbeat television movie about a real-life failure of the justice system and triumph of bigotry. This is Savalas's first performance as the famous Theo Kojak,here a police officer who sadly, even reluctantly, but resolutely opposes his fellow officers when he discovers how they're railroading an innocent African-American teenager into prison for multiple murders. The story is tragic, and told with restraint. Fans of Allen Garfield's performances as sleazy, corrupt characters won't be disappointed by his appearance here. Ned Beatty is also rather vile. José Ferrer provides relief in the role of a high-priced, powerful attorney who defends the innocent kid pro bono. It's always a pleasure to hear the regal tones of that actor's voice, but it's especially gratifying here, where he's one of the few good people in the muck.
She Was Like a Wild Chrysanthemum (Nogiku no gotoki kimi nariki, 1955):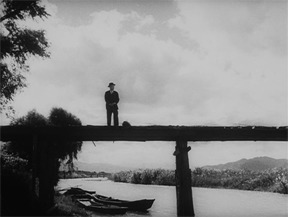 A beautiful and sad movie about an old man returning to his hometown and recalling the one true love he had, and how he had been kept apart from her by his family, who frowned on the relationship. The flashbacks, which make up most of the movie, are seen through a border, giving these scenes from his memory an old-fashioned and bookish quality. The story and plot are slight, to put it mildly, but the movie is like a beautiful poem, an ode to remembrance and regret. Directed by Keisuke Kinoshita and starring Chishu Ryu.
Circle of Danger (1951):
Interesting revenge drama with Ray Milland traveling around the United Kingdom attempting to uncover the truth behind the death of his brother, the only casualty in a World War 2 raid. As he seeks out each surviving member of his brother's company, coming closer to the discovery that his brother might no have been killed but murdered by a fellow soldier, something of Hitchcock's 39 Steps hovers over the action. (You might also be reminded of Get Carter, I suppose, except that Milland's character is not the force that Carter is.) Tourneur's film is daring in a way that might be unique, though. As in most good thrillers, there are a love interest and a rival, the gradual building up of suspense and tension and the inevitable confrontation at the climax. But it is the climax of this movie that is so unusual—in its quiet way, one of the most shocking film endings I've ever seen.
The Unsent Letter (Neotpravlennoye pismo, 1959):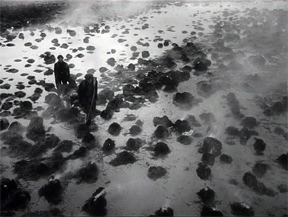 Stunning photography in Siberian locations, with real forest fires and real ice, make this propaganda film about the indomitable and incorruptible Soviet spirit a cinematic tour de force. Four geologists search for diamonds in the Siberian steppes, hoping that the terrain's resemblance to South Africa's is more than just superficial. (Does this resemblance in fact exist?) They find them but a forest fire destroys their supply boat forcing them to fend for themselves and bringing into sharper focus a "man vs nature" idea that surrounded the expedition from the beginning. "Impressive" doesn't even begin to describe what you see on the screen. The director, Mikhail Kalatozov, and cinematographer, Sergei Urusevsky, went on to make I Am Cuba.
Mother (Madeo, 2009):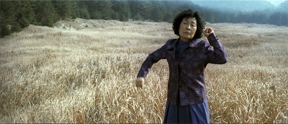 This new movie from Joon-ho Bong is, like his earlier Memories of Murder, about the search for a killer in a provincial town. This time, though, the police are on the sidelines as a widow in her sixties conducts her own investigation, desperate to prove that her mentally disabled son isn't the murderer of a local high school student. The woman who plays the lead practically carries the whole movie. The entire cast is great, but she's the one who provides the context for the most important scenes. The camerawork is very smooth and the mystery extremely engaging, with many suspects and a twist ending.
Nightfall (1957):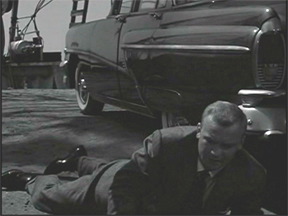 Great film noir with a plot that Hitchcock might have liked. Two friends on a camping trip cross paths with two bank robbers. The criminals kill one of the campers, but the other gets away. The police think he murdered his friend so he has to hide from the cops, the crooks and an insurance investigator played by James Gregory. The first five minutes are pure film noir atmosphere and excitement. Aldo Ray is great in the lead and Jacques Tourneur's direction is typically elegant, unusual and thrilling. Like Tourneur's Out of the Past, much of the story takes place in a setting of mountains and forests, unusual for a film noir.
The Third Ninja (Daisan no ninja, 1964):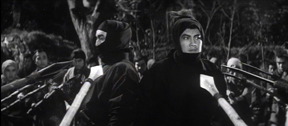 Entertaining black-and-white ninja movie, perfect for a rainy afternoon. Some super ninja is determined to kill a corrupt official. The official charges two other ninjas with killing the super ninja first. It's an assignment with a competitive edge: whoever gets the target first will be rewarded while the other will be killed. This is all basically an excuse for a series of satisfying action set pieces. Definitely the best ninja movie I've ever seen, though that's not saying much. It's good, though, and benefits from a complex moral landscape. The super ninja is a villain, but so is his target. Both of the ninja pursuers are sympathetic characters but at least one of them will die if the other succeeds. Whose side should we be on?
We Were Strangers (1949):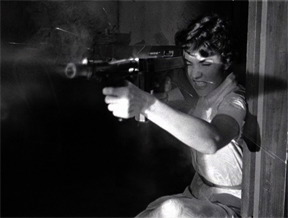 Stunning John Huston movie about Cuban revolutionaries in the '30s. Jennifer Jones is a revelation as a Cuban bank teller who becomes politicized when her brother is murdered by the police for distributing leaflets. Had there ever before been anything in a Hollywood movie like this movie's climax, when she grabs a machine gun and starts blasting away? John Garfield is also intense (and similar to the young Robert De Niro) as an American plotting to murder the president and the entire cabinet by exploding a huge bomb at a state funeral. This involves tunneling under the cemetery, through the graves of decomposing corpses. Great movie and not as well known as it should be.
Fear(s) of the Dark (Peur(s) du noir, 2007):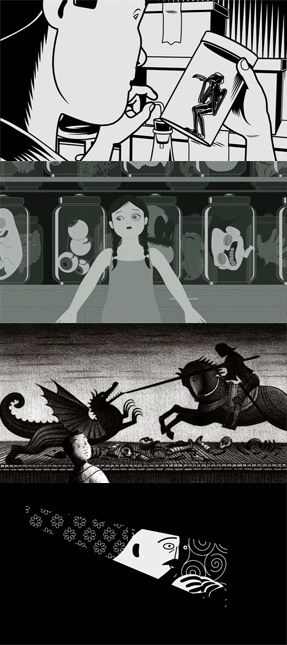 This French animation anthology presents four stories by different artists, alternating with two additional shorter, serialized works. The serial pieces don't hold up to the more substantial narratives, and the film would probably be stronger without them. One, by Blutch, follows a sadistic madman who lets loose killer dogs on assorted victims while the other, by Pierre di Sciullo, consists of simple abstract shapes that move around the screen while a voice intones mostly bathetic fears ("I'm afraid of being mediocre", etc.). Of the four longer films, the final one, a haunted house story by Richard McGuire, makes the most powerful statement and exploits most fully the medium of animation. It has no dialogue, only sound effects, and brilliantly plays with the possibilities of moving light and shadow. (It has a bit of music, too, one of Satie's "Gnossiennes" in the musical equivalent of a walk-on role.) The three others are quite enjoyable but haven't wandered too far from the comic book page. Marie Caillou's manga pastiche, about a schoolgirl tormented by bullies, takes least advantage of the animated form; the Charles Burns story, about the perils of insect collecting, does a bit more but benefits mostly from the strength of Burns's artistic style and creepy material—even if it breaks no new ground by being animated, it's a thrill to see his work this way. The strong illustration style and several beautiful and arresting images in Lorenzo Mattotti's tale of a monster terrorizing a village also impressed me more than the way they moved on the screen. I'd like to see more animated work from these artists, though.
The Housemaid (Hanyo, 1960):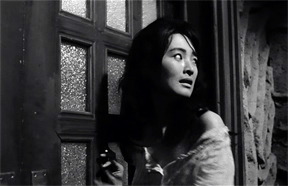 Melodrama/horror picture about a deranged young woman who destroys the family she works for as a maid. The father is a music teacher who indirectly causes a student's death. Very indirectly: the student sends him a love letter on behalf of her best friend; the father reports her to the head of the factory—where he teaches and his female students live and work—and she's expelled. Unemployed, she becomes ill and dies. Her friend, the one who was in love with the teacher all along, begins to take private piano lessons with the father, and arranges for a disturbed young woman she knows to get the maid position. The mother is overworked and exhausted, almost an invalid. The elder child, the daughter, can only walk with crutches. The son is too young to know that rat poison can kill you. It's a bizarre combination of elements you could gather from films by Samuel Fuller, Ida Lupino, Douglas Sirk and Russ Meyer. The photography is great: all the compositions seem well thought out, intelligent as well as eye-catching; unusual care appears to have been taken with camera movement and cutting. Very good music, too.
Cairo Station (Bab el hadid, 1958):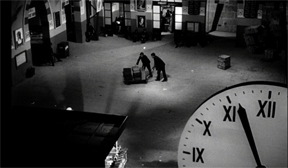 A day in the life of the busy Cairo train station. The principal character is a crippled newspaper vendor. Filled with self-loathing and sexual frustration, he's about to explode. His mind is starting to disintegrate, a condition visually expressed by his ragged, frayed hat of many holes. The object of his lust is a woman who illegally sells soda without a permit. She teases him but intends to marry a handsome young man, a porter at the station who's fighting to unionize the workers. It's a startlingly "American" movie, from the Marilyn Monroe posters in the background (for the movie Niagara), the importance of Coca-Cola to the plot, and even a prototypical rock 'n' roll scene. It seems very ahead of its time and is extremely well photographed.
Two in Tracksuits (Jaaji no futari, 2008):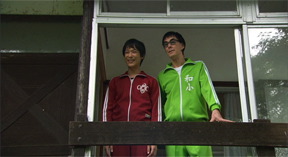 Another brilliant, serene, mysterious and gloriously understated Japanese movie about self-discovery and self-realization. A young man whose marriage is falling apart leaves the August heat of Tokyo for his deceased grandmother's house in the much cooler, mountainous countryside. Accompanying him is his father, another Tokyo resident with a faltering marriage. In addition to their personal problems, both are professionally unsatisfied, the son unemployed and the father on the wrong career track. Unprepared for the lower temperatures in the mountains, the two haven't brought any warm clothes to wear. The young man's grandmother collected tracksuits, though, each a different color with the name of a different primary school on it. The two don track suits, but have some difficulty reading the kanji that identifies the school. Essentially this is the premise of the movie; without broadcasting or announcing anything, the movie reveals this micro-event (and other, equally miniature developments, such as finding the one spot in the area where a cell phone functions), to be a metaphor for a kind of therapy. The two in tracksuits must retreat from their unhappy and complicated positions, find what they have lost, pick up what they have left behind, remember where they wanted to go in the beginning, move backward before they can move forward. I've thought about this quiet, funny, deft, subtle and unassuming movie every day since I first saw it.
Rosario Tijeras (2005):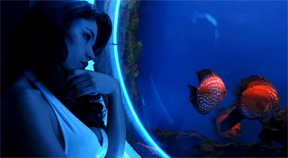 Chronologically shuffled scenes tell the story of the last year or so in the life of the title character, a young woman crushed between the forces of poverty and wealth in Columbia in the 1980s. Raped by a stranger when she was eleven, later sexually abused by her father and neglected and perhaps actually despised by her mother, Rosario Tijeras becomes like everybody else she knows, a pawn in an army controlled by gangsters . She can be pusher, killer or prostitute, depending on her orders. The story of the movie centers around her love affair with a young man from a a middle class family; things don't go smoothly when he takes her home to meet his mother. Rosario Tijeras is very good, well made and well acted, especially by Flora Martínez in the title role. Alex Cox, the director of Repo Man, has a small but memorable role.
The Chess Player (Le joueur d'échecs, 1927):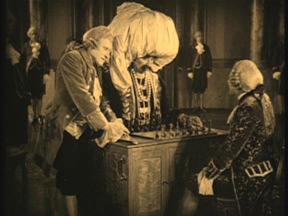 Adventure movie about the Polish resistance under Russian occupation is literally spectacular with many eye-catching scenes and exciting camerawork. What distinguishes it most is the plot's inclusion of a real-life hoax, The Turk, a supposedly automaton chess player that existed in the eighteenth and nineteenth centuries. Edgar Allan Poe saw it in the United States and famously denounced it as a fake. In The Chess Player, the automaton chess player is created by a great inventor to hide the Polish resistance's leader, a man who just happens to be very good at chess. The name of the inventor character is the same as the real-life inventor of the Turk, but in the movie he actually has built several real automatons. The best scenes in the film are those in which his army of sword-wielding robot sentries attack a Russian spy who has broken into the inventor's house. In real life, the automaton chess player had a match with Napoleon and swept all the pieces off the board when Napoleon made an illegal move. This scene is recreated in the movie with Catherine II in Napoleon's place.
Classe Tous Risques (1960):
The French seem to relish fatalistic gangster movies but this must be one of the gloomiest of all. Lino Ventura plays a Parisian bank-robber who, under a never explained threat of death, is forced to live outside of France. He and his wife and two sons, together with his partner Raymond, have been living in Italy but have robbed a few too many banks there and have to leave. Ventura's character's name is, too bad for him, Abel. Although a marked man in France, Abel has nowhere else to go and it's there he decides to return, with his family and partner. This is hardly Pepe le Moko's nostalgic yearning for Paris, though Abel's chances for a pleasant homecoming are about as good. (While others might travel "classe touriste", "tourist class", they travel "classe tous risques", "all-risks class".) Things start off badly, with a disappointing last bank robbery in Milan, then get much worse. Abel's old friends in Paris, who owe him plenty, won't take the risk of helping him, and send young, aspiring hood Jean-Paul Belmondo instead. The young man and the older man hit it off, despite Abel's taking offense at his erstwhile partners' sending a complete stranger instead of coming themselves. In between the heists, chases and shoot-outs, this pattern of old relationships falling apart while new ones are born emerges as something of a theme. At the end, it's ambiguous whether anything Abel has done has been worthwhile in the least. Certainly he suffers devastating losses. It's up to the viewer to decide where the conclusion might lead: is a promising young man steered away from a life of crime that will be almost nihilistic in its pointlessness, futility and despair?
Scream of Fear (1961, a.k.a. Taste of Fear):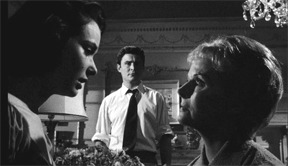 This excellent British thriller with great deep-focus photography is about a young woman who travels from Italy to France to live with her father, whom she hasn't seen in ten years. Our heroine is paralyzed and confined to a wheelchair. She has a history of being neurotic and mentally unstable, and has been recently devastated by the death of her best friend, her only anchor after the death of her mother. But her father isn't there when she arrives, only a stepmother she's never met before and her parents' chauffeur. They seem nice enough, but where is her father? And why does the creepy local doctor (Christopher Lee, no less) spend so much time there? Soon she starts investigating strange noises at night that always lead to her father's corpse! When her screams bring her stepmother or the chauffeur running to her side, the corpse is gone and they tell her she's just imagined it. By accident or design, she begins a descent into insanity. No more than this should I tell you; perhaps I've already said too much. I'll add only that there's more than one twist at the end.
Weekend with My Mother (Weekend cu mama, 2009):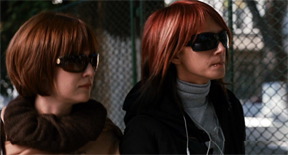 While I enjoyed Dirty Pretty Things, I was disappointed that an absorbing drama involving serious subject matter melted into a facile story of personal vengeance. It ended up having little more to say than that turnabout is fair play. The Romanian movie Weekend with My Mother touches on some of the same points, but is more complex, more tragic and more recognizable as a story that could be about real people. While the climax of Dirty Pretty Things is more or less "the worm turns" again, Weekend with My Mother concludes with horrifying, harrowing irony. The basic story is of a woman who, fearing what her father might say about her having had a child out of wedlock, has left her daughter, aged three, with her sister's family, while she left Romania for Spain. Now, sixteen years later, she comes back to Romania to reconnect with her child. What she finds is, to put it mildly, an unpleasant surprise. Her sister has had a stroke and can't move or speak. Her brother-in-law is a greedy, deceitful, lecherous bastard. Partly to avoid his unwanted attentions, the daughter has run away and fallen in with a crowd of drug dealers and other crooks, having become a heroin addict herself. The mother eventually tracks down her daughter and strives to rehabilitate her, improve her life, rescue her. The daughter wants nothing to do with the woman who abandoned her, but her low-life boyfriend thinks there might be some money in this for them and he happens to owe 10,000 euros to some dangerous people. All of this comes together with a few other surprises and by the end you may recall that the road to hell is paved with good intentions; you may also have some new, haunting ideas about hell.
Man on Wire (2008):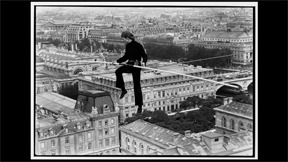 Nothing, absolutely nothing in Avatar comes close to being as spectacular as the images in this documentary, particularly the beautiful black-and-white photos of Philippe Petit walking a tightrope high above city streets. The story is of Petit's determination to walk a wire stretched between the two towers of the World Trade Center in New York City. As with all of his wire-walking, there will be no net, no safety harness—if he's off by a millimeter, he's dead. And of course what he wants to do is illegal. He and his crew must sneak into the building and get onto the roof with a huge amount of heavy equipment. It's Mission: Impossible in real life. Petit kept up his enthusiasm by immersing himself in gangster movies, and the documentary filmmakers themselves play with that genre by re-enacting the "WTC Heist" and granting amusing aliases to Petit's accomplices. (The re-enactments, thank goodness, are done with a light touch and a minimum of fuss. That kind of thing can sink a movie like this, but the filmmakers very wisely don't overdo them or waste time with them.) Petit is one of the people telling the story, in a very engaging way—he's a born entertainer—so you'll know he doesn't die in the attempt. But there are numerous surprises and immeasurable suspense and excitement. This is absolutely one of the best movies I've seen, inspiring and delightful.
---