2010 January 11 • Monday
The ninety-fifth Soundtrack of the Week is Max Steiner's She, another brilliant Tribute Film Classics production.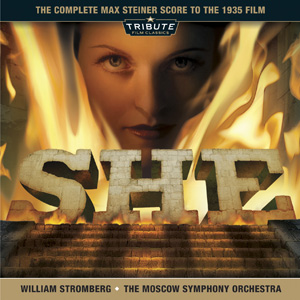 This is one of my favorite Max Steiner scores. Some cues, like "The Terrace", have an emotional intensity that reminds me of Bernard Herrmann's music, and there are also some Herrmannesque ostinati, such as in "Time Passes".
"To the Northern Rim", "The Barrier" and "Avalanche", to name a few, are classic golden age Hollywood adventure music, while "At the Campfire" is a delicate waltz: the cello and the harp are doing the dancing. "Leo Asleep" and "Forgotten Palace" are both beautifully ethereal.
All and all, an excellent program of music. And it even has a bonus track, the "Main Title" to Frankenstein, composed by Bernhard Kaun, the arranger for some of Steiner's She music.
The accompanying 32-page booklet, with notes by James V. D'Arc, is almost as impressive as the recording. Each cue is given its context within the film (e.g., "Leo, Tanya, and Holly enter the throne room. Steiner scored this with 4 horns, 3 trumpets, 3 trombones, and gong.") and the history of the production—it was originally planned to be in Technicolor—is gone over, along with a quick look at what the movie world was like then ("In 1935 approximately 75 million Americans attended movies every week, paying an average of 25 to 50 cents for their screen entertainment").
In those days film reviewers actually mentioned the music in movies, and Steiner's work for She was considered very impressive: the Los Angeles Times said it was "the last word in dissonance—and harmonies" while the Hollywood Citizen-News pronounced it to be "an original score of such scope and breadth as to be practically an opera wherein the vocal lines are spoken".
Not only does D'Arc tell you how the music was received by critics at the time, he also gives you such information as this: "At its largest, the Hall of Kings ballet music consisted of 2 flutes, 1 piccolo, 2 oboes, 1 English horn, 2 B-flat clarinets, 1 E-flat clarinet, and 3 saxophones playing E-flat soprano, B-flat soprano, alto baritone, and tenor. The brass consisted of 6 trumpets, 6 horns, 4 trombones, 2 baritone horns, and 2 tubas in addition to 2 harps, piano and celesta. And, finally, a large percussion section utilized 8 players playing 2 sets of timpani, 3 sets of tom-toms, various-sized gongs, 3 sets of street drums, finger cymbals, 2 sets of carracas, sleigh bells, xylophone, marimba, glockenspiel, various-sized cymbals, and a large bass drum. With the addition of a female choir the orchestra reached 60 players in a few cues".
No wonder, perhaps, that one of Steiner's notes to Kaun was "If you want to add other instruments, it's o.k. with me, but for god sakes, Don't make it sound funny!".
---