2010 January 25 • Monday
The ninety-seventh Soundtrack of the Week is Bruno Nicolai's La Battaglia del Deserto.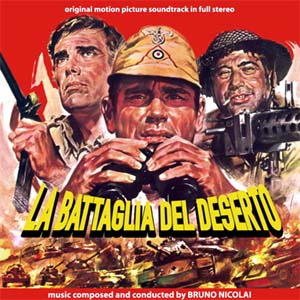 It's about time we got around to Bruno Nicolai. He was a close and frequent collaborator with Ennio Morricone, perhaps the Billy Strayhorn to Morricone's Duke Ellington, or the Fred Wesley to his James Brown. Quite a few of Morricone's soundtracks were conducted by Nicolai; Morricone conducted Nicolai's soundtracks also. The two of them also co-composed scores.
It's hard to tell where Morricone ends and Nicolai begins sometimes. La Battaglia del Deserto's main theme is very Morricone-like: surprisingly lilting and hummable while also suggesting stoicism and grandeur.
"Vite in Pericolo" and "Campo Minato" are typical of many of the tracks: pure atmosphere, mostly tension and suspense. The staccato piano playing you hear at the end of "Vite in Pericolo", and in various other places, is reminiscent of Morricone's La Battaglia di Algeri.
There are two cues called "Red Blues". One of them is an uptempo jazz tune, the other a slow jazz blues. There's also a waltz, "Valzer Souvenir", and an acoustic guitar piece, "Nancy", apparently a love theme.
The electric guitar and snare drum are featured throughout and I would bet it's the same guitarist whose work on many a Morricone score has been so thrilling. Nicolai probably used many of the same musicians and the same recording facilities that Morricone employed.
---