2010 January 18 • Monday
The ninety-sixth Soundtrack of the Week is Seitaro Omori's jazz score for Arashi o yobu otoko (1957, Man Who Causes a Storm).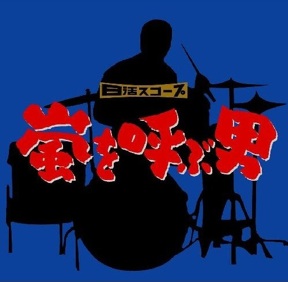 This movie was a big hit for movie and pop star Yujiro Ishihara. As Mark Schilling wrote in his book No Borders, No Limits: Nikkatsu Action Cinema, "It inspired rock-concert reactions from audiences, who clapped and yelled when Yujiro sang about being 'a drummer, a no-good drummer, when I get mad, I start a storm.'"
(What Schilling describes here is re-created in the second of Takashi Yamazaki's Always: Sunset on Third Street movies, nostalgic celebrations of life in mid-twentieth century Tokyo.)
The idea of doing a "jazz drummer getting in trouble" movie was no doubt suggested by The Man with the Golden Arm; the thunderous opening music sounds very much like it was inspired by Elmer Bernstein's legendary theme for that film.
After that, things settle down into a more straightforward jazz feel, sometimes mellow, sometimes swinging. Another milestone of jazz scoring, Henry Mancini's Peter Gunn music, seems to be the model here.
Tunes here and there reminded me of certain standards, "Nice Work If You can Get It" and "It's Only a Paper Moon" being two examples. It's mostly blowing-session stuff but there is some straight dramatic scoring and it's quite well done. (One such cue nods to "Rhapsody in Blue".)
The guitarist on these recordings is quite good and unafraid of reverb. The alto sax player is also really good and sounds like he's into Johnny Hodges. (Who isn't?.)
Of course the drummer is also really good and (as you'd expect) prominently featured.
---