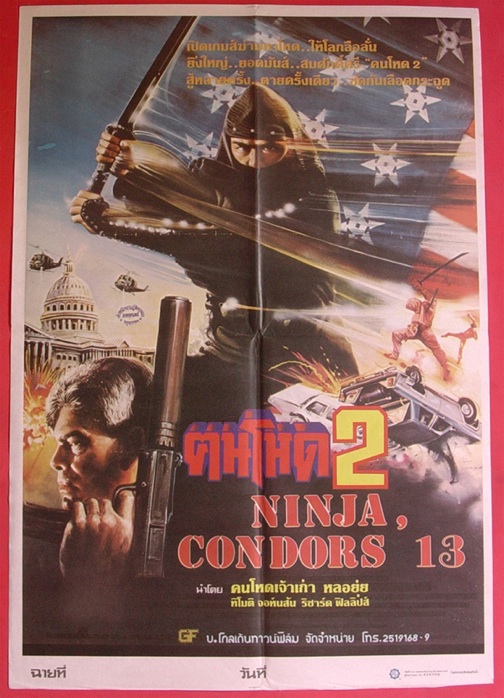 Nice touch, using ninja throwing stars for the stars in the US flag. The poster—which makes it quite clear that the movie is awesome—is for sale on eBay here.
---
The eighty-fourth Soundtrack of the Week is this Klaus Kinski Horror Trilogy, a two-CD set with music from three Italian horror films starring Kinski.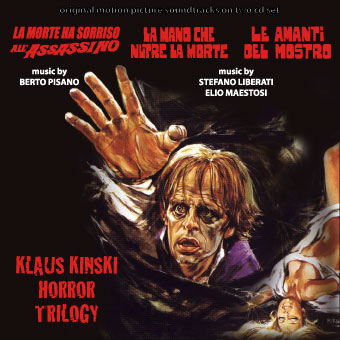 Berto Pisano's score for La Morte Ha Sorriso all'Assassino has a few different moods. My favorite, predictably, is the percussion and fuzz guitar mood, sometimes with mournful string accompaniment, sometimes with other instrumental punctuation.
There's also a waltz and some muted trumpet, some organ, some flute. You know.
La Mano Che Nutre La Morte has music by Stefano Liberati & Elio Maestosi. It's a short program of music dominated by a single theme, a lilting melody that manages to start out sad, suggest happiness, build to excitement and tension then return to melancholy.
Le Amanti del Mostro, also by Stefano Liberati & Elio Maestosi, uses similar instrumentation (strings, flutes, etc—no fuzz guitar here) and runs through the same moods but with greater compositional variety.
The music on both CDs makes a good soundtrack for rainy and unseasonably cool summer days—and Halloween, of course!
---
R.I.P., Vic Mizzy, composer of (among many other things) the theme for The Addams Family, a piece of music that Bernard Herrmann reportedly admired. Apparently Herrmann thought the snapping fingers were brilliant!
---
The eighty-third Soundtrack of the Week is Eric Demarsan's score for Jean-Pierre Melville's L'Armée des Ombres (Army of Shadows).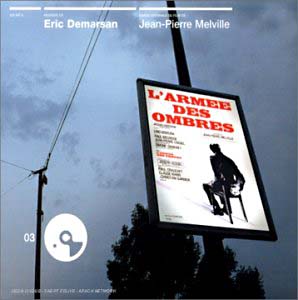 Army of Shadows became one of my favorite movies when I saw it at MoMa about fifteen years ago. After that screening I watched it again on a bootleg videotape, recorded from British television, with at least one significant moment of violence apparently cut.
A few years ago Army of Shadows played at Film Forum in New York City, where I saw it at least twice. It's now a Criterion DVD.
I also read the original book on which the movie is based and to which it is gratifyingly faithful, not much of a surprise since Melville made his reputation by faithfully adapting a famous Resistance novel, Le Silence de la mer.
These days I find myself noting that I appreciate movies (and those few television programs) that are about the textures of lives. All of Melville's movies are "textural" in this way, but none more successfully than Army of Shadows which vividly presents the bafflingly unpredictable underworld which the Resistance inhabited. While the source novel presents much more detail about what the characters actually do, the movie transmits the feeling of the characters' world.
Eric Demarsan's score, unrelentingly doleful and yet somehow sweeping and stirring, is a perfect accompaniment to the visual action. The descending chromatic scale has never been more dramatic, pseudo-Bach organ writing never more moving and tremolo guitar never more unsettling.
---
"We all know that a party, a palace, a great undertaking, a lunch for writers and journalists, an atmosphere of cordial and spontaneous camaraderie, are essentially horrendous. Citizen Kane is the first film to show such things with an awareness of this truth."
— Jorge Luis Borges, 1941, from his review of Citizen Kane, included in Selected Non-Fictions.
---
The eighty-second Soundtrack of the Week is Alex North's score for Hard Contract.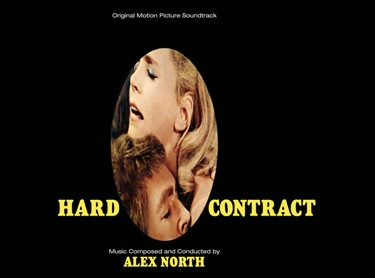 Alex North generally gets credit for having created the jazz soundtrack when he scored Elia Kazan's movie of A Streetcar Named Desire. It was left to Elmer Bernstein and Henry Mancini to make the jazz soundtrack insanely popular, though, with Bernstein's much imitated score for The Man with the Golden Arm and Mancini's music for the television series Peter Gunn.
Still, North got there first and returned there frequently. One of his superior jazz scores is for Hard Contract, 1969 thriller about a professional assassin, played by James Coburn.
The music is mostly languid and haunting, sometimes reminiscent of what Bernard Herrmann would come up with for Taxi Driver, sometimes looking back to John Barry's score for The Ipcress File.
The love theme "Sheila"—I'm guessing it's a love theme; I haven't seen the movie—begins in a Les Baxter mood before swinging into accordion-driven Parisian romantic mode.
This CD was part of Varèse Sarabande's Soundtrack Club series. It was limited to 1000 copies and is sold out, though I think you can still hear some audio samples on their website.
---
At the time of her arrest [on June 7, 1972], Gudrun Ensslin had a key in her bag which fitted the lock of one of the conspirators' apartments, in the Seidenstrasse in Stuttgart.
On 7 August 1972, police officers searchd this hideout. A detective superintendent of the Stuttgart regional Criminal Investigation Office wrote a report:
'Re: hunt for violent anarchist criminals. Subject: conspirators' apartment at 71 Seidenstrasse.
'Attached: 22 Mickey Mouse comic books.
'The attached Mickey Mouse comic books were found in the above-mentioned apartment. There are good grounds for suspecting that these Mickey Mouse books were read by the gang member Andreas Baader.'
— Stefan Aust, Baader-Meinhof: The Inside Story of the R.A.F.
---
Early in the afternoon they [Andreas Baader, Gudrun Ensslin, Ulrike Meinhof and others] reached Amman, and were welcomed by military leaders of the Fatah organization. …
After less than an hour's journey, the group came to the [military training] camp outside the city. …
They were served the scanty food on which the Palestinians had been living for years: canned meat donated by UNRRA, the United Nations refugee relief organization, generally mixed with rice. With it they got flat cakes of Arab bread, water, fruit only occasionally, fresh meat never.
The Germans did not like this diet, and complained from the start. One of the young girls, in all seriousness, demanded the installation of a Coca-Cola machine in the camp.
— Stefan Aust, Baader-Meinhof: The Inside Story of the R.A.F.
---
The group had developed a complicated but very effective system of disguising stolen cars, known as the 'doubles method'. Later, the officers of the Federal Criminal Investigation Office reacted to it with surprise and professional appreciation.
It involved members of the group stationing themselves in car parks outside apartment blocks. As soon as a car of the desired type turned up, they followed the driver to his apartment. A few days later they rang his bell, equipped with identification from an opinon poll outfit, and asked for details of his vehicle. After that a new logbook was forged, containing all the relevant details: owner's name, date of first registration, licence number, make, colour. Then they went in search of another car which exactly fitted the same technical data. They stole this duplicate and gave it number plates identical with those of the first car they had picked out. Thus there were suddenly two cars of identical appearance and with identical number plates around. If the police stopped someone in one of these 'doubles' and checked up on him, inquiries put to the Federal Motor Licensing Bureau would elicit the information that such a car really was registered in the name of such and such a holder and had not been reported stolen.
— Stefan Aust, Baader-Meinhof: The Inside Story of the R.A.F.
---
Game of Death, the name of my first band and of Bruce Lee's last movie, is an imdb Plot Keyword now.
---
The eighty-first Soundtrack of the Week is Jerry Fielding's music for Sam Peckinpah's Bring Me the Head of Alfredo Garcia.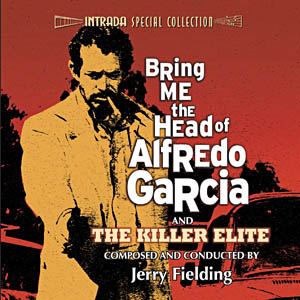 Fielding scored most of Peckinpah's movies and Alfredo Garcia was Peckinpah's most personal movie. That the film itself is a furious drunken howl disappoints some people but I think it's almost really great. Perhaps its only problem is that Peckinpah had felt restrained for so long on so many movies that he couldn't bear to restrain himself here, even if it would have been better for the film.
The music is really great, though, from the groovy rhythms of "On the Road" to the lilting "Killer's Rhapsody". The main voice of the movie is Spanish guitar and sometimes mariachi-style music blurs with orchestral music in a different key, thus creating strange dissonances of tone and texture, and a woozy feeling of blending, disintegrating worlds.
This CD from Intrada (limited edition, out of print, very expensive on the collectors's market, etc.) also contains some cues from Fielding's score for Peckinpah's The Killer Elite, but Intrada has since dedicated a whole CD to the music for that film. We'll deal with that later.
---
Here's something confusing from today's New York Times. About Kurt Rosenwinkel's recent performance at the Vanguard, Ben Ratliff wrote: "At one point during an extraordinary solo in a version of Monk's 'Reflections,' he ran rapid five-note phrases across a four-four rhythm — 20 in a single bar of music, each one articulated".
Twenty five-note phrases? A hundred notes per bar? That would certainly be "rapid" and "extraordinary". Probably he meant one five-note phrase for each of the four beats; four phrases, twenty notes per bar.
---
"Derivative writers seem versatile because they imitate many others, past and present. Artistic originality has only its own self to copy."
— Vladimir Nabokov, from an interview in The Paris Review, October, 1967.
---