2009 October 05 • Monday
The eighty-first Soundtrack of the Week is Jerry Fielding's music for Sam Peckinpah's Bring Me the Head of Alfredo Garcia.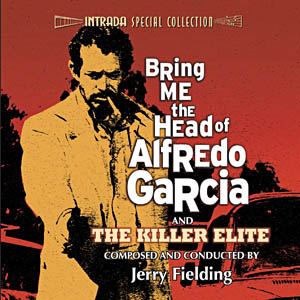 Fielding scored most of Peckinpah's movies and Alfredo Garcia was Peckinpah's most personal movie. That the film itself is a furious drunken howl disappoints some people but I think it's almost really great. Perhaps its only problem is that Peckinpah had felt restrained for so long on so many movies that he couldn't bear to restrain himself here, even if it would have been better for the film.
The music is really great, though, from the groovy rhythms of "On the Road" to the lilting "Killer's Rhapsody". The main voice of the movie is Spanish guitar and sometimes mariachi-style music blurs with orchestral music in a different key, thus creating strange dissonances of tone and texture, and a woozy feeling of blending, disintegrating worlds.
This CD from Intrada (limited edition, out of print, very expensive on the collectors's market, etc.) also contains some cues from Fielding's score for Peckinpah's The Killer Elite, but Intrada has since dedicated a whole CD to the music for that film. We'll deal with that later.
---