2009 October 12 • Monday
The eighty-second Soundtrack of the Week is Alex North's score for Hard Contract.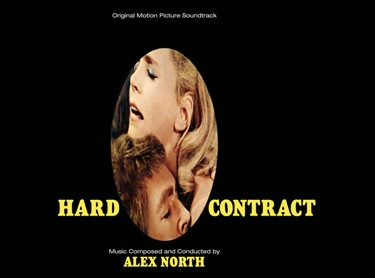 Alex North generally gets credit for having created the jazz soundtrack when he scored Elia Kazan's movie of A Streetcar Named Desire. It was left to Elmer Bernstein and Henry Mancini to make the jazz soundtrack insanely popular, though, with Bernstein's much imitated score for The Man with the Golden Arm and Mancini's music for the television series Peter Gunn.
Still, North got there first and returned there frequently. One of his superior jazz scores is for Hard Contract, 1969 thriller about a professional assassin, played by James Coburn.
The music is mostly languid and haunting, sometimes reminiscent of what Bernard Herrmann would come up with for Taxi Driver, sometimes looking back to John Barry's score for The Ipcress File.
The love theme "Sheila"—I'm guessing it's a love theme; I haven't seen the movie—begins in a Les Baxter mood before swinging into accordion-driven Parisian romantic mode.
This CD was part of Varèse Sarabande's Soundtrack Club series. It was limited to 1000 copies and is sold out, though I think you can still hear some audio samples on their website.
---