2009 October 26 • Monday
The eighty-fourth Soundtrack of the Week is this Klaus Kinski Horror Trilogy, a two-CD set with music from three Italian horror films starring Kinski.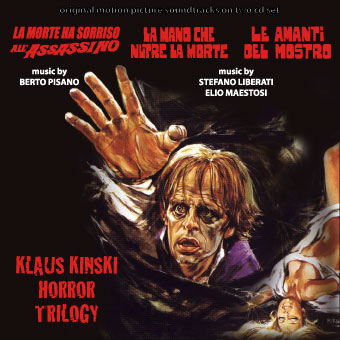 Berto Pisano's score for La Morte Ha Sorriso all'Assassino has a few different moods. My favorite, predictably, is the percussion and fuzz guitar mood, sometimes with mournful string accompaniment, sometimes with other instrumental punctuation.
There's also a waltz and some muted trumpet, some organ, some flute. You know.
La Mano Che Nutre La Morte has music by Stefano Liberati & Elio Maestosi. It's a short program of music dominated by a single theme, a lilting melody that manages to start out sad, suggest happiness, build to excitement and tension then return to melancholy.
Le Amanti del Mostro, also by Stefano Liberati & Elio Maestosi, uses similar instrumentation (strings, flutes, etc—no fuzz guitar here) and runs through the same moods but with greater compositional variety.
The music on both CDs makes a good soundtrack for rainy and unseasonably cool summer days—and Halloween, of course!
---