The eightieth Soundtrack of the Week is Nic Raine and the City of Prague Philharmonic's re-recording of Exodus by Ernest Gold, recently released as a two-disc "Special Limited Collectors' Edition".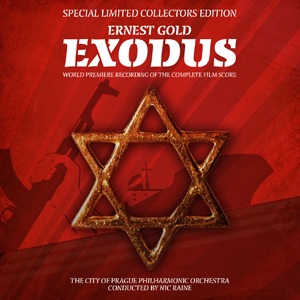 My only complaint about these re-recordings by Nic Raine and the City of Prague Philharmonic is that there aren't enough of them! It was about exactly a year ago that their two-disc set of Rózsa' El Cid came out.
Well, this was worth the wait. The music is stunning, absolutely beautiful and beautifully recorded. The theme is bound to be familiar to you. I remember hearing it on albums by Eddie Harris (whose adaptation of the Exodus theme led to his being the first jazz musician with a gold record) and Shelly Manne (Steps to the Desert, a.k.a. My Son the Jazz Drummer) but it was surely covered by lots of other people.
As great as that theme is, the other music is just as good. "On the Beach", a bewitching and lilting tune (a recapitulation of the "Summer in Cyprus" cue), may be my favorite track here.
The music doesn't quite fill up both CDs, so as bonus tracks you get some re-recorded cues from John Williams's Schindler's List, Sol Kaplan's It's a Mad, Mad, Mad, Mad World, Ship of Fools and Judith, Jerry Goldsmith's QB VII and Elmer Bernstein's Cast a Giant Shadow.
---
Check out beanbagfrog.com, Alice's new website!
---
The seventy-ninth Soundtrack of the Week is Two for the Seesaw, scored by Andre Previn.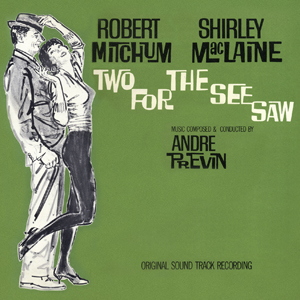 Previn was part of the West Coast jazz scene as well as being a Hollywood soundtrack composer and the best material on this CD showcases the former occupation. The jazz cues are sprightly and interesting, occasionally mixing meters and in other ways subtly engaging the listener's attention. "Two for the Twist" is easily my favorite piece here.
The drummer is particularly good and I spent some time wondering if it might be Shelly Manne before deciding it probably wasn't. (The cymbals sound like Shelly but not the drums.) The liner notes name only the "featured musicians": Uon Ramsey on trumpet, Ronald Land on alto sax, Dick Nash on trombone, Ed Lustgarten on cello, "concertmaster" Israel Baker and vocalist Jackie Cain, who sings the song "Second Chance" (lyrics by Dory Langdon).
The more dramatic cues have a David Raksin-like feel and are perfectly fine though not the kind of thing I find particularly memorable.
The movie itself is an adaptation of a successful Broadway play about the romance between a conservative midwestern lawyer and a bohemian free spirit in Greenwich Village. Shirley MacLaine got the bohemian role, which seems reasonable enough, but for some bizarre reason the part of the buttoned-down lawyer went to Robert Mitchum.
Mitchum himself didn't think much of the casting. He turned the role down twice, according to Lee Server's excellent Mitchum biography, Baby, I Don't Care. Apparently he finally accepted it because he thought he and MacLaine would work well together. (It seems that they did their best work (ahem) off-screen.)
When they met for the first time, Mitchum reportedly told MacLaine, "Don't let me take up too much space. I'm basically a Bulgarian wrestler. I'm not right for this part." While Mitchum was one of the most self-deprecating movie stars of all time— he once said he had two acting styles: "with and without a horse"— I bet he was right about this. I haven't seen the movie but most people who have agree that he was miscast.
---
In Tod Browning's The Unholy Three Lon Chaney stars as Professor Echo, a ventriloquist who teams up with two of his fellow circus sideshow performers (strong man, small man) to rob rich people's homes.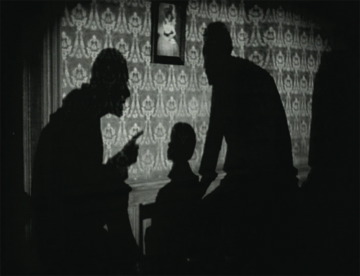 They find their targets by setting up a shop to sell parrots. Rich folks come in looking for a parrot and Chaney, in drag pretending to be an old lady, uses his ventriloquism skills to make the parrots "speak" so well that the customer just has to have one.
They deliver the parrots, check out the prospects and raid the customer's mansion at night.
It all goes horribly wrong, of course, and there are some great, sleazy pre-Code thrills, including a giant ape that goes berzerk. (It's actually a normal-sized ape cleverly filmed with miniatures and with the small man dressed as Chaney to create the illusion of a giant ape.)
Great movie! It's a silent film, though, and making a silent film about a ventriloquist presents a certain challenge, especially when ventriloquism is crucial to the story. Browning—or somebody—found a solution to this problem, perhaps by glancing at the comics section of a newspaper.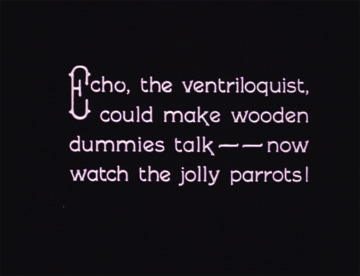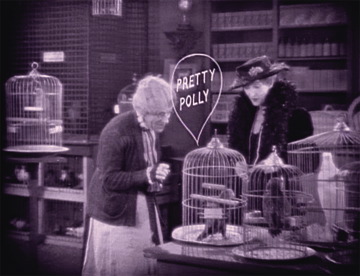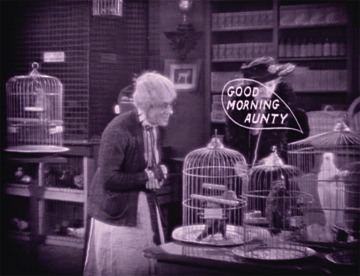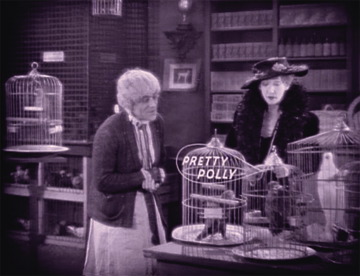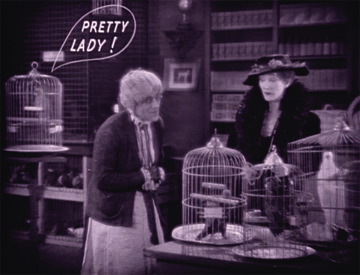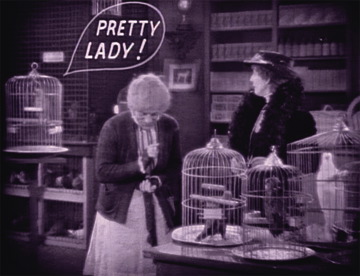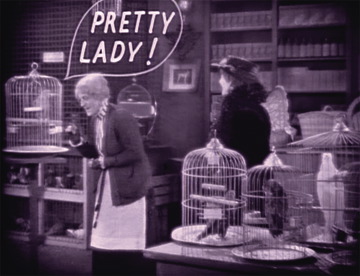 People so often discuss comics in cinematic terms that it's nice to see a comics technique used in a movie.
---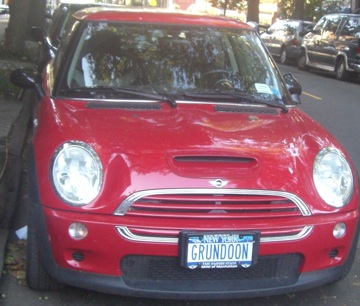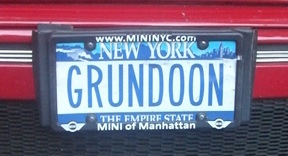 Grundoon was the toddler character from Walt Kelly's Pogo.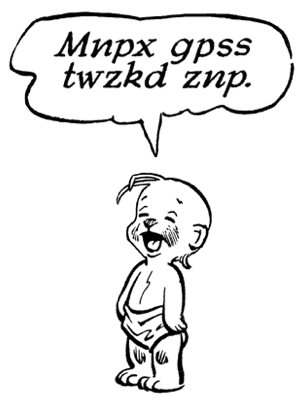 Dexter knows a bit of that dialect.
---
The seventy-eighth Soundtrack of the Week is the Kensyu Takakura Shuen Sakuhin Best Selection, tracks from two famous series of Takakura Ken movies, the Abashiri Bangaichi series and the Showa Zankyo Den series. The music is by Masao Yagi and Shunsuke Kikuchi.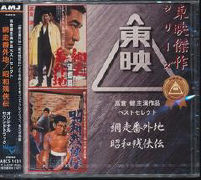 The Abashiri Bangaichi (Walls of Abashiri, Abashiri Prison) series made Ken a star, and both it and the Showa Zankyo Den (Brutal Tales of Chivalry) exemplify the formula of dozens of popular gangster films that featured Ken. (Paul Schrader figured that these were all the same movie and Ken had made this movie 27 times.)
The basic idea is that Ken is an ex-con yakuza who is one of a few honorable people left in the underworld. Often he's forced to kill one of the only other honorable people he meets, then gets involved with the dead man's surviving family.
For this reason and for another one or two that change from movie to movie, Ken suffers for a long time and then picks up his sword and takes on the whole syndicate by himself.
All of these movies benefit from excellent music, arranged around haunting, melancholy and lilting theme songs sung by Ken himself and arranged in various ways, inevitably exploiting the potentials of the electric guitar, various percussion instruments, electric organ and reverb and tremolo.
The first track on this CD is an excellent case in point. You hear the familiar sound of crashing waves which always accompanies the Toei logo.
Then there's a 3/4 tattoo played on three pitched drums, sharply punctuated at irregular intervals by what sounds like somebody striking a piece of wood plugged into a Fender amp with the reverb turned all the way up.
After this comes a short dissonant horn statement, followed by vaguely jazzy, vaguely "eastern" flute playing and some subtle horn ostinatos.
Track two is a short statement of tension, 24 seconds in length.
These two pieces set the mood perfectly for the third track, the beautiful "Abashiri Bangaichi" theme, played by electric guitars, bass and an accordion or something like it.
After this comes the same song but with Ken's vocals.
And so it goes, with some up-tempo sort of jazz, sort of rock and roll cues alternating with the melancholy, languid and hypnotic moods of the other pieces.
The music for the Showa Zankyoden series is, like the movies themselves, very similar.
---
The Japanese release of "Stand By For Action!": The Music of Barry Gray, which was our sixtieth Soundtrack of the Week last May, has a different cover. I think I like it better.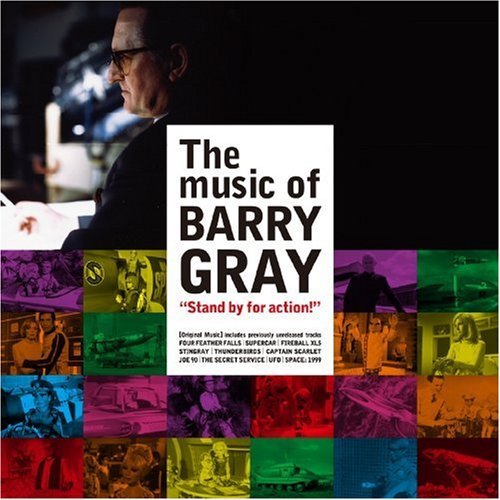 ---
Here's some graffiti I've wanted to photograph for years.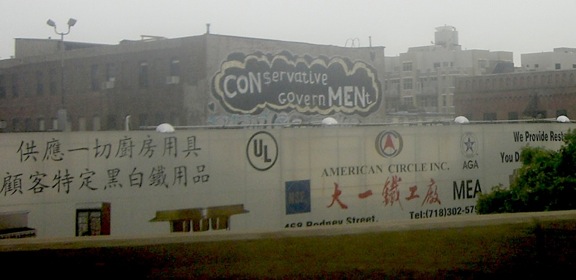 You can see it from the BQE but if you blink you could miss it. I'm pretty sure it's been there since Bush's first term, if not longer. Can you see that the "s" is a dollar sign?
---
The seventy-seventh Soundtrack of the Week is Sabata, a spaghetti western starring Lee Van Cleef with music by Marcello Giombini.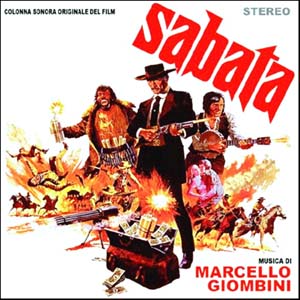 Sabata's a pretty good movie. The album cover kind of says it all. A guy with a banjo that shoots bullets, a bag of money and dynamite, another guy with dynamite strapped to his chest, stuff exploding. Horses. And of course Lee Van Cleef, one of my favorite actors of all time, in the middle of it all.
Giombini came up with an awesome theme for Sabata, a catchy, driving and pulsating tune featuring the trebly, twangy electric guitar essential to the genre. There is also, of course, the dreaded but apparently obligatory saloon piano cue that prevents me from listening to the CD from beginning to end without skipping any tracks.
You'll also hear good orchestral writing, from the hypnotic to the dramatic, a Bach-inspired organ piece, a piece that imitates Greensleeves and several variations on the main theme, including one with vocals ("Ehi Amico... C'e Sabata, Hai Chiuso!").
This was recently released in Japan, at the same time as the soundtrack for Return of Sabata, which also starred Lee Van Cleef. Yul Brynner played Sabata in Adios, Sabata. All three movies are available on DVD.
---