2009 September 14 • Monday
The seventy-eighth Soundtrack of the Week is the Kensyu Takakura Shuen Sakuhin Best Selection, tracks from two famous series of Takakura Ken movies, the Abashiri Bangaichi series and the Showa Zankyo Den series. The music is by Masao Yagi and Shunsuke Kikuchi.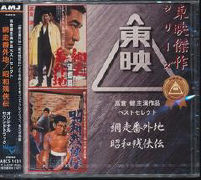 The Abashiri Bangaichi (Walls of Abashiri, Abashiri Prison) series made Ken a star, and both it and the Showa Zankyo Den (Brutal Tales of Chivalry) exemplify the formula of dozens of popular gangster films that featured Ken. (Paul Schrader figured that these were all the same movie and Ken had made this movie 27 times.)
The basic idea is that Ken is an ex-con yakuza who is one of a few honorable people left in the underworld. Often he's forced to kill one of the only other honorable people he meets, then gets involved with the dead man's surviving family.
For this reason and for another one or two that change from movie to movie, Ken suffers for a long time and then picks up his sword and takes on the whole syndicate by himself.
All of these movies benefit from excellent music, arranged around haunting, melancholy and lilting theme songs sung by Ken himself and arranged in various ways, inevitably exploiting the potentials of the electric guitar, various percussion instruments, electric organ and reverb and tremolo.
The first track on this CD is an excellent case in point. You hear the familiar sound of crashing waves which always accompanies the Toei logo.
Then there's a 3/4 tattoo played on three pitched drums, sharply punctuated at irregular intervals by what sounds like somebody striking a piece of wood plugged into a Fender amp with the reverb turned all the way up.
After this comes a short dissonant horn statement, followed by vaguely jazzy, vaguely "eastern" flute playing and some subtle horn ostinatos.
Track two is a short statement of tension, 24 seconds in length.
These two pieces set the mood perfectly for the third track, the beautiful "Abashiri Bangaichi" theme, played by electric guitars, bass and an accordion or something like it.
After this comes the same song but with Ken's vocals.
And so it goes, with some up-tempo sort of jazz, sort of rock and roll cues alternating with the melancholy, languid and hypnotic moods of the other pieces.
The music for the Showa Zankyoden series is, like the movies themselves, very similar.
---