2009 September 07 • Monday
The seventy-seventh Soundtrack of the Week is Sabata, a spaghetti western starring Lee Van Cleef with music by Marcello Giombini.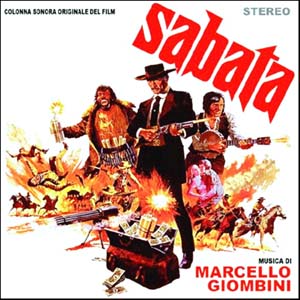 Sabata's a pretty good movie. The album cover kind of says it all. A guy with a banjo that shoots bullets, a bag of money and dynamite, another guy with dynamite strapped to his chest, stuff exploding. Horses. And of course Lee Van Cleef, one of my favorite actors of all time, in the middle of it all.
Giombini came up with an awesome theme for Sabata, a catchy, driving and pulsating tune featuring the trebly, twangy electric guitar essential to the genre. There is also, of course, the dreaded but apparently obligatory saloon piano cue that prevents me from listening to the CD from beginning to end without skipping any tracks.
You'll also hear good orchestral writing, from the hypnotic to the dramatic, a Bach-inspired organ piece, a piece that imitates Greensleeves and several variations on the main theme, including one with vocals ("Ehi Amico... C'e Sabata, Hai Chiuso!").
This was recently released in Japan, at the same time as the soundtrack for Return of Sabata, which also starred Lee Van Cleef. Yul Brynner played Sabata in Adios, Sabata. All three movies are available on DVD.
---