2009 September 21 • Monday
The seventy-ninth Soundtrack of the Week is Two for the Seesaw, scored by Andre Previn.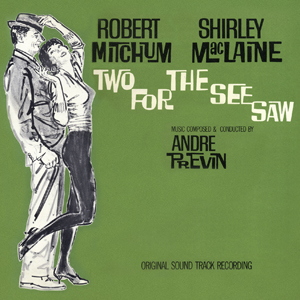 Previn was part of the West Coast jazz scene as well as being a Hollywood soundtrack composer and the best material on this CD showcases the former occupation. The jazz cues are sprightly and interesting, occasionally mixing meters and in other ways subtly engaging the listener's attention. "Two for the Twist" is easily my favorite piece here.
The drummer is particularly good and I spent some time wondering if it might be Shelly Manne before deciding it probably wasn't. (The cymbals sound like Shelly but not the drums.) The liner notes name only the "featured musicians": Uon Ramsey on trumpet, Ronald Land on alto sax, Dick Nash on trombone, Ed Lustgarten on cello, "concertmaster" Israel Baker and vocalist Jackie Cain, who sings the song "Second Chance" (lyrics by Dory Langdon).
The more dramatic cues have a David Raksin-like feel and are perfectly fine though not the kind of thing I find particularly memorable.
The movie itself is an adaptation of a successful Broadway play about the romance between a conservative midwestern lawyer and a bohemian free spirit in Greenwich Village. Shirley MacLaine got the bohemian role, which seems reasonable enough, but for some bizarre reason the part of the buttoned-down lawyer went to Robert Mitchum.
Mitchum himself didn't think much of the casting. He turned the role down twice, according to Lee Server's excellent Mitchum biography, Baby, I Don't Care. Apparently he finally accepted it because he thought he and MacLaine would work well together. (It seems that they did their best work (ahem) off-screen.)
When they met for the first time, Mitchum reportedly told MacLaine, "Don't let me take up too much space. I'm basically a Bulgarian wrestler. I'm not right for this part." While Mitchum was one of the most self-deprecating movie stars of all time— he once said he had two acting styles: "with and without a horse"— I bet he was right about this. I haven't seen the movie but most people who have agree that he was miscast.
---