The seventy-sixth Soundtrack of the Week is The Film Music by Masaru Satoh Vol. 11.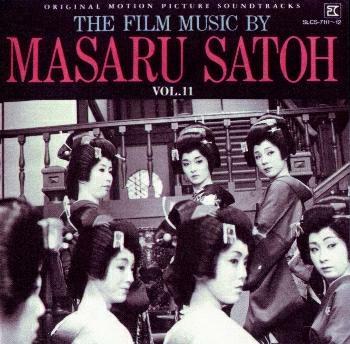 When I first started working at See Hear, Reuben Radding was managing the store. This was lucky for me since we listened to music all day, every day, and Reuben turned me on to a ton of great stuff. He introduced me to the music of John Lee Hooker, Curtis Mayfield, Conlon Nancarrow, Etta James, etc.
I was familiar with Masaru Sato's music for Kurosawa films—I even badgered the other members of Dim Sum Clip Job into doing a cover of the Yojimbo theme, which we performed exactly once, at The Cooler—but I didn't know anything about his music for the films of Hideo Gosha.
That's what's on Volume 11, a two-disc collection of suites of music for Gosha films. Reuben had a cassette recording of it that I listened to dozens of times. I eventually bought the CD when Footlight Records got it back in stock.
Disc 1 is the best of the two, with music mostly from the '60s and '70s, while Disc 2 covers the '80s and '90s. The scores for Goyokin (great movie, too!) and The Wolves are probably my favorites. Yakuza's Ladies on Disc 2 is really good also.
---
Here's a photo I took about 13 months ago, when we were just about to move from our Avenue A apartment to our new place in Brooklyn.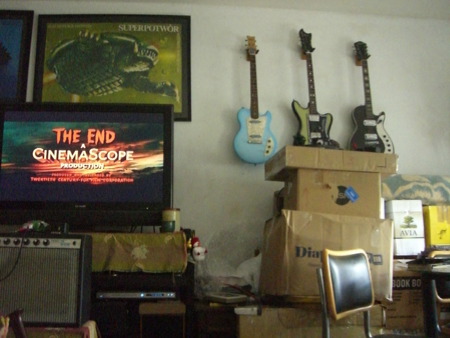 I was feeling quite sentimental about leaving that apartment. The only place I lived longer was the house I grew up in.
Nothing like a visit to the East Village on a Saturday night to make you glad you live somewhere else, though. I was there last night to see Pete Galub's excellent band and the short walk between the club and the subway had me wondering how I ever lived there.
---
The very first issue of Black Mask, from April, 1920, is up for auction on eBay right now.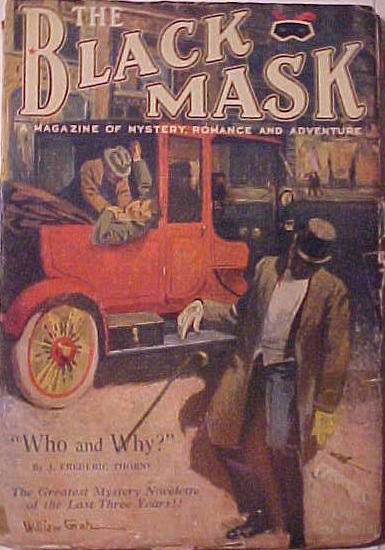 You can Buy It Now for $3,999.00.
---
Tuesday night found my brother and I at the Village Vanguard for the beginning of the annual two-weeks of gigs by my favorite band, the Paul Motian trio with Bill Frisell and Joe Lovano.
Their first two sets were very strong, with all three musicians playing with unusual urgency. Motian would start the next tune moments after the last note of the previous one had faded away.
Lovano's playing seemed particularly inspired, even more energetic than usual and often echoing some of Frisell's electronically altered phrases.
One highlight was Frisell cranking a music box over his guitar pick-up and looping the phrase it produced. This was one of the fragments that Lovano picked up and returned to Frisell.
In general Frisell's playing was more down to earth and, in his soloing, more "inside" than it has been in the past. Part of the reason for this may be the absence of his Digitech PDS 8000, a key component of his more outrageous flights of fancy, really a second instrument the way he uses it.
The second set had what might have been a new Motian composition, similar to his "Yahllah". In addition to a few rarely played Motian tunes (including "Dance" and what was probably "Play" from Trioism), they also played Charlie Parker's "Chi Chi", something I'd never heard from them before.
---
There have been a lot of great new comics lately. I buy them faster than I can read them.
Today's item from the comic book shop was this art book, though.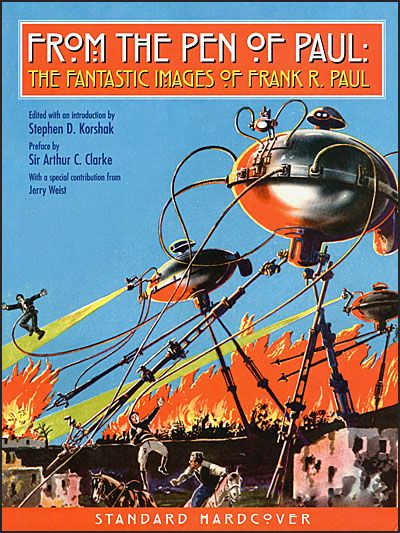 Here's one of Paul's most famous covers.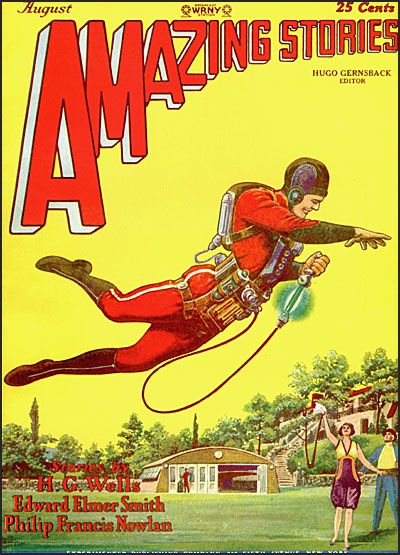 I might even have that issue. Here's a great painting I don't remember seeing before.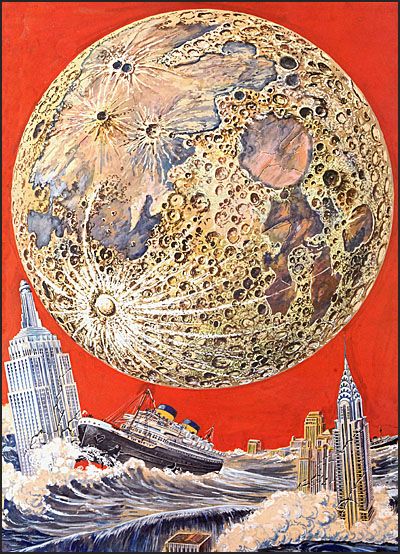 I got those images from here.
I bought my copy at Cosmic Comics, where everything in the store has been discounted 30% for the last three months. According to their website, they intend to continue the 30% discount for the next three months!
---
The seventy-fifth Soundtrack of the Week is Up Tight! by Booker T & The MGs.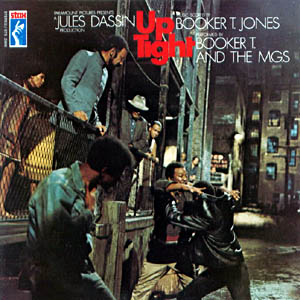 Ah, the Complete Stax/Volt Singles 1959–1968 box set.
It was released in 1991 but a few years passed before I became aware of it. I listened to it quite a bit while sitting behind See Hear's cash register—Disc 6 was my favorite, I think—and loved Booker T & The MGs so much that I started buying all of their albums.
Since I was also into soundtracks at the time—Footlight Records probably got a greeting card from my credit card company every year—I was thrilled to discover Up Tight!, a soundtrack Booker T. Jones wrote for a Jules Dassin movie.
The first track is a gentle, bluesy number with Booker T singing. He has a really nice voice, it turns out! "Children, Don't Get Weary" is a gospel song with vocals by Judy Clay. The other tracks are all instrumental and include an interesting arrangement of the classic "Time Is Tight" and (my favorite) the captivating 3/4 "Deadwood Dick".
Al Jackson, Jr., on drums, Steve Cropper on guitar, Donald "Duck" Dunn on bass, Booker T. Jones on keyboards—that's all you need to know!
---
As if all that weren't enough, Nicholson Baker's new novel will be here soon.
---
Here's the novelization of The Good, the Bad and the Ugly.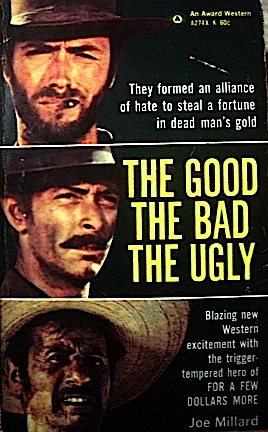 I like the bit about the "alliance of hate". The author, Joe Millard, also wrote several original novels about Clint Eastwood's character. I bought some in a used bookstore in Toronto. I was looking at them this morning and considering adding them to the list of books I'd like to read.
I first have to finish re-reading The Man in the High Castle, then read two books that I recently borrowed, Cockfighter from my friend Dan and Ten Thousand Light-Years from Home from my brother.
Then I'll have to read the Flannery O'Connor biography that Alice recently gave me, but before I do that I have to finish Stuart Galbraith IV's dual biography of Akira Kurosawa and Toshiro Mifune. I've been reading it a few pages at a time for months.
After all that I'll want to re-read Flicker and something by Dashiell Hammett, probably either The Dain Curse or The Maltese Falcon. Balthazar, the second novel in Lawrence Durrell's Alexandria Quartet, is also pulling at my sleeve.
Before I accomplish all of this I'm bound to be interrupted by the publication of Nabokov's unfinished The Original of Laura, which I will read at the earliest opportunity despite my strong feeling that the manuscript should have been cremated along with its author's body.
---
The seventy-fourth Soundtrack of the Week is Ennio Morricone's The Good, the Bad and the Ugly (Il buono, il cattivo, il brutto).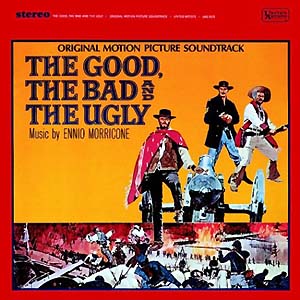 Special thanks to Hugh Brown for first showing me this movie—and hundreds of other movies! My brother and I often marvel at how many great films we know about thanks to Hugh.
Once Upon a Time in the West is, I guess, Leone's best film. The Good, the Bad and the Ugly is my favorite, though. Everything about it is impeccable: the photography, the screenplay, the acting and especially Morricone's famous score.
One time at Hugh's I connected a tape recorder to his VCR and recorded the entire movie onto tape. I listened to these audio casettes over and over and could almost recite the whole film by heart. (I did the same thing with Taxi Driver.)
Of course the wonderful "Main Title" from The Good, the Bad and the Ugly is one of the most famous pieces of film music of all time, and "The Ecstasy of Gold" is a Morricone concert staple, but my favorite cue might be "The Desert", a masterpiece of dramatic musical writing that brilliantly accompanies and enhances a scene of extreme cruelty.
In the late '90s I was fortunate enough to meet Eli Wallach. We spent an hour or so talking in his apartment on the upper west side. He gave me a bunch of Duke Ellington LPs as a parting present and when I returned home I sent him some videotapes of old television programs he had starred in (Lights Out, Kojak, etc.).
After this we exchanged a few letters. I keep my letters from him with my copy of the novelization of The Good, the Bad and the Ugly.
I read Wallach's memoir a couple of years ago (great book!) and I think it's time I wrote to him again!
---
Here's something great I got at a stoop sale on Sunday.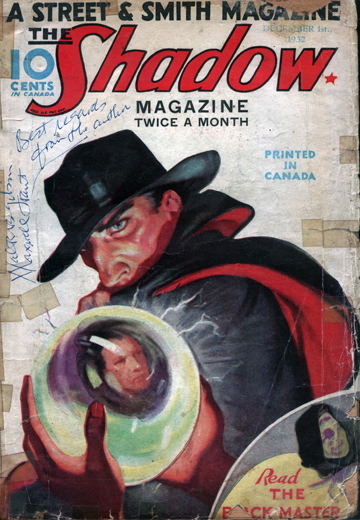 It's the Canadian printing and a bit beat up, but I've seen much worse. At first I was irked that sombody wrote on the cover but then I noticed that the somebody was Walter B. Gibson, creator and author of The Shadow!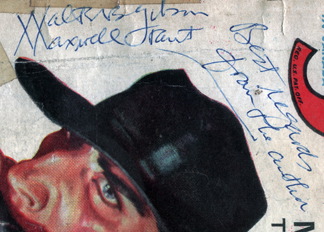 "Walter B Gibson/Maxwell Grant/Best regards/from the author". (Maxwell Grant was Gibson's pen name.) I like how he uses Xes to make the W and M.
I compared the handwriting with a Gibson-inscribed book I have at home and it's the same.
I love stoop sales.
---
The seventy-third Soundtrack of the Week is The Train, music by R. D. Burman and lyrics by Anand Bakshi.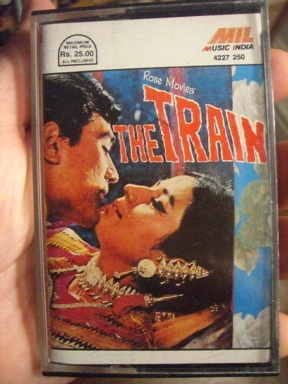 I bought this cassette on Lexington Avenue sometime in the mid '90s. All of the songs are great and much what you'd expect from Burman.
There's one, though, the second song on the A side, called "O Meri Jaan Main Ne Kaha". It's insanely good, a duet between a man and a woman with a ferocious groove, fantastic percussion and strings, wailing organ and electric guitar (one of the best four-second guitar solos you'll ever hear).
For years I would play this song to every person who entered my apartment. It still gets included in mix CDs I make today. (I found an R. D. Burman compilation CD that included it. Probably The Train is on CD now, but I'm happy with my cassette.)
---
When the doorbell rings and you're not expecting visitors, who do you think it is? A parcel service? A neighbor?
At our house we assume it's somebody from Verizon. Exactly a year ago, when we first moved here, a whole month and a dozen visits from Verizon were required to get our DSL and phone lines working.
DSL went out again on Monday, July 27th. We gave up the land line months ago because Verizon couldn't keep that going either.
Our internet connection is back now, thanks to the various technicians, all nice people, who worked on it.
---
Hey, Patrick, here's your old apartment!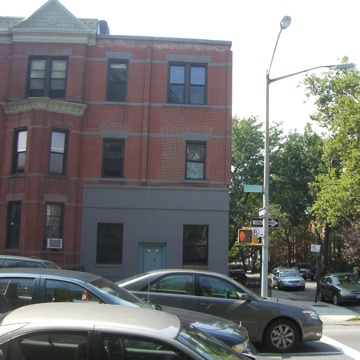 ---
Usually the Soundtracks of the Week are new releases or music that is at least new to me. For August, my birth month, the selections will be scores that have been important to me for a good chunk of my life.
The first of these, and the seventy-second Soundtrack of the Week, is Bernard Herrmann's score for North by Northwest.
I have three recordings of this score. If I could only have one, it would be the original soundtrack recording with Herrmann conducting.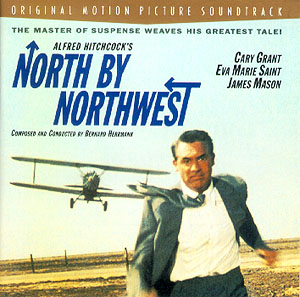 I probably saw North by Northwest for the first time when I was seven or eight years old. My parents would often take my brother and me to see Hitchcock movies, usually at the Brattle Theatre, and North by Northwest was my favorite.
The high-octane overture, "a kaleidoscopic orchestral fandango", as Herrmann called it, with its shifting meters of 3/4 and 6/8, got stuck in my head thirty years ago and never left. It's included in Herrmann's Great Hitchcock Movie Thrillers album and has become almost as inevitable a part of the "concert Herrmann" as the Psycho suite.
Just as essential as the original recording is Joel McNeely's re-recording of a couple of years ago.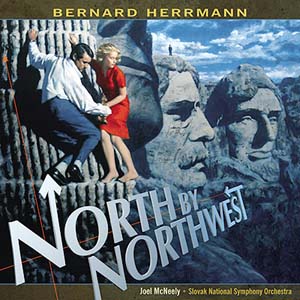 What's interesting about this is that McNeely, conducting the Slovak National Symphony Orchestra, gives us the entire score as written by Herrmann, including music that was never used in the film!
The third recording I own is this one, with orchestra conducted by Laurie Johnson, one of Bernard Herrmann's best friends and a great composer himself, most notably of music from The Avengers.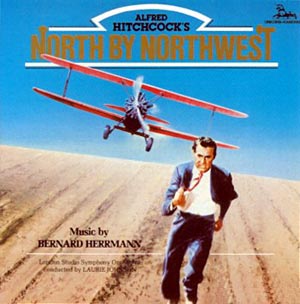 As Johnson writes in his autobiography, Noises in the Head, this recording was made with
the Calrec microphone, which contained eight separate microphones within it. With the orchestra arranged around it, it recorded exactly what the human head would hear. Thus the listener had the experience of what it's like to 'be there'. …
One day, Elmer Bernstein, the American composer, came to my home and listened to some of the music we had recorded in this way. Clearly impressed, he said how wonderful it was to hear the sound of strings exactly as the conductor on his podium hears it.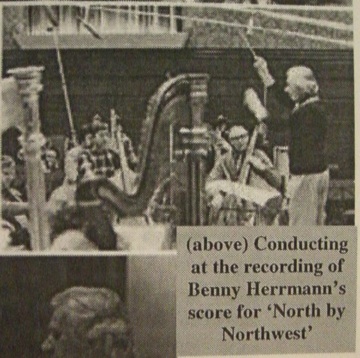 At least one cue from North by Northwest is recycled from Herrmann's score to On Dangerous Ground, and Herrmann's biographer, Steven Smith, notes that "Herrmann also quotes from his own White Witch Doctor score".
I was thinking recently that I wouldn't trade North by Northwest for all of Beethoven. After hearing a bit of Beethoven in the movie Deception, though, I decided I was perhaps doing Beethoven a disservice.
I have now decided that I would not trade North by Northwest for all of Brahms.
---