2009 August 10 • Monday
The seventy-third Soundtrack of the Week is The Train, music by R. D. Burman and lyrics by Anand Bakshi.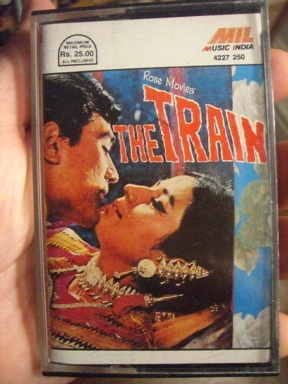 I bought this cassette on Lexington Avenue sometime in the mid '90s. All of the songs are great and much what you'd expect from Burman.
There's one, though, the second song on the A side, called "O Meri Jaan Main Ne Kaha". It's insanely good, a duet between a man and a woman with a ferocious groove, fantastic percussion and strings, wailing organ and electric guitar (one of the best four-second guitar solos you'll ever hear).
For years I would play this song to every person who entered my apartment. It still gets included in mix CDs I make today. (I found an R. D. Burman compilation CD that included it. Probably The Train is on CD now, but I'm happy with my cassette.)
---