2009 August 31 • Monday
The seventy-sixth Soundtrack of the Week is The Film Music by Masaru Satoh Vol. 11.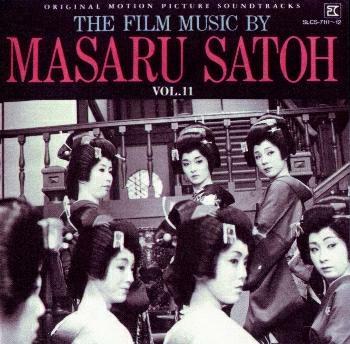 When I first started working at See Hear, Reuben Radding was managing the store. This was lucky for me since we listened to music all day, every day, and Reuben turned me on to a ton of great stuff. He introduced me to the music of John Lee Hooker, Curtis Mayfield, Conlon Nancarrow, Etta James, etc.
I was familiar with Masaru Sato's music for Kurosawa films—I even badgered the other members of Dim Sum Clip Job into doing a cover of the Yojimbo theme, which we performed exactly once, at The Cooler—but I didn't know anything about his music for the films of Hideo Gosha.
That's what's on Volume 11, a two-disc collection of suites of music for Gosha films. Reuben had a cassette recording of it that I listened to dozens of times. I eventually bought the CD when Footlight Records got it back in stock.
Disc 1 is the best of the two, with music mostly from the '60s and '70s, while Disc 2 covers the '80s and '90s. The scores for Goyokin (great movie, too!) and The Wolves are probably my favorites. Yakuza's Ladies on Disc 2 is really good also.
---