2009 August 24 • Monday
The seventy-fifth Soundtrack of the Week is Up Tight! by Booker T & The MGs.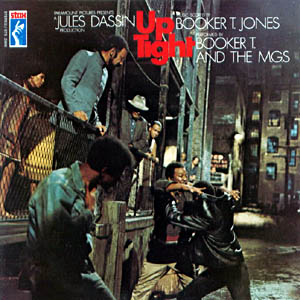 Ah, the Complete Stax/Volt Singles 1959–1968 box set.
It was released in 1991 but a few years passed before I became aware of it. I listened to it quite a bit while sitting behind See Hear's cash register—Disc 6 was my favorite, I think—and loved Booker T & The MGs so much that I started buying all of their albums.
Since I was also into soundtracks at the time—Footlight Records probably got a greeting card from my credit card company every year—I was thrilled to discover Up Tight!, a soundtrack Booker T. Jones wrote for a Jules Dassin movie.
The first track is a gentle, bluesy number with Booker T singing. He has a really nice voice, it turns out! "Children, Don't Get Weary" is a gospel song with vocals by Judy Clay. The other tracks are all instrumental and include an interesting arrangement of the classic "Time Is Tight" and (my favorite) the captivating 3/4 "Deadwood Dick".
Al Jackson, Jr., on drums, Steve Cropper on guitar, Donald "Duck" Dunn on bass, Booker T. Jones on keyboards—that's all you need to know!
---