The fifty-eighth Soundtrack of the Week is L'Impero del Sole (Empire of the Sun) by Angelo Francesco Lavagnino.
This late-'50s documentary about Peru has a fascinating score with several similarities to Les Baxter's exotic mood music of the time.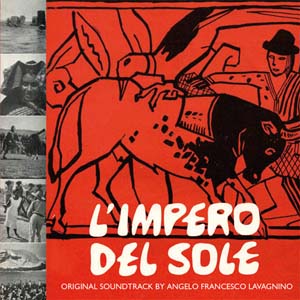 There are also parts that seem to anticipate what Mancini and Morricone would be doing in the '60s. There's a lot of percussion, sometimes accompanied by menacing solo piano or wordless choir or harp. The composer himself whistles on a couple of tracks.
---
The fifty-seventh Soundtrack of the Week is this breathtaking recent release from Film Score Monthly, a magnificent archival project, three CDs of music from the early-'60s television series Dr. Kildare.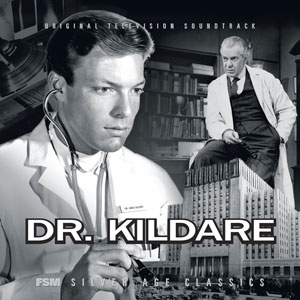 All of disc one is scored by Jerry Goldsmith, credited here as Jerrald Goldsmith; according to the liner notes, this was to please his parents, who weren't happy with his nickname.
Goldsmith's theme for the show is a beautiful, stirring and haunting piece whose romantic qualities were eventually mined for gold later on when Pete Rugolo and Hal Winn wrote lyrics for it and created a hit single ("Three Stars Will Shine Tonight") sung by Kildare star Richard Chamberlain. For a later three-part episode, Burt Bacharach and Hal David wrote another song for Chamberlain, "Rome Will Never Leave You" (also the name of the story).
Goldsmith's ensemble of 22 musicians can do just about anything, it seems: suspense, romance, humor, action, and some excellent jazz on a par with Henry Mancini's Peter Gunn music. Goldsmith uses electric violin with echo to create eerie atmospheres when needed.
Disc two belongs mostly to Harry Sukman, who successfully continues in the same vein, also using electric violin and, even more effectively, electric organ. He smoothly incorporates Goldsmith's theme into the episodes and listening to the music straight through, it's not easy to guess what's Sukman's and what's Goldsmith's.
Disc three contains Sukman's great surf-music score for the two-part episode "Tyger, Tyger". In addition to the previously mentioned Bacharach/David music, the third disc also has music by heavyweight composers Morton Stevens (Hawaii Five-0), Lalo Schifrin (Mission: Impossible), Alexander Courage (Star Trek), John Green and Bronislau Kaper.
This three-disc set has almost four hours of music. After listening to the whole thing I went back to the beginning and started again.
---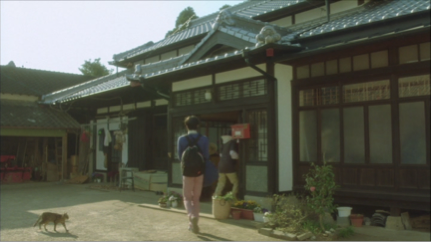 Detroit Metal City (2008)
---
The fifty-sixth Soundtrack of the Week is Cycle Breed, not a soundtrack itself but a collection of Davie Allan & The Arrows music for various motorcycle and surf movies.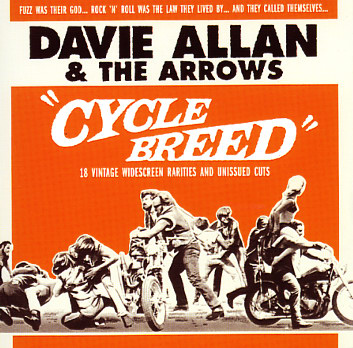 Even a short list of ill musical sounds should include the stomach-churning, mind-warping fuzz guitar of Davie Allan.
You'll hear it deployed on this CD, as well as some clean surf guitar, straight-up rock, sitar and even one very sensitive solo guitar piece.
If you like surf and hot-rod music, you'll enjoy this. A couple of vintage radio spots ("Raw! Sordid! Violent!") are included at the very end. MST3K fans may recognize music from The Hellcats.
---
Box Set of the Year Award goes to this Japanese release, a collection of 93 Yujiro Ishihara DVDs: 90 movies starring Ishihara plus 3 bonus discs (and a couple of books, PR materials, etc.). It costs about $2700.
The runner-up is this box set of 36 Yujiro Ishihara CDs (about $1000). In addition to 514 songs in "high-fidelity SHM-CD format", it has (among other items) a DVD with some concert films, some facsimiles of Ishihara's handwritten letters and a painting, a frame for the painting, a few books and, my favorite, a "Yujiro voice sound alarm clock".
---
Check out "April Fools" (Lucio Menegon, David Grollman and I) at Lucio's site.
Listen to Lucio's other recordings too. There's some great stuff there! The segue from "Pool Table Blues" into "Burp" works very well.
---
The fifty-fifth Soundtrack of the Week is Kriminal (1966) by Roberto Pregadio and Romano Mussolini.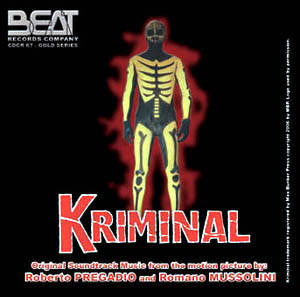 This is the soundtrack to the first of two movies based on the popular Italian comic book of the same name. The main theme is an unusual marriage of surfy electric guitar with big-band swing. I've had it stuck in my head for weeks now. In addition to this much-repeated theme, the score features some bossa nova and lounge music typical of late-'60s caper movies. I like it, but I don't listen to the whole CD from beginning to end.
Kriminal is an Italian comic book about a master criminal/thief, similar to Diabolik. I wonder if Charles Burns likes these fumetti.
I picked up about twenty issues of Kriminal in a small shop in Catania in October of 2001. I wish I'd bought more. Here are some of the covers.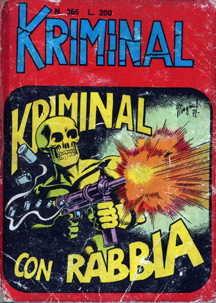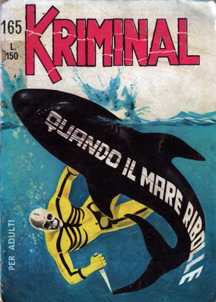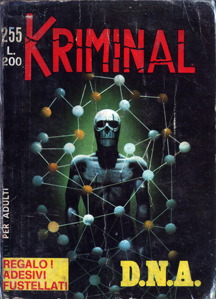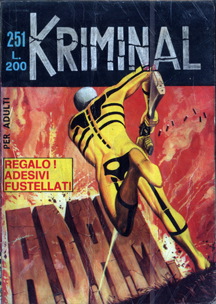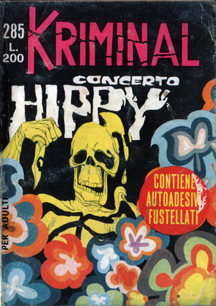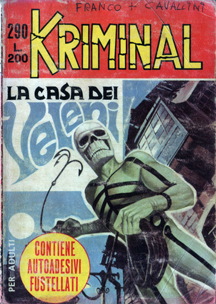 Since Diabolik was so successfully brought from page to screen by Mario Bava (with one of Ennio Morricone's greatest soundtracks), I had high hopes for the Kriminal movies. For a while, listening to the Kriminal CD was as close as I could get to seeing them. This year, though, I managed to see both of them with English subtitles.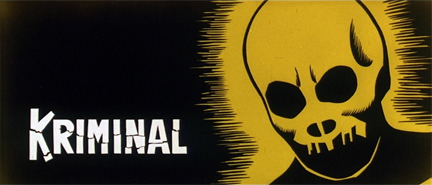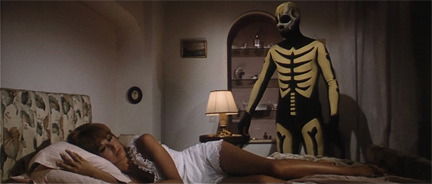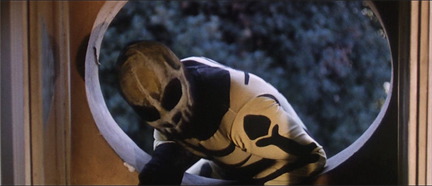 Kriminal has great casting and the enjoyable music mentioned above. It's a disappointment in every other way, though. Kriminal is out to steal some jewels but is embarrassingly foiled at every turn. Every scene is silly or boring or both.
I guess it did well enough for a sequel, though. Glenn Saxson returned to the role in Il Marchio di Kriminal (1968, The Mark of Kriminal).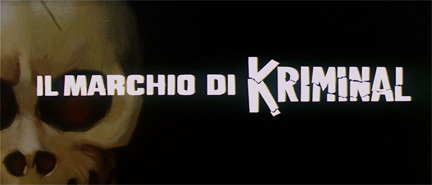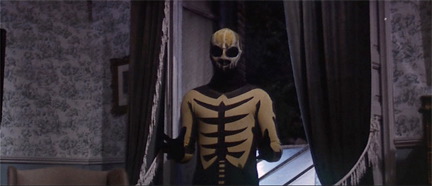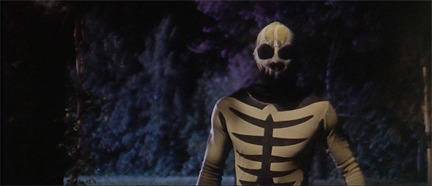 Most sequels are worse than the first movie. A few are better. Il Marchio di Kriminal is exactly as bad as Kriminal. This time, Kriminal is showing up in senior citizens' bedrooms at night. He doesn't do anything, but they die of fright anyway and he and his accomplice collect on their life insurance.
Just as you're groaning at the tedium of this, Kriminal sets off chasing statues of Buddha that have fragments of a treasure map hidden inside them. This idea is taken from a Sherlock Holmes story, "The Six Napoleons", circa 1904. (The same idea was also used in the 1944 Basil Rathbone Sherlock Holmes film Dressed To Kill.) No points for originality, then. The boredom is sporadically interrupted by inanity.
It could be that the sequel to Kriminal was inspired by three Turkish movies made very fast and cheaply in 1967. They called the character Kilink instead of Kriminal and, to their credit, threw caution to the winds and made movies that are like an old cliffhanger serial on acid. To the basic master criminal/thief premise they added whatever they wanted from superhero comics, Mexican masked wrestler movies and spy movies.
It appears that the first movie, Kilink in Istanbul, no longer exists. Most of the second film, Kilink vs. Superman, survives, as does all of the third film, Kilink Strip and Kill.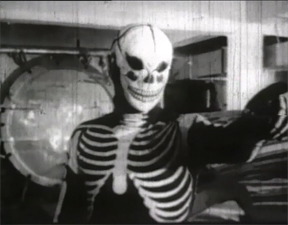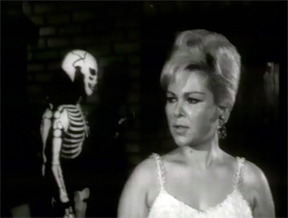 In Kilink vs. Superman, Kilink is after a death ray and Superman ("the flying man") is trying to stop him from getting it. There's the usual "torture the scientist's daughter until he gets the death ray working" scene. The Superman character is a journalist who, like Captain Marvel, says "Shajam" [sic] to turn into his super-powered alter ego. He wears Superman's costume with Batman's cowl.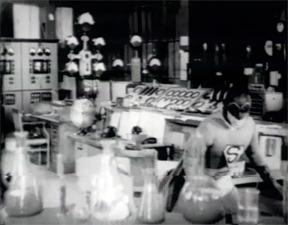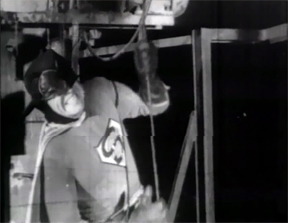 Kilink himself is an unstoppable, indestructible, ruthless bastard. He swaggers around being a jerk all the time. I liked him immensely. While the Kriminal movies have almost no action, the Kilink movies are almost all action.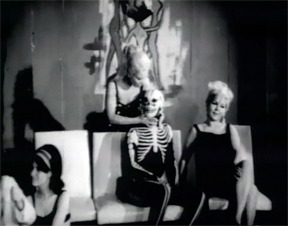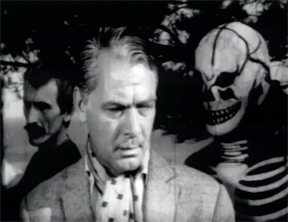 It seems that all the music is stolen from other films. I recognized cues from You Only Live Twice (John Barry), Raumpatroille (Peter Thomas) and, I think, Godzilla vs. the Sea Monster (Masaru Sato).
Kilink Strip and Kill is even better. The opening credits begin with a souped-up version of the Dragnet theme, and you'll hear the same music from You Only Live Twice and Raumpatroille as before, in addition to bits of Jerry Goldsmith's Our Man Flint music, something by the John Barry Seven and something with, I'm pretty sure, Plas Johnson playing on it.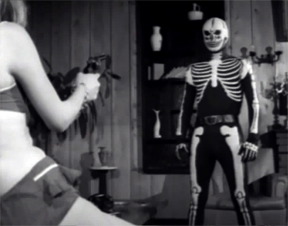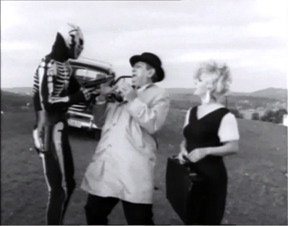 This time around, Kilink is a master of disguise who can have any person's face by putting a special mask on over his Kilink mask. He goes to New York City (identified by a shot of the Golden Gate Bridge) and attends a criminal conference where everybody wears Klan-like white hoods and robes.
Some people are after some microfilm that shows locations of missile bases or something. Other people are after millions of dollars in smuggled gold (or something). Kilink is after everything!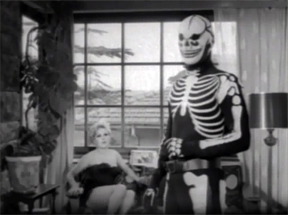 The Italian Kriminal movies are the work of professionals. They look good. They have great colors and lighting. Cuts from one camera position to another are smooth. By comparison, the Kilink movies are a mess. Many shots have too much light or not enough. Some of the cuts make you wonder if "continuity" is translatable into Turkish.
But the Kilink movies are better in every way that matters. They're audacious, not boring. And they don't make them like this anymore.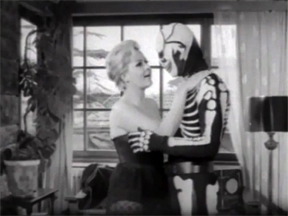 ---