2009 April 13 • Monday
The fifty-sixth Soundtrack of the Week is Cycle Breed, not a soundtrack itself but a collection of Davie Allan & The Arrows music for various motorcycle and surf movies.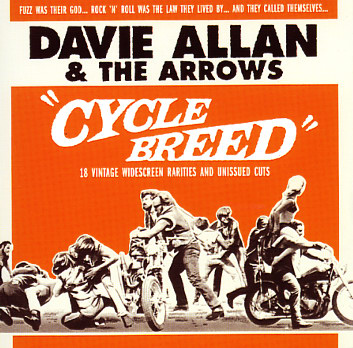 Even a short list of ill musical sounds should include the stomach-churning, mind-warping fuzz guitar of Davie Allan.
You'll hear it deployed on this CD, as well as some clean surf guitar, straight-up rock, sitar and even one very sensitive solo guitar piece.
If you like surf and hot-rod music, you'll enjoy this. A couple of vintage radio spots ("Raw! Sordid! Violent!") are included at the very end. MST3K fans may recognize music from The Hellcats.
---