2009 April 20 • Monday
The fifty-seventh Soundtrack of the Week is this breathtaking recent release from Film Score Monthly, a magnificent archival project, three CDs of music from the early-'60s television series Dr. Kildare.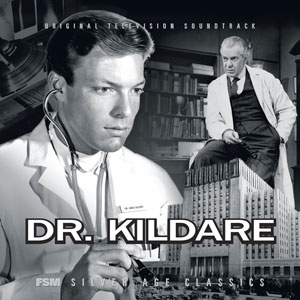 All of disc one is scored by Jerry Goldsmith, credited here as Jerrald Goldsmith; according to the liner notes, this was to please his parents, who weren't happy with his nickname.
Goldsmith's theme for the show is a beautiful, stirring and haunting piece whose romantic qualities were eventually mined for gold later on when Pete Rugolo and Hal Winn wrote lyrics for it and created a hit single ("Three Stars Will Shine Tonight") sung by Kildare star Richard Chamberlain. For a later three-part episode, Burt Bacharach and Hal David wrote another song for Chamberlain, "Rome Will Never Leave You" (also the name of the story).
Goldsmith's ensemble of 22 musicians can do just about anything, it seems: suspense, romance, humor, action, and some excellent jazz on a par with Henry Mancini's Peter Gunn music. Goldsmith uses electric violin with echo to create eerie atmospheres when needed.
Disc two belongs mostly to Harry Sukman, who successfully continues in the same vein, also using electric violin and, even more effectively, electric organ. He smoothly incorporates Goldsmith's theme into the episodes and listening to the music straight through, it's not easy to guess what's Sukman's and what's Goldsmith's.
Disc three contains Sukman's great surf-music score for the two-part episode "Tyger, Tyger". In addition to the previously mentioned Bacharach/David music, the third disc also has music by heavyweight composers Morton Stevens (Hawaii Five-0), Lalo Schifrin (Mission: Impossible), Alexander Courage (Star Trek), John Green and Bronislau Kaper.
This three-disc set has almost four hours of music. After listening to the whole thing I went back to the beginning and started again.
---