The fifty-fourth Soundtrack of the Week is Ein Wigwam Steht in Babelsberg, the first of at least three collections of music from East German westerns.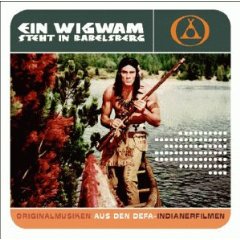 This first volume concentrates on main themes and other songs; later volumes have more incidental music and underscore.
One memorable song, "Love Your Brother", is performed by Dean Reed, "The Red Elvis" and the subject of a Bear Family CD. His interesting life story is supposedly being made into a musical called Comrade Rockstar. Reed was in a few spaghetti westerns as well, such as Adios Sabata.
Most of the material on Ein Wigwam Steht in Babelsberg is gently poppy or Americana folky, though there are some moments of greater intensity.
---
It's only March but I bet that the archival book of the year will be Craig Yoe's Secret Identity: The Fetish Art of Superman's Co-creator Joe Shuster.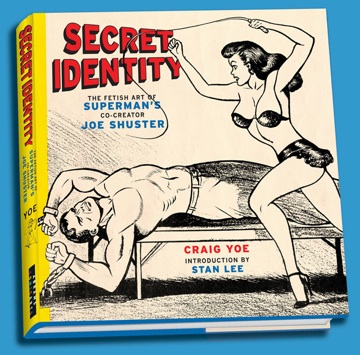 Go here for a look inside.
---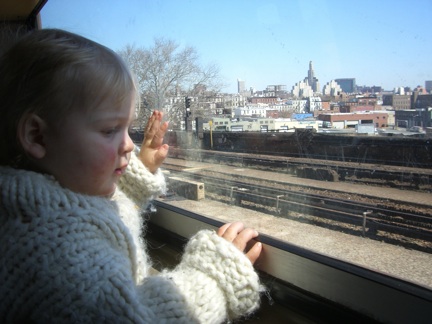 ---
Beginning the second year of the Soundtrack of the Week, number fifty-three is this CD which contains swinging Piero Umiliani scores for two movies, the deliriously titled Due Mafiosi Contro Goldginger (not Goldfinger) and Due Mafiosi Contro Al Capone.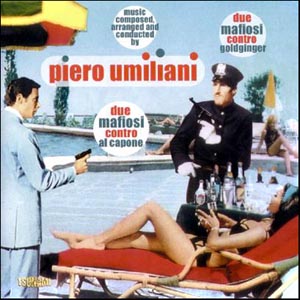 It starts out with a blast of this L.A. jazz-chorus crap that I hate, but ditches it after half a minute and gets down to business with drums, electric guitar and some serious grooves. The main title has a couple of things in common with Burt Bacharach's theme song for The Blob. Another piece sounds like it's inspired by Duke Ellington's Afro Bossa record. Later on, Tchaikovsky's "Swan Lake" is dragged in for reasons that might make sense in the movie.
There's some music which sounds like some of John Barry's Goldfinger score (the music for the raid on Fort Knox, I think), but in general Umiliani doesn't seem to be trying to imitate Barry. Fans of Jerry Goldsmith's music for the two Flint movies would probably enjoy this.
It probably goes without saying that I would like to see these movies.
---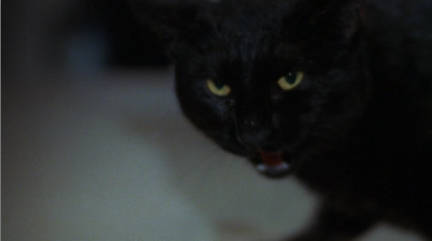 The Hand (1981)
There's a scene later on where Michael Caine is walking in Chinatown and you can see the old Sun Sing movie theatre. That made me nostalgic.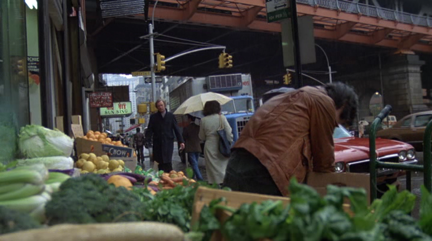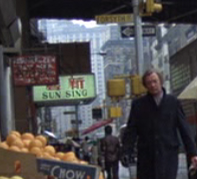 I saw some great movies at the Sun Sing, the Music Palace and the Rosemary. They're all gone now.
---
Famous science-fiction writer and editor Hugo Gernsback (for whom the Hugo award is named) was also the editor of Radio-Craft magazine. I picked up a few issues at the Park Slope flea market at P.S. 321 last weekend. They were in an old leather suitcase with a bunch of erotica and bible-studies books.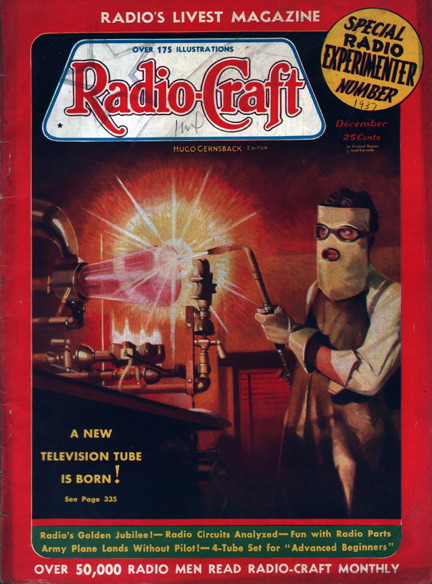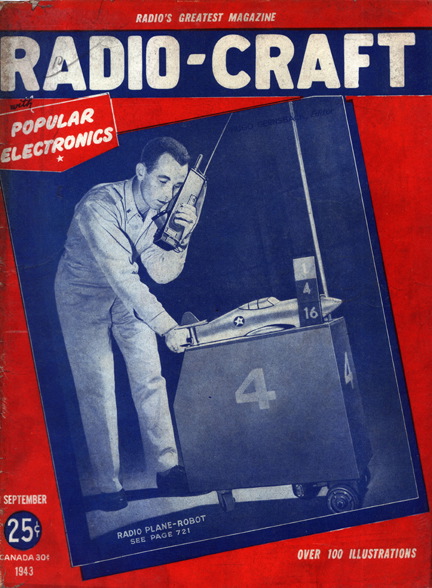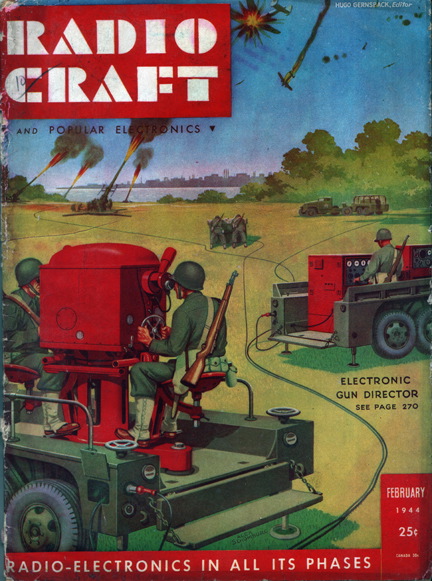 The February 1944 issue includes this article, "Music in Industry: Efficiently-Planned Morale-Builder".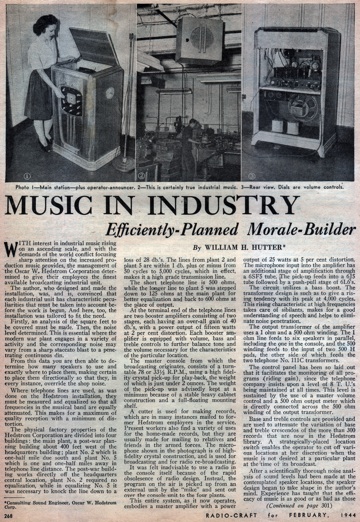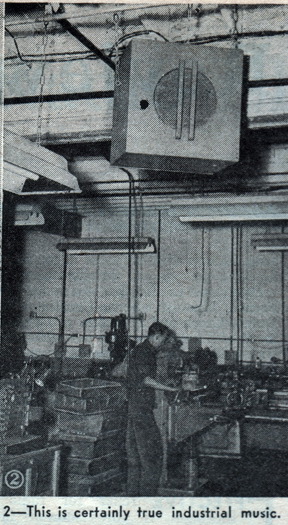 "With interest in industrial music rising on an ascending scale, and with the demands of the world conflict focusing sharp attention on the increased production music provides, the management of the Oscar W. Hedstrom Corporation determined to give their employees the finest available broadcasting industrial unit."
[…]
"The master console from which the broadcasting originates consists of a turntable 78 or 331/3 R.P.M., using a high fidelity crystal pick-up for play-back, the weight of which is just under 2 ounces. The weight of the pick-up was advisedly kept at a minimum because of a stable heavy cabinet construction and a full-floating mounting shelf."
[…]
"Experience has taught that the efficacy of music is as good or as bad as those who listen think it. Thus, it must be made to fit the need. Many a pair of smudged hands and begrimed face is associated with a musical ear of a high order. And whenever the music is mediocre or badly planned and presented, the lights on the switchboard are set afire by complaining voices from the factory."
[…]
"In all fairness, it is reasonable to assume that a working man at his bench carries with him to the plant the same high quality of musical appreciation that he carries into his home. Therefore, the best is none too good."
---
Here's one of the greatest movie cats, in The Godfather (1972).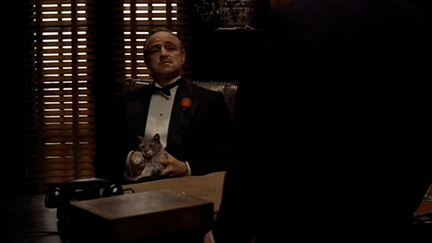 I think Coppola must have been influenced by Visconti's The Leopard, which has several things in common with The Godfather.
---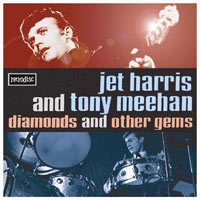 Fans of The Shadows will want this CD of the complete Decca singles of Jet Harris and Tony Meehan, the rhythm section of The Shadows.
Jet Harris was the first person in England to own an electric bass guitar. Here he plays a Fender VI and it sounds pretty awesome, especially when drenched in a sickening amount of reverb.
"Diamonds" is probably the best and the most famous piece here, a #1 hit in the UK at the time. There's also a cover of Elmer Bernstein's theme from The Man with the Golden Arm and a tune called "Scarlett O'Hara".
There are some vocal numbers too. They're not going to blow you away but Harris has a good voice and they provide a nice contrast to the instrumentals.
---
The fifty-second Soundtrack of the Week is Frankie Chan's score for Wong Kar Wai's Dung che sai duk (Ashes of Time).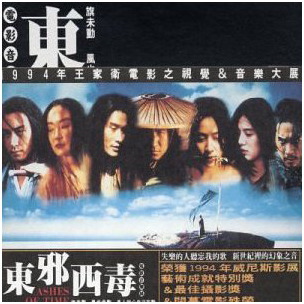 I like some synth soundtracks. Goblin and Tangerine Dream come to mind. So does this (and the music for some other Hong Kong movies).
Of course, I have to be in the right mood for it and I can only listen to it when I'm by myself. There's one kind of cool vocal number and one possibly unembarrassing kind of groovy number. The main theme is simple but wistful and quite pretty.
I bought this in Chinatown when the movie first came out and was playing there. I saw it—at, I think, the Rosemary Theatre (now a Buddhist temple)—three times, mostly because I was completely baffled by it the first two times.
I don't usually bother going to see a movie that many times, no matter how confusing, but Christopher Doyle's cinematography is always a pleasure to watch.
---
New on the Gutbrain bookshelf is this fantastic volume: Pop Surf Culture: Music, Design, Film, and Fashion from the Bohemian Surf Boom.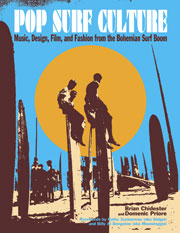 Authors Brian Chidester and Domenic Priore astonished me a few years ago with Dumb Angel No. 4. You can check out some excerpts from Pop Surf Culture here.
---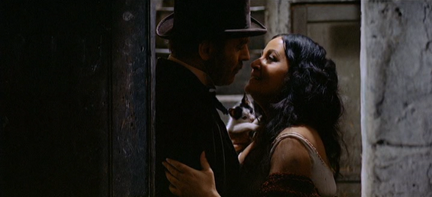 Il gattopardo (1963, The Leopard)
A plaintively meowing stray cat also appears—significantly, I think—in the last scene of the film. It's hard to see here but it's in the bottom left, skipping over the gutter.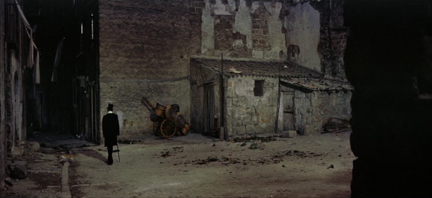 ---
Brooklyn is hosting the so-called World Series of Beards, the New York City Beard and Moustache Championship. It includes a "Recession Beard" category, for those who have recently lost their jobs.
---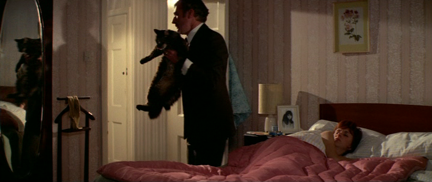 Villain (1971)
---
The fifty-first Soundtrack of the Week is ¡Mátalo! (a.k.a. Kill Him!) by Mario Migliardi.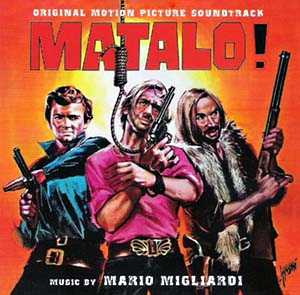 Who is Mario Migliardi? I had never heard of him (or this movie) before, but I was blown away by the opening track on this CD, a psychedelic rock cut that sounds like a collaboration between Black Sabbath and Goblin.
The CD opens with the single version of this piece, but there is the full soundtrack version, later on. It's almost ten minutes long!
The rest of the music is also wonderful, at times suggesting horror films, or sci-fi films, or lost Os Mutantes recordings — everything except a spaghetti western, which is what ¡Mátalo! is.
Mario Migliardi's imdb page lists only 11 movies that credit him as composer. They all sound great: Il pianeta degli uomini spenti (a.k.a. Planet of the Lifeless Men), Die Turm der verbotenen Liebe (a.k.a. Tower of Screaming Virgins), Prega il morto e ammazza il vivo (a.k.a. Pray to Kill and Return Alive, a.k.a Shoot the Living and Pray for the Dead, a.k.a. To Kill a Jackal, a.k.a. Renegade Gun), etc.
---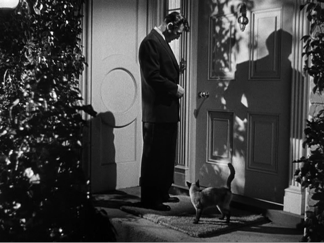 Where Danger Lives (1950)
---
Here's the cover of the March 1939 issue of Railroad Magazine.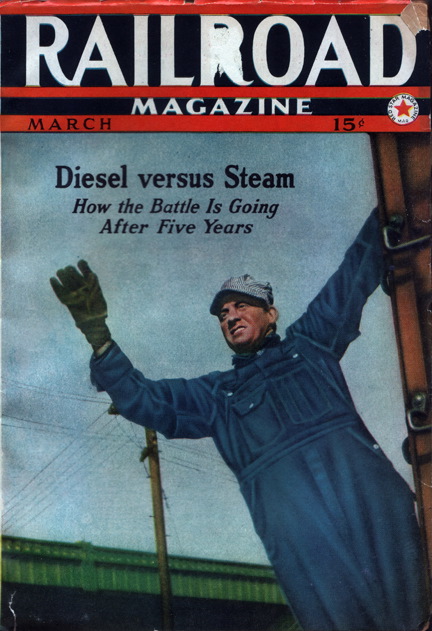 I bought this at the flea market at P.S. 321 on 7th Avenue in Park Slope last weekend, mere moments after complaining to Alice that there was never anything I wanted or could afford at that flea market. I also picked up two issues of Argosy.
---
The fiftieth Soundtrack of the Week is David Shire's score for The Conversation.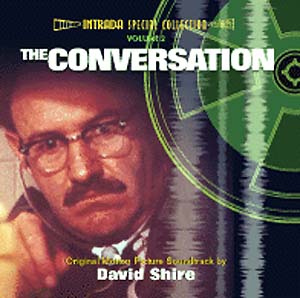 I listen to this CD over and over. Most of it is solo piano, to my ears reminiscent of Erik Satie's beautiful solo piano compositions, though apparently Shire was inspired more by Chopin nocturnes.
Some of these cues are actually Shire's home recordings, his piano slightly out of tune. Even though Shire recorded the same material in a professional studio on a Steinway grand, his rough temp tracks had a quality that director Francis Ford Coppola preferred.
There are also some frightening sounds generated for a memorable scene later in the film — I think the track title "Plumbing Problem" will refresh your memory, if you've seen this excellent movie before — and also a few jazz combo cuts performed by a version of Shelly Manne and His Men with the addition of baritone sax: Shelly Manne on drums, Ray Brown on bass, Jack Nimitz on baritone sax, Pete Jolly on piano, Conte Candoli on trumpet and Don Menza on tenor sax—and Gene Hackman also on tenor. He actually did his own tenor sax playing in the movie!
---