2009 March 02 • Monday
The fiftieth Soundtrack of the Week is David Shire's score for The Conversation.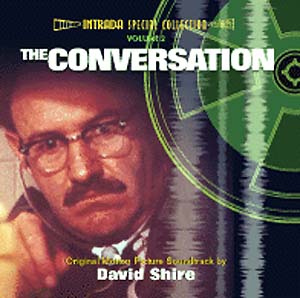 I listen to this CD over and over. Most of it is solo piano, to my ears reminiscent of Erik Satie's beautiful solo piano compositions, though apparently Shire was inspired more by Chopin nocturnes.
Some of these cues are actually Shire's home recordings, his piano slightly out of tune. Even though Shire recorded the same material in a professional studio on a Steinway grand, his rough temp tracks had a quality that director Francis Ford Coppola preferred.
There are also some frightening sounds generated for a memorable scene later in the film — I think the track title "Plumbing Problem" will refresh your memory, if you've seen this excellent movie before — and also a few jazz combo cuts performed by a version of Shelly Manne and His Men with the addition of baritone sax: Shelly Manne on drums, Ray Brown on bass, Jack Nimitz on baritone sax, Pete Jolly on piano, Conte Candoli on trumpet and Don Menza on tenor sax—and Gene Hackman also on tenor. He actually did his own tenor sax playing in the movie!
---