2009 March 30 • Monday
The fifty-fourth Soundtrack of the Week is Ein Wigwam Steht in Babelsberg, the first of at least three collections of music from East German westerns.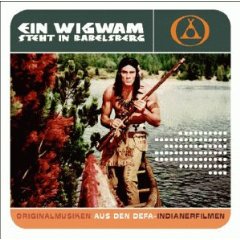 This first volume concentrates on main themes and other songs; later volumes have more incidental music and underscore.
One memorable song, "Love Your Brother", is performed by Dean Reed, "The Red Elvis" and the subject of a Bear Family CD. His interesting life story is supposedly being made into a musical called Comrade Rockstar. Reed was in a few spaghetti westerns as well, such as Adios Sabata.
Most of the material on Ein Wigwam Steht in Babelsberg is gently poppy or Americana folky, though there are some moments of greater intensity.
---