---
Friday, 07 December 2007, 9:23 pm
Dexter Bierhorst Price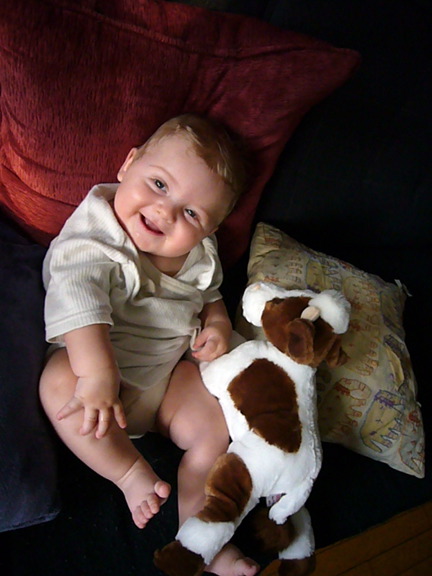 ---
Usually I do the Soundtracks of the Week on Monday, but the movers will be here at 8:00 tomorrow morning so let's get it out of the way now. As I mentioned before, I have no idea when we'll get an internet connection at our new house, so this page will most likely be static for a week or two.
Les Baxter is another soundtrack composer with an impressive list of titles to his credit. Frogs, Switchblade Sisters, The Mini-Skirt Mob, The Torture Chamber of Baron Blood, Mondo Sadismo, Bop Girl Goes Calypso, an episode of Buck Rogers in the 25th Century called "Vegas in Space". That has to be good! I love his rock/funk score to Hell's Belles as well as his so-called easy listening/lounge/exotica music ("Quiet Village" et al.).
Our nineteenth Soundtrack of the Week is Les Baxter's score for The Dunwich Horror.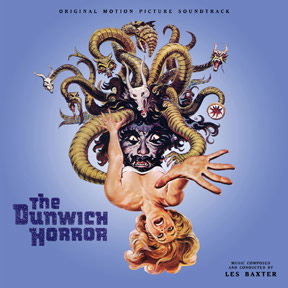 The music mixes electronic and acoustic instruments, theremin and percusssion and different keyboards. Most of it is based on one theme but it never gets boring, thanks to Baxter's interesting arrangements and unusual combination of instruments.
---
Another curiosity, which I received in the same package with the Tony Perkins CD, is Per un Pugno di Samba (For a Fistful of Samba).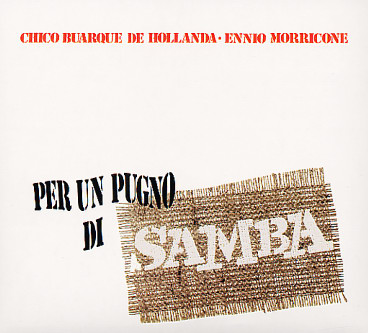 It's basically a mellow samba album, notable because Ennio Morricone is leading the orchestra backing up singer Chico Buarque. The music doesn't sound much like Morricone's film work, but it's pleasant.
---
Now playing on the Gutbrain stereo, The Prettiest Girl in School, a CD of songs from the 1950s sung by Anthony ("Tony") Perkins!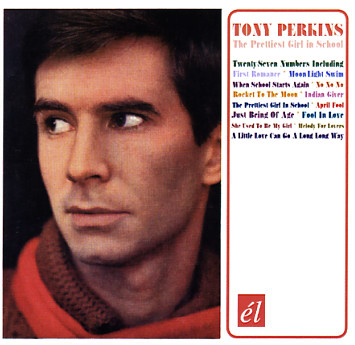 It's not bad, if you like this kind of thing, like Johnny Mathis, Fabian, some of Elvis's early RCA recordings. "Moonlight Swim" has a nice Hawaiian feel to it, with some good steel guitar playing. Some of the tracks have an agreeable West Coast jazz feel. I find myself wondering who's playing alto sax on "Just Friends" but I've already packed the CD.
---
The eighteenth Soundtrack of the Week is Jikiru to Haido, Japanese for Jekyll & Hyde.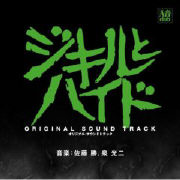 One of my favorite composers, Masaru Sato, contributed the hard-swinging and creatively arranged main theme. The rest of the music, which includes sparse string music, lugubrious organ solos, breezy jazz and atmospheric cues, is by Koji Izumi.
I got the CD from Ark Soundtrack Square and I don't know anything more about it than what it says on their website. I guess Jekyll & Hyde was a Japanese TV show in 1973.
A week from today we'll be moving. I have been assured that we will not have internet access the first day at our new address. In fact, nobody knows when our new house will be wired. There may not be a lot of activity at this site for a while.
---
The second Soundtrack of the Week was The Tomorrow People, which featured music by Delia Derbyshire, a pioneering creator of electronic music, famous for arranging Ron Grainer's theme music for Doctor Who. The releases of The Tomorrow People and Electrosonic are starting to bring her much deserved (though posthumous) attention.
Now there's more good news for Delia Derbyshire fans. Scholars at Manchester University are cataloguing and digitizing her collection of recordings. I look forward to buying a few dozen Delia Derbyshire CDs!
---
Here's Superman being less super and thus less boring than usual.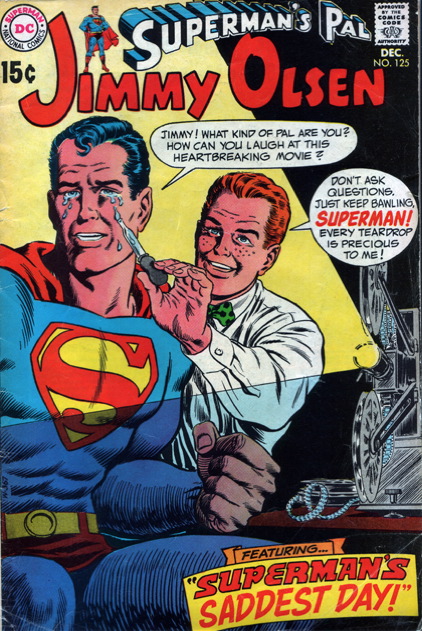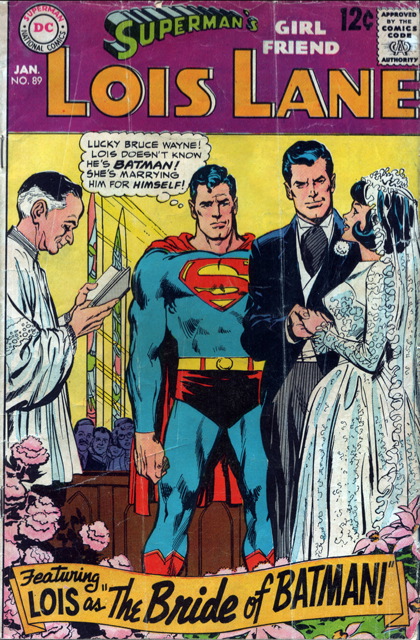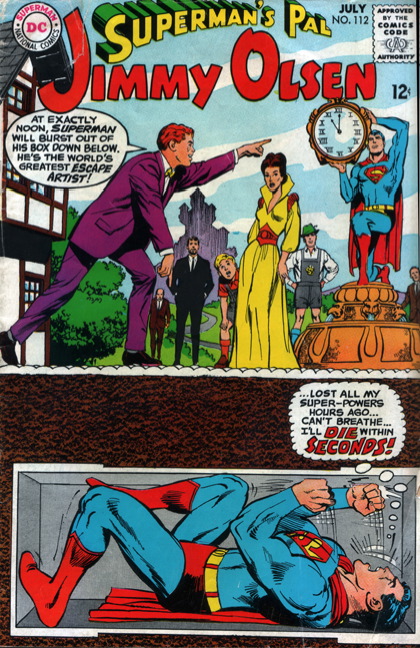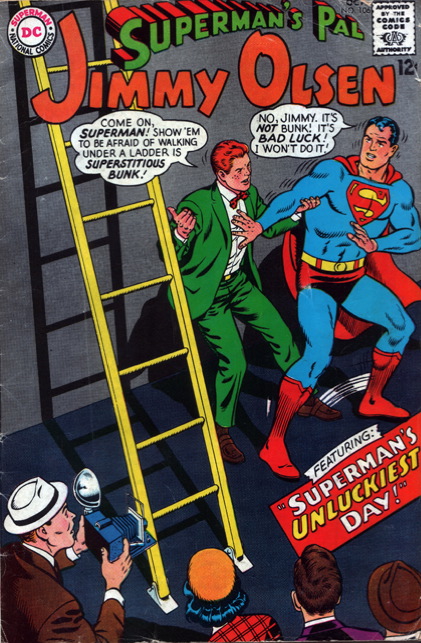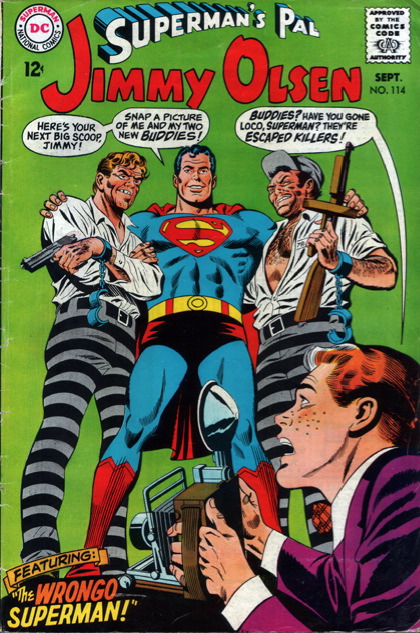 ---
The seventeenth Soundtrack of the Week is this 4-CD set of rejected scores by Elmer Bernstein.
The set contains scores for three movies, Gangs of New York, The Journey of Natty Gann and The Scarlet Letter. Gangs of New York is the only one of these I've seen and I remember being disappointed by its score (by Howard Shore, whose work I often like). Bernstein's score — which he composed, conducted and recorded, as with the other two here — is much, much better, more dramatic, truer to the period.
The Scarlet Letter score is also great, perhaps too good for the movie, which I've heard nothing but awful things about. Perhaps that's the reason they decided not to use Bernstein's music and went with music by John Barry, another great composer who has on occasion churned out some lackluster "romantic" soundtrack music. While I haven't seen the movie, I have listened to Barry's score several times and it's one of his weakest efforts. It certainly wouldn't make a list of top ten John Barry soundtracks. It also wouldn't make a top twenty or top fifty.
The score for The Journey of Natty Gann is not as compelling as the other two but it's still quite good. It's sad that work of this caliber should be dumped and replaced with inferior products. Varese Sarabande has done a great service by making available this previously lost music.
---
Attention, musicians. Are your songs used as torture at Guantánamo, being played over and over at high volume? If so, where is your royalty check? (Via Pathologically Polymathic.)
---
Here's another cool cover, not really from a magazine but, I think, a Japanese press kit or something similar for this movie, Les Compagnes de la Nuit (Companions of the Night, 1953).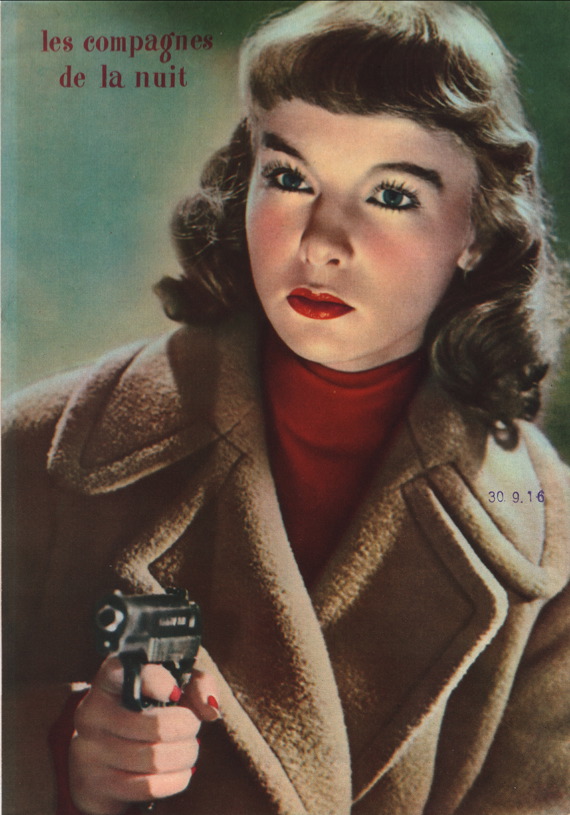 ---
Here's a different issue of the same magazine. The Peanuts are inside as is an ad for a Kayama Yuzo album. I don't know who the artist is, but it's another great cover.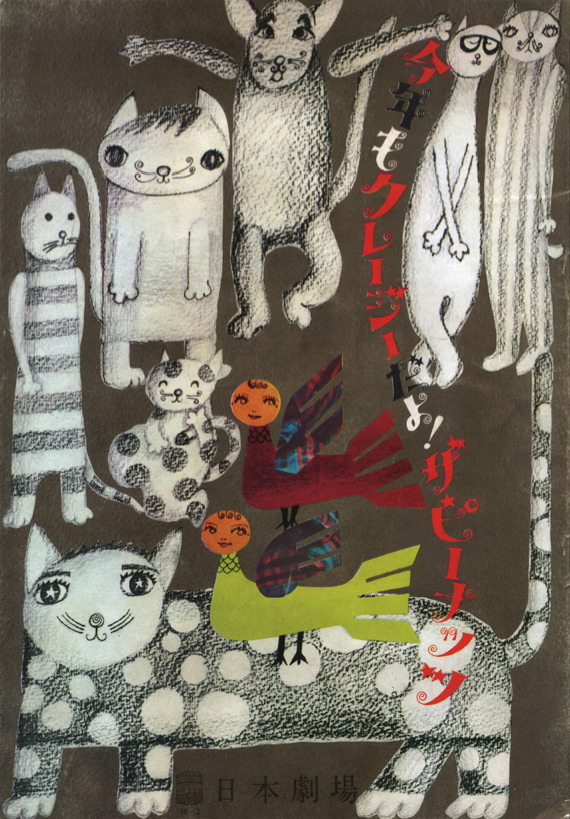 ---
Here's the cover of a magazine I got when we went to Tokyo a few years ago. I was interested in it because there was something about The Peanuts in it and, of course, the cover is fantastic. I've often wondered if it anticipates or pays homage to Ray Johnson's Lucky Strike pieces. It appears to be by an artist named Hiromi and dated 1965.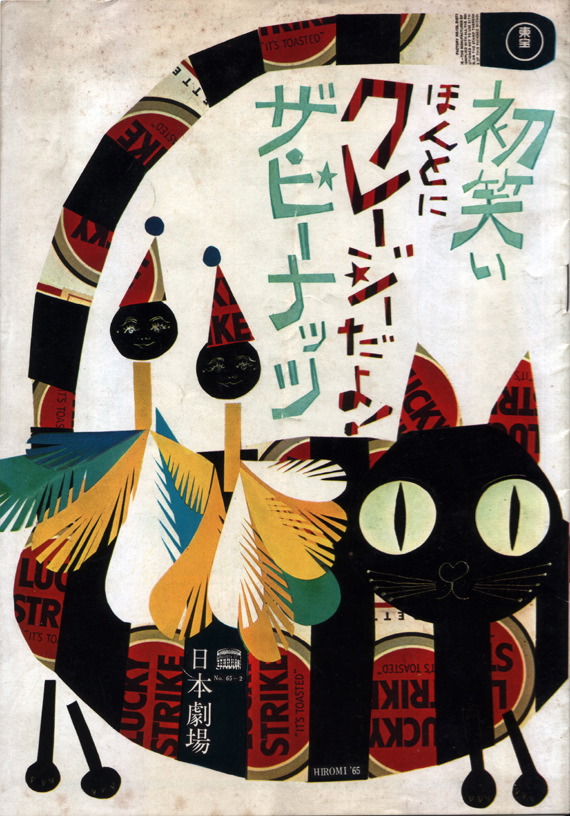 ---
The sixteenth Soundtrack of the Week is this 3-CD limited edition of Dominic Frontiere's music for The Outer Limits, a great sci-fi TV show from the early '60s.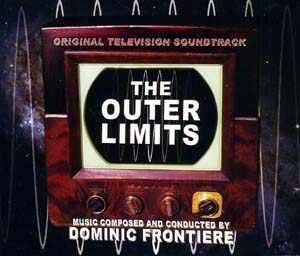 Most of the music is pleasantly atmospheric, dramatic or romantic. There are some jazz cues and some more or less generic source music cues, like "Wedding Party Source", for example.
It's a great collection, though, and includes the opening credits music complete with "Control Voice". Some of the track names are like short stories unto themselves: "The Spaceship / Alien on the Loose / Alan Returns to the Lab / The Truth Revealed" or "Double Vision / Madness / Aborted Phone Call / Sadness". They don't write tunes like that anymore!
---
While we were waiting for a train in Penn Station last weekend, I went into a newsstand and glanced at Devil May Care, the new James Bond novel by "Sebastian Faulks writing as Ian Fleming", whatever that's supposed to mean. The bit of the novel quoted on the back cover didn't strike me as very Fleming-like, but of course this "writing as" business is just a shameless ploy to get the name of Bond's creator on the front cover (where it is larger than the name of the actual author).
But what about the book's first sentence? I believe that all books, but especially thrillers, should have exciting and intriguing openings. The real Ian Fleming did pretty well with this.
Here's the first sentence of the first James Bond novel, Casino Royale:
"The scent and smoke and sweat of a casino are nauseating at three in the morning."
That's pretty good. Even better is the beginning of Goldfinger:
"James Bond, with two double bourbons inside him, sat in the final departure lounge of Miami Airport and thought about life and death."
I like the call-and-response effect of "final departure lounge" and "life and death" in that sentence. Fleming could do atmosphere well, too, as the first sentence of Doctor No demonstrates:
"Punctually at six o'clock the sun set with a last yellow flash behind the Blue Mountains, a wave of violet shadow poured down Richmond Road, and the crickets and tree frogs in the fine gardens began to zing and tinkle."
Contrast this with the disappointing first sentence of Devil May Care:
"It was a wet evening in Paris."
Is that really the best Faulks could do? My guess is that he wants Devil May Care to be a screenplay more than a novel: "EXT: Wet evening in Paris".
---
I'm with jwz on this. Haven't we suffered enough? And while I realize that remakes of movies are inevitable — I wouldn't be surprised to learn that the second movie made in Hollywood was a remake of the first — can't they at least come up with new titles, even if they can't come up with new movies?
It drives me crazy that "Dawn of the Dead is one of my favorite movies" or "I watched The Texas Chainsaw Massacre yesterday" is no longer a clear statement. Couldn't this Keanu Reeves vehicle be called Starman-Terminator-Matrix-like Timekiller?
Anyway, this remake of The Day the Earth Stood Still looks pretty bad and if the music in the preview is any indication of what will be in the movie, it's a huge step backward from Bernard Herrmann's brilliant score for the original.
Had Herrmann written that music for the concert stage instead of for the cinema screen, he would be considered much more "important" than he ever has been. Such is the distinction between "classical" or "concert" music and music written for movies (or TV or radio or whatever) and it's one of my pet peeves. The first time I heard the music of Jón Leifs, my reaction was that Akira Ifukube had already covered this ground pretty well.
---
Just in time for the Fourth of July, here's Christopher Hitchens, tireless Iraq War cheerleader, changing his mind about waterboarding. Last year he said it is not torture but now he says it is — after trying it himself.
In more cheerful news, a new Mr. Dorgon CD found its way to my door. The music on Shot in the Face is more twisted and brilliant electronic/industrial manipulations of sound. I particularly like "Zamfear", which makes great use of bird calls.
This new release also has Dorgon's best packaging yet: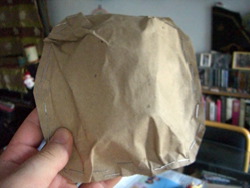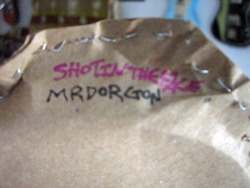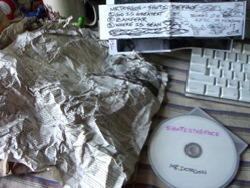 The liner notes are eXXXcellent, if you know what I mean.
---