---
Sunday, 27 July 2008
Usually I do the Soundtracks of the Week on Monday, but the movers will be here at 8:00 tomorrow morning so let's get it out of the way now. As I mentioned before, I have no idea when we'll get an internet connection at our new house, so this page will most likely be static for a week or two.
Les Baxter is another soundtrack composer with an impressive list of titles to his credit. Frogs, Switchblade Sisters, The Mini-Skirt Mob, The Torture Chamber of Baron Blood, Mondo Sadismo, Bop Girl Goes Calypso, an episode of Buck Rogers in the 25th Century called "Vegas in Space". That has to be good! I love his rock/funk score to Hell's Belles as well as his so-called easy listening/lounge/exotica music ("Quiet Village" et al.).
Our nineteenth Soundtrack of the Week is Les Baxter's score for The Dunwich Horror.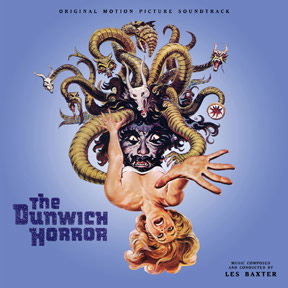 The music mixes electronic and acoustic instruments, theremin and percusssion and different keyboards. Most of it is based on one theme but it never gets boring, thanks to Baxter's interesting arrangements and unusual combination of instruments.
---