---
Friday, 07 December 2007, 9:23 pm
Dexter Bierhorst Price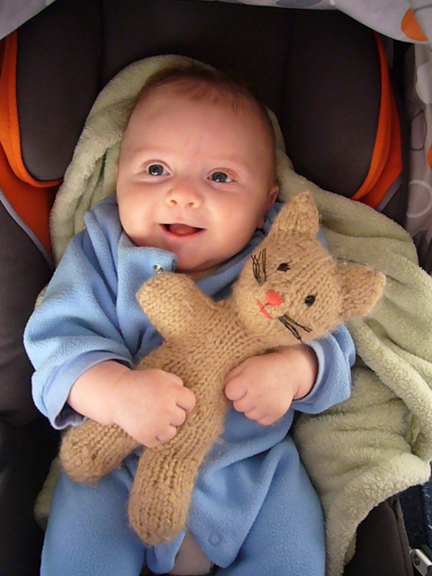 ---
Three more CDs of music from Nikkatsu movies are out. Mine arrived yesterday from CD Japan. You can also get them from Ark Square.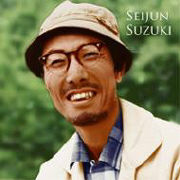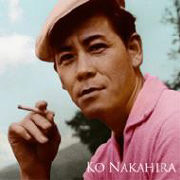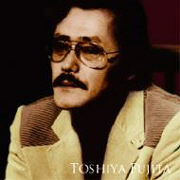 This time the CDs focus on the films of directors Suzuki Seijun, Nakahira Ko and Fujita Toshiya. Once again they come beautifully packaged, each one with three cards.
---
The sixth Soundtrack of the Week is Kosmos, a collection of music from East German science-fiction movies.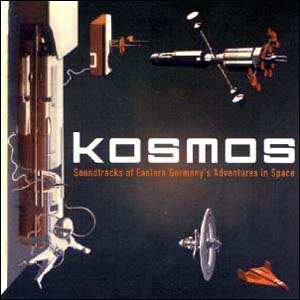 You'll hear cheesy funk and ethereal folk, soaring strings and reverb-drenched guitars. There are also a few bits of dialogue from movies. I usually hate that but I enjoy it on this particular CD. I love the songs from Im Staub Der Sterne as well as the bizarre disco-sleaze anthem "Kosmos".
---
Bernard Herrmann's score to Blue Denim, which Film Score Monthly released on CD a while back, had never been one of my favorites to listen to. Now that I've just watched the movie, though, I like it quite a bit.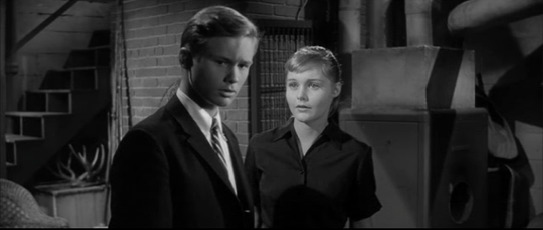 Black-and-white CinemaScope from the '50s, and subject matter that seems wrong for Herrmann's music, a teenage soap opera with sex, pregnancy, abortion, drinking, gambling, drugs, violence, out-of-touch parents, etc., it's actually a really good movie if a bit stagey — it's based on a play — and occasionally pat. Herrmann's music gives it a gravity and urgency that it needs. As is always the case with a Herrmann score, I find it practically impossible to imagine any other music, certainly impossible to imagine better music.
I watched it on Hulu where it's interrupted seven times by Intel ads, sometimes in the middle of a line. "Mom, leave me—" "Intel Inside." "—alone!"
---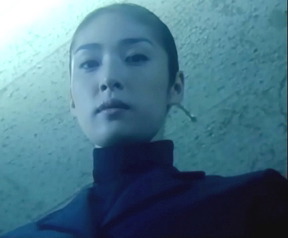 Gossip Girl? Yawn. My idea of a good TV show is Queen's Classroom, from Japan. It's about an incredibly intimidating teacher, like a superpowered Mrs. Danvers from Rebecca, who imposes a merciless hierarchy on her students. Those who obey her without question and get good grades will be rewarded. The others? Their lives won't be so pleasant. The teacher explains that this is what real life is like. If you want more than a job in the service industry, you had better start dealing with it.
The main character is a friendly, kind-hearted girl named Kanda, who is like a Gandhi- or Christ-figure to the teacher's imperial rule. With only a very few exceptions, her friends and fellow students turn on her in their zeal to conform to the teacher's new world order.
In the episode I watched this morning, Kanda stayed up all night writing letters of friendship to all her classmates. She got to school early and put the letters in the students' desks. Their response? They rip them up and throw her through a plate-glass window.
That's my kind of show.
---
Now playing here at Gutbrain headquarters: Dial 1-1-1, a great jazz score for an unproduced TV pilot, included in a 5-CD collection of soundtrack music by Ronald Stein, Mad, Mod & Macabre from Percepto Records.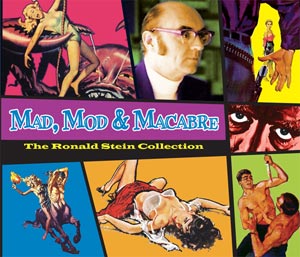 Check out the list of films Ronald Stein scored. Now those are some impressive titles! Ghost of Dragstrip Hollow, Flesh and the Spur, High School Hellcats, She Gods of Shark Reef, and so on. Percepto's "Ronald Stein Collection" includes Spider Baby, Dementia 13, The Terror, The Last Woman on Earth, The Girl in Lover's Lane, Attack of the Crab Monsters, Phantom from 10,000 Leagues, The Devil's Partner, Atlas, Gunslinger and the aforementioned Dial 1-1-1.
I remember being frightened by Stein's music for Roger Corman's Premature Burial when I was 10 years old.
---
This new Bear Family release, Phil Phillips: "Sea of Love", is one of the best CDs I've ever heard.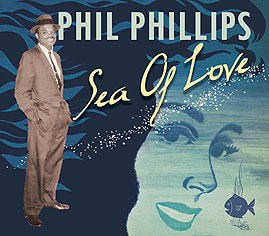 What a great voice Phillips had! He was a great songwriter, too, as demontrated by "Sea of Love" and some others on here. There's some great guitar playing and interesting combinations of rock and roll, doo-wop and pop elements. I thought I'd never want to hear "Unchained Melody" again but the Phil Phillips version on this CD makes it sound new.
---
The fifth Soundtrack of the Week is the soundtrack to Alien, a two-CD set from Intrada with more than two hours of music composed by Jerry Goldsmith and conducted by Lionel Newman.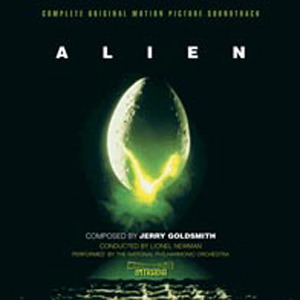 The music is very atmospheric and suspenseful with some unexpected flourishes, such as the sudden use of an echo effect or a serpent. Its ominous and haunting qualities make it a good companion to bad moods.
---
You can now download the Chris Cawthray/Rob Price/Ed Zankowski recording from Amazon.
Here's an mp3 of the first of two radio shows featuring my music, courtesy of host Jim Reil. Thanks, Jim! [Note: mp3 removed because of space limitations.]
The first show concentrates on the music from I Really Do Not See The Signal. The title refers to Gracie as well as Horatio Nelson. He and Gracie both lost an eye.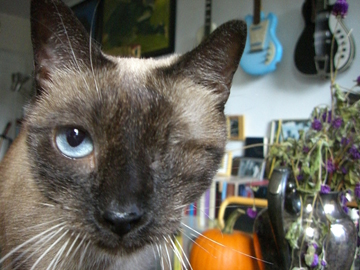 This didn't stop her from enjoying movies with us.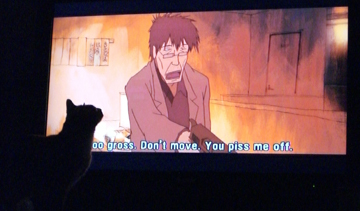 "Mango", "Mouse Game" and "Modern Mongoose" are also about Gracie.
---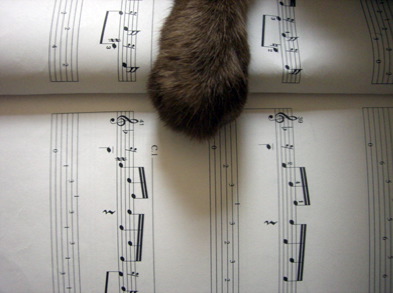 We said goodbye to Gracie today. She had cancer. She was about 13 years old.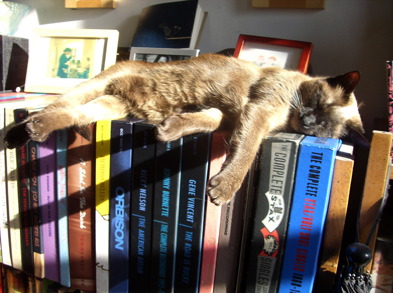 ---
The fourth Soundtrack of the Week is Film Score Monthly's release of Jacques Loussier's score for Dark of the Sun.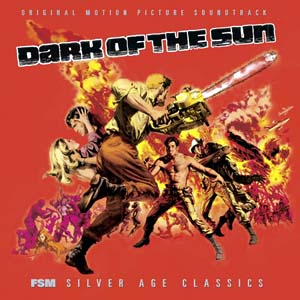 The movie and the composer were both unknown to me but I'll buy almost anything that Film Score Monthly puts out. Their description of the CD — which includes music not heard in the film — compared the score to John Barry and Ennio Morricone, two of my favorite composers. It's an apt comparison. Giù La Testa and Seance on a Wet Afternoon both came to mind as I listened.
And then there's the cover. It's got a bunch of explosions and somebody attacking somebody else with a chainsaw. I'm in the habit of buying CDs with explosions and chainsaw attacks on the cover.
I've listened to it more than twenty times. The main theme is fantastic and appears in interesting mutations and variations throughout much of the rest of the score. There is also source music of tribal drums and chanting which is quite well done. A couple of cues are in a jazzier vein. This is one of the best releases from a superlative label.
---
Eric Metzgar's documentary film about Jason Crigler is playing at various festivals. If there's one near you, go see it!
---
Every home should have a few dictionaries. One of them should be Chambers Dictionary of the Unexplained.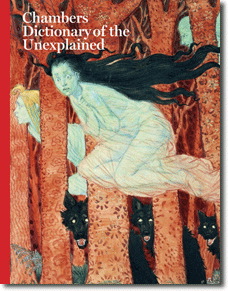 This is where you'll find necessary information about the Loch Ness Monster, chupacabras, yetis, etc.
---
Where are the David O. Selznicks of today?
I'm haunted by this passage from Leonard Leff's Hitchcock & Selznick: "'I'm not sure that I like the fade-out of the sequence with the girl promising "the surprise of their lives!"' Selznick told Hitchcock as the director worked on the shooting script for Rebecca. 'Since she has nothing in mind at this moment, the line seems a device simply to give us a dissolve, rather than having any point in itself.'"
Are there any powerful producers in Hollywood today who care — or know — this much about movies?
Selznick makes a remarkable appearance in Hello Americans, the second volume of Simon Callow's three-volume Orson Welles biography. (The third volume isn't out yet.)
Welles's second movie, The Magnificent Ambersons, was mutilated beyond recognition by RKO studio executives. The damage was so bad — about an hour of footage removed, a bravura long take cut up into small pieces, music removed and new music added — that Bernard Herrmann demanded that his name be taken off the picture. (It was.)
Just as we will almost certainly never be able to see London After Midnight, we will almost certainly never be able to see the real Ambersons. Selznick tried to do something about this, though he was not involved with the movie.
Callow writes: "Such was [Selznick's] regard for Welles's work as a director that he begged RKO to deposit a copy of Welles's original cut of The Magnificent Ambersons with the Museum of Modern Art in New York, a tantalising prospect that, needless to say, never materialized."
Oh, well. Since reading these books, I watch David O. Selznick productions with a more than casual interest.
---
Here is Louisa Browning Price, Dexter's new cousin!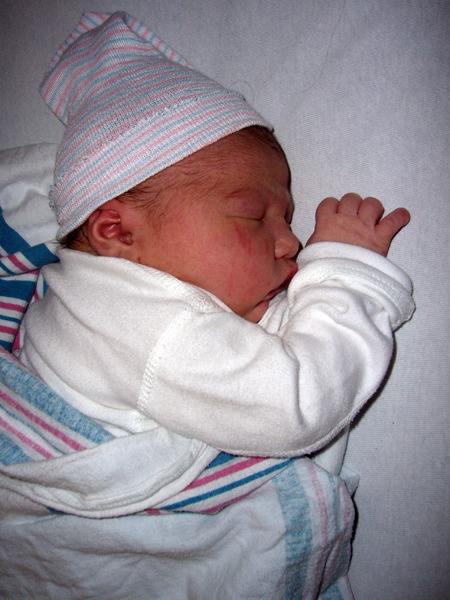 And on a more mundane note, here are scans of the cards and some of the packaging for the Shishido Jo and Kobayashi Akira CDs.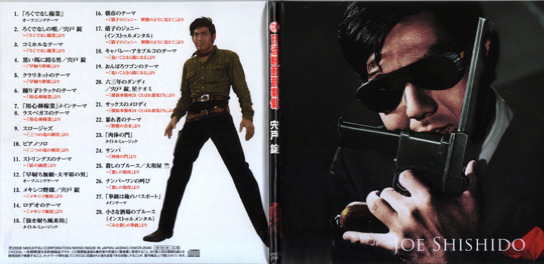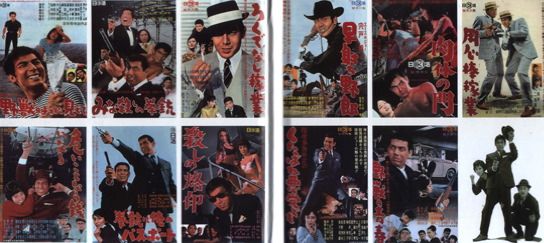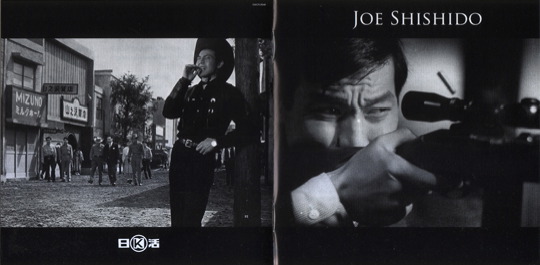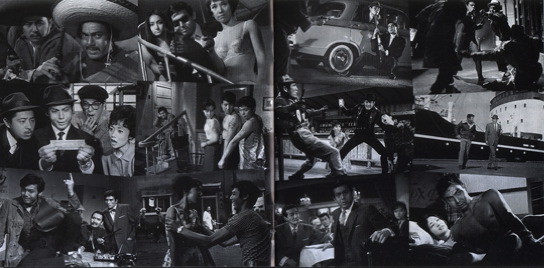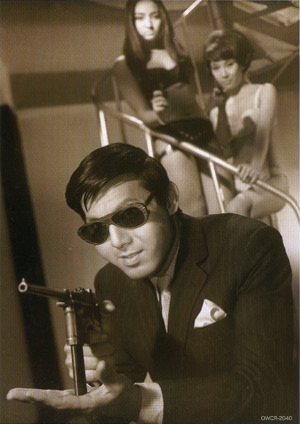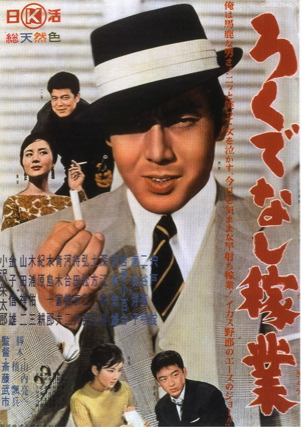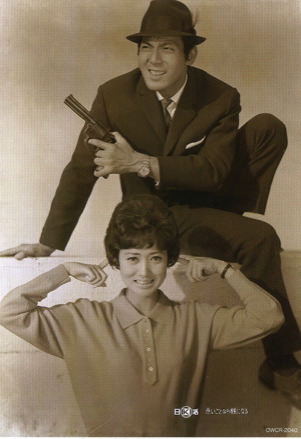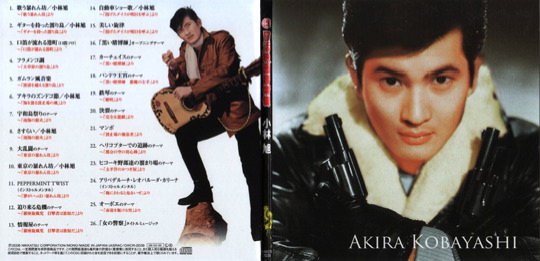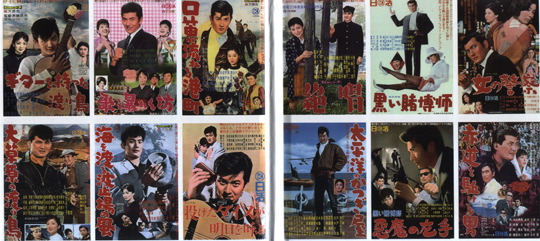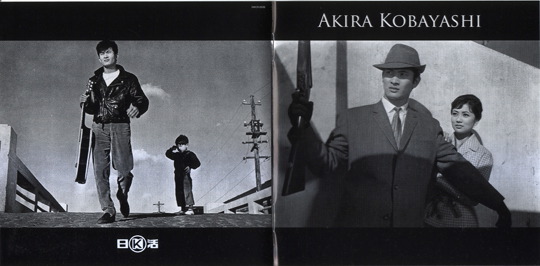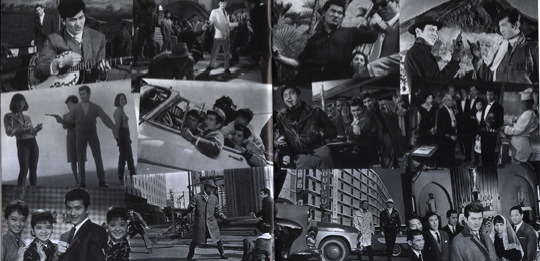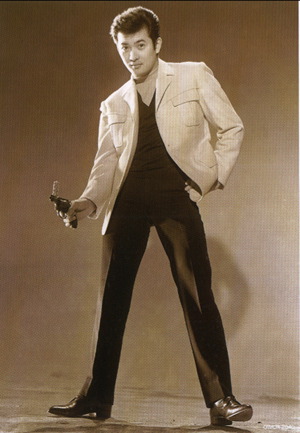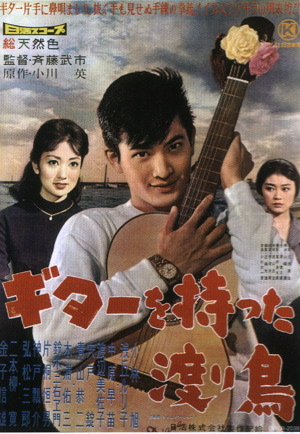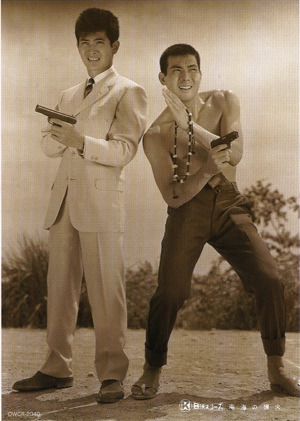 Die-hard Kobayashi Akira fans and/or Nikkatsu fans and/or toy-car fans may also want to get this die-cast model of the car from the Nikkatsu/Kobayashi Akira movie Tokyo no Abarenbo.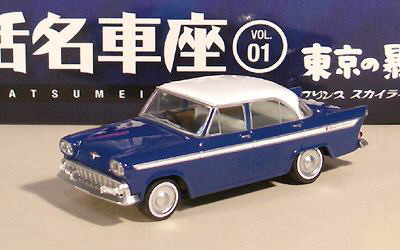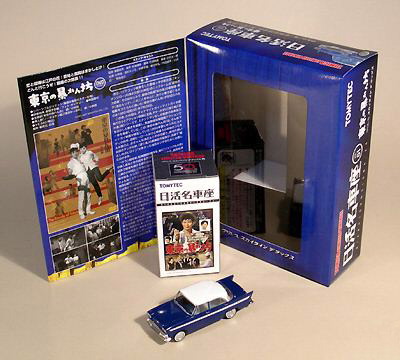 Yeah, I'll admit it. I bought one. Then I discovered that there were also three or four model cars from Toho movies and I was about to buy them all when I heard a voice inside me say, "Wait. Maybe you should just stop right now, before it's too late." I did.
---
No photo of Dexter's cousin Louisa yet. Soon, I promise!
Our third Soundtrack of the Week is this collection of music from Nikkatsu films starring Akagi Keiichiro.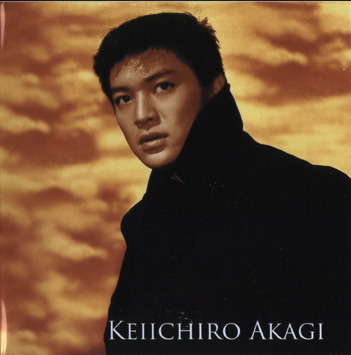 I already had the Akagi Keiichiro "Almost Collection", a CD of songs from his movies, but this new release has a lot of incidental instrumental music as well as a few of the theme songs. It's part of a series. Also available are CDs of music from Kobayashi Akira films and Shishido Jo films.
All of the CDs are beautifully packaged.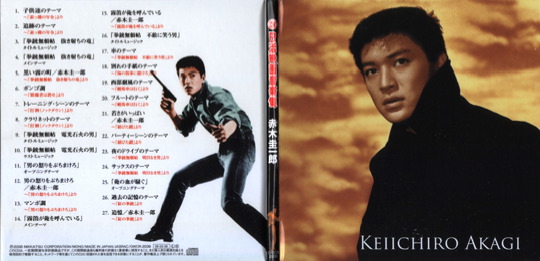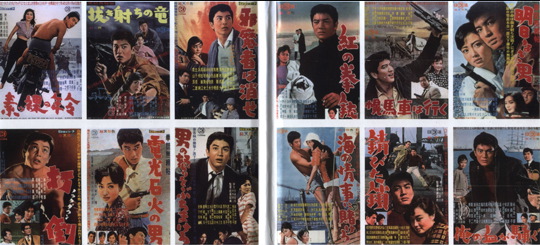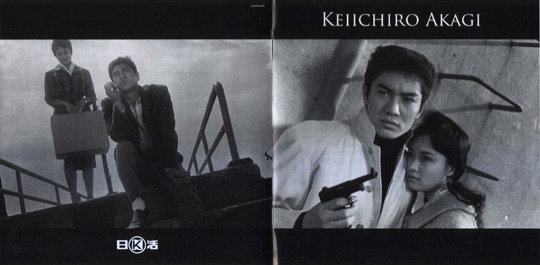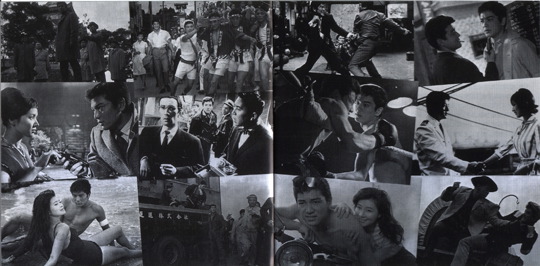 This would be more than enough for me but the CDs also include three cards!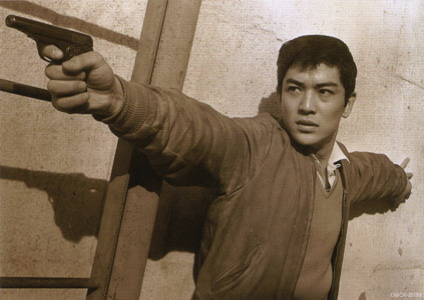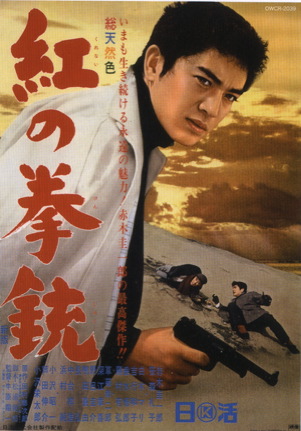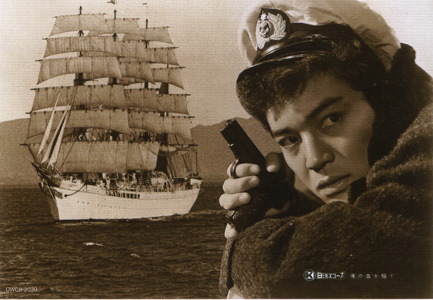 The Kobayashi Akira and Shishido Jo CDs are also great. I got mine from Ark Square. Another three Nikkatsu CDs are coming next month, with film directors instead of stars as the focus. The directors are Suzuki Seijun, Nakahira Ko and Fujita Jinpachi.
---
As of 11:53 last night, Dexter has another cousin, a baby girl! Photos and details to come!
---
I often buy books just for their covers but here's one I bought for the cover and the contents.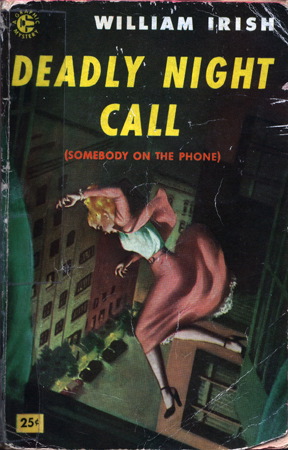 This is a collection of stories by Cornell Woolrich, who often wrote as William Irish. This collection was published in 1954 but the stories are all © 1934–1940 and no doubt taken from pulp fiction magazines.
Some pulp fiction is great but most of it is actually pretty bad, poorly written and just plain boring. Woolrich wrote some of the best and some of the average, but never any of the worst.
The first paragraph of the first story, "Johnny On The Spot", displays Woolrich's command of the craft, how to grab and hold the reader's attention.
The clock on the wall of the cafeteria said quarter to four in the morning when he came in from the street. He wasn't even twenty-eight yet, Johnny Donovan. Any doctor in town would have given him fifty more years. Only he himself knew better than that. He didn't even have fifty days left; maybe only fifty hours, or maybe fifty minutes, depending on how good he was.
This turns out to be an unusually violent story, as well as something of a proto-feminist story. It turns out not to matter how good Johnny is; it's up to Johnny's wife to save him from a slow and painful death.
The second story, "Deadly Night Call", originally published as "Somebody On The Phone", is short and effective. Constant phone calls from a blackmailer drive a woman to suicide. Her brother swears to avenge her death, thus leading to a twist ending which we have seen a few times since this story was published. (I'd be curious to know if the same twist ending had been used before. I imagine it probaby had, but somebody was the first to write it.) The writing in this story is especially good and especially economical.
The third story, "Momentum", describes a descent into hell, something of a Woolrich specialty. A desperate man kills by accident and then nightmarishly can't stop killing people, usually people who aren't the people he thinks they are, never for any reason better than fear, paranoia and a gradually consuming insanity.
"Boy With Body", originally published as "The Corpse And The Kid", is about a teenage boy who tries to cover up a murder committed by his father. Most of the action concerns the various complications involved in moving the corpse and framing somebody else for the crime. This is one of the less interesting stories here, but it's short and entertaining.
Less successful is "Death Sits In The Dentist's Chair", a standard mystery story with a solution that most readers should see coming from a mile away. A man dies of arsenic poisoning while a dentist is working on his teeth. The police are convinced the dentist killed him; the dentist's friend works to prove otherwise.
The last story in the book is the longest and the best. "The Room With Something Wrong", originally published under the much blander title "Mystery In Room 913", is about a hotel detective trying to find out why various people — all definitely not suicidal — staying in room 913 of the St. Anselm hotel kill themselves by jumping out the window. Woolrich creates an atmosphere of great suspense and dread in this classic locked room mystery, believably works in the possiblity of supernatural agency and subverts some of the racist and sexist expectations typical of many pulp readers.
---
The Astronomy Picture of the Day yesterday, a special April Fool's Day photo, was especially good, I thought, for obvious reasons.
Some new releases: For $5 you can buy a download of the CPZ trio. That's Chris Cawthray on drums, Ed Zankowski on tenor sax and yours truly on guitar. Click here.
David Grollman and I are featured on both DVD volumes of last year's Boise Experimental Music Festival. David is even on the cover of the Volume 1! Click here.
The second Soundtrack of the Week is The Tomorrow People by Delia Derbyshire, Brian Hodgson, David Vorhaus and Dudley Simpson. They all worked for the BBC's Radiophonic Workshop and most of the material on this release (limited-edition CD or LP) comes from a library of electronic music they created. The Tomorrow People was a British sci-fi TV show from the '70s. I had never heard of it.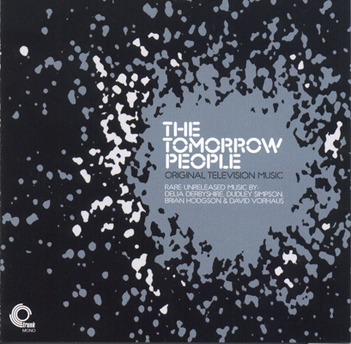 A lot of the music is weird electronic sounds, but the Tomorrow People theme is quite catchy. Can you resist a record with tune names like "Attack of the Alien Minds" and "Gothic Submarines"? I got the CD at an East Village record shop a little while ago and have listened to it more than a dozen times.
---