---
Monday, 14 April 2008
The fourth Soundtrack of the Week is Film Score Monthly's release of Jacques Loussier's score for Dark of the Sun.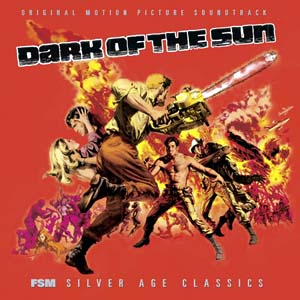 The movie and the composer were both unknown to me but I'll buy almost anything that Film Score Monthly puts out. Their description of the CD — which includes music not heard in the film — compared the score to John Barry and Ennio Morricone, two of my favorite composers. It's an apt comparison. Giù La Testa and Seance on a Wet Afternoon both came to mind as I listened.
And then there's the cover. It's got a bunch of explosions and somebody attacking somebody else with a chainsaw. I'm in the habit of buying CDs with explosions and chainsaw attacks on the cover.
I've listened to it more than twenty times. The main theme is fantastic and appears in interesting mutations and variations throughout much of the rest of the score. There is also source music of tribal drums and chanting which is quite well done. A couple of cues are in a jazzier vein. This is one of the best releases from a superlative label.
---