Rob Price
Gutbrain Records
rob + gutbrain.com = email
---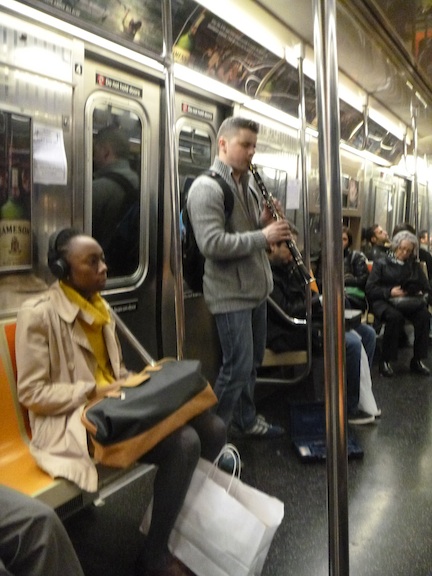 "Take Five" and "Tico Tico".
---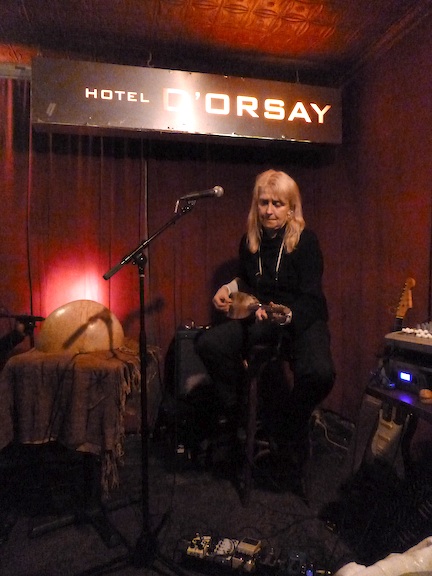 Leni Stern at Barbès
2012-11-27
---
Kunihiko Murai's score for Akuma no temari-uta (The Devil's Ballad) is the 245th Soundtrack of the Week is a book.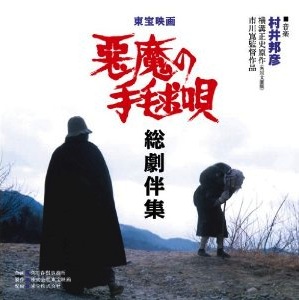 It's an interesting record, with most tracks consisting of short cells: a splash of fuzz guitar, a few notes on the piano, a loud percussive sound, some electric piano, electric bass guitar, one after another. There are more traditional melodic numbers as well, some on guitar, some on shamisen.
There's also a main theme, somewhat similar to John Williams's theme for The Long Goodbye. You hear it in a few different arrangements, including one with full orchestra.
This is great music for cold, gray, late autumn days: often chilly, atmospheric with lots of space and an impressive collection of different sounds and textures.
---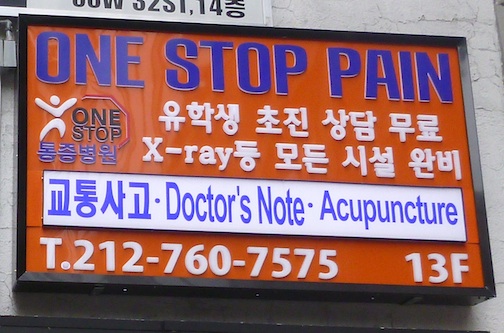 For all your pain needs.
---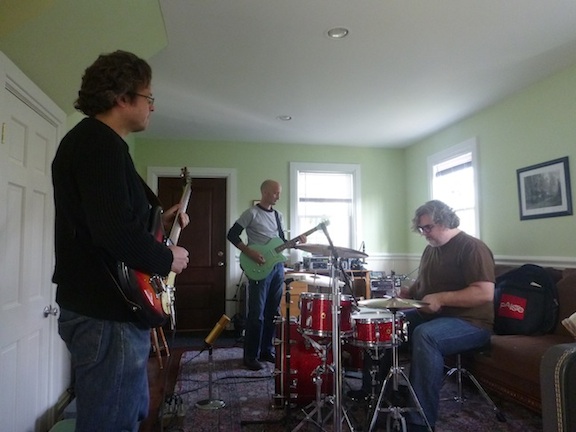 Sunday found me in Connecticut recording with Lucio Menegon and Chris Cawthray. We were there to do a surf tune Lucio wrote to accompany the ebook release of a new novel by Erik Esckilsen. Surf is surf, so that's a Ventures model Mosrite I'm playing.
We had some time left over so we also recorded covers of Bob Dylan's "Love Sick" (Chris's idea) and John Barry's theme for Seance on a Wet Afternoon (my idea). Lucio's piece will be available on iTunes soon—I'll let you know!
---
The 244th Soundtrack of the Week is Maurice Jarre's music for Alfred Hitchcock's Topaz.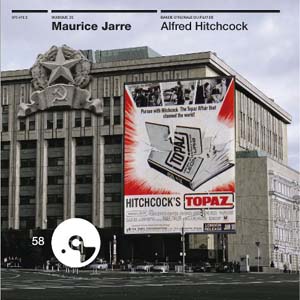 This is not a good movie, in my opinion. Most, maybe all late Hitchcock is disappointing for one reason or another.
Jarre's score is great, though, especially the wistful and lilting "Main Title", which comes after the "Russian March" that accompanies the opening credits. (The CD contains a second version of this march also.)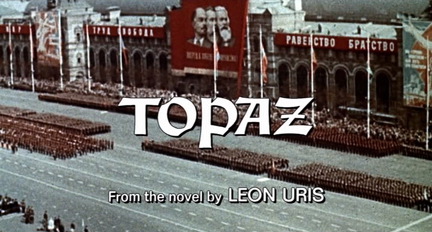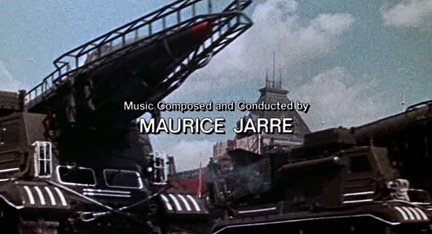 "French Embassy" begins with a driving jazz rhythm led by the bass and eventually returns to that main title theme.
"Farewell to Anita" begins with the wistfulness of that theme before moving into a suspenseful, almost creepy atmosphere that ultimately resolves to a recaptulation of the main theme.
Some exotic rhythms and percussion dominate, unsurprisingly, "Welcome to Cuba".
"Suspicion" is an interesting cue, using double bass and percussion to create a toe-tapping but tense mood. An electric instrument, maybe an odnes Martenot, takes the lead in the beginning, and then very sharp-sounding plucked instrument returns with the theme. Timpani also touch on the theme briefly before the bass picks up the tempo and leads the group into more swinging territory.
"The Hidden Microfilm" is more traditional underscore for orchestra before a segue into an Eastern European, almost polka-like take on the main theme.
---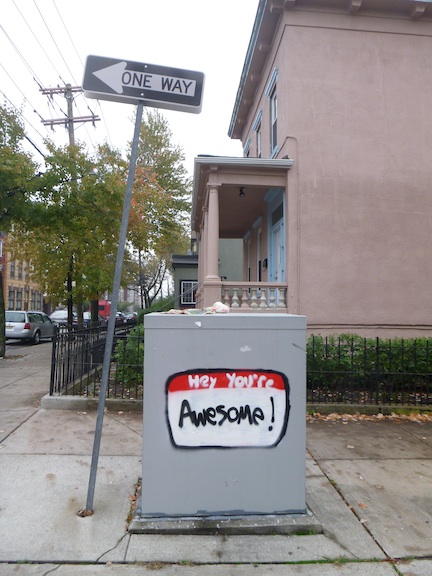 ---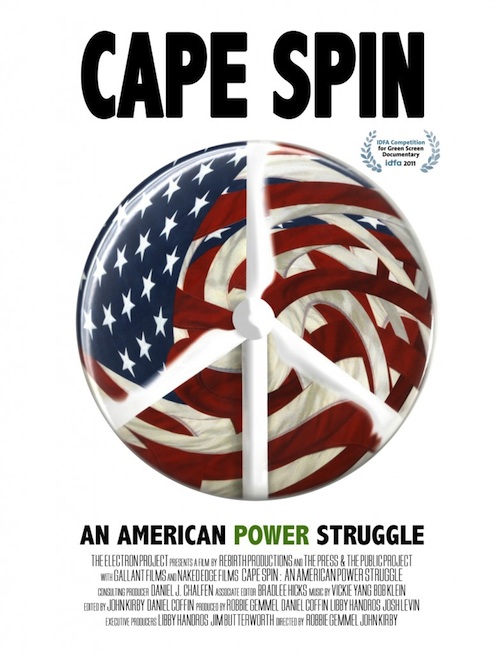 Just came back from the New York City premiere of Cape Spin, my friend John's excellent documentary about the battle over Cape Wind, the proposed wind farm in Cape Cod.
It's a lot of fun, not taking a side on the issue but examining the process itself, how people can be influenced and power (of all kinds) can be bought, sold, collected and distributed.
Yes or no on Cape Wind? Perhaps the most important part of Cape Spin is the filmmakers' presentation of a "third way", a decentralized approach to green energy. I've heard about that a few times over the years and was glad to be reminded of it.
Go see it! Cape Spin is scheduled to return to the Film Society at Lincoln Center in January.
---
The 243rd Soundtrack of the Week is a book: From Beat to Beat: Memoirs of the Man of the Harmonica by Franco De Gemini.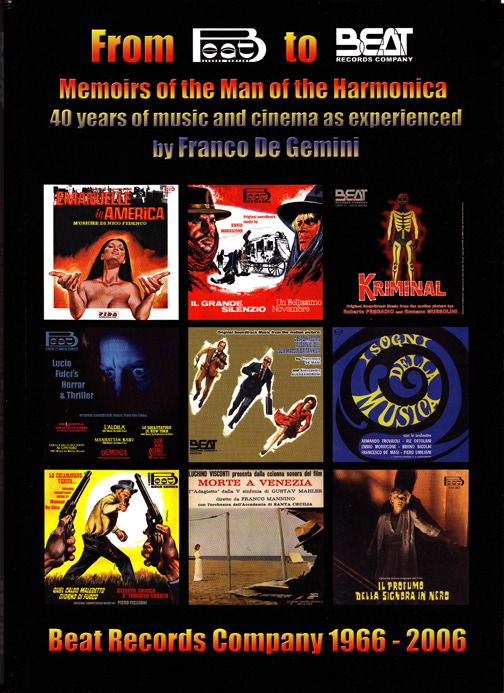 It comes with this compilation CD, all tunes from different film soundtracks which presumably feature the author in some capacity (usually as a harmonica player).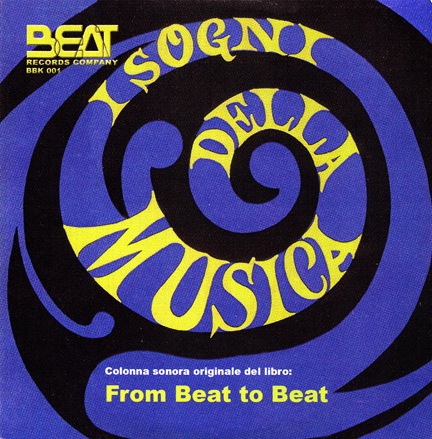 If you admired the harmonica playing on the soundtrack for Once Upon a Time in the West, you can thank Franco De Gemini for that. He played the harmonica on that score and, by his reckoning, about 800 others, many for Morricone and for composers such as Nino Rota, Bruno Nicolai, Nino Rota, Nico Fidenco, Carlo Rustichelli, Francesco De Masi, Armando Trovaioli, Carlo Savina, Piero Piccinoi and many more.
He also played the anvil as well as harmonica on Morricone's score for A Fistful of Dollars.
"The production didn't want to pay a percussionist just for a single track of "anvil", so I suggested to Morricone that I play the thing myself, perhaps by hammering on it with my harmonica! As sometimes happens the best results are reached unwillingly, and on this instance I played the anvil just a tad ahead of the timing because I was nervously anticipating, in a jazzy way, each hammer hit. The result of that pre-emptive "anticipated sound" pleased Ennio so much he congratulated me, adding that my way was better than the original plan! Fortunately for both of us he didn't ask for a second take because I do not know if I could have recreated my "nice mistake" a second time!
De Gemini was brought up in Turin in the 1940s, where and when the harmonica was apparently a popular instrument among teenagers. He discovered he had an aptitude for it, started playing in dance bands and orchestras and eventually ended up a professional harmonica player doing soundtrack work in Rome.
In addition to having a successful career as a musician he also founded Beat Records Company, which has released numerous Italian soundtrack recordings. His memoir is a lot of fun. He took part in many important recordings and has a lot of amusing stories to tell about the characters he's met over the years.
The first track on the CD is Francesco De Masi and Alessandro Alessandroni's "Tema di Londra" from the movie Colpo maestro servizio di Sua Maestà. It's a loungey sort of thing with a good hook and the kind of vocals that I don't like so much. I remember hearing this played as background on WFMU's public access show in the '90s.
After that comes Franco Micalizzi's swinging theme song from They Call Me Trinity. "You may think he's a sleepy-type guy / Always takes his time / Soon I know you'll be changing your mind / When you see him use a gun."
Armando Trovaioli's "Sessomatto", the theme from the movie of the same name, sounds like a good accompaniment for a light-hearted soft-porn flick.
"Tomas Theme", by Riz Ortolani from the movie Il consigliori, is much more sombre and is reminiscent of Ennio Morricone, particularly the Morricone of Once Upon a Time in America.
After this, for some reason, is the "Adagietto" from Mahler's Fifth Symphony. I guess this must have been used in some movie but I can't find any information about it in the book or on the CD.
Then it's time for Ennio Morricone, with "La caccia". I'm not sure what movie this is from, but it's hunting music, with horns sounding out the chase.
"The life of a policeman" by Guido de Angelis and Maurizio de Angelis, from La polizia incrimina la legge assolve, which I watched a few years ago and didn't think much of, is up next. It's a nice tune, though, with some good guitar playing.
Gianfranco Plenizio's laid-back, soul-funk jazz piece "Grigio Perla" from the movie La gatta in calore comes after that.
More soft-porn hijinks follow that with Roberto Pregadio's "Claudia" from Il medico … la studentessa, which is cheesy and not very imaginative though it does have a decent electric piano solo.
You might not expect a love ballad from a Lucio Fulci movie called The New York Ripper, but Francesco de Masi's "Fay", from Lo squartatore di New York is just that, a tender and moving piece with an excellent harmonica solo.
"Freedom", by Walter Rizzati and from the movie Io sto con gli ippopotami, is a triumphal, uplifting piece with a marching rhythm.
Then it's Franco De Gemini's turn as composer, for "Il Mare di Alassio". It's a groovy lounge piece with some nice Hammong organ playing. I don't know what movie it's from.
Gian Stellari and Giacomo Gerosa's "Wonderful Together" is a sappy instrumental, no doubt a love theme for whatever movie this comes from.
Then Walter Rizzati and Franco De Gemini collaborate on "Autumn in Central Park", which is also a bit sappy but I kind of like it, maybe because I like autumn in Central Park.
Accordion dominates David Maulus and Lionel Maulus's "Diabolic", a sprightly, toe-tapping piece.
Franco Piana and Enrico Valdambrini's "Spagna" is a long piece for jazz combo, almost fourteen minutes. It's in the vein of the stuff you hear at big jazz festivals, the kind of jazz that gets taught at music school.
"Suzy's Bossa" by Susanna Bertuccioli features the harp, one of my favorite instruments, and is a lovely tune hampered by a cheesy arrangement.
Then it's "Non Arrosir" by Nadyr Vietti, an ebullient operatic number.
Finally there's Sergio Montori's "Il Decalogo di Tiburzy", in which a man's voice speaks in Italian over a pleasant orchestral backing.
---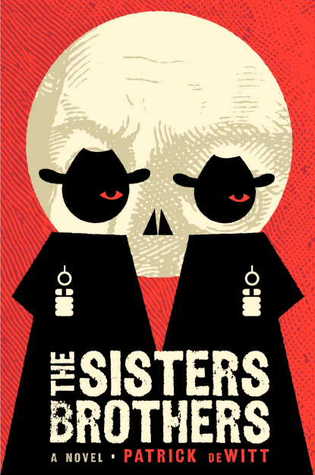 My friend James lent me this book and I really enjoyed it. (The copy you see above has different, much better cover art than the copy I borrowed.)
The first line is "I was sitting outside the Commodore's mansion, waiting for my brother Charlie to come out with news of the job".
The job turns out to be an assassination, something Charlie and Eli Sisters do often and are rather well known for. They make their way from Oregon City to San Francisco during the gold-rush era of the American frontier, having amusing and unsettling encounters with various characters.
Charlie is the tougher, meaner older brother and Eli is beginning to long for a simpler life without violence. This adds a layer of conflict to some already established sibling rivalry.
The writing is gripping and frequently humorous, despite the bleak and violent nature of the story and its characters and setting, I wish I could say more about it but it's one of those books that seemed especially rewarding because I didn't know anything about it before reading it.
---
Our internet connection has been down for the last week or so. Hurricane Sandy didn't cause us any damage, not even loss of electricity, so we're very grateful that we got off so easily.
We now resume our regular updates. Whatever I would have posted in the last week has been uploaded now.
The presence of a science-fiction bookstore is a sign of a city's good health, or so I've always thought. There was one in Harvard Square when I was growing up, then there wasn't, then there was again and then it moved to Central Square, where it remains. (I'm talking about Pandemonium Books and Games. I can't remember the name of the one I went to when I was a kid, but it was upstairs, above the Wursthaus, which has also disappeared.)
As far as I know, there hasn't been a science-fiction bookshop in New York City for a while. But now there's Singularity & Co.
It's a publishing venture first, rescuing obscure titles from obscurity and releasing them as ebooks. I have practically no interest in ebooks but my positive experience with Eddie Campbell's iPad app encouraged me to purchase a lifetime subscription to Singularity & Co.'s ebook line.
Fortunately, they have a real shop, too, in Dumbo, a pleasant enclave on the East River in between the Brooklyn and Manhattan bridges.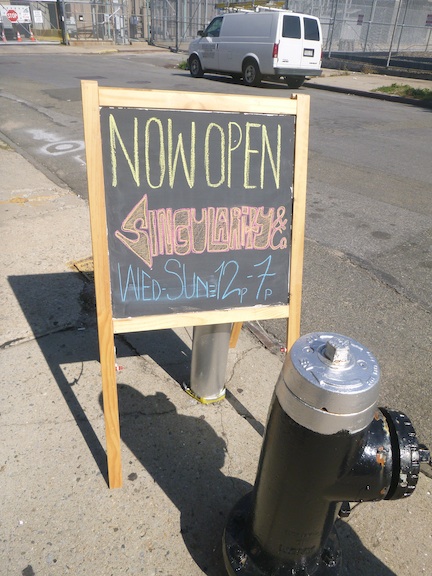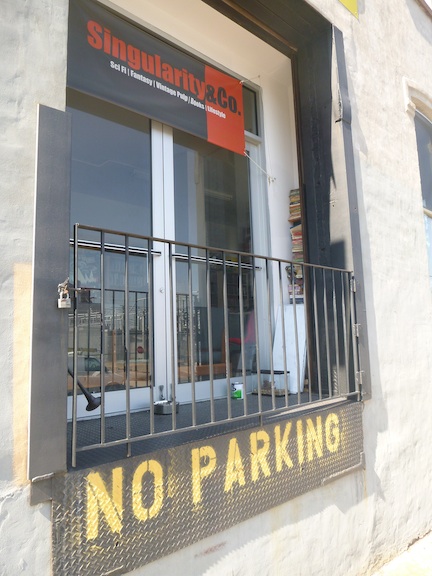 The people running the place were extremely friendly. I was invited to have coffee, make myself comfortable on the couch and even sit and work there for a few hours if I wanted to. A black-and-white movie was playing silently on a large screen. It's a bookstore standing on the verge of being a salon.
But of course the best thing was the books themselves. There are tons of them, all over the place and reasonably priced.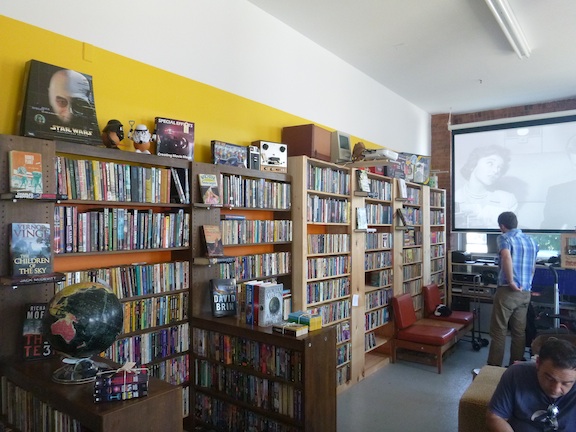 They're mostly sci-fi but other vintage, pulpy stuff is available there too.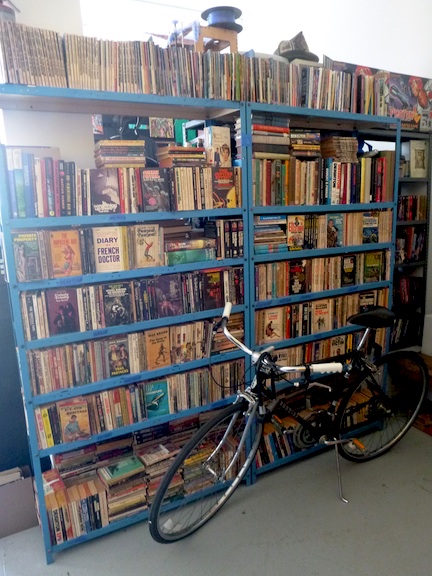 Check it out! I plan a return visit soon.
---
The 242nd Soundtrack of the Week is Jerry Goldsmith's score for Warning Shot.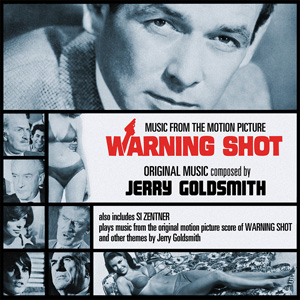 It starts out with a jazzy main title that has great electric guitar and marimba playing. The bas really drives the music and there's an excellent organ solo. (It sounds like it might be a Vox Continental.) The whole big bad comes blasting in and then it cuts to harp and flute for "Foggy Night". Wood blocks and vibes add a suspenseful feel.
"Cornering the Suspect/The Shot" has two different moods, the first a pounding 12/8 part and the second a somewhat dissonant, moody section.
"Back to the Seascape" is a swinging, wistful tune in 6/8, similar to music for The Prisoner. It features an organ solo. It's reprised as "Wealthy Widow", which has a great lead part for electric guitar.
Harp and piano make "Miss Alice" a sensitive cue of quiet longing and romance. Flutes come in about halfway through and are joined by bass.
"Downtown Meeting" is another swinging 6/8 tune for organ combo with what sounds like electric baritone guitar. Harp and horns add color and texture.
Slightly fuzzed-out guitar over a rhythm driven by wood blocks makes the first part of "Shari Sherman/Buttermilk Blues" sound like something Masaru Sato might contribute to a movie. The second part is a gentle, bluesy swing.
"Valen Gets Messed Up" is an urgent-sounding piece that anticipates the music that Jerry Goldsmith would write for the Flint movies.
A sparse atmosphere with creepy tones from organ and horns is the introduction to "The Gasser", chich then gets into a dark groove, some modern-sounding stuff, some swing and then a return to the way it began.
The "Finale" reprises several of the themes already heard and then there's "Tel Aviv Brass (Mona Lisa)" which is indeed a version of "Mona Lisa" played by brass band. This is source music, heard from a jukebox in the movie.
The rest of the CD is a presentation of the record Si Zentner Plays Music from the Original Motion Picture Score of Warning Shot and Other Themes Composed by Jerry Goldsmith. It's nice to have it but the original soundtrack recording is better, stronger and more interesting. There's a nice version of the "Theme from The Prize" and a very good recording of the theme from A Patch of Blue.
The version of Goldsmith's theme from The Man from U.N.C.L.E. is a disappointment, especially because they didn't keep the 5/4 meter of the original. (Playing it in 4/4, as they do here, is almost as bad as playing the theme from Mission: Impossible in 4/4.) There's a good sax solo about halfway through, though.
---
Last week, Thursday, October 25th, I attended an amazing concert at Roulette.
Guy Klucevsek performed, solo for the first half and with violinist Todd Reynolds for the second half.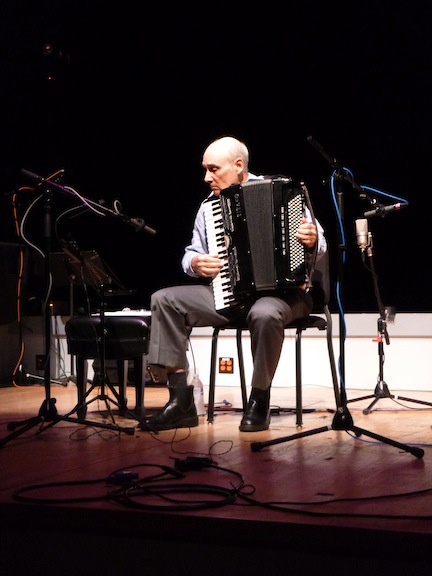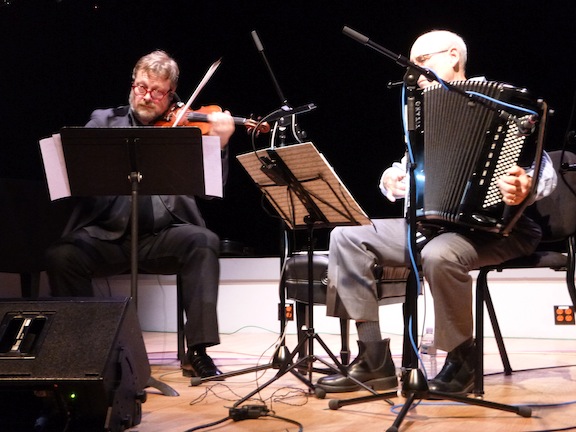 The music was all Klucevsek's compositions, works for solo accordion written in the last thirty years and music for Lionel Popkin's Ruth Doesn't Live Here Anymore, a dance/theatre piece which is scheduled to premiere in March, 2013.
These were the highlights of the first set:
"Claire, Buoyant" was a sprightly tune with very tricky rhythms, written for choreographer Claire Porter.
"The Gift" was one of three pieces written for Bela Bartok. This was the only piece in the first half of the program that Klucevsek didn't play from memory. It appeared to be the audience favorite, perhaps because we were surprised and delighted to find that the score has no notes, only the sounds Guy made by forcing air coming the accordion's bellows, rapping and tapping his hands on the instrument's body, stomping his feet and shouting!
"Scenes from a Mirage" was written for a solo dance by Maureen Fleming. Klucevsek described it as "written in the style of some of the old Hollywood film score" and it did have some Herrmannesque qualities.
My favorite was probably "Breathless and Bewildered" an insanely fast and tricky number that was Guy Klucevsek's tribute to Bulgarian-American accordionist Ivan Milev.
These were what stood out for me from the second set:
The "Opening" and "Three Hymnopedies" "in memory of Erik Satie" were delicate and powerful and moving.
"Hungarian Hummingbird" was romantic and stirring and bookended by Guy making hummingbird noises by tapping a key on the silenced accordion really fast.
My favorite piece from the second half was probably "Ratatatatouille", a tribute to Basque accordionist Kepa Junkera. It had amazingly fleet lines played over a strong, pulsating rhythmic base.
I hope I get a chance to see Guy Klucevsek again soon!
---