2012 November 05 • Monday
The 242nd Soundtrack of the Week is Jerry Goldsmith's score for Warning Shot.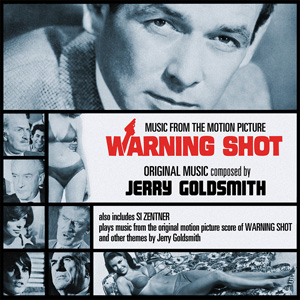 It starts out with a jazzy main title that has great electric guitar and marimba playing. The bas really drives the music and there's an excellent organ solo. (It sounds like it might be a Vox Continental.) The whole big bad comes blasting in and then it cuts to harp and flute for "Foggy Night". Wood blocks and vibes add a suspenseful feel.
"Cornering the Suspect/The Shot" has two different moods, the first a pounding 12/8 part and the second a somewhat dissonant, moody section.
"Back to the Seascape" is a swinging, wistful tune in 6/8, similar to music for The Prisoner. It features an organ solo. It's reprised as "Wealthy Widow", which has a great lead part for electric guitar.
Harp and piano make "Miss Alice" a sensitive cue of quiet longing and romance. Flutes come in about halfway through and are joined by bass.
"Downtown Meeting" is another swinging 6/8 tune for organ combo with what sounds like electric baritone guitar. Harp and horns add color and texture.
Slightly fuzzed-out guitar over a rhythm driven by wood blocks makes the first part of "Shari Sherman/Buttermilk Blues" sound like something Masaru Sato might contribute to a movie. The second part is a gentle, bluesy swing.
"Valen Gets Messed Up" is an urgent-sounding piece that anticipates the music that Jerry Goldsmith would write for the Flint movies.
A sparse atmosphere with creepy tones from organ and horns is the introduction to "The Gasser", chich then gets into a dark groove, some modern-sounding stuff, some swing and then a return to the way it began.
The "Finale" reprises several of the themes already heard and then there's "Tel Aviv Brass (Mona Lisa)" which is indeed a version of "Mona Lisa" played by brass band. This is source music, heard from a jukebox in the movie.
The rest of the CD is a presentation of the record Si Zentner Plays Music from the Original Motion Picture Score of Warning Shot and Other Themes Composed by Jerry Goldsmith. It's nice to have it but the original soundtrack recording is better, stronger and more interesting. There's a nice version of the "Theme from The Prize" and a very good recording of the theme from A Patch of Blue.
The version of Goldsmith's theme from The Man from U.N.C.L.E. is a disappointment, especially because they didn't keep the 5/4 meter of the original. (Playing it in 4/4, as they do here, is almost as bad as playing the theme from Mission: Impossible in 4/4.) There's a good sax solo about halfway through, though.
---