2012 November 12 • Monday
The 243rd Soundtrack of the Week is a book: From Beat to Beat: Memoirs of the Man of the Harmonica by Franco De Gemini.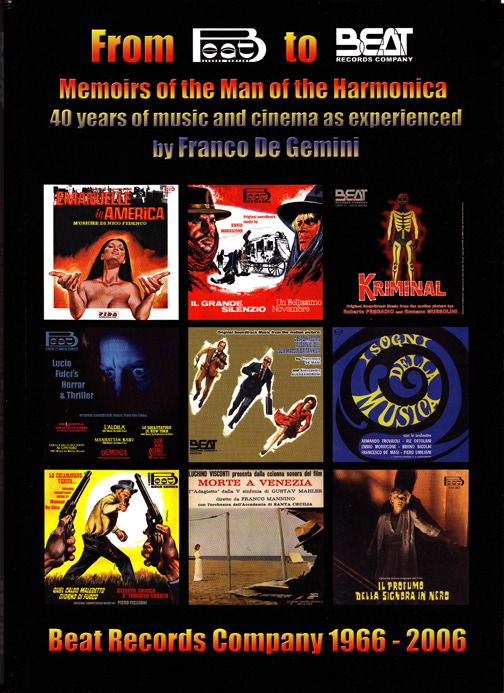 It comes with this compilation CD, all tunes from different film soundtracks which presumably feature the author in some capacity (usually as a harmonica player).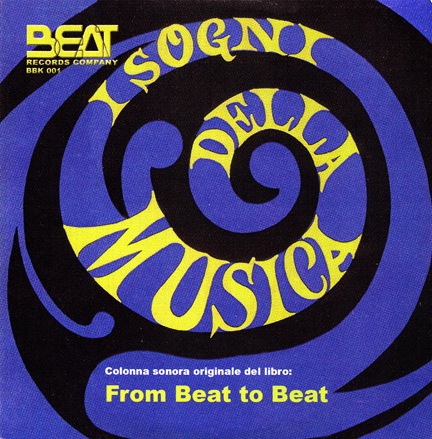 If you admired the harmonica playing on the soundtrack for Once Upon a Time in the West, you can thank Franco De Gemini for that. He played the harmonica on that score and, by his reckoning, about 800 others, many for Morricone and for composers such as Nino Rota, Bruno Nicolai, Nino Rota, Nico Fidenco, Carlo Rustichelli, Francesco De Masi, Armando Trovaioli, Carlo Savina, Piero Piccinoi and many more.
He also played the anvil as well as harmonica on Morricone's score for A Fistful of Dollars.
"The production didn't want to pay a percussionist just for a single track of "anvil", so I suggested to Morricone that I play the thing myself, perhaps by hammering on it with my harmonica! As sometimes happens the best results are reached unwillingly, and on this instance I played the anvil just a tad ahead of the timing because I was nervously anticipating, in a jazzy way, each hammer hit. The result of that pre-emptive "anticipated sound" pleased Ennio so much he congratulated me, adding that my way was better than the original plan! Fortunately for both of us he didn't ask for a second take because I do not know if I could have recreated my "nice mistake" a second time!
De Gemini was brought up in Turin in the 1940s, where and when the harmonica was apparently a popular instrument among teenagers. He discovered he had an aptitude for it, started playing in dance bands and orchestras and eventually ended up a professional harmonica player doing soundtrack work in Rome.
In addition to having a successful career as a musician he also founded Beat Records Company, which has released numerous Italian soundtrack recordings. His memoir is a lot of fun. He took part in many important recordings and has a lot of amusing stories to tell about the characters he's met over the years.
The first track on the CD is Francesco De Masi and Alessandro Alessandroni's "Tema di Londra" from the movie Colpo maestro servizio di Sua Maestà. It's a loungey sort of thing with a good hook and the kind of vocals that I don't like so much. I remember hearing this played as background on WFMU's public access show in the '90s.
After that comes Franco Micalizzi's swinging theme song from They Call Me Trinity. "You may think he's a sleepy-type guy / Always takes his time / Soon I know you'll be changing your mind / When you see him use a gun."
Armando Trovaioli's "Sessomatto", the theme from the movie of the same name, sounds like a good accompaniment for a light-hearted soft-porn flick.
"Tomas Theme", by Riz Ortolani from the movie Il consigliori, is much more sombre and is reminiscent of Ennio Morricone, particularly the Morricone of Once Upon a Time in America.
After this, for some reason, is the "Adagietto" from Mahler's Fifth Symphony. I guess this must have been used in some movie but I can't find any information about it in the book or on the CD.
Then it's time for Ennio Morricone, with "La caccia". I'm not sure what movie this is from, but it's hunting music, with horns sounding out the chase.
"The life of a policeman" by Guido de Angelis and Maurizio de Angelis, from La polizia incrimina la legge assolve, which I watched a few years ago and didn't think much of, is up next. It's a nice tune, though, with some good guitar playing.
Gianfranco Plenizio's laid-back, soul-funk jazz piece "Grigio Perla" from the movie La gatta in calore comes after that.
More soft-porn hijinks follow that with Roberto Pregadio's "Claudia" from Il medico … la studentessa, which is cheesy and not very imaginative though it does have a decent electric piano solo.
You might not expect a love ballad from a Lucio Fulci movie called The New York Ripper, but Francesco de Masi's "Fay", from Lo squartatore di New York is just that, a tender and moving piece with an excellent harmonica solo.
"Freedom", by Walter Rizzati and from the movie Io sto con gli ippopotami, is a triumphal, uplifting piece with a marching rhythm.
Then it's Franco De Gemini's turn as composer, for "Il Mare di Alassio". It's a groovy lounge piece with some nice Hammong organ playing. I don't know what movie it's from.
Gian Stellari and Giacomo Gerosa's "Wonderful Together" is a sappy instrumental, no doubt a love theme for whatever movie this comes from.
Then Walter Rizzati and Franco De Gemini collaborate on "Autumn in Central Park", which is also a bit sappy but I kind of like it, maybe because I like autumn in Central Park.
Accordion dominates David Maulus and Lionel Maulus's "Diabolic", a sprightly, toe-tapping piece.
Franco Piana and Enrico Valdambrini's "Spagna" is a long piece for jazz combo, almost fourteen minutes. It's in the vein of the stuff you hear at big jazz festivals, the kind of jazz that gets taught at music school.
"Suzy's Bossa" by Susanna Bertuccioli features the harp, one of my favorite instruments, and is a lovely tune hampered by a cheesy arrangement.
Then it's "Non Arrosir" by Nadyr Vietti, an ebullient operatic number.
Finally there's Sergio Montori's "Il Decalogo di Tiburzy", in which a man's voice speaks in Italian over a pleasant orchestral backing.
---