Rob Price
Gutbrain Records
rob + gutbrain.com = email
---
Fans of Yes Minister and Yes Prime Minister will enjoy this combination of memoir and professional advice from Jonathan Lynn, co-creator and co-writer of those series, as well as a successful actor and director and writer of other programs and films.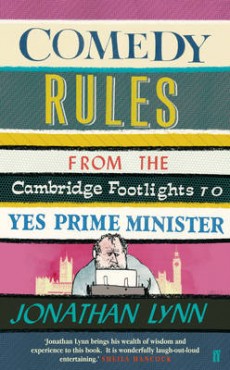 It's a short book, under two hundred pages, divided into 150 rules, as suggested by the title. Rule 42, for instance, is "Comedy attacks the institutions of society" and Rule 93 is "Be brief, usually".
Rule 42 is followed by a short list of things comedy mocks and the observation that "Art is criticism of life, and comedy is criticism by ridicule".
Rule 93 prompts Lynn to remind reader that it was Polonius "who originally said that brevity is the soul of wit in the course of an immensely long and comically tedious speech". This is followed by one of Sir Humphrey Appleby's marvellous marathon obfuscations.
---
An introduction to Guy Boothby's A Bid for Fortune led me to Marie Corelli's The Sorrows of Satan, which I thought was the basis for Bedazzled, though this isn't mentioned on Wikipedia or imdb pages. So I was interested to find this Corelli novel at the home of my parents-in-law.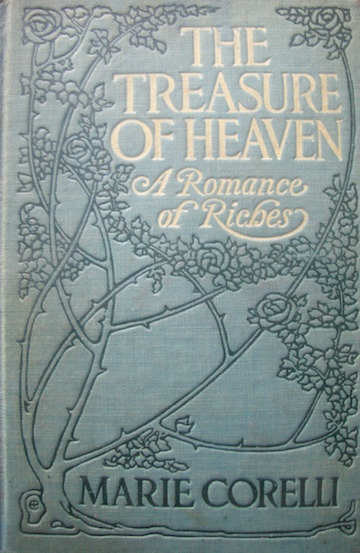 What's really remarkable is the author's photograph.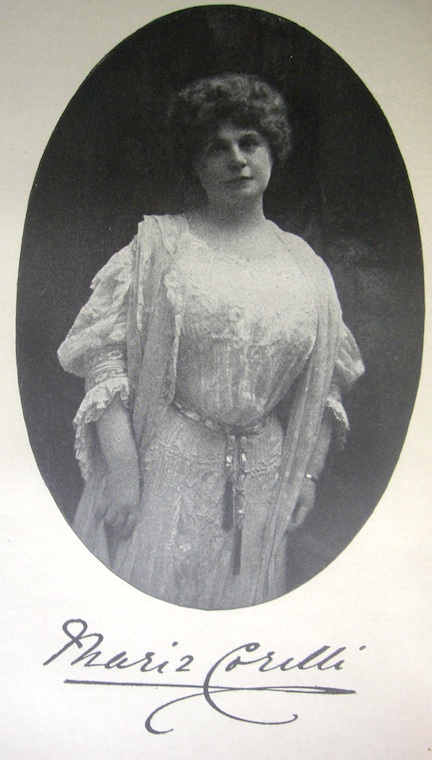 Big deal, you might be thinking. Authors always have their photos in their books. Well, they do now, but they didn't then. And Marie Corelli has some interesting things to say about this particular photograph.
AUTHOR'S NOTE
By the special request of the Publishers, a portrait of myself, taken in the spring of this year, 1906, forms the Frontispiece to the present volume. I am somewhat reluctant to see it so placed, because it has nothing whatever to do with the story which is told in the following pages, beyond being a faithful likeness of the author who is responsible for this, and many other previous books which have had the good fortune to meet with a friendly reception from the reading public. Moreover, I am not quite able to convince myself that my pictured personality can have any interest for my readers, as it has always seemed to me that an author's real being is more disclosed in his or her work than in any portrayed presentment of mere physiognomy.
But—owing to the fact that various gross and I think I may say libellous and fictitious misrepresentations of me have been freely and unwarrantable circulated throughout Great Britain, the Colonies, and America, by certain "lower" sections of the pictorial press, which, with a zeal worthy of a better and kinder cause, have striven by this means to alienate my readers from me,—it appears to my Publishers advisable that an authentic likeness of myself, as I truly am to-day, should now be issued in order to prevent any further misleading of the public by fraudulent inventions. The original photograph from which Messrs. Dodd, Mead & Co. have reproduced the present photogravure, was taken by Mr. G. Gabell of Eccleston Street, London, who, at the time of my submitting myself to his camera, was not aware of my identity. I used, for the nonce, the name of a lady friend, who arranged that the proofs of the portrait should be sent to her at various different addresses,—and it was not till this "Romance of Riches" was on the verge of publication that I disclosed the real position to the courteous artist himself. That I thus elected to be photographed as an unknown rather than a known person was in order that no extra pains should be taken on my behalf, but that I should be treated just as an ordinary stranger would be treated, with no less, but at the same time certainly no more, care.
I may add, in conclusion, for the benefit of those few who may feel any further curiosity on the subject, that no portraits resembling me in any way are published anywhere, and that invented sketches purporting to pass as true likenesses of me, are merely attempts to obtain money from the public on false pretences. One picture of me, taken in my own house by a friend who is an amateur photographer, was reproduced some time ago in the Strand Magazine, The Boudoir, Cassell's Magazine, and The Rapid Review; but beyond that, and the present one in this volume, no photographs of me are on sale in any country, either in shops or on postcards. My objection to this sort of "picture popularity" has already been publicly stated, and I here repeat and emphasise it. And I venture to ask my readers who have so generously encouraged me by their warm and constant appreciation of my literary efforts, to try and understand the spirit in which the objection is made. It is simply that to myself the personal "Self" of me is nothing, and should be, rightly speaking, nothing to any one outside the circle of my home and my intimate friends; while my work and the keen desire to improve in that work, so that by my work alone I may become united in sympathy and love to my readers, whoever and wherever they may be, constitutes for me the Everything of life.
MARIE CORELLI
Stratford-on-Avon
July, 1906
---
I'll buy just about any Nico Fidenco soundtrack but I'd buy this just for the title and the cover.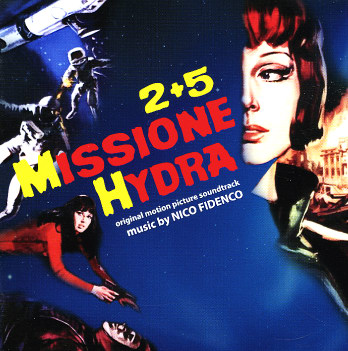 It's the 184th Soundtrack of the Week, 2+5 Missione Hydra.
After the mysterious and tension-building "Astronave Aliene (Prologo)" we get right down to business with the main theme, an outer-space stomp that manages to combine elements of "Rumble", "You'd Be So Nice To Come Home To" and "The James Bond Theme".
You hear it a lot, in different ways. A seductive lounge version becomes "Hydra Shake", a bossa nova version is "Space Bossa", a somewhat menacing take on it is "Swing a Go Go", a romantic version is "Momento Nostalgico" and so on. (There are versions two and three of "Space Bossa", in fact.)
It's all very groovy and agreeable, with really nice guitar and organ sounds and great use of percussion.
As far as the other tracks go, there's a lot of weird atmospheric space music like "Galassia Lontana", "Ultraspazio", "Segnali 2" (which quotes the main theme), "Antica Leggenda", "Strana Dimensione" and several others.
"Estasi Aliena" is a lush string piece that pops up again in "Paura e Amore" (It's the amore part, I guess). It's similar to some of the music you hear in Japanese television dramas of the last decade.
(And the cue "Lotta" sounds similar to some of Masaru Sato's Godzilla music.)
It's a great score, one of Fidenco's best.
---
Also in the alternative history department is this great book, Boilerplate: History's Mechanical Marvel by Paul Guinan and Anina Bennett.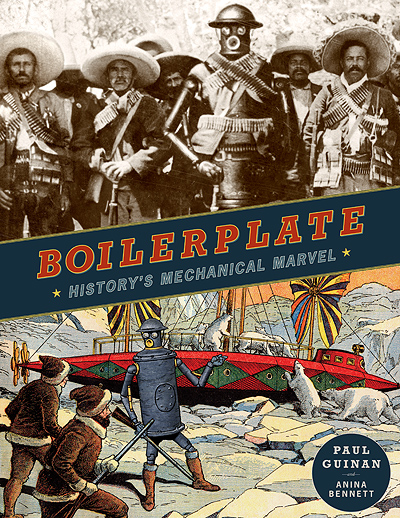 This is a brilliant concoction, a fake history of Boilerplate, the world's first robot soldier who was created in the nineteenth century and served in conflicts with Teddy Roosevelt and Lawrence of Arabia. Boilerplate also appears in silent movies and meets Nikola Tesla, Mark Twain, Jack Johnson and Houdini.
The design is a perfect counterfeit of educational publishing and the effort that went into inserting Boilerplate into history and pop culture is very impressive.
Here he is with T. E. Lawrence.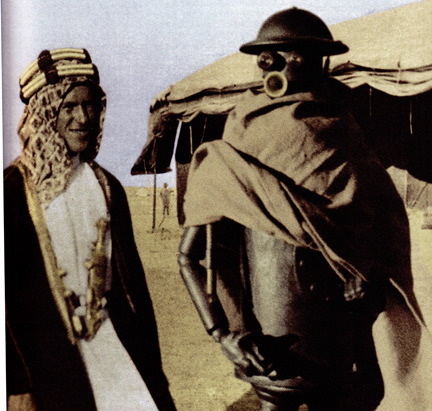 He would be easy to miss in this photo if the authors hadn't pointed him out.
With Jack Johnson.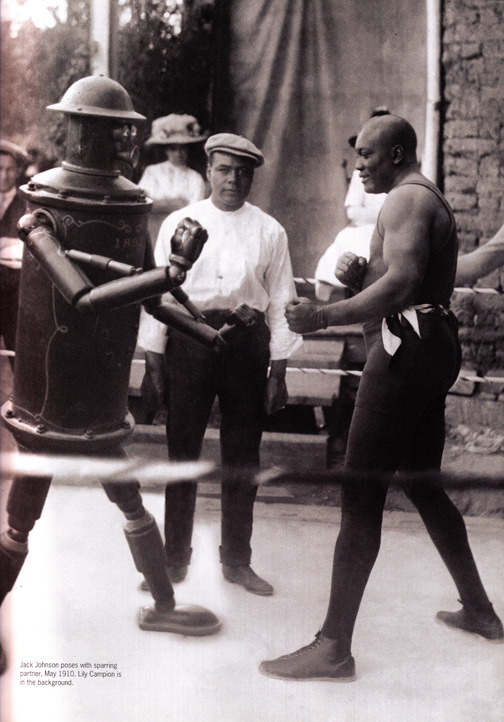 Here's Boilerplate as the subject of a Jack London work.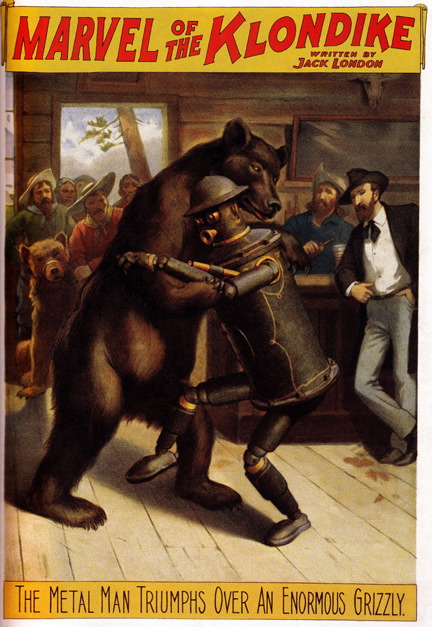 With Teddy Roosevelt.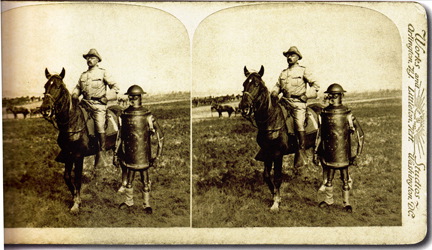 And there's lots, lots more. This is one of the most impressive and delightful labors of love I've ever seen!
---
Check out Alternate Histories on Etsy! Here are two I really liked.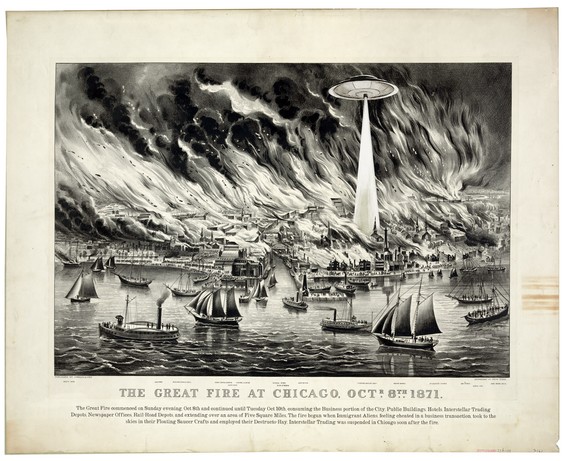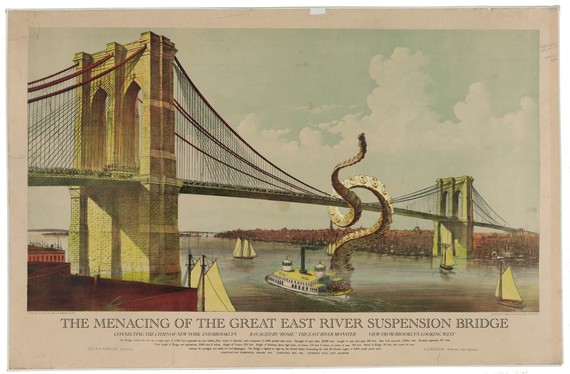 Here's the one I bought.

---
The 183rd Soundtrack of the Week is a triple feature of Stu Phillips scores: A Time to Every Purpose, The Name of the Game Is … Kill and The Meal.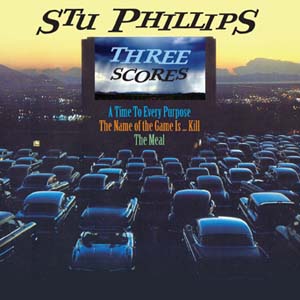 The main theme for A Time to Every Purpose is the song "Echoes of the Road", which we hear first as an instrumental and then performed by Don Dunn. "Well, I don't give a damn / Lord knows I've paid my dues / The echoes of the road / Keep ringing through my shoes". It's a great sixties-ish song, with catchy steel-string guitar playing and earthy drumming.
After that comes the frenetic "Leap", which sounds like what might happen if Burt Bacharach tried his hand at prog rock cartoon music: lots of changes, melodic figures that are the sonic equivalent of a smiley face, fuzz guitar.
The "Leap" and "Echoes" themes recur throughout the rest of the score, arranged for different uses (love theme, etc.).
"Niki & Les/Love in the Woods" is something different, very atmospheric and all strings and harp. "Valley of the Flowers" continues in the same vein but adds harmonica, slightly reminiscent of the harmonica from Morricone scores. The orchestra closes with "Echoes" again.
"A Long Journey Home" is a piece for the orchestra that quotes from "Echoes" and reminded me of music for The Bionic Woman. "Les's Idea" is a brief continuation of it.
The Name of the Game Is … Kill has music that would be right at home in a giallo, with childlike vocals ("When the sun does come up high / Then that day someone will die"), stalking electric bass guitar, tensely plucked strings and all sorts of weird instrumentation creating a mood of horror and general weirdness. It's somewhat similar to Nora Orlandi's main theme for The Strange Vice of Mrs. Wardh, our 181st Soundtrack of the Week.
Occasionally the mood is lightened, as in the second part of "Julio Dies/Along Comes Sun" or in "Theme for Love". Dread, tension, suspense and action make up the bulk of the score, with effective use of vibes, harpsichord, electronic instruments and tape delay.
There's also an Electric Prunes song, "Shadows"! Always nice to hear them.
Music from The Meal concludes the CD. The first track is something of a suite: "Main Title/Flashback 1/Kelley/Flashback 2". It starts out as a gentle and lyrical piano piece, with light string accompaniment, then becomes much more stirring and dramatic.
"Eating" sounds like some of Bernard Herrmann's famous music for Psycho, an army of plucked strings propelling you forward. Most of the other cues sound something like this or the music from the opening suite.
"At the Bar" is an easy listening tune while "Food for Thought" is menacing and groovy.
"Dead Dog" is another unsettlingly aggressive cue, followed by Phillips's arrangement of Rachmaninoff's "Prelude #6". There's another classical piano piece later, "Bertron's Concerto #5", a reprise of the main theme.
---
It's time to recommend a couple of CDs.
First is David Grollman's new disc, a trio called Yolt that has David on snare drum, Nathaniel Morgan on alto sax and Weston Minissali on synthesizer.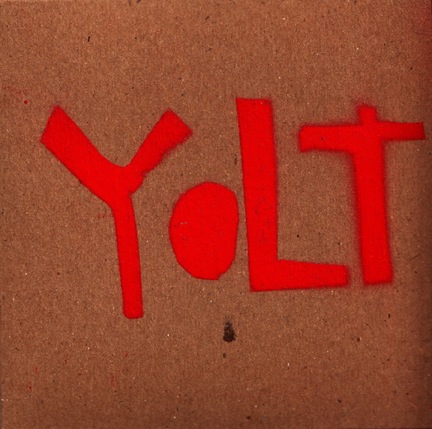 There are eight pieces of music, intelligent and atmospheric free improv that sometimes has a restrained chamber quality and at other times is quite creepy. The band is really solid and the music is really cohesive.
Buy it from the Downtown Music Gallery.
Also get Chris Cawthray's new release.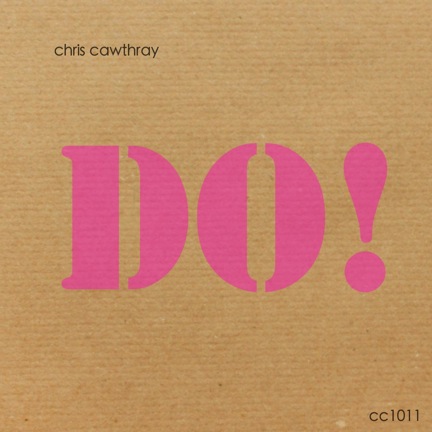 It's an EP with four tunes by Chris's drums/organ duo with Simeon Abbott. I've played with Chris a lot and one of our best gigs was one where we had Simeon in the band. They do great as a duo, and the tunes are catchy and groovy. I think it's only available digitally right now.
Download it here.
---
William Lindsay Gresham's only other novel was Limbo Tower. It seems not to have been a success, but it had a terrific cover.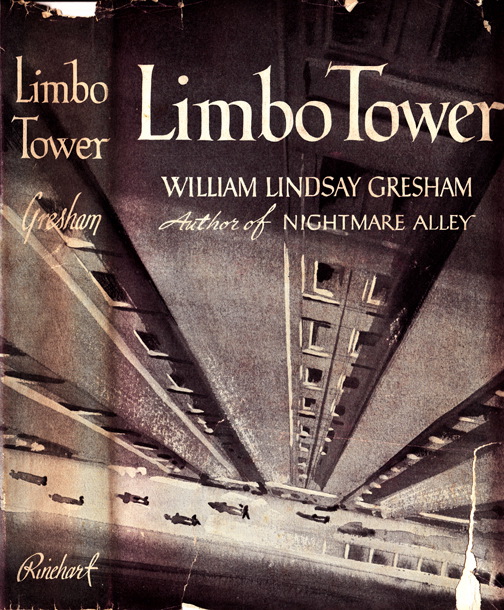 ---
A Laurence Rosenthal double feature, Requiem for a Heavyweight and A Raisin in the Sun, is the 182nd Soundtrack of the Week.

Requiem for a Heavyweight comes first. The "Main Title" comes blasting out of the speakers with an aggressive brass statement. Percussion begins to stomp around and then the string section comes in with an impressively grand theme.
"Night Threats" is spooky, avantgarde jazz, a really interesting piece with brilliant use of percussion. It's been recorded exceptionally well, really letting you hear the space between the instruments.
A smoother, bluesier jazz feel pervades "Bad Deal", which is expressed by saxophone with very subtle percussion, bass and piano accompaniment.
"First Date" is a light romantic waltz. I wouldn't be surprised if the first date involved ice skating.
"Night Cap/Questionable Judgement" soothes at first but returns to the off-kilter weirdness of "Night Threats".
"Things Are Looking Up" is a soft, quiet and understated arrangement of the "First Date" music. The last piece—this is a very short score, only about sixteen minutes— is "The Soft Side", a very extended "First Date" with several interesting additions and variations.
Then it's A Raisin in the Sun.
"Main Title/The Chauffeur" introduces the main theme, a stirring and somewhat wistful melody, played mostly by strings. Then, presumably for the chauffeur, Flute and reed instruments come in, flirting with swing and then breaking into an upbeat jazz groove.
A different arrangement of the main title music, slower and sparser, provides the setting for the first half of "Memories of Big Walter/In My House There Is Still God". Somewhat tense dramatic writing takes over for the second half.
Then there's "Kitty Kat Cafe" which is unsurprisingly sultry and swinging, a kind of sleazy jazz/blues/boogie woogie hybrid.
The main theme echoes throughout "Meet Joseph Asagi/Asagi Departs" which is very sensitively orchestrated, with especially good writing for the harp and percussion.
"Stand Up, Walter Lee" begins with plangent string playing, goes into a kind of sparse and subtle jazz mood and then ends with a rock and roll shout.
"Flaming Spear"is three and a half minutes of exciting and reverberent hand percussion, a very cool track.
"How Bad Things Are/She Bought You a House" is similar to other cues that have extrapolated from the main title.
"Hurt and Pain/You Be the Head of This Family" starts out with another great, somewhat raunchy blues/jazz tune, this one getting some great support from the vibes. The second half is a return to the feeling of the main title.
The main title mood is encountered again in "The New House", and the roadhouse blues feel of some of the other pieces returns for "The Phonograph".
"The Welcoming Committee" is a short suspenseful cue that sounds a little playful. "Packing/Will Is Gone!" starts out sounding regretful and weary and builds to an atmosphere of anxiety and fear.
Things seem more cheerful in "Invitation to Niagara/On His Knees". I wonder why…. Then there's "He Came Into His Manhood Today (Finale)", which continues the various dramatic themes and ends with a reprise of the main title music.
---
This book was really great.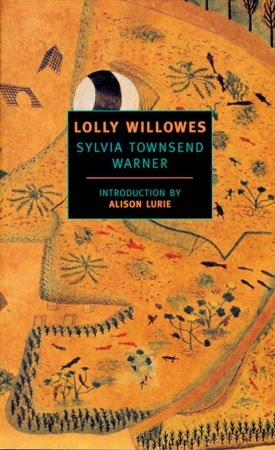 It's tone isn't too far away from Barbara Pym's novels, but it's quite earlier, published 1926. The introduction by Alison Lurie—very good and very informative, but best read after, not before, the book—notes that it was an international bestseller at the time and that it anticipated Virginia Woolf's A Room of One's Own.
Laura Willowes spends the first half of her life submerged in family. (She's a bit like an Ozu heroine, say the main character in Late Spring.) In middle age she manages to break free from her "Aunt Lolly" identity and start a new, independent life in a small town outside of London.
Her freedom and autonomy come under threat, and Laura's response is, to put it mildly, startling and unexpected (if you haven't read the introduction).
The unconventional direction the novel takes is foreshadowed early in the book, in this rare glimpse behind Laura's mask.
[Mr. Arbuthnot] felt that being thirty-five he owed himself a wife, and he also felt that Laura would do very nicely.…
Laura's thoughts ranged over a wide field, even now. Sometimes she said rather amusing things, and displayed unexpected stores (General Stores) of knowledge. But her remarks were as a rule so disconnected from the conversation that no one paid much attention to them. Mr. Arbuthnot certainly was not prepared for her response to his statement that February was a dangerous month. "It is," answered Laura with almost violent agreement. "If you are a were-wolf, and very likely you may be, for lots of people are without knowing, February, of all months, is the month when you are most likely to go out on a dark windy night and worry sheep."
So much for Mr. Arbuthnot or any other suitors.
This is nowhere near as startling as what happens in the third part of the book, though.
Lolly Willowes was excellent, a real surprise, perfectly written. It was Warner's first novel and, according to the author bio, "the first ever Book-of-the-Month Club selection".
The first line is "When her father died, Laura Willowes went to live in London with her elder brother and his family".
---
1967 was 44 years ago. Where's my aerial sedan?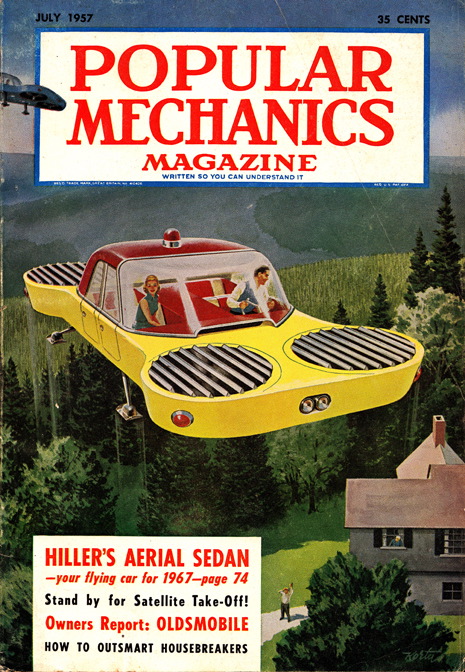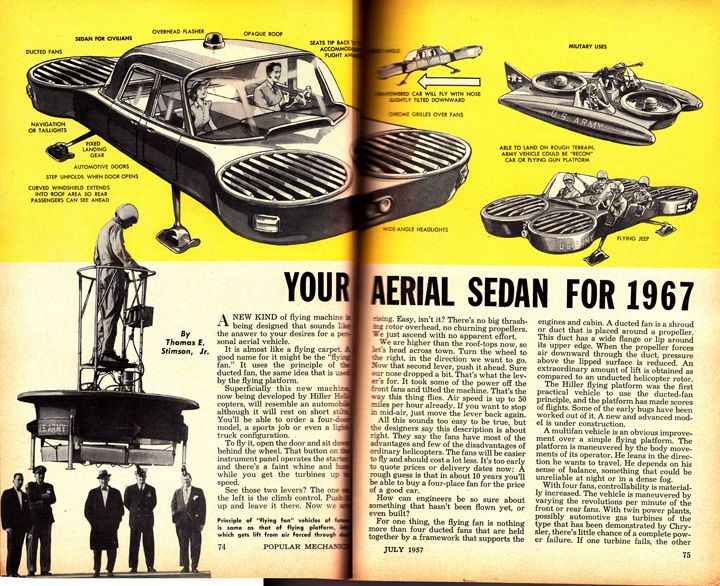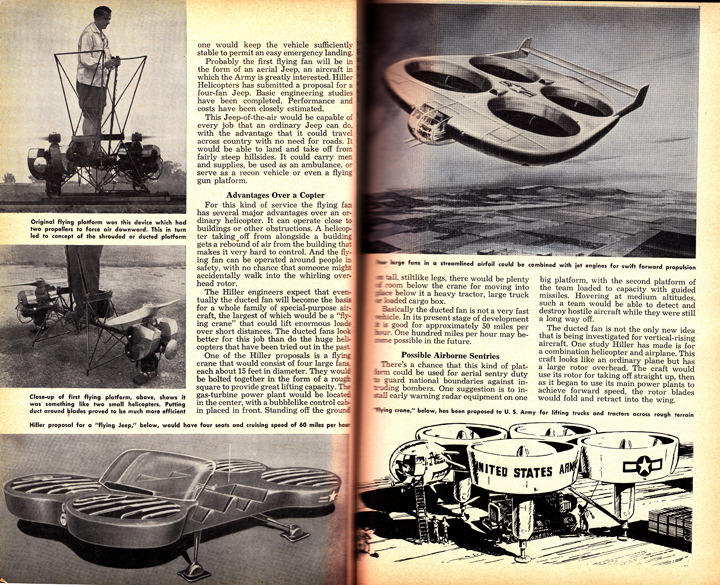 ---
The 181st Soundtrack of the Week is Nora Orlandi's music for The Strange Vice of Mrs. Wardh.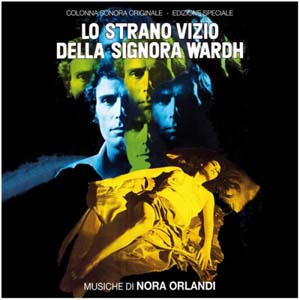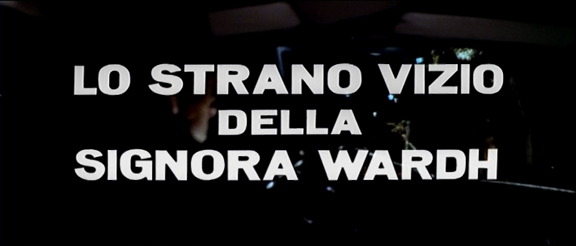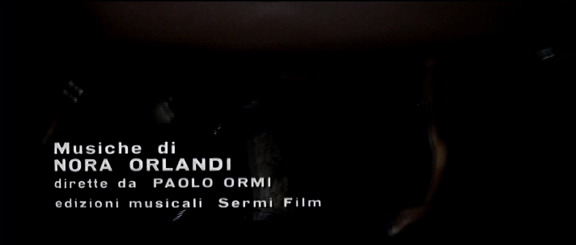 It starts with a strange and sultry jazz cue with droning organ. Then there's a slow, sad waltz, one of two main themes for the movie. It's a little bit like Henry Mancini's theme for Love Story, particularly the solo piano version of Sequence 23.
After that there's another droning organ piece, this one featuring the other main theme for the movie, a childlike song for wordless vocals. You hear this in several of the cues.
After that comes a shake, for a party scene. Some great fuzzed-out guitar on that one. Sequences 5 and 22 stand out.
There are several cues that sounds like free improv with fuzz guitar and organ.
Sequence 8 returns to the main theme but with a church organ intro.
Sequence 9 sounds like somebody's playing the inside of a piano at first, then goes into a menacing, pounding atmosphere.
Sequences 10 and 11 are lounge versions of the main theme. The first is a samba, the second a mid-tempo jazz combo version.
The same theme gets a 6/8 jazz arrangement for Sequence 13, a heavy, romantic piano arrangement for Sequence 15 and bluesy organ jazz arrangements for Sequences 17 and 21. There's a sad solo piano version of it for Sequence 18. And there are many others.
Sequence 16 is a romantic cue for solo piano. Sequence 29 is an interesting mutation of the theme for (I think) harpsichord and two electric guitars.
---
Paul Motian's trio with Bill Frisell and Joe Lovano was my favorite band. The past tense is called for, because Motian has said that the trio is done. A recent Wall Street Journal article quoted him as saying that "it has run its course".
This is the first year in at least fifteen years that they won't be playing at the Village Vanguard. Seeing them there was one of my favorite late-summer traditions.
They were together for a very long time, made a lot of recordings, played hundreds of gigs. They changed quite a bit over the years and I think they would have continued to evolve, but I can understand why Motian might want to lower the curtain on this long-running project while they're still going strong.
What I find harder to understand is why he's playing the same material with another drums/electric guitar/tenor sax trio.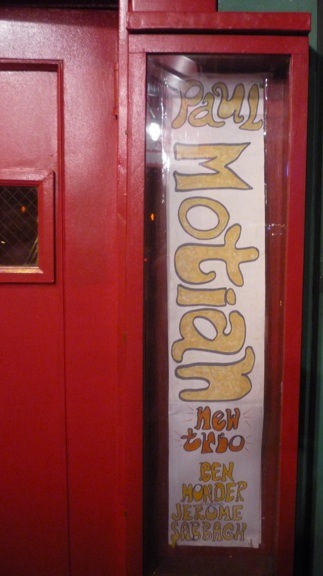 I saw this band's first set last night. They opened with Monk's "Played Twice" and followed that with "Good Morning Heartache". After that came Motian's "Morpion", Jerome Sabbagh's "Indian Song", the Kern/Gershwin standard "Long Ago and Far Away", Motian's "Fiasco", Sabbagh's "La Fée Morgane" and finally Motian's "Mumbo Jumbo" and, of course, "Drum Music".
It's not fair to complain that Ben Monder and Jerome Sabbagh are not Bill Frisell and Joe Lovano, but the comparisons are unavoidable (when they're not playing Sabbagh's tunes, anyway).
Motian has had to have subs for Lovano a couple of times in recent years. Maybe that's what gave him the idea for this new trio.
---