2011 September 19 • Monday
The 183rd Soundtrack of the Week is a triple feature of Stu Phillips scores: A Time to Every Purpose, The Name of the Game Is … Kill and The Meal.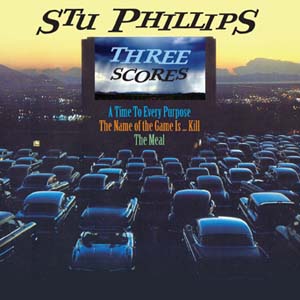 The main theme for A Time to Every Purpose is the song "Echoes of the Road", which we hear first as an instrumental and then performed by Don Dunn. "Well, I don't give a damn / Lord knows I've paid my dues / The echoes of the road / Keep ringing through my shoes". It's a great sixties-ish song, with catchy steel-string guitar playing and earthy drumming.
After that comes the frenetic "Leap", which sounds like what might happen if Burt Bacharach tried his hand at prog rock cartoon music: lots of changes, melodic figures that are the sonic equivalent of a smiley face, fuzz guitar.
The "Leap" and "Echoes" themes recur throughout the rest of the score, arranged for different uses (love theme, etc.).
"Niki & Les/Love in the Woods" is something different, very atmospheric and all strings and harp. "Valley of the Flowers" continues in the same vein but adds harmonica, slightly reminiscent of the harmonica from Morricone scores. The orchestra closes with "Echoes" again.
"A Long Journey Home" is a piece for the orchestra that quotes from "Echoes" and reminded me of music for The Bionic Woman. "Les's Idea" is a brief continuation of it.
The Name of the Game Is … Kill has music that would be right at home in a giallo, with childlike vocals ("When the sun does come up high / Then that day someone will die"), stalking electric bass guitar, tensely plucked strings and all sorts of weird instrumentation creating a mood of horror and general weirdness. It's somewhat similar to Nora Orlandi's main theme for The Strange Vice of Mrs. Wardh, our 181st Soundtrack of the Week.
Occasionally the mood is lightened, as in the second part of "Julio Dies/Along Comes Sun" or in "Theme for Love". Dread, tension, suspense and action make up the bulk of the score, with effective use of vibes, harpsichord, electronic instruments and tape delay.
There's also an Electric Prunes song, "Shadows"! Always nice to hear them.
Music from The Meal concludes the CD. The first track is something of a suite: "Main Title/Flashback 1/Kelley/Flashback 2". It starts out as a gentle and lyrical piano piece, with light string accompaniment, then becomes much more stirring and dramatic.
"Eating" sounds like some of Bernard Herrmann's famous music for Psycho, an army of plucked strings propelling you forward. Most of the other cues sound something like this or the music from the opening suite.
"At the Bar" is an easy listening tune while "Food for Thought" is menacing and groovy.
"Dead Dog" is another unsettlingly aggressive cue, followed by Phillips's arrangement of Rachmaninoff's "Prelude #6". There's another classical piano piece later, "Bertron's Concerto #5", a reprise of the main theme.
---