Rob Price
Gutbrain Records
rob + gutbrain.com = email
---
Here's a comic with an ingenious design.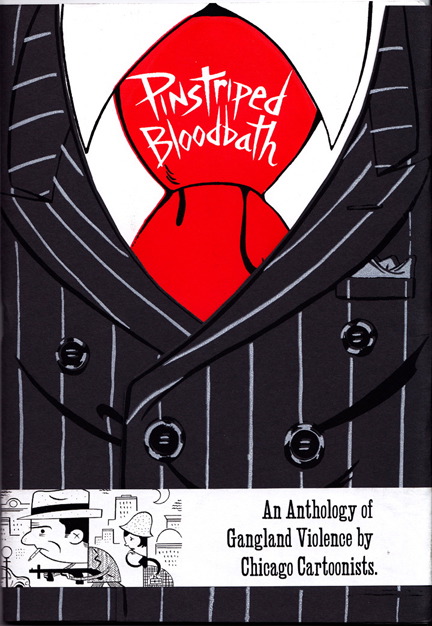 It's hard to tell from this picture, but the cover is cut like the jacket. The title, the red tie and the collar are not on the front cover but on the title page underneath. The white banner with the Ivan Brunetti illustration is a removable belt that's holding the cover closed.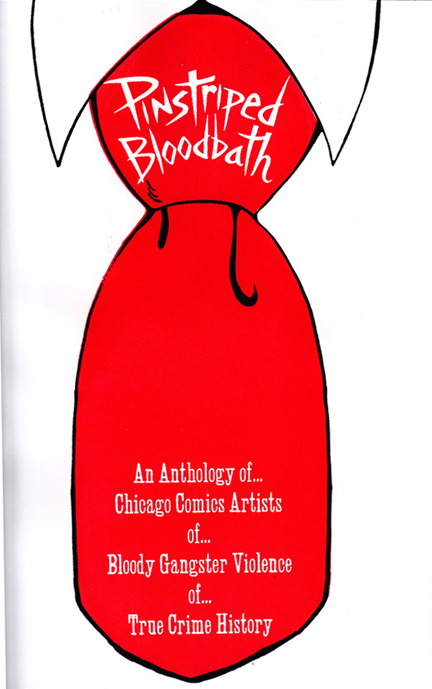 That's what the whole title page looks like.
There are eight stories from eight creators inside. My two favorites were Sam Sharpe's "Change Your Name" (though it doesn't have any bloody violence and I'm not sure what chapter of true crime history it's supposed to tell) and Jeff Zwirek's "The Chicago Typewriter: The Story of the Thompson Submachine Gun in Chicago", which comes with informative endnotes.
---
The 158th Soundtrack of the Week is Zero Woman: Red Handcuffs by Shunsuke Kikuchi.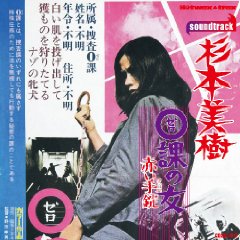 It's a Japanese exploitation movie from the '70s about a female cop with special red handcuffs that she can lock on your wrists just by throwing them at you. I remember it as being wall-to-wall sex and violence but also boring.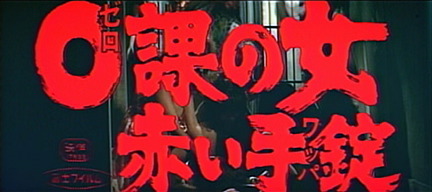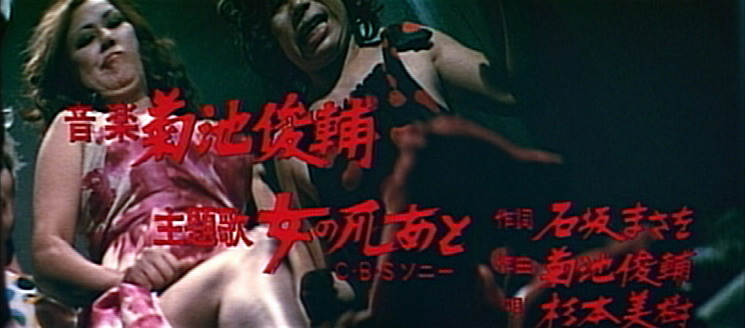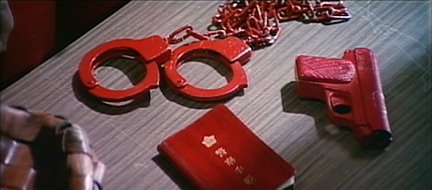 The music is good, though, mostly an assault of wah-wah and fuzz guitars, latin percussion and blaring horns. There's an occasional keyboard or organ blast. The fuzz guitar sounds are especially ill.
---
Here's a book I'll probably never read. I bought it mostly for the title.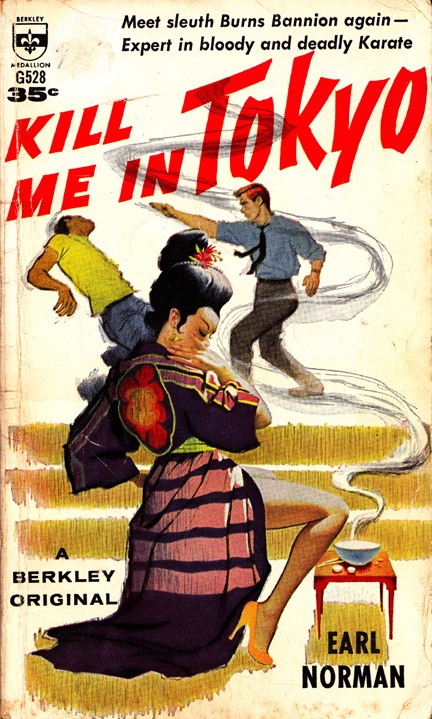 I don't read private-detective fiction unless it's by Dashiell Hammett. Other authors give you private detectives with names like Burns Bannion—"Expert in bloody and deadly Karate".
There are other Burns Bannion novels: Kill Me in Yokohama, Kill Me in Yoshiwara and Kill Me in Shimbashi.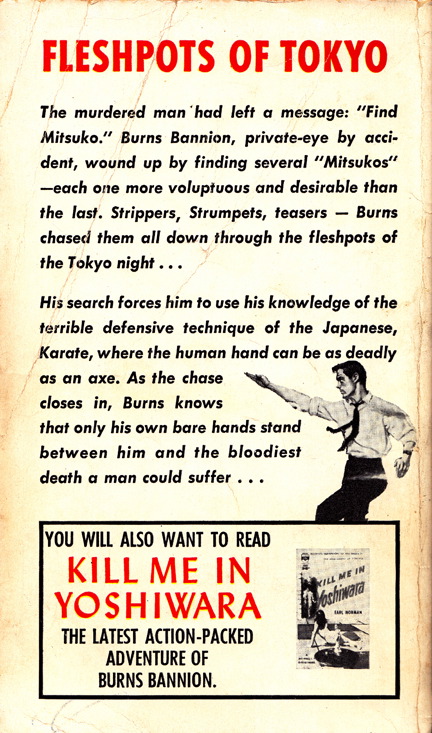 I know he's supposed to be doing karate but he looks like he's dancing on Mel's Rock Pile.
The first line is, "The damned thing was swollen, and it hurt like hell".
---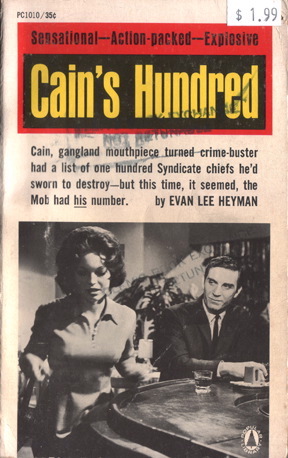 The Cain's Hundred novel is about a former Syndicate man—one of the hundred on Cain's list— dealing drugs to students at a college in a wealthy suburb.
It begins with a horribly racist character, a 200-pound "Negro woman" named White Goddess. She and her partner, Sacred Man, start selling "reefer" to a college kid named Ferrell Crosby as he sits in Tommy's roadhouse listening to the distant sounds of cheering at the college football game.
He looked at the reefers and thought why the hell not? So he paid Sacred Man $5 for them, a drop out of his $50 a week allowance, and drove off in his sports car.
He lived with his father in a big house on Poplar Street in Whitman, but he wasn't about to smoke one there, since he had an intense conviction his father would kill him if he knew. He smoked one that night on campus, behind the science building, alone, with the din of fraternity and sorority celebrations in the distance taking the place of the crowd noise of the afternoon.
The noise stopped. He felt fine. He had a great capacity for taste. Time slowed. He had a Chinese dinner and rolled the many foods in his mouth, tasting each one separately. He went to a movie and watched the leading-man's brain tick away as he made love to the heroine. He saw life for what it was. It thrilled him.
He smoked the other two the next day, which was Sunday, then cut a class the next day to go back to Tommy's for more. Fortunately, Sacred Man and White Goddess were waiting for him. He managed to get another dozen reefers from them and, as he smoked them the rest of the week, things got clearer and clearer.
His father had like a snail in his head, a dirty little snail. That was it. The snail had been talking for years and had convinced his father that he, Ferrie, had to be put in a bottle of beer and corked. Because he, Ferrie, was dregs.
That was wrong, Ferrie thought; he wasn't dregs. Something had to get the snail out of his father's head.
He went back to see Sacred Man after his dozen reefers were gone. They sold him heroin and showed him how to pop it. It didn't cost much, considering what his father gave him. He popped it in his bedroom and liked it fine.
It wasn't a snail at all, he thought a few days later. Or maybe his father's whole head was a snail, because he couldn't see where the snail ended and the brain began.
That was very bad.
About two weeks later he went up to his room and got down his hunting rifle. Fairfax County, where he lived, had grouse in its woods. Every guy and his dad had a hunting rifle.
"Hey dad, you want to come up here for a minute?" he called downstairs.
Ferrell Crosby, Sr., grunted, put down his paper and came upstairs.
When he reached the landing, Ferrell, Jr., stepped out of his room and shot him between the eyes. He went over backward and rolled back down the stairs.
Then Ferrell, Jr., went back inside his room. He sat down at his desk and thought for a few minutes. He'd removed the snail from his father's brain and maybe even the whole brain. But he'd also killed his father.
Man, he thought. What'll I do next?
He didn't think about it very much. He put another shell in the rifle, set the stock on the floor and reached way down for the trigger. He pushed the trigger and blew his own head off.
That's near the level of pulp masterpiece.
The book never hits that kind of high mark again, though there are moments. The sentence "Then he went upstairs and did his vomiting" comes to mind.
One gratifying thing about the Cain's Hundred book is that the constantly scowling Cain is allowed to get things wrong and not be an unerring superman all the time.
There aren't any beatniks, though when Cain visits the college he hears "a student arguing loudly for his personal interpretation of a line by Ezra Pound".
---
The 157th Soundtrack of the Week is the music for the television series Cain's Hundred, by Jerry Goldsmith (credited as Jarrald Goldsmith) and Morton Stevens.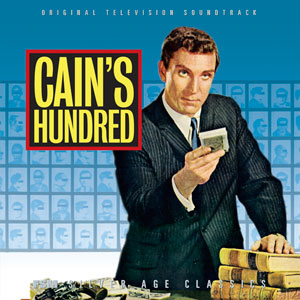 Cain's Hundred is a pretty obscure show from the early '60s. It ran for only one season and was about a former mob lawyer turned syndicate-smashing federal investigator.
Goldsmith's music anticipates some of John Barry's work, particularly from the Bond movies. (I imagine this is just a coincidence.) The theme is an intense and moody 12/8 piece and most of the music here is characterized by tension, suspense and dread.
Most of the music on the CD is by Goldsmith, but Morton Stevens took over scoring the series after a while. A selection of his work, which extends and respects what came before, concludes the CD.
Film Score Monthly gets better and better, presenting something like this little known early work from a great composer. The music for Cain's Hundred is, like Bernard Herrmann's television and radio work, an inspiring example of how to create exciting music with a small ensemble (though Goldsmith's 28 musicians and Stevens's 18 made up larger groups than Herrmann's).
You can see quite a bit of it on YouTube.
---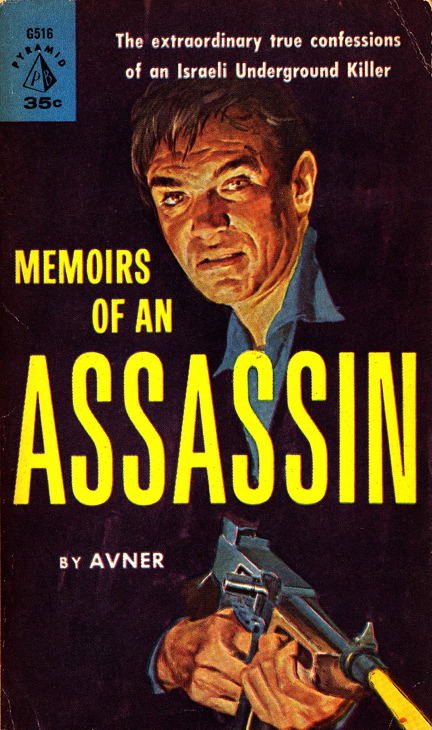 I enjoyed this book. The first line is, "Nineteen hundred and thirty-eight".
It might not seem like much of an opening line, but the title of the first chapter is "The Professor of Hatred", and it comes after a quote from Ecclesiastes, a brief description of various Israeli military groups, a translator's preface comparing Avner's book with the media reports of the time and, finally, Avner's response to the translator's note.
1938 is the year that Avner (or Davidson as he is then called) runs away from his boarding school in Belgium—where, as the only Jewish student, he has been singled out for harsh treatment by the headmaster—to go fight in the Spanish Civil War. He's fifteen years old and eventually finds himself returned to school by the police, after which his mother sends him to an agricultural school in Palestine.
Much as I like the painting on the cover, it's wrong for this book. It shows a pulp-fiction sort of bestial thug, whereas Avner's voice is educated and nuanced. His writing is accomplished and ironical and contains many memorable lines. After his career as a terrorist he hopes to get into screenwriting, letting his admiration for Jean Vigo and Georges Franju interfere with creating suitably mindless and commercial scenarios.
The scenes of assassination and bank robbery are especially exciting and not merely hardboiled, as they might come across on the back cover. Whether Avner recalls tending sheep, digging holes for palm trees or committing acts of violence and terror, his writing is thorough, disciplined and literary.
The book has a startlingly abrupt ending. I actually thought that my copy was missing the last few pages so I ordered another one. But it had the same ending, so I guess that's it.
---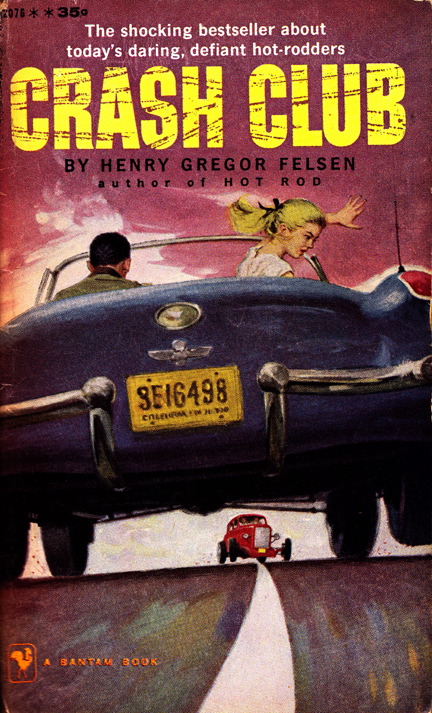 This tightly plotted and compelling novel, probably for readers we would call "young adult" today, was surprisingly good. It wouldn't take much to make a good movie out of this now, more than fifty years later, even though stories about teenagers can age pretty fast.
Mike Revere is the most popular boy in school and he had to work really hard to get there. His supremacy depends on his being the best drag racer—every morning he races a challenger to the school parking lot, and every morning he wins.
The principal of the school is aware of this but has the experience to know that it's just a fad. There's a new fad like this every year, and every year it fades out and gets replaced by something else. Drag racing's popularity has a month or so to go, he figures. But then… Well, I'll quote the blurb on the inside.
But then Dave "Outlaw" Galt moved to town. Outlaw had utter contempt for authority. The gang was dazzled by his $4,000 Chevy F. I.
Mike saw he had to fight for his title. His answer to Outlaw's bid for power was a new kind of hot rod club.
HE CALLED IT CRASH CLUB!
Crash Club is about crashing, not racing. The one with the most accidents wins. (I wonder if J. G. Ballard knew about Crash Club.) You get decorated with medals and ribbons, just like in the military. Every time you smash into another car, you get to put a small car decal on your hot rod, just as if you were a pilot shooting down enemy aces.
This all gets out of hand, of course. Really out of hand. The violent conclusion was a bit of a shock and the build up to it was extremely suspenseful. In the end it turns out to be a morality play, but with a few sharp turns to take the reader through.
Felsen, who also wrote books called Hot Rod and Street Rod, captures perfectly the world of adolescence as I remember it: the cruel and absurd social hierarchies, the sense of alienation, the disappointment that parents, children, teachers and students feel.
Crash Club is dedicated:
To my teenage son
and his teenage friends.
Black leather boots,
blue denims,
turned-up jacket collars,
and all…
The first line is, "Mr. Enos Lamont, principal of Raccoon Forks High School, leaned back in his old wooden swivel chair, propped his heels on top of his old wooden desk, clasped his hands behind his head, and, with his eyes closed, thought over the brief letter of warning that had arrived in the morning mail".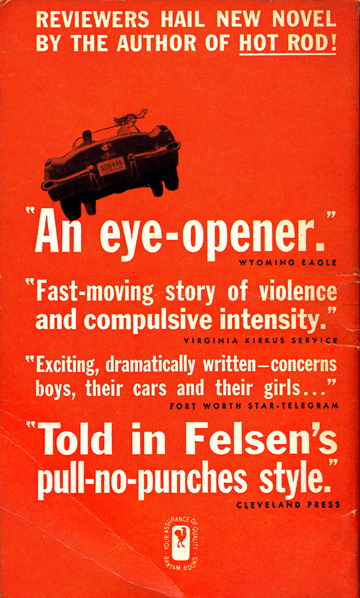 ---
The Japan Society in New York City has started a disaster relief fund. You can donate online here. I can't think of anything else to say.
Now back to our regular programming.
The 156th Soundtrack of the Week is Howard Shore's Crash.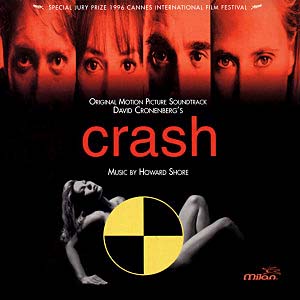 This is the 1996 Crash, David Cronenberg's adaptation of J. G. Ballard's novel, not the Crash that won Academy Awards.
With the exception of The Dead Zone, Howard Shore has scored every Cronenberg movie since 1979's The Brood. Shore even turned Cronenberg's movie of The Fly into an opera.
Crash isn't my favorite Cronenberg movie, though it's the last one I enjoyed watching. It is one of my favorite soundtracks, though, and one of my favorite albums for rainy days and glum moods.
The first thing in its favor is the ensemble: six electric guitars (called electronic guitars in the liner notes), three harps, three woodwinds and two percussionists. The music was electronically manipulated after the recording, giving Shore unusual freedom.
The first track, "Crash", sets the tone and establishes the musical theme of the movie. Electric guitars create swirling atmospheres out of which individual guitarists lash out with assertive phrases. It's slightly reminiscent of some of Fred Frith's guitar quartet music, or the interplay between Marc Ribot and Robert Quine on Ikue Mori's Painted Desert.
"CineTerra" is similar but sparser and less threatening. It includes subtle and effective use of odd-sounding percussion.
"Mechanism of Occupant Ejection" returns to the "Crash" theme with the addition of some otherwordly wails from the percussion, or electronic manipulation or both.
"Mirror Image" begins with flute and harp and is almost pastoral. The sheen of reverb and a slightly metallic gloss to the sound subvert this idea, and eventually the electric guitars return and take us back to the unnatural world of the film.
"Where's the Car?" is the first track that sounds like some, but not all, of the guitarists are using distortion. There was an overdriven quality to some of the guitar lines on "Crash" but the opening guitar notes of this cue snarl loudly. Some inventive electronic manipulation takes the music into outer space for the last minute.
"Sexual Logic" is similar to "CineTerra" but sparser. Eventually a haunting melody is played by the flute.
"Road Research Laboratory" features the guitars and percussion. It sounds like there's been some manipulation of these instruments, but it's hard to tell how much.
"Mansfield Crash" is a return to the "Crash" theme, but with an atmopshere of greater dread established by the ominous sounds that support the guitar parts. Bits of this reminded me of Bill Frisell around the time of the Power Tools band.
The first half of "Chromium Bower" doesn't feature any recognizable instrument. It could be guitar or harp or percussion or almost any combination of instruments that have been electronically transformed into unearthly sounds. Halfway through a flute comes in with a quiet and minimalist part. It ends with electronic noise that sounds like things breaking.
"A Benevolent Psychopathology" introduces a string orchestra, swelling in a manner similar to the electric guitars. As you might expect, it sounds more like Howard Shore's other soundtrack work than anything else on the album. It's great underscore with an Akira Ifukube quality to it at times.
"Two Semi-Metallic Human Beings" begins with a clarinet that soon gets absorbed by the musical atmopshere. The string orchestra seeps in here and there, again echoing the electric guitars from the theme. The percussion is a key player here, playing dark, chime-like tones.
"Triton" starts out with what sounds like somebody playing the inside of a piano, but perhaps it's a manipulated harp. The electric guitars are back with their familiar swirling, mesmerizing lines.
"Accident… Accident…" sounds like a blend of the guitars and the string orchestra both with and without electronic distortion. It has a druggy and queasy sort of sound.
"A Crushed Convertible" has some quiet background noise and some echoing, minimalist guitar playing upfront.
"Prophecy Is Dirty and Ragged" is the longest piece on the record, and begins as a reprise of "Accident… Accident…". Two minutes in, the string orchestra, without a discernible electronic presence, plays some urgent suspense music. This gradually becomes more lyrical, then tapers off into something similar to "A Benevolent Psychology".
I love this record. I'm curious to see the movie again and find out how I react to it fifteen years after its release.
---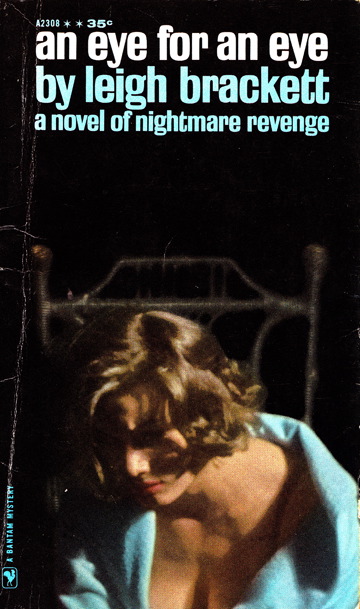 Leigh Brackett worked with Howard Hawks, co-writing the screenplays for The Big Sleep and Rio Bravo. She provided Robert Altman with a screenplay for The Long Goodbye and George Lucas with one for The Empire Strikes Back. (Apparently what's in the Lucas movie doesn't have much to do with what Brackett wrote.)
She wrote several novels and short stories, mostly mystery or science-fiction. (She wrote the novelization of Rio Bravo as well.)
I had read The Long Tomorrow, an absorbing story of Earth in the distant future and how the humans who survived nuclear armageddon live simply and regard technological advancement as taboo.
The other novel of hers I had read was The Tiger Among Us, about sadistic teenagers who get their kicks from random violence and mayhem. It's a great thriller that was made into a lousy movie, 13 West Street, starring Alan Ladd.
An Eye for an Eye is another thriller, and a potentially very nasty one, about a violent maniac who kidnaps a lawyer's wife. The lawyer had rescued this psycho's abused wife from him, arranging for a divorce and a restraining order, and now the psycho decides that he'll take the lawyer's wife. If the lawyer wants her back, well, just stop that divorce from coming through and persuade the terrified woman to return to her crazy, drunk, abusive husband. If the lawyer fails to do this, the madman will kill all three of them and anybody else who gets in his way.
Brackett's economical and effective writing make for a gripping read. With just a couple of sentences she can create the sense of a real environment, complex and unpredictable, and she does the same thing for the characters.
While the book doesn't end tragically, it doesn't end happily, either. Some characters reveal unpleasant sides of themselves under pressure, causing the destruction of relationships they had taken for granted. Brackett is especially clever with her development of the character of the abused wife seeking a divorce.
Hitchcock might have been able to make a decent movie out of this. The lawyer is even supposed by the police to have murdered his wife at some point, which is the kind of thing that happens in Hitchcock films.
I suppose it's an old-fashioned novel by today's standards, but it's a real page-turner and I enjoyed it. The first line is, "Grace Vitelli stuck her head in through the door and said, 'I'm going home now, Mr. Forbes'".
---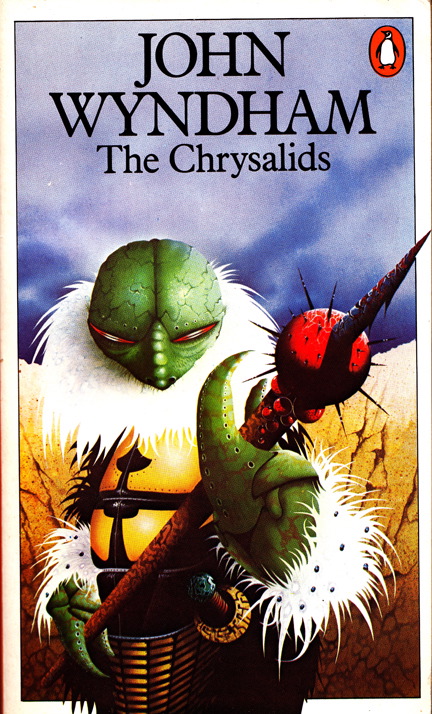 John Wyndham returns to his great theme—the attempt by one species to dominate and destroy another—via a different route.
While his most famous books, such as The Day of the Triffids, The Kraken Wakes and The Midwich Cuckoos, tell stories of an invading species from outer space that comes close to wiping out the human species on Earth, The Chrysalids presents primitive humans who are religious fanatics and want to destroy more highly evolved humans.
The action takes place in the future, long after nuclear armageddon has come close to obliterating all life on the planet. In a part of Labrador, humans attempt to regain what they have lost but know nothing of history. The only two books they have are religious texts, of which one is the Bible.
They don't realize that the occasional mutation of crops, livestock and human babies are caused by lingering radiation but believe it to be the Devil's work. All such "deviations" must be destroyed. "Watch thou for the mutant!" is one of their commandments.
When certain children are born with the ability to communicate telepathically with each other, they keep this a secret among themselves, knowing that the exposure of their "deviation" would be fatal to them. Since they're physically "normal" in every way, the task shouldn't be impossible, though it would be difficult.
But with the birth of a baby girl whose telepathic gift is astonishingly powerful, exponentially greater than that anybody else's, secrecy cannot be maintained.
It's similar in some ways to Leigh Brackett's The Long Tomorrow and the first few chapters, in which the sinister and harsh organization of the characters' world is gradually revealed, reminded me of Shirley Jackson's famous short story "The Lottery".
It took me a while to get around to this book, partly because of the cover. It turns out that this cover illustration has absolutely nothing to do with the book. Nothing whatsoever.
The title is also something of a mystery. I can't remember "chrysalids" or "chrysalis" appearing in the text at any point.
As always, the quality of Wyndham's writing is extremely high. His prose is smooth and solidly constructed. There isn't a single moment where the pace flags or the reader stumbles over a clunky sentence. He was one of those writers of both genius and economy—my favorite kind.
The first line is: "When I was quite small I would sometimes dream of a city — which was strange because it began before I even knew what a city was".
---
The 155th Soundtrack of the Week is Henry Mancini's Experiment in Terror, one of many collaborations between Mancini and director Blake Edwards.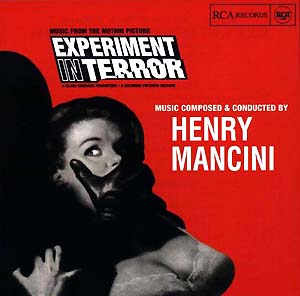 1962's Experiment in Terror was ahead of its time, anticipating both the sleazy and spectacular thrillers that would come out of Hollywood in the 1970s and '80s but also the giallo films of Mario Bava and other Italian directors.
The plot concerns a psycho killer who terrorizes a bank teller so that she'll leave her bank one day with $100,000 in her purse. (Would this have been possible?) If she doesn't cooperate he'll kill her and her younger sister, but not before making them wish they were dead.
Lee Remick is the teller and Glenn Ford is the FBI agent who answers her call when she phones the San Francisco branch of the agency. Lucky for her, the entire San Francisco branch seems to have absolutely nothing to do and immediately puts all of its resources and personnel on her case. Glenn Ford is the acme of stolid 1950s-ish American competence. If George Reeves's Superman ran afoul of him, Superman would be in trouble.
The movie is genuinely suspenseful and occasionally quite frightening. Ross Martin's performance as the asthmatic psycho killer—another villain with an "otherness"-enhancing affliction—is made exponentially creepier by Philip Lathrop's superb black-and-white photography and Henry Mancini's sickeningly dreadful main theme.
This is apparently an album recording and not the original motion picture soundtrack. The original soundtrack makes extremely effective use of the Hammond organ—a single low note, a sound of pure menace, is the true "theme" for the maniac villain. And Mancini fans will appreciate that during the climax of the movie, which takes place at a baseball game, Mancini's theme for Mr. Lucky is played on the ballpark organ.
There's very little dramatic underscore in the movie. Realism was the apparent goal of the filmmakers, and so there's an abundance of location shooting and a reliance on source music. The record starts with "Flutter's Ball", an easy listening tune that's heard on a car radio. Well, not just any car radio, but the radio in Lee Remick's Ford Fairlane convertible.
This is followed by "Tooty Twist", which I think is blaring from the radio or jukebox at the local teen hang-out spot. (Stefanie Powers plays Lee Remick's teenage sister.) It's similar to some of the music Mancini wrote for Touch of Evil.
"Kelly's Tune" is a breezy west coast jazz tune written for Lee Remick's character. It has classic Mancini horn arrangements and features the doublebass. "Golden Gate Twist" is, um, well, I don't remember where this was in the movie. It's cool, though. I like the twist and there's a good guitar solo.
"The Good Old Days" is music that accompanies a silent film comedy. The bad guy is always sending Lee Remick off to someplace or other, and on this occasion she has to go to a cinema.
Then there's the "Experiment in Terror (Twist)" which I think is heard at the swimming pool where Stefanie Powers and her boyfriend go. It's really great but it's at this point that the sequencing of the album seems to be backwards. Did they get the A and B sides mixed up? This tune would be a great ending for the B side but "Flutter's Ball" is a terrible first tune for the A side.
The next tune, though, number seven of twelve, would make the perfect first cut for the A side. It's "Experiment in Terror", the actual main title. You hear this during the opening credits while Lee Remick is driving her convertible over the Golden Gate Bridge, back to her home in Twin Peaks.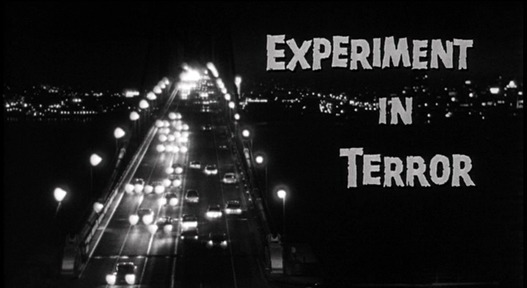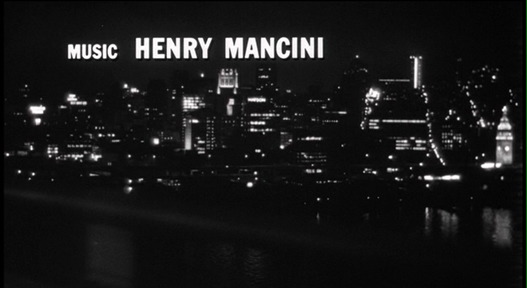 Fantastic use of the autoharp, incredible guitar sound, brilliant orchestration throughout. Is it a cymbalom playing the melody? I wish I knew. The liner notes don't offer much information other than that Jimmy Rowles plays piano on the next track, "Nancy".
"Nancy" is a very modern-sounding, creepy tune. I don't think anybody would guess that Jimmy Rowles is playing the eerie and unsettling piano part. Here, too, Experiment in Terror seems to be ahead of its time. What you hear would be common enough in a few years, but in 1961 or 1962?
"Down by the Wharf" is hurdy-gurdyish music for a scene set at Fisherman's Wharf.
"Teen-Age Hostage" is the most active piece on the record, with frantically driving strings and hammering snare drum creating the adrenaline surge Stefanie Powers's character experiences when she thinks her older sister is in trouble. This gives way to the horrifying low note on the organ and a recapitulation of the main theme. You can tell just by listening that she's fallen into the clutches of Ross Martin's monster.
"White on White" is a sentimental solo piano piece (Jimmy Rowles again?) and "Final Out at Candelstick Park" brings us to the climax and the brilliant main theme again, this time blending into a more traditional dramatic orchestration.
---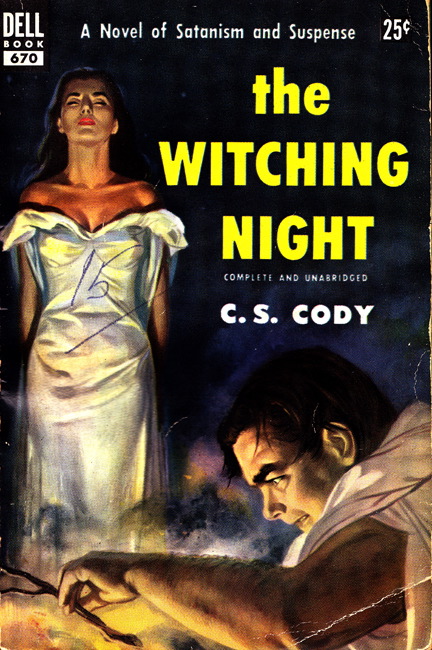 The first line is, "This really began, I suppose, when I first met Colin Jones". Before that there's a quote from Hamlet: "'Tis now the very witching time of night, / When churchyards yawn, and hell itself breathes out".
The story is about Joe Loomis, a doctor whose old friend Colin Jones comes to him with an undiagnosable, incurable disease that turns out to be the result of a Satanic black mass. Loomis is soon involved in the same mess and receives the same deadly curse. As he starts to waste away and each moment of his life becomes more and more painful, he struggles to survive. His only chance seems to be to try to kill the Satanists who have damned him. One of them, however, is the woman he loves.
C. S. Cody writes in a brisk and engaging manner and has constructed the narrative very solidly, though there are one or two points that don't withstand close scrutiny. The story is presented as the manuscript of Dr. Loomis himself, and the main character's first-person narrative manages to alternate sly humor with descriptions of dreadful nightmares (done quite well) and agonizing experiences.
The author slips in some amusing foreshadowing without Loomis's knowledge, such as how our hero, just before his immersion in the world of devil worship, inhales sulphur fumes from a match when he lights a cigarette. There are some similar touches here and there.
The story has a bit in common with Stephen King's Thinner, though the King novel centered on punishment and The Witching Night is about evil, pure and simple.
It's a page-turner and carries appreciative blurbs from Nelson Algren and The New York Times on the back cover. As is often the case in this kind of book, the hero seems to have a smoother ride than I would have expected. One thing just leads to another. His danger and suffering are made quite clear, though, and his story is a compelling one.
---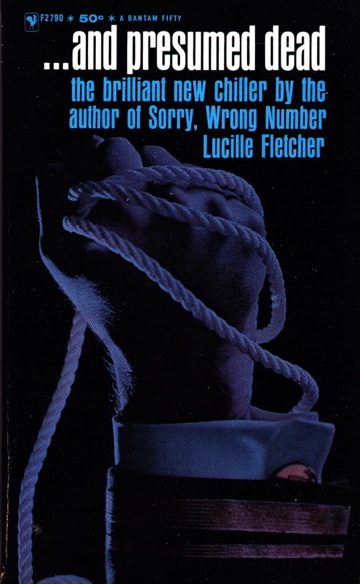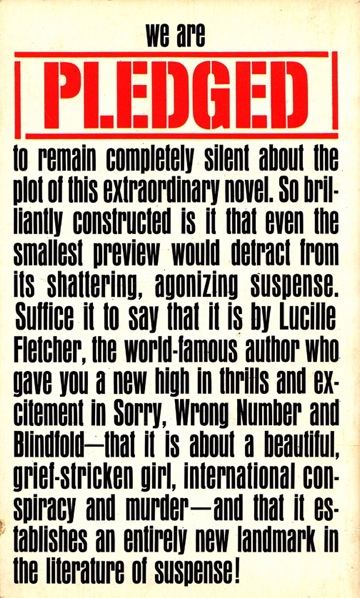 The first line is, "Years later, she would dream of Alpenstadt, and wake, oppressed by fear", which reminded me of the opening of Daphne du Maurier's Rebecca. Both books are extremely well written and offer a subversive updating of a fairytale: Cinderella, more or less.
Lucille Fletcher is best known for Sorry, Wrong Number, which was a Suspense radio play before it became a movie with Barbara Stanwyck and Burt Lancaster.
(Suspense had brilliant theme music by Bernard Herrmann, who also scored some of the early episodes. He and Fletcher were married until Herrmann left Fletcher for her cousin.)
Fletcher's also wrote "The Hitchhiker", a radio play that found a new audience as an episode of The Twilight Zone.
Like the publishers of …And Presumed Dead, I will remain more or less silent about the plot of this extraordinary novel. It was very suspenseful, I think I can say, though it would have been more so if the first line didn't reveal that the heroine is destined to survive her ordeal.
But it was excellent and I plan to seek out more of Fletcher's books. She's one of those writers who send me running to the dictionary every few pages (which I enjoy). I didn't know what caparisoned, wattles, espaliered, majolica or rachitic meant, for instance. I still don't. I looked them up but I don't remember their definitions.
---