2011 March 14 • Monday
The Japan Society in New York City has started a disaster relief fund. You can donate online here. I can't think of anything else to say.
Now back to our regular programming.
The 156th Soundtrack of the Week is Howard Shore's Crash.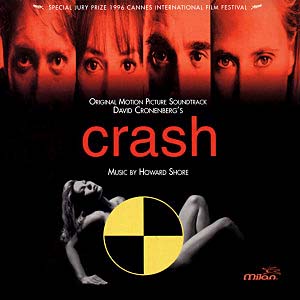 This is the 1996 Crash, David Cronenberg's adaptation of J. G. Ballard's novel, not the Crash that won Academy Awards.
With the exception of The Dead Zone, Howard Shore has scored every Cronenberg movie since 1979's The Brood. Shore even turned Cronenberg's movie of The Fly into an opera.
Crash isn't my favorite Cronenberg movie, though it's the last one I enjoyed watching. It is one of my favorite soundtracks, though, and one of my favorite albums for rainy days and glum moods.
The first thing in its favor is the ensemble: six electric guitars (called electronic guitars in the liner notes), three harps, three woodwinds and two percussionists. The music was electronically manipulated after the recording, giving Shore unusual freedom.
The first track, "Crash", sets the tone and establishes the musical theme of the movie. Electric guitars create swirling atmospheres out of which individual guitarists lash out with assertive phrases. It's slightly reminiscent of some of Fred Frith's guitar quartet music, or the interplay between Marc Ribot and Robert Quine on Ikue Mori's Painted Desert.
"CineTerra" is similar but sp