Rob Price
Gutbrain Records
rob + gutbrain.com = email
---
Happy New Year!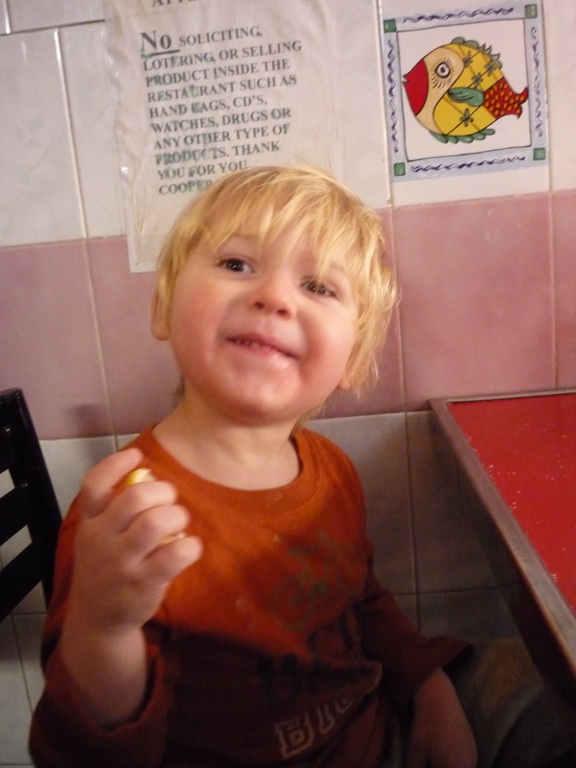 ---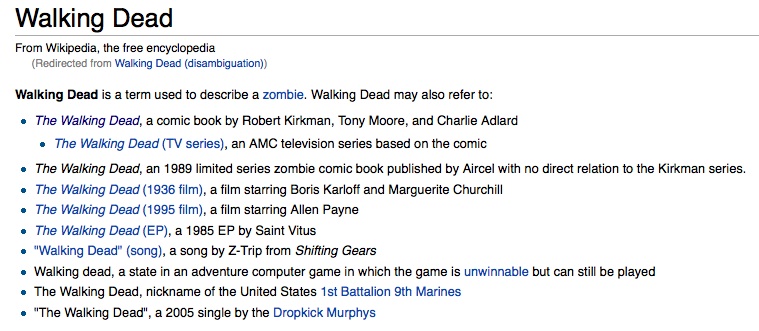 There's no link for the 1989 Walking Dead comic book. Well, here's the cover of the first issue.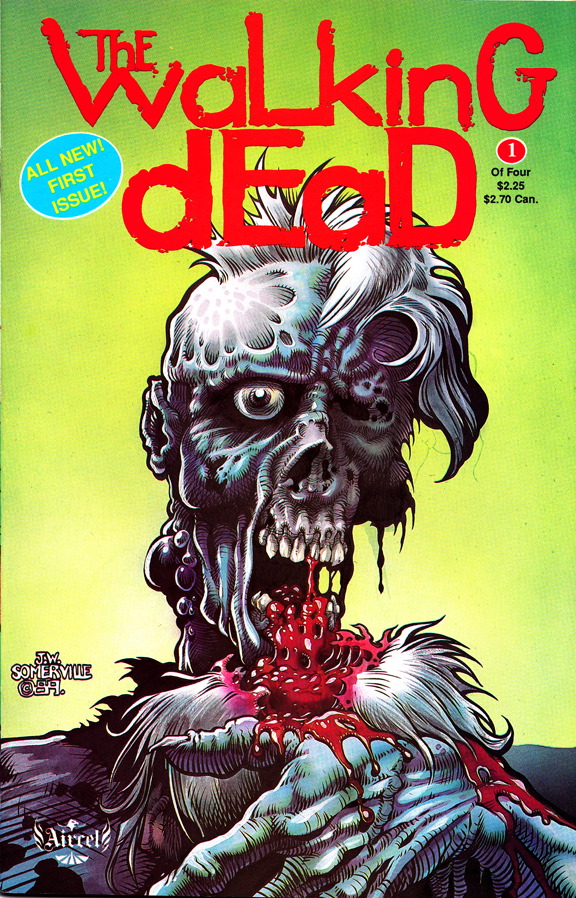 I came across it while organizing one of my closets. Also found this other zombie comic, from 1987.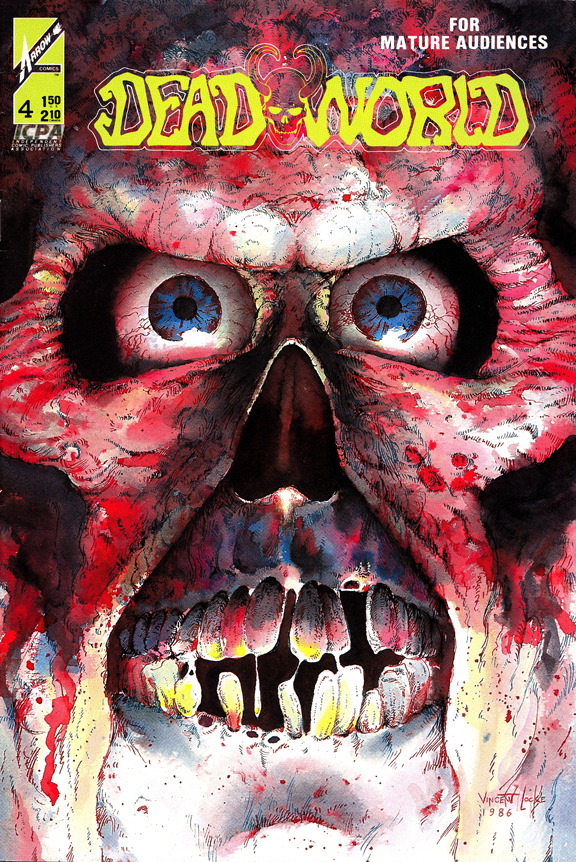 I've requested the first volume of the recent Walking Dead comic book from the library and I'm looking forward to checking out the series on DVD.
---
The 145th Soundtrack of the Week is this CD of two spaghetti western scores, Dio Perdoni La Mia Pistola and Anche per Django Le Carogne Hanno Un Prezzo by Bulgarian composer Vasco Vassil Kojucharov.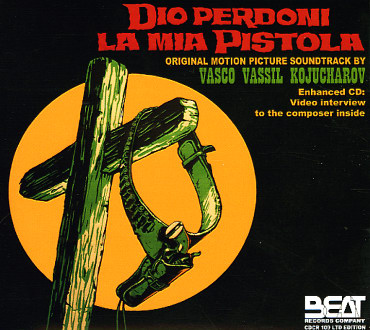 Dio Perdoni La Mia Pistola begins with a vocal number, "A Man Called Texas". It's almost like a Morricone mutation of Dmitri Tiomkin's theme from Gunfight at the O.K. Corral.
This theme comes up again and again, first played by solo harmonica then solo guitar. Various ensemble versions of it follow. There are some impressive percussion jams with strings in the background as well as some straight dramatic, comedic and suspense cues.
Anche per Django Le Carogne Hanno Un Prezzo works out one Morricone-like theme with various instruments taking the lead and also has some effectively moody, tense and atmospheres created by sustained tones (strings and organ), sparse percussion and some great electric guitar sounds (fuzz and reverb).
Both scores are really good. I'd like to hear more of Kojucharov's work.
---
In the drug-warehouse laboratories in Scampia, bricks of hashish are often cut thirty-three at a time—like Christ's age. Then they halt work for thirty-three minutes, make the sign of the cross, and start up again. A way to propitiate Christ and receive earnings and tranquility. The same happens with packets of cocaine; often before they are distributed to the pushers, the neighborhood capo blesses them with holy water from Lourdes in the hopes that they don't kill anyone, especially because he would have to answer personally for the poor quality of the stuff.
—Roberto Saviano, Gomorrah, 2006
---
It weighs six pounds and has 640 pages, 125,000 words, 3,600 images and one pair of 3D glasses (necessary for viewing some of the photos)!
It's Ray Harryhausen—Master of the Majicks Volume 3: The British Films by Mike Hankin, the new release from Archive Editions.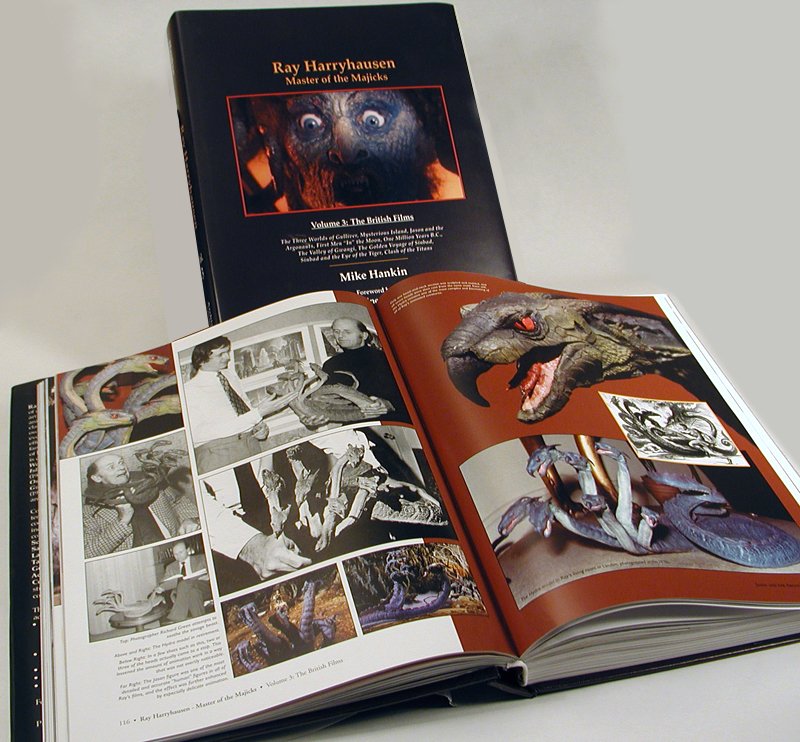 Volume 2 is sold out, Volume 1 hasn't come out yet.
Volume 3 has a foreword by Caroline Munro and a preface by Guillermo del Toro. I'm looking forward to stormy winter weather so I can curl up with this book!
---
The 144th Soundtrack of the Week is another CD of Joe Harnell music for The Bionic Woman.
Actually the first piece is by Jerry Fielding, the theme music for the show. It's always been one of my favorite pieces, beginning with tense action/suspense music that blooms into a beautiful melody, switching meters from 4/4 to 3/4 in the process.
To my ear, though, this doesn't sound like the recording used in the show. Perhaps it's a result of remastering or something or maybe it's a re-recording. On this CD it's "Produced and Arranged by Dominik Hauser".
Harnell's scores for three episodes take up the rest of the CD. First up is "Once a Thief", a comedic episode with appropriately lighthearted music, switching from whimsical, old-fashioned jazz grooves with laughing horns to circus-like, polka dervishes.
There's also the necessary suspense cues and interesting use of electronic instruments."I Wish Mom Was Here" has romantic violin playing and quotes Harnell's own Bionic Woman theme (which was used for the end credits).
"Time Changes - Instrumental", the first cue from "Deadly Ringer: Part 1" is a tender piece with soft drums and electronic piano. I can see the light getting fuzzy in that '70s TV sort of way. Things get more menacing with "Jaime Gets Switched" which again quotes from Harnell's Bionic Woman theme.
"Late for School" starts out as a breezy 6/8 cue but abruptly switches to unsettling and eerie atmospheres. "A New Life" likewise starts out very sweet but becomes ghostly and strange.
"Growing Madness" is pretty much eerie all the way through. "Firewood/Face Down and Dead" gives us Harnell's Bionic Woman theme as a samba.
The final score presented here is for the "Bionic Beauty" episode, one that has a special place in my heart.
It was 1991 and I was living with three roommates in my first apartment in New York City, on Bleecker Street, right next door to Matt Umanov's. It was the first time I'd lived somewhere with a television set since I was four years old.
I was enjoying the TV quite a bit and I was thrilled to discover that reruns of The Bionic Woman, my favorite childhood show, were being broadcast at 3:00 Sunday night/Monday morning. Of course I stayed up to watch it, as well as Mission: Impossible, which came on either right before it or right after it!
"Bionic Beauty" was the first one I saw. Jaime, our feminist superhero—note that the show is called The Bionic Woman, not The Bionic Girl—goes undercover as a contestant in a beauty pageant. For the Talent portion of the contest, she sings "Feelings" and dedicates it to Steve Austin (the Six Million Dollar Man)!
It was brilliant. And so is the music. It begins with blaring pageant music, then goes into more appropriately subdued moods for Jaime's secret agent activities. This features one of my favorite Harnell cues, a toe-tapping number with a lot of electric bass activity. It often accompanies scenes of Jaime's bionic running.
"Jaime Doped/Breakout" gives an especially funky setting for Harnell's Bionic Woman theme, but also has cloudy, woozy music for, presumably, the drug's effects. The bass line I mentinoed before is played on timpani and horns here.
"Saving the Day/Miss United States" has tremendous horn and percussion writing, a bit similar to the theme for the Wonder Woman television show. Again we hear Harnell's Bionic Woman theme.
The CD includes some unused source music (lounge) and other unused cues and, best of all, the recording of Lindsay Wagner singing "Feelings"! She does a fine job!
---

---

Once upon a time the heads of movie studios really wanted you to go to the movies. They didn't sell the movies in formats for you to watch at home, they didn't show them on airplanes or on television and merchandising was mostly for radio, pulps and comics.
They were going to make most of their money from the box office, so they really wanted you to go. And they worked hard to make you want to go, to make going to the movies an event.
This brings us to the latest thing I dug out of my closet, an impressive press kit for the Barbara Stanwyck movie Thelma Jordon, a.k.a. The File on Thelma Jordon.
This time Stanwyck is a femme fatale who seduces an unhappily married district attorney and gets him to cover up a murder she committed. The press kit has some great ideas for ballyhoo. This one is my favorite.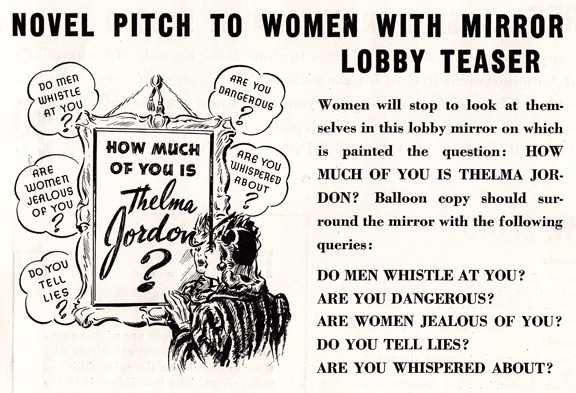 Also impressive is this idea for a lobby display.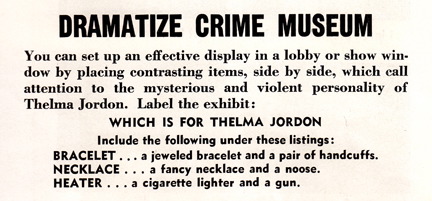 They thought locally and globally.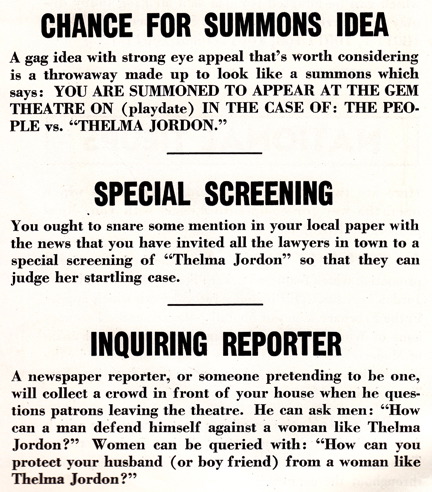 The only angle they still use today is sharing advertising with a big company that saturates the national market.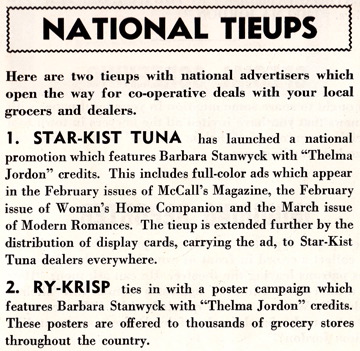 I don't know what Ry-Krisp is but Barbara Stanwyck could persuade me to buy it!
---
The 143rd Soundtrack of the Week is James Horner's Star Trek III: The Search for Spock.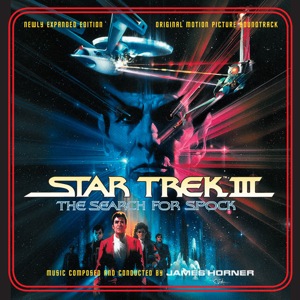 Apparently director and star Leonard Nimoy wanted his friend Leonard Rosenman to compose the music for this but somebody managed to convince him that Horner, who had scored Star Trek II: The Wrath of Khan, was needed to bind the two movies together. (Rosenman would score Star Trek IV: The Journey Home, also directed by Nimoy.)
It's not fair to say that Horner's score for the third Star Trek movie is better than his score for the second. Horner's music for Star Trek II had to stand mostly on its own—it effectively incorporated Alexander Courage's theme for the Star Trek series but couldn't make use of anything Jerry Goldsmith had composed for Star Trek: The Motion Picture—while Star Trek III has the advantage of building on Horner's Star Trek II music.
Horner's Star Trek III score is a brilliant sequel; the movie itself, not so much. Excited by Khan's success, the filmmakers piled it on a bit too thick, adding one too many big moments. And while casting Judith Anderson as a Vulcan was a brilliant idea, the character of Saavik doesn't survive recasting. And it's very disappointing that Uhura doesn't go with them.
But the music couldn't have been better. From the alternately rousing and poignant "Prologue and Main Title", with its quotes from Courage's Star Trek theme, we go straight into the intense and percussive "Klingons", of which the second half is a theme for the Enterprise which comes close to the grandeur of Khan's "Enterprise Clears Moorings".
Horner's music is so perfect for the characters and their world that certain phrases make me smile as they so clearly recall Kirk or Spock. "Spock's Cabin" is appropriately otherworldy and quotes the "Spock" theme from the previous movie. "The Klingon's Plan" combines the menace of the Klingons with the beauty of the Genesis project and Courage's Star Trek theme.
Spock's theme returns for "The Mind-Meld". "Stealing the Enterprise" is almost nine minutes long and is like a condensed version of the whole score. It features the blaster beam, the electronic instrument invented and played by Craig Huxley. (He played it in the scores for the first two movies and appeared as a child actor on two episodes of the Star Trek TV series.)
"Returning to Vulcan" is a highlight of the album, a sweeping and swelling piece of music that builds and builds before slowly falling down to melancholy horn figures. The music is presented mostly in big chunks, a 6:30 "Prologue and Main Title", a 5:59 "Klingons", "Stealing the Enterprise" at 8:41, and a 6:19 "End Titles" that seamlessly combines many of the themes.
After this comes ten and a half minutes of source music, a muzak combo (with electric bass and electric piano) performing intentionally cheesy renditions of "That Old Black Magic", "Tangerine" and "I Remember You".
But that's only the first CD, the original soundtrack recording. There's a second CD that presents the album release. It has nine tracks, of which four are alternate takes of music used in the film.
The truly unique part of the album is the last cut, a pop/dance version of the main theme with drum machines and 80s synth sounds. Hey, you never know. It could have been a hit.
---
The Library of American Comics has released many beautiful volumes in the last several years, but this new Polly and Her Pals collection, a 12" x 16" hardcover that's the first in what they're calling a series of Champagne Editions, is impressive even by the very high standards set by their other books.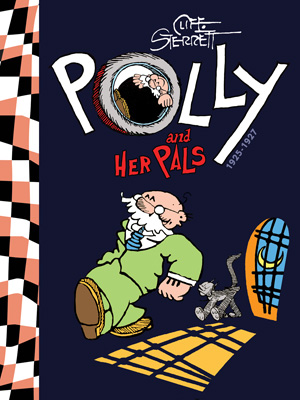 Polly and Her Pals was one of my favorites from the classic Smithsonian Collection of Newspaper Comics. This new collection, the complete color Sunday strips from 1925–1927, with additional earlier material, is astounding.
---
New Tax Bill May Be Needed.
Limited Farm Bill Favored.
Those phrases are like favorite character actors who apear unexpectedly in movies. I look for them in old movies whenever there's a newspaper on the screen.
At first I thought it was just "New Tax Bill May Be Needed".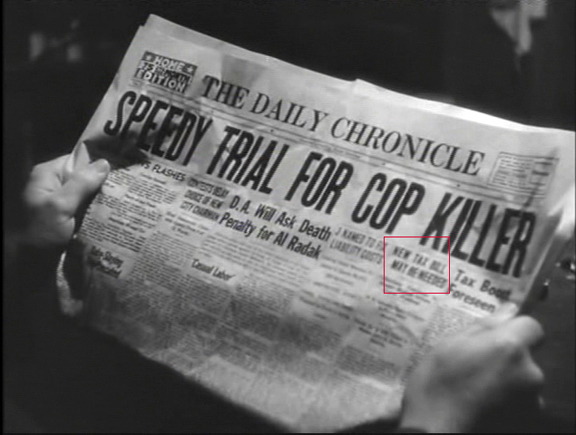 Desperate (1947)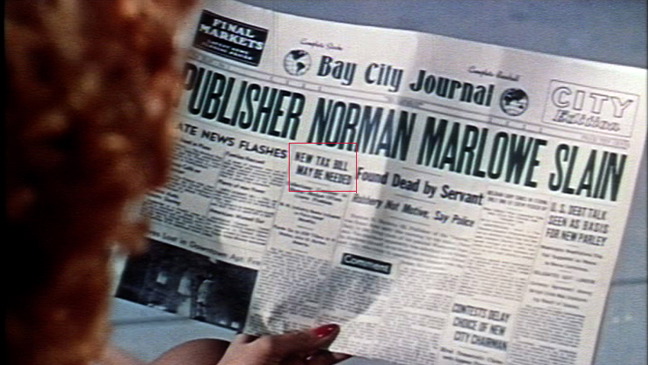 Slightly Scarlet (1956)
But then I noticed that it was often accompanied by "Limited Farm Bill Favored"

The Garment Jungle (1957)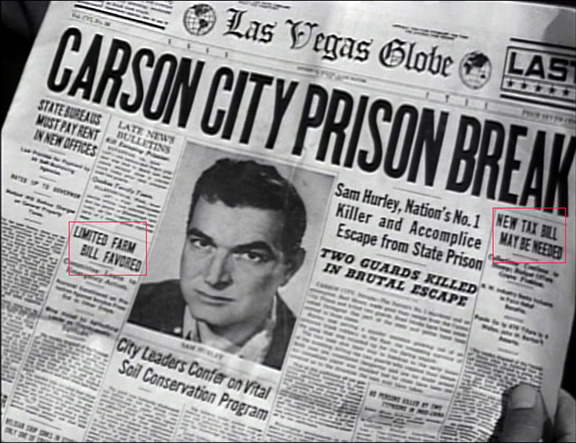 Split Second (1953)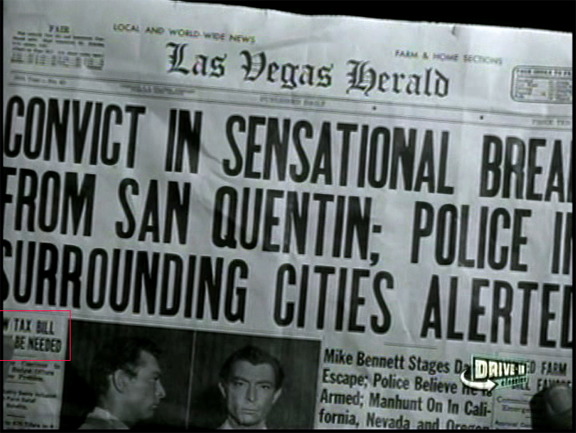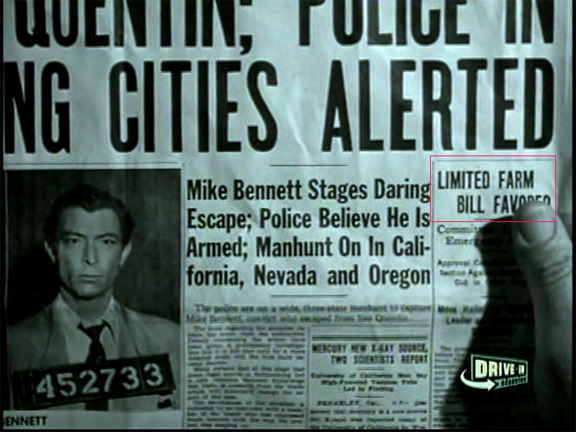 Guns, Girls and Gangsters (1959)
Sometimes "Limited Farm Bill Favored" appears by itself.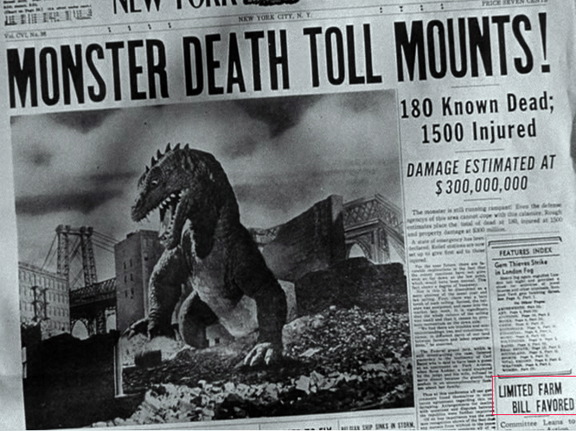 The Beast from 20,000 Fathoms (1953)
I admire these headlines. A new tax bill may always be needed; a limited farm bill is, I presume, always favored.
One of these days I'd like to research this tiny piece of film history. Were "New Tax Bill May Be Needed" and "Limited Farm Bill Favored" real headlines from real newspapers? Which newspapers? When? What was the first movie to use them? How many movies have they been in?
---
The 142nd Soundtrack of the Week is, I think, the last Nico Fidenco Emanuelle score, La Via Della Prostituzione (a.k.a. Emanuelle and the White Slave Trade).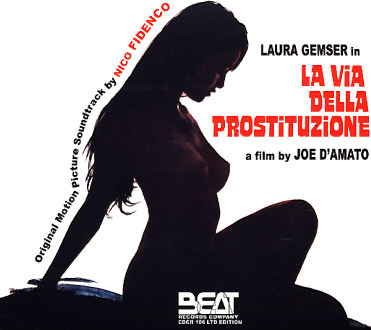 It starts out with an agressive yet jaunty disco song, "Run Cheetah Run", sung by male vocalist. "A Modern Reportage" has a similar disco feel and what sounds like an electric accordion.
This is followed by a track called "Sweet Disco Funky". This one has a cool chorus singing wordless vocals accompanied by disco strings and wah-wah guitar. Some of the melody sounds like a derivation of "Emanuelle's Theme".
"Dee Doom Bee Doom" brings back Fidenco's beloved hand percussion and flute. There are also some chirpy electric keyboards and more strings. "Ayaboha" is an African-sounding tune with chants, whistles and hand drums. "Performing Joy" features some weird keyboard sounds, moaning vocals and strings over a dense percussion ensemble groove.
"Too Much Again" sounds like a love theme with heavenly keyboard playing on top of a borderline-sleazy bass and drums part. "Too Much Piano" is basically the same but with electric piano and saxophone.
"Heartbeat" is another disco instrumental. "Red Room" takes the disco beat and adds some spooky sounds to it. "Lady Surprise" is another disco groove with some unusual electronic sounds on top.
"Reporter in Action" sounds like a follow-up to "Emanuelle's Theme". "Lady Fighting" is fast disco with stabbing strings and stings from keyboard and percussion. "Strange Hospital" is an atmospheric cue with bass, hand percussion and flute.
The last track, "Laundry Van", begins as a tense workout for electronic keyboards, then explodes when the rest of the ensemble comes in.
---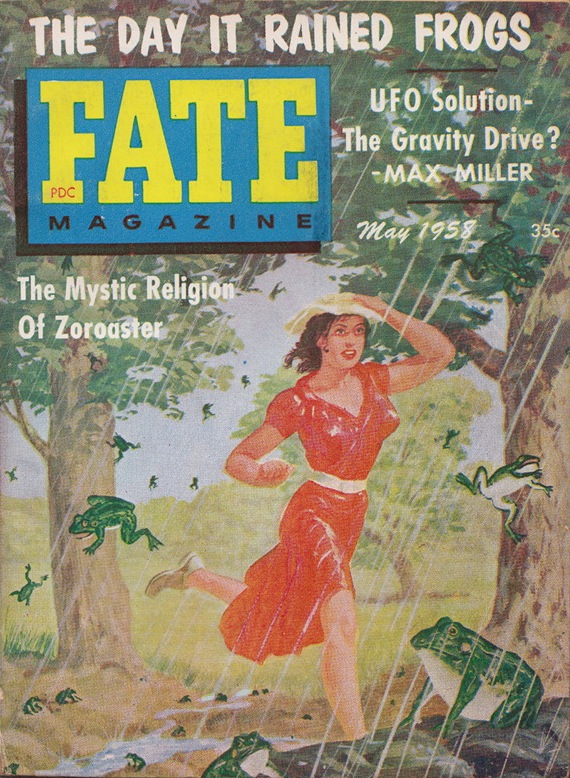 ---
Comics featuring dinosaurs have occupied a prominent place in my reading recently. Where to begin?
Perhaps my favorite is this recent collection of Mark Schultz's Xenozoic comics, which originally came out in the 1980s.(As always, I apologize for the poor image quality. I take pictures of the books with my camera, which is really not the best way to demonstrate their virtues.)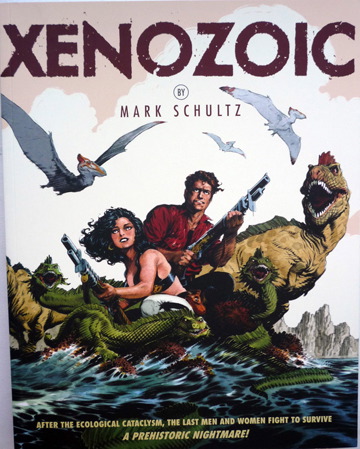 It takes place in the future, the 30th century, I think, after nuclear war and environmental disaster have wiped out most of humanity. Now we have to share the earth with dinosaurs, giant insects and other monsters.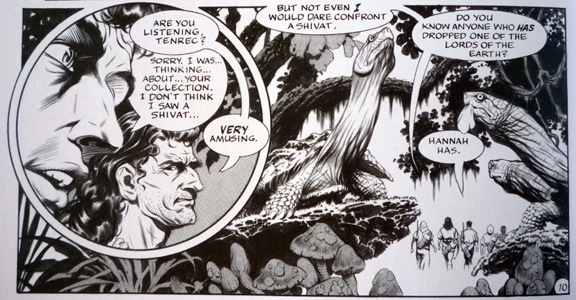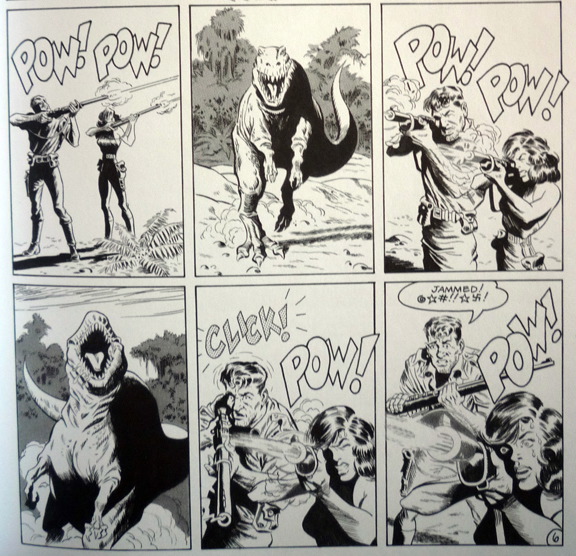 The two main characters are Jack and Hannah, who are friends, comrades and lovers. Jack is a mechanic dedicated to preserving nature's balance while Hannah is a scientist and scholar who will risk anything to acquire knowledge.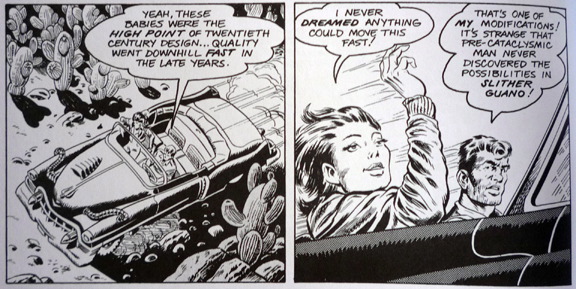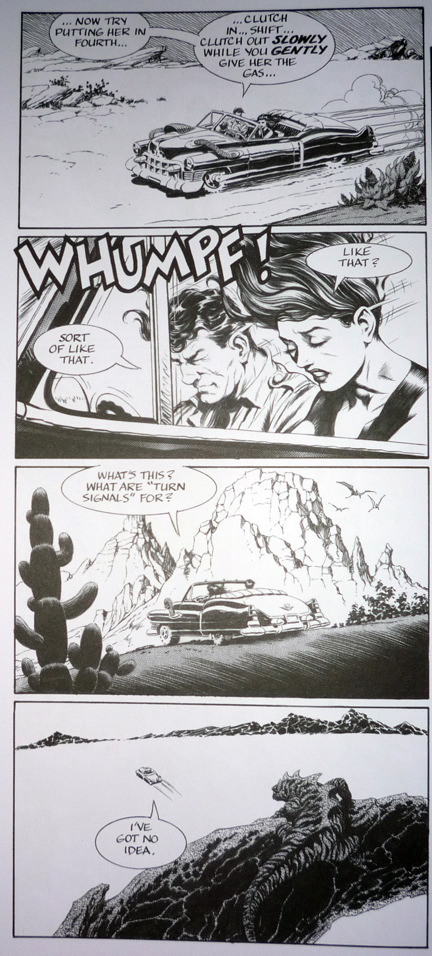 It's like a cross between Leigh Brackett's The Long Tomorrow and Modesty Blaise if written by Edgar Rice Burroughs!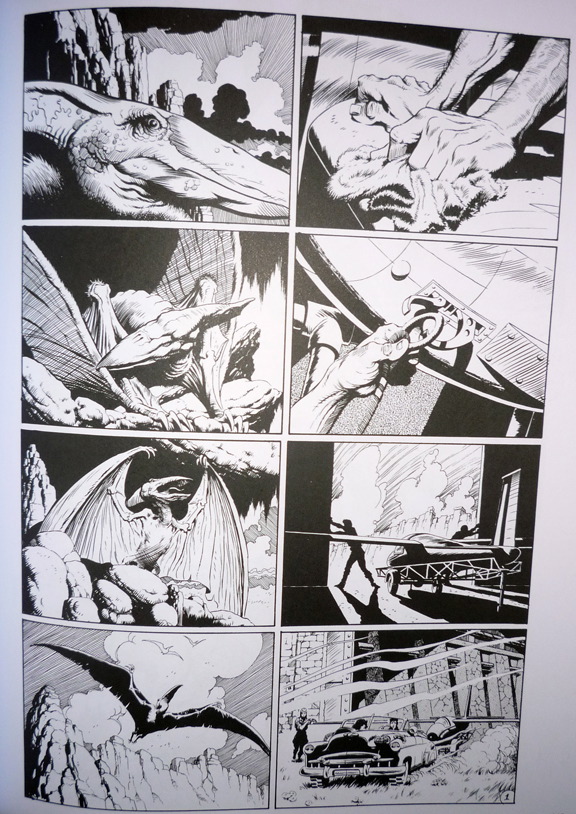 A story arc gradually develops and reveals that the future has the same sort of problems with corruption and abuses of power that the past had. Humans might learn from their mistakes but forget what they learned after a few millennia. The conclusion of this first volume left me in suspense. I hope the next book comes out soon!
Another intriguing new title is Pterodactyl Hunters in the Gilded City, a comic in newspaper's clothing.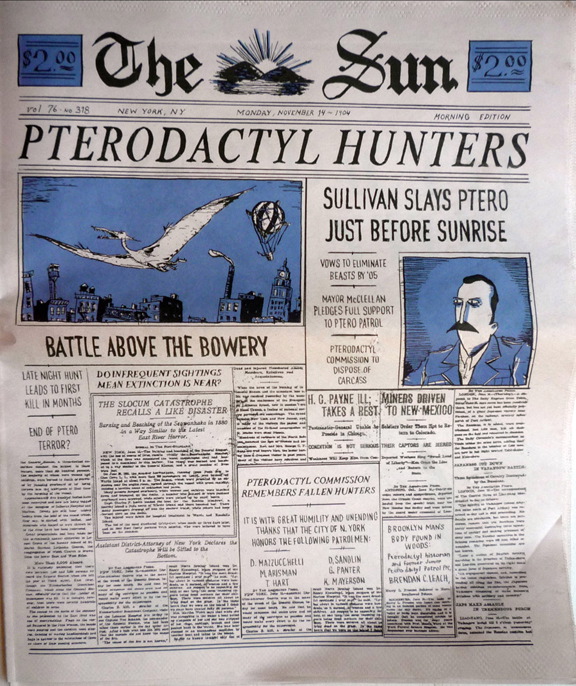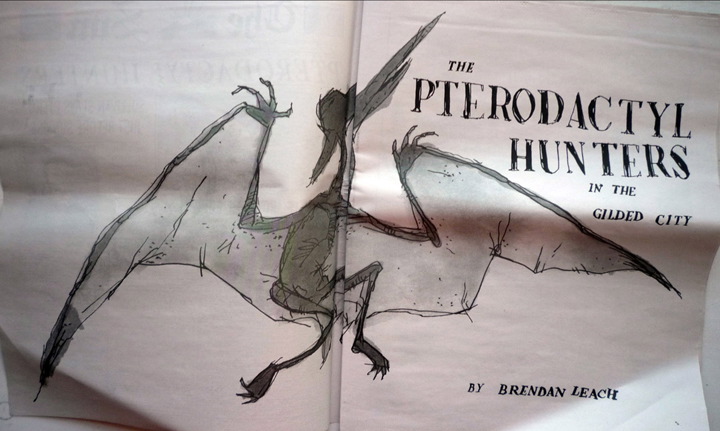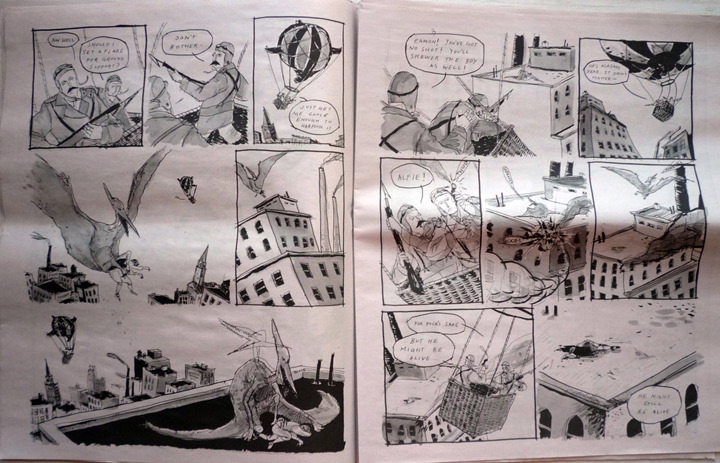 This story of a New York City infested with pterodactyls in the first decade of the twentieth century is really well written and illustrated. Where's the next one?
From France comes the first book in Jacques Tardy's The Extraordinary Adventures of Adele Blanc-Sec series, which has apparently been made into a movie by Luc Besson.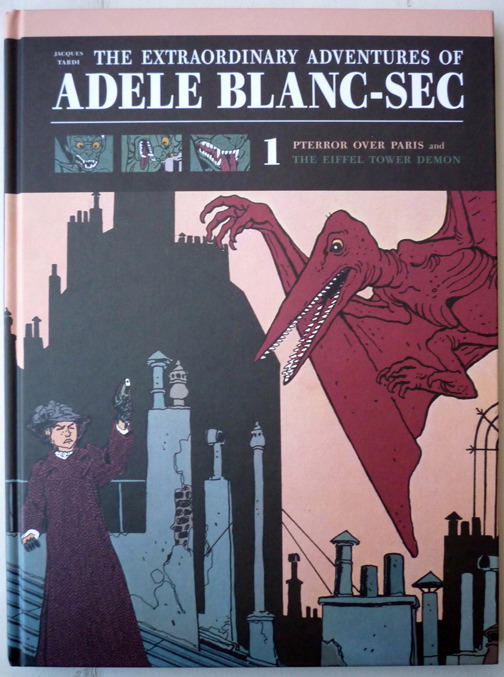 It gets off to a great start, with the hatching of a pterodactyl egg and various other inexplicable events.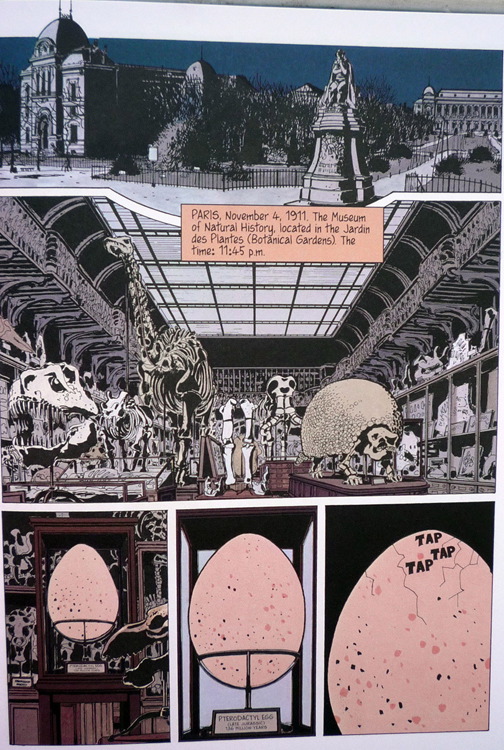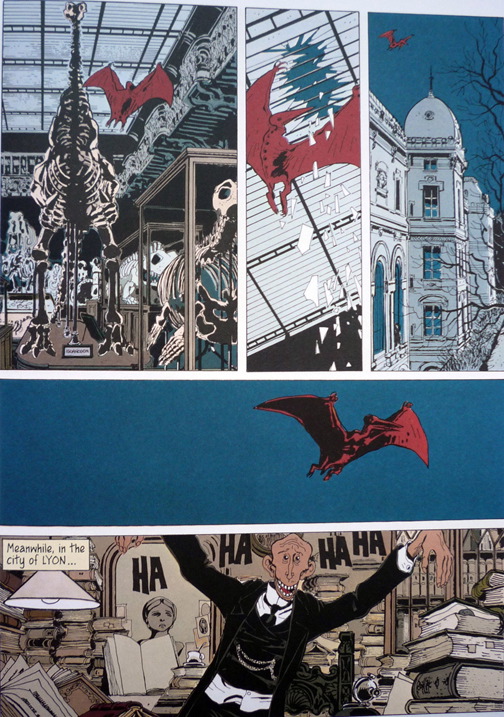 More dinosaurs appear in an eerie dream sequence.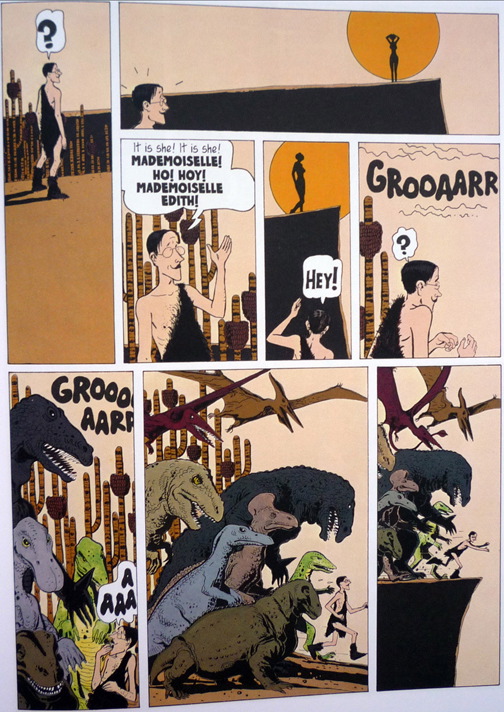 As much as I liked the idea, the first story didn't come together for me. The plot was either too convoluted or simply not effectively presented. It's not clear what's going on until the last few pages, when Tardy dumps buckets of exposition and explanation on the reader.
Perhaps I was too tired when I read it and I should give it another chance. I can, however, recommend without reservation Jacques Tardy's It Was the War of the Trenches, a graphic novel about soldiers in World War I.
While I thought I noticed allusions to Herge and Tintin in Adele Blanc-Sec: Pterror Over Paris, it occurred to me later that I should be reminded more of S.O.S. Meteors by Edgar P. Jacobs.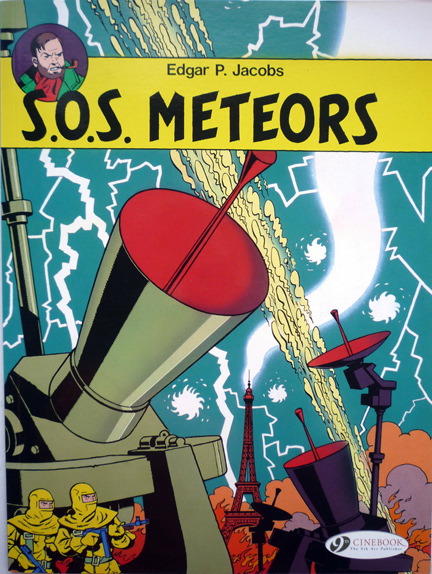 It also has a great story idea, great atmosphere and so on, but it also gets bogged down in exposition and too many interchangeable characters. Check out how much text there is in these pages.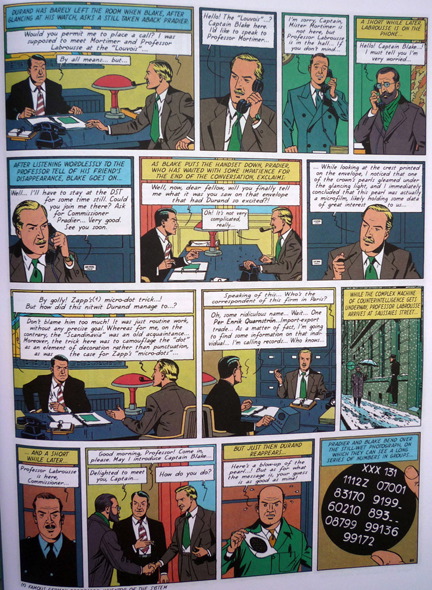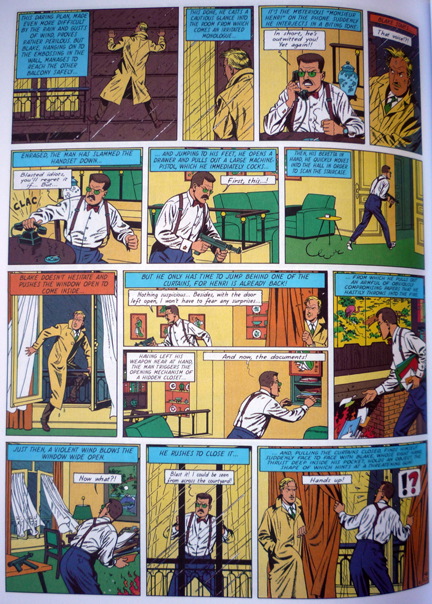 The idea of a panel without words must have seemed like some kind of crazy art experiment to Jacobs. I love his use of color, though. That's the only of his books I've read. Maybe there's one with dinosaurs in it.
Finally there's The War That Time Forgot.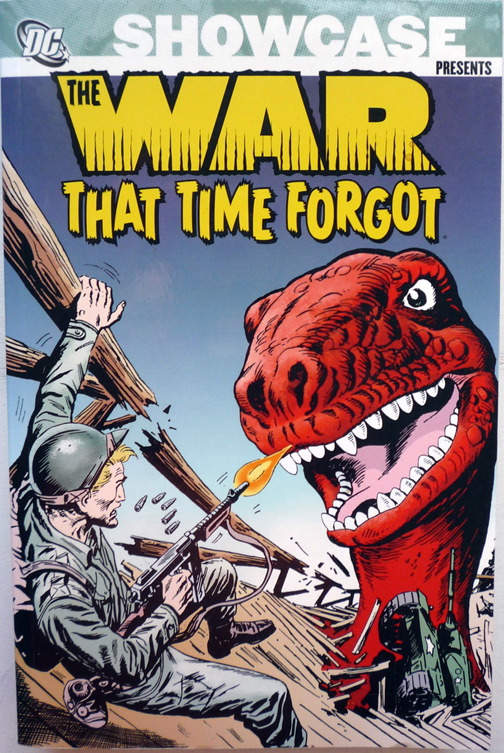 The high-concept idea is that during World War II, United States soldiers find themselves on an uncharted island overrun by dinosaurs. Like Edgar P. Jacobs, the creators of The War That Time Forgot won't show without also telling, but at least they offer almost constant monster action.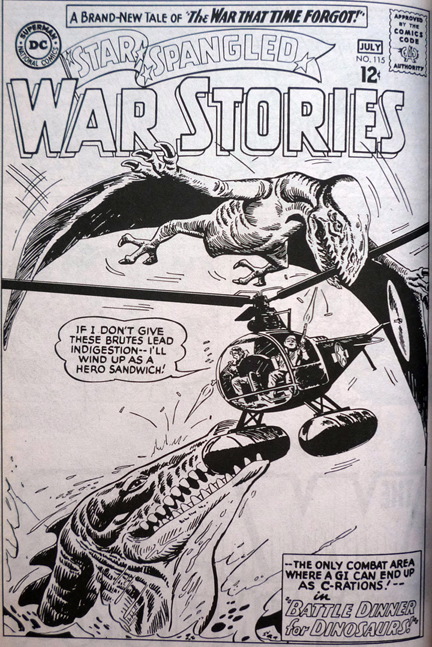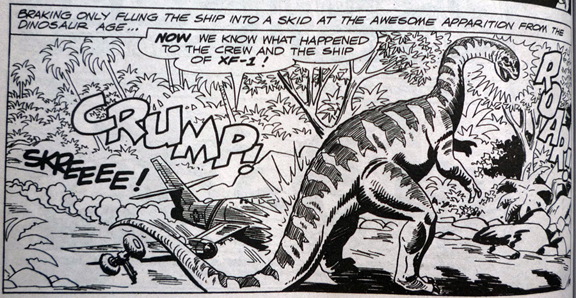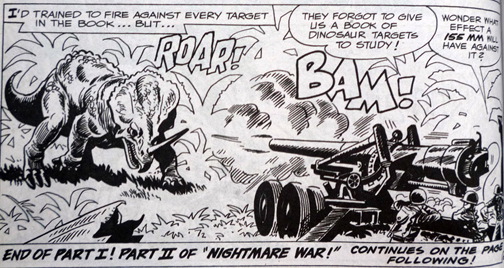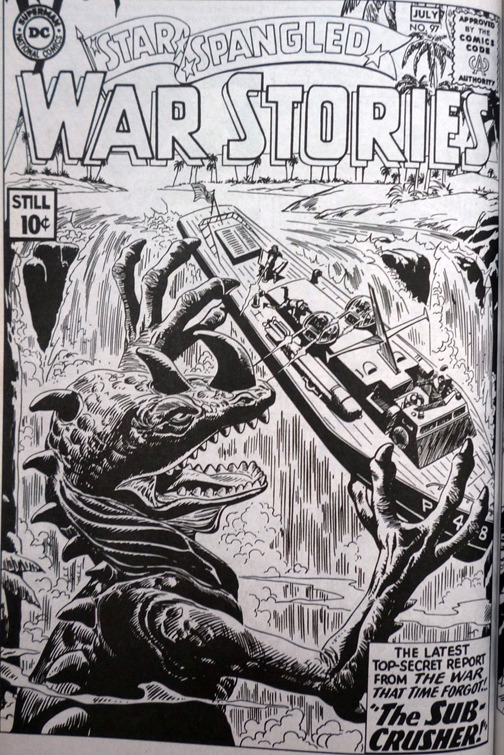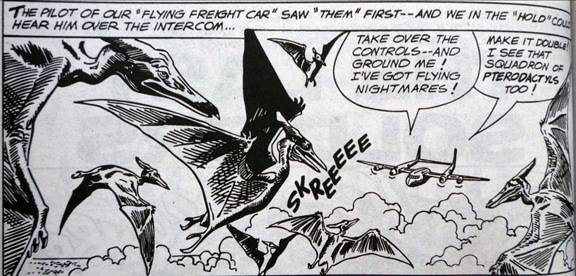 They throw in some robot soldiers, too, just to keep you on your toes.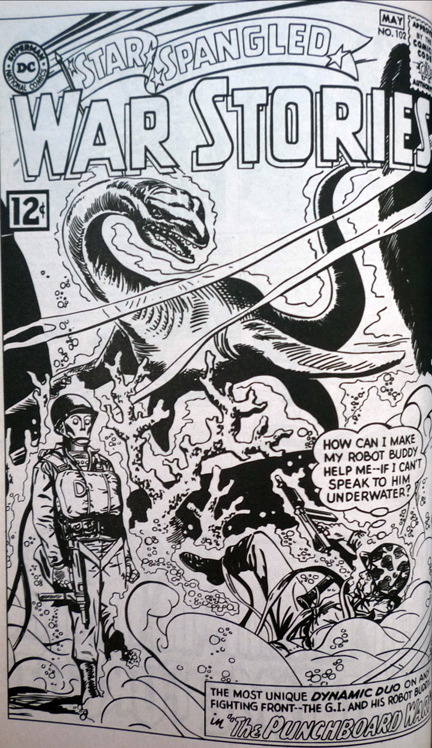 ---