2010 December 27 • Monday
The 145th Soundtrack of the Week is this CD of two spaghetti western scores, Dio Perdoni La Mia Pistola and Anche per Django Le Carogne Hanno Un Prezzo by Bulgarian composer Vasco Vassil Kojucharov.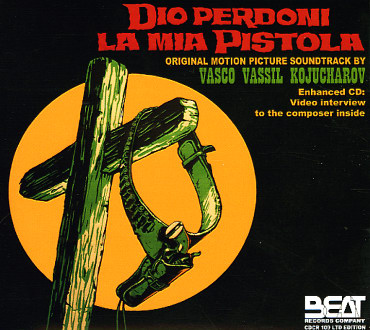 Dio Perdoni La Mia Pistola begins with a vocal number, "A Man Called Texas". It's almost like a Morricone mutation of Dmitri Tiomkin's theme from Gunfight at the O.K. Corral.
This theme comes up again and again, first played by solo harmonica then solo guitar. Various ensemble versions of it follow. There are some impressive percussion jams with strings in the background as well as some straight dramatic, comedic and suspense cues.
Anche per Django Le Carogne Hanno Un Prezzo works out one Morricone-like theme with various instruments taking the lead and also has some effectively moody, tense and atmospheres created by sustained tones (strings and organ), sparse percussion and some great electric guitar sounds (fuzz and reverb).
Both scores are really good. I'd like to hear more of Kojucharov's work.
---