2010 December 06 • Monday
The 142nd Soundtrack of the Week is, I think, the last Nico Fidenco Emanuelle score, La Via Della Prostituzione (a.k.a. Emanuelle and the White Slave Trade).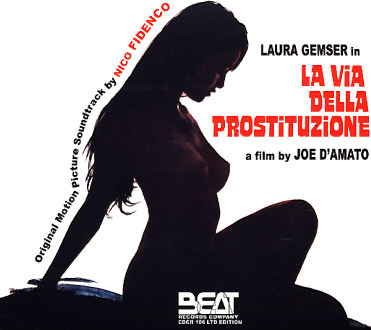 It starts out with an agressive yet jaunty disco song, "Run Cheetah Run", sung by male vocalist. "A Modern Reportage" has a similar disco feel and what sounds like an electric accordion.
This is followed by a track called "Sweet Disco Funky". This one has a cool chorus singing wordless vocals accompanied by disco strings and wah-wah guitar. Some of the melody sounds like a derivation of "Emanuelle's Theme".
"Dee Doom Bee Doom" brings back Fidenco's beloved hand percussion and flute. There are also some chirpy electric keyboards and more strings. "Ayaboha" is an African-sounding tune with chants, whistles and hand drums. "Performing Joy" features some weird keyboard sounds, moaning vocals and strings over a dense percussion ensemble groove.
"Too Much Again" sounds like a love theme with heavenly keyboard playing on top of a borderline-sleazy bass and drums part. "Too Much Piano" is basically the same but with electric piano and saxophone.
"Heartbeat" is another disco instrumental. "Red Room" takes the disco beat and adds some spooky sounds to it. "Lady Surprise" is another disco groove with some unusual electronic sounds on top.
"Reporter in Action" sounds like a follow-up to "Emanuelle's Theme". "Lady Fighting" is fast disco with stabbing strings and stings from keyboard and percussion. "Strange Hospital" is an atmospheric cue with bass, hand percussion and flute.
The last track, "Laundry Van", begins as a tense workout for electronic keyboards, then explodes when the rest of the ensemble comes in.
---