Here are two photos from when Chris Cawthray and I played as a duo at Otto's Shrunken Head last March. I'm not sure who the photographer was.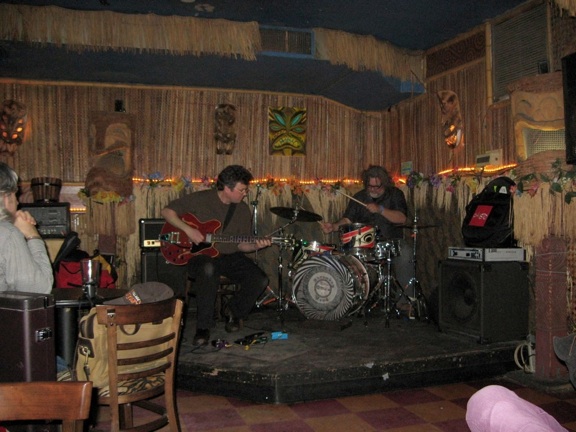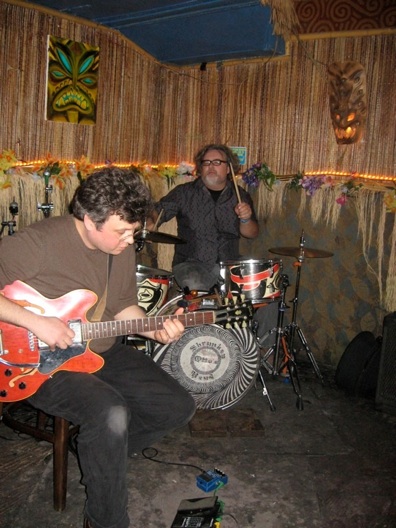 ---
The 119th Soundtrack of the Week is White Lightning by Charles Bernstein.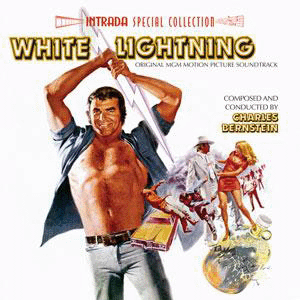 It starts slow, with electric bass guitar and percussion. Then come dobro and cello. There's a ton of reverb. Spooky electronic keyboard comes in, then jaw harp. It's a fantastic piece, accompanying a murder scene in a swamp.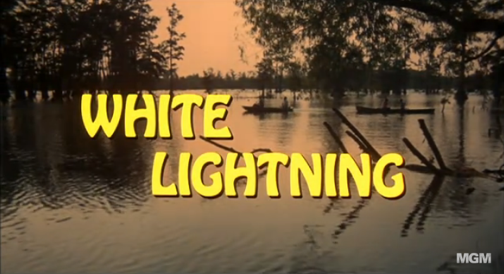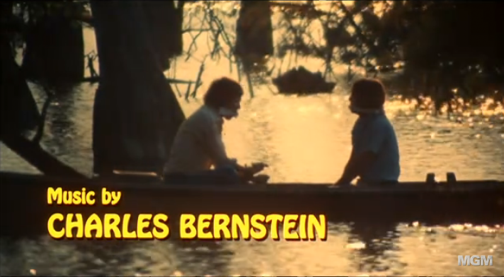 I guess the idea for White Lightning was basically Get Carter in the bayou. Seems reasonable enough to me. Burt Reynolds is Gator McKlusky, an ex-con out to get the corrupt sheriff who killed his brother.
I started to watch it on hulu but got annoyed by the MGM watermark and the commercial interruptions. Hulu thinks that if you like White Lightning, you'll also like Vigilante Force.

They're probably right.
Reynolds returned as Gator in the movie Gator, which he also directed.
Charles Bernstein's soundtrack is one of my favorite CDs. After the languid "Main Title" comes "Escape & Hound Chase". The first half is pensive and the second half is an explosion of banjo and harmonica with orchestral background.
"Love Feelings" almost has a John Barry sort of feel in its arrangement of piano and strings. "Evasive McClusky" starts with drums playing really fast, then in come horns and other instruments playing a swirling motif that's ocassionally punctuated by a rocking back beat.
"Sheriff Menace" echoes the main title music, particularly in its electric bass guitar part. "Running the Cops Around" is an uptempo sort of bluegrass number with violin lead and awesome drumming.
"Remembering a Brother" brings out pedal steel guitar for maximum melancholy. "Funky Road" starts as a pretty slamming funk track before shifting gears into the main title mood again.
"'Finger Pickin' Good'" is another high-stepping bluegrass kind of tune, perhaps source music. "The Barge/In the Stix" starts with solo blues harmonica, then returns to the atmosphere of the main title.
"Skinny Dip" begins with a reprise of "Love Feelings" then builds on it to make a more complex piece. "Run Around Too" is another great action cue, similar to "Running the Cops Around".
"Scary Bear's Still" prominently features the jaw harp and is another impeccable 1970s funk-action-suspense piece. "'Slip 'n' Slide' & 'Lap It Up'" are also probably source music cues like "'Finger Pickin' Good'"
"Fight at Bear's Still" is something completely different, a rhythmically dense piece with piano and drums competing for your attention. It's most likely for the climax of the picture.
The CD ends with two songs, "Way Down Under" and "White Lightning Ballade", both sung by Jerry Whitman. "White Lightning Ballade" wasn't included in the finished film.
---
Special announcement: Patrick Carayannis's avant-ska masterpiece is available for download!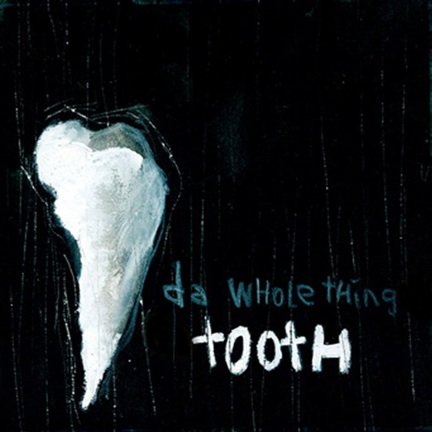 I play guitar ("supersonic noise guitar") on a couple of tracks and am singing (uncredited, I think) in the chorus of another.
Read a bit about it here then buy it!
---
The recent release of The Goon Show Compendium Volume 4 inspired me to start listening to The Goon Show Compendium Volume 1. (The recent release of Walt and Skeezix Volume 4 had a similar effect on me.)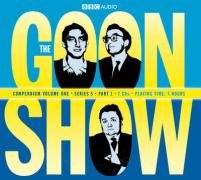 The first episode on the first disc is "The Whistling Spy Enigma" (broadcast September 28, 1954), which begins with one of my favorite Goon Show lines: "The crimes you are about to hear have all been specially committed for this program".
Captain Harry Seagoon (Harry Secombe) reports to Lance Brigadier Hercules Grytpype-Thynne (Peter Sellers), who tells him that "throughout the civilized world—and America—British prestige has fallen very low" because of Britain's defeat by the Hungarian football team.
To make sure that Britain wins its next football match against Hungary, Seagoon is entrusted with "Operation Explodable Boot". His first move is to go to Budapest and meet another agent by whistling the "Hungarian Rhapsody"—in English.
Seagoon objects that there are thousands of Hungarians who can whistle in English fluently and, besides, he can't whistle. So Seagoon and idiot whistler Eccles (Spike Milligan) get another tune from Henry Crun (Peter Sellers) and Minnie Bannister (Spike Milligan).
There's a brilliant routine at Crun and Bannister's house involving an unlocked door and a locked window. It would be pointless to try to explain it here.
Crun goes with Seagoon and Eccles to Hungary where they encounter Major Dennis Bloodnok (Peter Sellers). Seagoon explains that he's being followed by "the Hungarian highly skilled, mysterious, secret anti-whistling police". Here's some typical dialogue.
F.X. FOOTSTEPS ON STAIRS.
SEAGOON: Can you hear those highly skilled, mysterious footsteps coming up the highly skilled, mysterious stairs?
BLOODNOK: No.
SEAGOON: Neither can I.
BLOODNOK: Well, we'd better start hearing them soon or it'll be too late.
SEAGOON: You're absolutely right. It must be a highly skilled, mysterious enemy.
BLOODNOK: Of course. The moment he enters the room, strike him down with something.
SEAGOON: Right. Hand me that piano.
BLOODNOK: That's no good, it's out of tune.
SEAGOON: Curse! Never mind, hand me that 600-foot factory chimney in the corner.
BLOODNOK: No, no, not that, it's my last one!
Seagoon fights with Moriarty (Spike Milligan) then meets the other agent, who turns out to be Bluebottle (Peter Sellers) They go to the stadium to put dynamite in the Hungarian football team's boots. I won't ruin the surprise ending.
Harmonica player Max Geldray performs "When You're Smiling" and Ray Ellington sings "ABCs with Rhythm and Ease" with his quartet.
Mere plot description and quoted dialogue cannot do justice to the humor of the Goon Show, in particular its use of music and sound effects. Here's one example: You hear the sound of bagpipes for a few seconds, then a loud explosion, then the sound of clucking chickens for a few seconds. Then Henry Crun says, "Answer that phone". (Spike Milligan invented the ringtone!)
A different, later performance of "The Whistling Spy Enigma" was professionally filmed and you can see it on YouTube! (It's in three parts.)
---
The 118th Soundtrack of the Week is Film India, a CD of music from films by Satyajit Ray, Norman McLaren and Jean Renoir. The composers are Ravi Shankar and Ustad Vilayat Khan.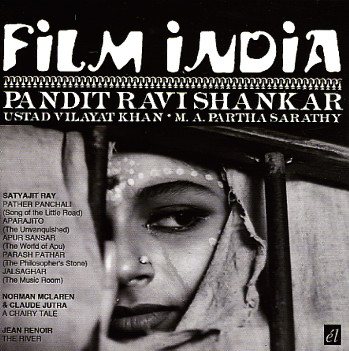 The first three tracks present about 21 minutes of music from Ray's famous Apu trilogy: Pather Panchali (Song of the Little Road, 1955), Aparajito (The Unvanquished, 1956) and Apur Sansar (The World of Apu, 1958). By turns mesmerizing and pulse-quickening, the music is urgent and hypnotic. The isntruments include sitar, tambura, violin, flute, tabla and other percussion.
This is followed by a short piece of music from Ray's comedy Parash Pathar (The Philosopher's Stone, 1958). It's lighter in mood, almost like a children's song.
The other Shankar contribution here is the music he composed for A Chairy Tale (1957), a 10-minute film without dialogue about a man who has trouble sitting on a chair. You can see the whole movie on YouTube here.
It's a fun movie! Shankar's score is roiling and upbeat with very impressive tabla playing.
After this come seven tracks of Ustad Vilayat Khan's music for Satyajit Ray's Jalsaghar (The Music Room, 1958). It begins with an ominous wall of sound. Sitars come in with piercing lines as the fog of the other instruments continues to cloud the background.
Most of the other pieces are simpler and plaintive, making use of languid vocal lines and swirling musical atmospheres. "Return to the Present" has a surprising bluesy swing quality to it. "The Madness and End of Biswambhar" is frightening and suspenseful.
The remainder of the CD gives us nine relatively short pieces of music by Khan for Jean Renoir's Le Fleuve (The River, 1951). It begins with chanting, percussion and flute ("The River Song") and a solo voice piece ("The Boatmen's Song").
"Pastorale" opens with a flurry of percussion before violin and flute come in with a spinning sort of melody. "Women's Diwali Song" is a group of female vocalists, no instruments. "Marriage Music" has a beat that I swear I've heard Joey Baron play a number of times.
---
In his book In Defence of the Enlightenment, the Bulgarian-French philosopher Tzvetan Todorov sees the Englightenment's enemies — obscurantism, arbitrary authority and fanaticism — as hydra heads that keep growing back because they draw their strength from ineradicable human traits. People will defend members of their group rather than subscribe to universal values. They need security and comfort no less than freedom and truth. Todorov sees the desire for power, which leads to violence, as no less characteristic of our species than the capacity for rational argument.
—Malise Ruthven, The Times Literary Supplement, May 21, 2010
---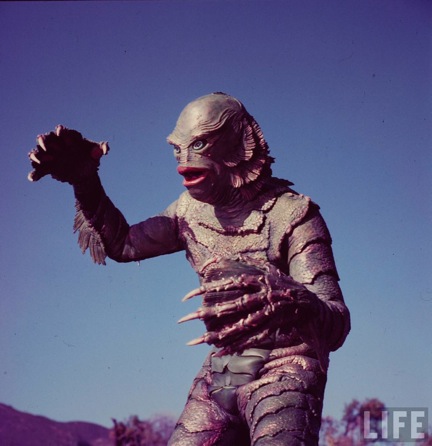 Via Steve Bissette's blog, I found my way to these unpublished color photos of The Creature from the Black Lagoon, taken for Life magazine. They're color corrected but there's a link to the original images.
---
The 117th Soundtrack of the Week is Toru Takemitsu's music for Kawaita hana (Pale Flower). Takemitsu is one of my favorite composers and way overdue for a Soundtrack of the Week.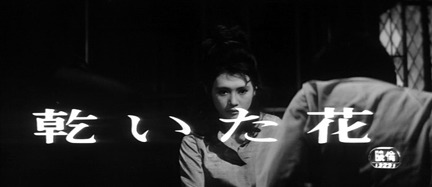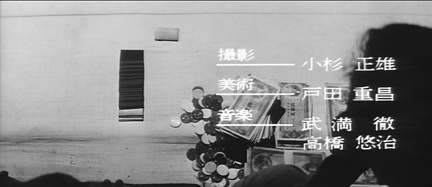 Takemitsu's name is the second from the bottom. The last name is Yuji Takahashi, a pianist and composer who apparently collaborated with Takemitsu on the score.
The music for Pale Flower is included in the third of five box sets that make up the Complete Takemitsu Edition, presumably everything Takemitsu ever did. The CDs are accompanied by beautiful hardcover books that I should really try to translate into English someday.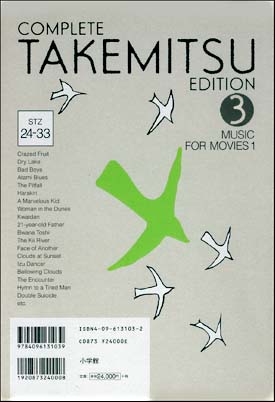 Part of the reason it's taken so long to have a Takemitsu score here is that I have to dig the music out of this box.
Takemitsu never over-composed for any film, as far as I know, and there are only 14 minutes of music for Pale Flower. The first cue is for deranged, rattling percussion—tap dancing, Latin percussion, castanets, etc.—with wailing horn blasts that slide down in pitch, suggesting the Doppler effect.
The second cue has more of the same unsettling percussion with long tones from wind instruments. The third cue, a little over a minute long, has sparse percussion with sharp horn attacks. Eventually several horns play at once in a dizzy, free jazz orchestra sort of way.
The fourth cue is only 26 seconds long and features contrabass and more dissonant horn ensemble playing. The fifth cue is only 15 seconds but has a cool bit of avantgarde steel guitar, courtesy of Backy Shirakata.
Track six is a bonafide song, done in lounge piano trio style. It's a bit similar to "Begin the Beguine" and "Laura", I guess. Track seven is more jazz piano trio but in an upbeat, postbop idiom. Great playing.
The eighth cue is about a minute long, and consists of wordless vocals by solo male voice. There's a lot of reverb, probably from whatever room it's recorded in, and is pretty interesting. The liner notes suggest that the voice belongs to Takashi Fujiki, who might remind you a bit of Makigami Koichi here.
Track nine brings back the percussion, horns and steel guitar for a cue that begins sparsely but builds in density and intensity. It's similar to the other cues with the same instrumentation. Track ten is only 17 seconds long and begins with a Doppler effect horn blast. Atmospheric percussion and a drone finish the cue.
The eleventh and final track begins the same way as track ten but features the contrabass, soloing in something of a free jazz style before the horns come in again.
The music was performed by the Yomiuri Nippon Symphony Orchestra, conducted by Yasushi Akutagawa, a great composer himself. (One of his scores was the ninety-second Soundtrack of the Week.)
Pale Flower is a really interesting movie, part of the Japanese New Wave in the 1960s. It's sort of a nihilistic gangster movie, directed by Masahiro Shinoda. The black-and-white, widescreen photography is beautiful.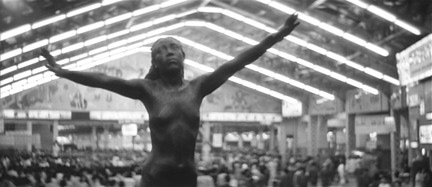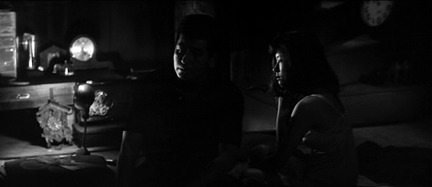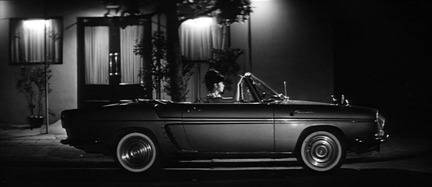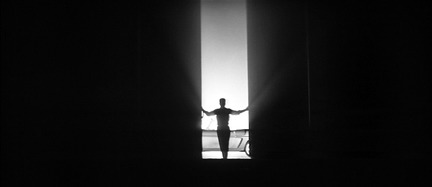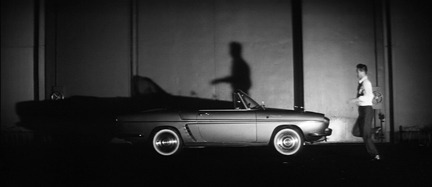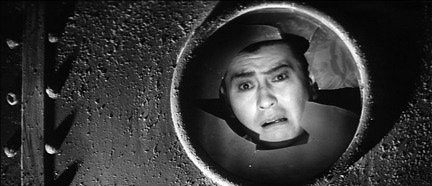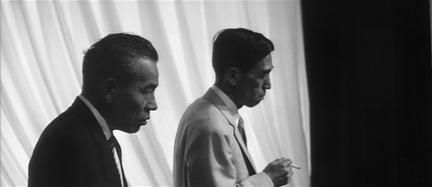 In addition to Takemitsu's score, a Muzak version of "Now or Never" is heard in the film. The same song was used as a recurring theme by Masaru Sato in his wonderful score for Kihachi Okamoto's brilliant and bizarre Satsujin kyo jidai (Age of Assassins).
---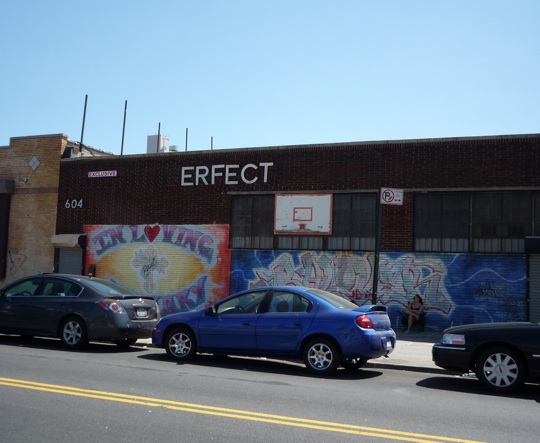 ---
This is the story of the second World War—the conflagration kindled by the world's unrest and fanned into flame by one man's ruthless ambition to become the master of mankind.
Perhaps that story sounds familiar. The next and last line of that preface, however, is "Beginning a powerful novel of Fascism tomorrow".
The story is Frederick C. Painton's The Invasion of America, a novel that was serialized in six issues of Argosy magazine ("Adventure—Romance—Mystery") in 1938. The first installment appeared in the July 16 number.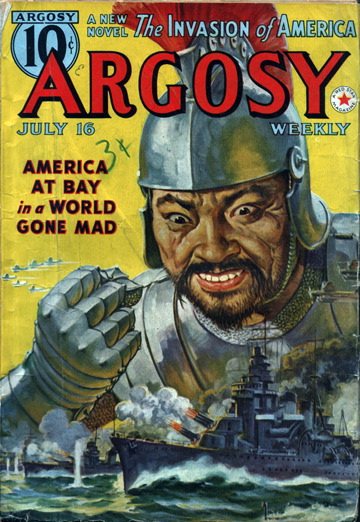 Spoiler alert! Dozens of spoilers ahead!
The "one man" with the "ruthless ambition" is a wealthy American named John Hannibal, a veteran of World War I whose "head always ached; it had never stopped since that moment in 1918 in the Argonne Forest when, leading an attack on a machine gun, the world had blown up in his face. It would never stop until he died; the doctors said that". The more painful Hannibal's head aches, the more clearly he thinks.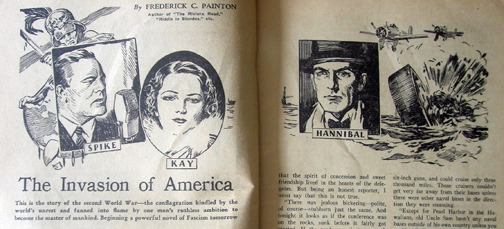 World War I was, I thought, known in 1938 as The Great War or The War To End All Wars, but its sequel was apparently anticipated. "'Hannibal fought the last World War as a captain,'" says popular American radio journalist Spike Brenn. '"He'll probably be a general in the next.'"
The name Hannibal is suggestive, as is the fact that Hannibal's house in Belgium is "where once Madame Sévigny had entertained Napoleon". In the first part of the novel, we learn of Hannibal's international organization, the Steel Fists. Spike Brenn and milionaire David Farnham, president of American Motors, deduce that Hannibal's goal is to establish a fascist dictatorship in South America.
Since the United States is bound by the Monroe Doctrine to protect the South American countries, the Steel Fists must get the US out of the way somehow. "It's just another Fascist pipe dream," declares Brenn. "We've got the Atlantic Ocean. No European power or combination of powers excepting England could fight our fleet."
What if the American navy concentrates all of its forces in the west, and then a European coalition attacks from the east? This appears to be the plan, with a third blow struck from within, in the form of a workers' revolt. (The "League of Unemployed" is the Steel Fists' American cell.)
Hannibal's first move is a false flag operation in which a bomber with American air-force insignia destroys a Japanese battleship in Manila harbor. The Japanese Crown Prince and his new wife, arriving on the battleship as part of a friendly diplomatic visit to an American official in the Philippines, are among those killed.
Hitler's reaction is that "'Japan has no recourse but to wipe out this stigma by blood, and any policy she pursues will have our ardent sympathy'". Mussolini declares that "'The upstart of the west should be punished and a bitter lesson administered. Now is the time for the Japanese to prove their world power'".
As for the American reaction, Farnham notes that "'The president wants a second term. With a war on he'll be voted back into office.'".
Kay Carstairs is the other major character besides Brenn, Farnham and Hannibal. Hannibal is in love with her and wants to marry her. Intending to discover not only Hannibal's plans but also if he murdered her brother, she encourages his attentions. The end of the first part finds her with Hannibal on his yacht departing for an unknown destination; at the same time Japanese battleships seize Manila, destroying the naval defenses there.
Spike Brenn speaks the last words of the first installment: "'It's here—Hannibal's war'".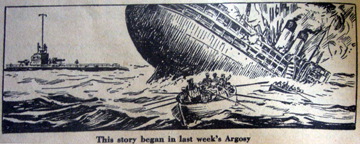 The second part begins with declarations of neutrality in the American-Japanese war from England, Turkey, France, Spain, Belgium, Holland, Norway and Sweden. Ominously there is no statement at all from Germany and Italy.
America and Japan begin to fight a naval war in the Pacific. A shock comes when the Panama Canal is destroyed, presumably by the Japanese. Spike Brenn realizes that Japan didn't do it, "'for two reasons. First, she's not interested in our Atlantic coast. Second, under the Hay-Pauncefote Treaty, Japan had the right to use the Canal even if we were at war with her'".
Brenn guesses that Hannibal is responsible for the attack on the Canal, with the purpose of cutting off the American Pacific fleet as a prelude to an Italo-German attack on the East Coast.
Pearl Harbor is mentioned a few times, but no attack takes place there. One eerie detail is that the first US naval victory mentioned is "the destruction of the Nagasaki Maru". There is a reference to "the fog of war".
In Italy the Steel Fists assassinate Mussolini. In Germany they deliver a coup d'etat in which thousands are killed, including Hitler and Goering. Hannibal's men take over in both countries.
We learn more about Hannibal from Kay Carstairs, still with him on his yacht. He speaks to her of his plan for a new world order, growing more and more excited as he does so. He appears to be an atheist and a firm believer in eugenics.
"I would breed a new class of rulers. I would sterilize the criminals and morons. I would protect our resources and guarantee to the worker, work and old-age security—all they are entitled to."
"It sounds Fascist—and horrible," said Kay. "You would destroy all freedom."
"Freedom! Freedom for what?" Hannibal's blue eyes blazed. "Freedom to destroy the earth's riches that enables us to live? Freedom to breed indiscriminately and make humanity a race of drooling morons?
"There is no real liberty. Liberty now is the right of the strong to prey on the weak as a big fish eats a smaller one. No, my dear, there are more precious things than liberty. There is the goal of enlightened intelligence and finer mankind. There is—"
"You've cut yourself," she interrupted.
He had. In cutting the end of a cigar he had slit his finger. It bled freely. At sight of it a roaring came into his aching head. He staggered and would have fallen but for her aiding arm.
"Wrap it up," he said thickly. "The sight of blood—" his voice choked.
She bound the finger, wondering as she did so at this queer weakness in him. She did not know that the sight of blood aroused sharp, horrible memories of those days in the Argonne Forest in 1918.
At the end of part two, Italian submarines flying no flag attack US ships in the Atlantic, then kill more than 200 people in Connecticut while shelling an airplane factory. Kay Carstairs escapes from Hannibal, who was last seen in New York City, and reaches Spike Brenn with news that the invasion is coming. "'There'll be between two hundred and fifty thousand and a half million soldiers.'"
Italy and Germany declare war on the United States.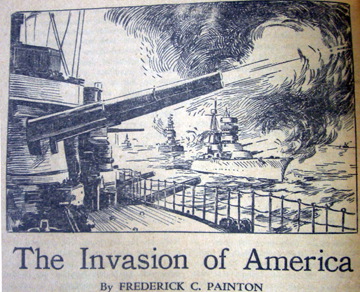 Part three begins with the American Pacific fleet retreating to Pearl Harbor, the bombing of Boston by an Italian plane and Spike Brenn's "laying the groundwork for what must come—suspension of civil rights, declaration of a state of emergency, and the adjournment of Congress with all its powers passed into the hands of the president".
Painton demonstrates his talent for exciting action writing when the American Atlantic flight engages the Italo-German fleet in combat. "Yes, here was the Atlantic battle force, six battleships against nine. They were ready and trained, these battleships and battle cruisers. The wood had been ripped from the steel decks to prevent flying splinters…."
Rear Admiral Dunning must make the most important decision of the war.
If he retreated now, the Italo-German fleet could range the coast, shelling and creating a reign of terror. But if the Germans and the Italians intended to move troops, they would not dare put transports out to sea as long as he, Dunning, could dart out and sink the supply ships. But what would the American people say? With Boston and New York, Philadelphia and Baltimore, Charleston and Savannah already seeing spooks by night. Already yelling for the Navy to do something.
The people whose protests had already weakened the Pacific fleet without strengthening his enough—in their frenzy they would brand him a coward.
But suppose he offered battle now, and steamed in for broadsides. He was outgunned. He had not sufficient planes to retain command of the air. Suppose his fighters, his bmbers, his spotters were shot down. Blindly he'd have to retreat while the enemy, locating him by their planes, blew his fleet to destruction.
On the other hand, if by surprise he could get command of the air, the ship odds now against him would not mean so much. It would be the enemy who were blind and he could see. He knew his gunnery records and in maneuvering he had the reputation of being wily, clever and daring. He stared out at the squat gray warships that steamed in perfect formation.
The battle is very exciting. Dunning "fought as a wolf in a trap might fight; desperately, cunningly". It's not enough. His attempt to get command of the air failed. Italian suicide torpedo boats destroy the aircraft carrier Lexington. Thirty thousand men die.
Lieutenant Buron Miles, whose plane was almost immediately shot down, watches the battle while floating in the water. After witnessing its conclusion "he got out his automatic pistol and looked at it. Then, swiftly, he put the muzzle to his temple and pulled the trigger once—twice—without result. But the third shell was good".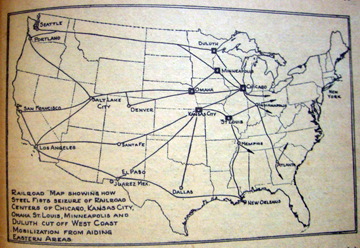 That's a "Railroad Map showing how Steel Fists seizure of Railroad Centers of Chicago, Kansas City, Omaha, St. Louis, Minneapolis and Duluth cut off West Coast Mobilization from Aiding Eastern Areas".
The Steel Fists take over New York City and other important areas, as well as communications centers. The Steel Fists uniform is in the style of World War I military issue. Hannibal, referred to now as Seneschal, calls his new regime the "New Era".
Part three ends with the arrest of Spike Brenn, who was just saying to Kay Carstairs that "History is full of the disciplined efficient few who have conquered a nation. Take Franco's march through three-quarters of Spain. Take Napoleon's whiff of grape shot against the Prussians. … He's recruited behind him youth. Youth who came into a depression world to find no place for them, no work. Youth with an empty belly will listen even to this insanity if it promises food, work, a future".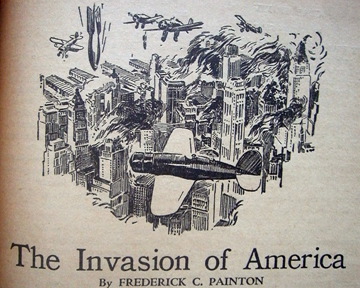 Part four begins with Hannibal admonishing his lieutenant, the bloodthirsty Dorsey, who's desperate for mass executions of all who resist.
Hannibal stood up, his face suddenly harsh. "You're altogether too damned quick with the shooting squad," he said.
Dorsey shot him a glance of anger. "A purge now is the way to strengthen our hold."
"You've been studying Lenin and Stalin," said Hannibal dryly.
There's another railroad map, this one "Showing how Steel Fist seizure of Railroads cut off main mobilized American forces from aid in Eastern invasion".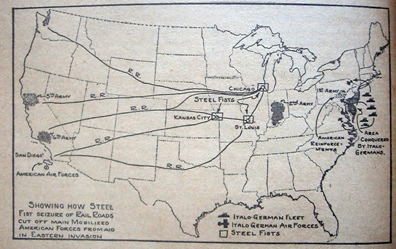 There's also a "Map showing breaching of coast line".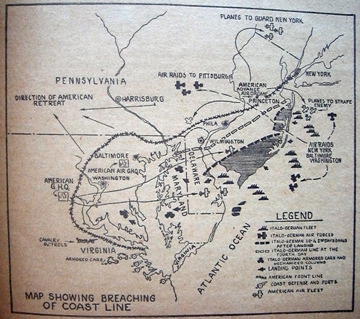 The Italo-German forces prepare to land on the Jersey Shore, but first "Eighty warship with guns ranging from sixteen-inch broadsides to three-inch rapid fire, pound the shores inland, the waves of shells moving forward and backward like a comb through the hair".
The American military, what's left of it, doesn't have much of a chance. Hannibal has too much of everything. An American gunner remarks that "the sky was lousy full" with Hannibal's planes. "You couldn't see the sun sometimes, there were so many of them."
Bombers drop their loads over Manhattan and "lower Manhattan between the Battery and Fourteenth Street … suffered most. Five fires had raged from thermite bombs, and something like three hundred were thought to be dead, another five hundred injured".
Washington, D.C., is bombed and gutted with fire. We're told that "The Americans had fled without burying their dead", so I suppose there are corpses all over the place. Hannibal moves into the White House with Kay Carstairs.
"So many dead, even here," she spoke unconsciously aloud.
"I'm sorry about them," said Hannibal. "But looking at it unsentimentally, Kay, no more are dead here or elsewhere because of this war than die hidden from your sight in hard times."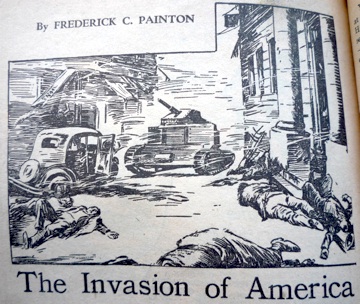 Part five begins with "Chapter XIX: THE STREETS ARE CRIMSON". A group of seven Steel Fists beat a starving man "until he lay silent, his blood spreading on the pavement".
Dorsey is preparing to overthrow Hannibal and take his place. To get the help of the Steel Fists's German and Italian allies, he makes it clear that if he "were raised to Seneschal, there would be no question about interfering with Germany's and Italy's manifest destiny in South America". Of course, the co-commanders of he Italo-German Expeditionary Force plan to take North America as well.
Unknown to Hannibal, troop transports from Italy and Germany begin bringing more soldiers, twenty thousand so far, with hundreds of thousands more to come.
There's a map of the Second Battle of Gettysburg.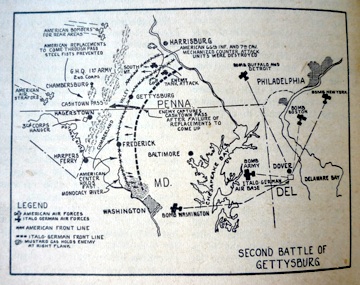 Spike and Kay make plans to go to Washington, D.C., and kill Hannibal and Dorsey. Refreshingly, there's no arguing about whether Kay will go. Farnham challenges Spike, asking, "Would you make her run such a risk? This would mean her death".
"Yes," said Spike. "And why not. This is no time to be thinking of my life, or yours, or hers, precious as it is to me."
The sixth and final part has a memorable subtitle in the Table of Contents of the August 20, 1938, issue of Argosy: "The King of the United States catches an eternal glimpse of his maniac image".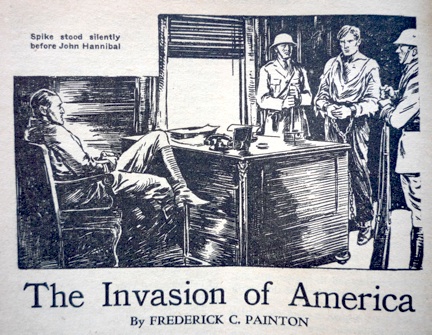 Chapter XXIV is "BULL-WHIP RULE".
And along that road Spike saw men under the Steel Fist bull-whips. Men whose aged bodies and fine faces told they were not road laborers, but men who had once known authority, money and cleanliness. They were filthy now; half naked in their rags, and doing the work of mules with a Steel Fist private over them. Carrying logs, for instance, or loading wheelbarrows with rubble and pushing them to a dump heap. Let a man falter and the bull-whip hissed and a red lash of pain lay over the man's back. Spike saw them fall, be whipped until they howled, and drag themselves upright in agony to try once more.
Hannibal could say he executed none of the old regime; he didn't have to; he worked them like this with poor food and thin clothing, with a bull-whip to lacerate their backs until they died of exhaustion or strung themselves up by their rags.

Kay sees a young man she once danced with being beaten, so badly that the man throws himself into a concrete mixer.
She wonders if Hannibal will win the upcoming plebiscite and is told that "Using Hitler's methods … he ought to get eighty percent—and the other twenty will be liquidated or placed in concentration camps".
Kay ends up in a women's prison cell, in a remarkable sleazy passage of the story. She's discovered there by Dorsey, who does not tell Hannibal, knowing that her mistreatment would drive Hannibal mad and possibly ruin everything. When Spike is arrested and brought to Hannibal, though, Hannibal finds out and begins to realize that Dorsey is a traitor.
Significantly, Hannibal's headaces are worse "because he had cut down on his morphine injections".
The ending wraps things up very quickly, but ends on an interesting and melancholy note.
---
Soundtrack of the Week #116 is Mario Migliardi's A Come Andromeda.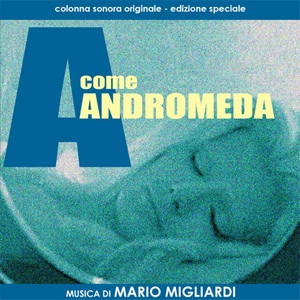 This is apparently an Italian TV show from 1972, a remake of a 1961 British TV show of the same name (in English), A for Andromeda. You can see some of the British show here on YouTube and the Italian one here on YouTube. I would, of course like to watch both of them.
I had never heard of either series before this CD came out, but Mario Migliardi had blown my mind with his psychedlic rock soundtrack for the spaghetti western Matalo! (Soundtrack of the Week #51).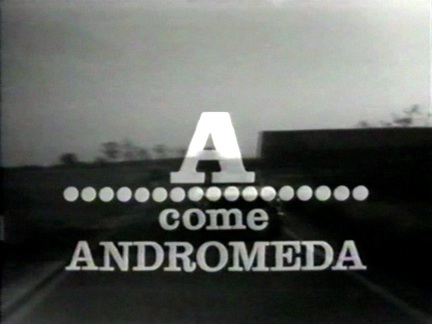 A Come Andromeda is brilliant, beginning with the ethereal and groovy "Tema di Andromeda" and then going through various spacy cues with tape delay generously applied to acoustic instruments.
Some of the cues are more dramatic and some of them sound like the kind of saccharin library music you might associate with short educational films from the 1950s.
Most of the music, though, is difficult, startling and weird. It reminds me mostly of modern classical music and some Sun Ra stuff, as well as music Raymond Scott might have written for futuristic, East European cartoons. Some cues remind me of some of Yusef Lateef's work in the 1960s.
But it's hard to pin down. There will be swinging jazz flute with reverbed drums pounding out a mutated bossa nova beat, and then the whole thing will smash into a string quartet playing something different. The next track will be weird electronic noises followed by some pretty harp playing accompanied by different weird electronic noises. The track after that will begin with somebody sitting on the keys of a pipe organ for almost a whole minute before another minute or so of acoustic percussion run through tape delays.
Eventually you get a rock tune, more laid back than what's on the Matalo! score. Distorted guitar and Hammond organ. This goes through several many startling changes as well. It's awesome. And the same combo comes back for more later in the CD. I hope more of Mario Migliardi's stuff comes out soon!
---
We're very lucky to have friends in Sweden. We get letters with stamps like these.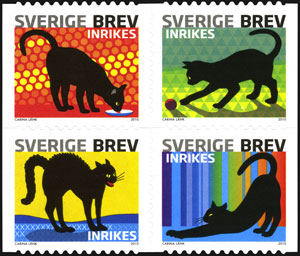 We also got one of these.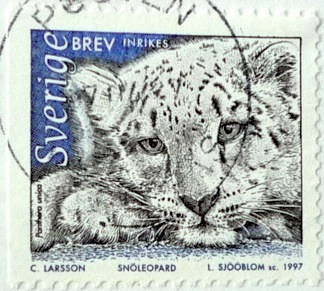 ---
About a week and a half ago Illustration House had their latest art auction. If I had the money, I would have participated in it. I managed to visit their gallery to see some of the work in real life.
I might have bid on this small oil painting by Robert Stanley. It became the cover for one of the paperback editions of Anthony Boucher's Rocket to the Morgue.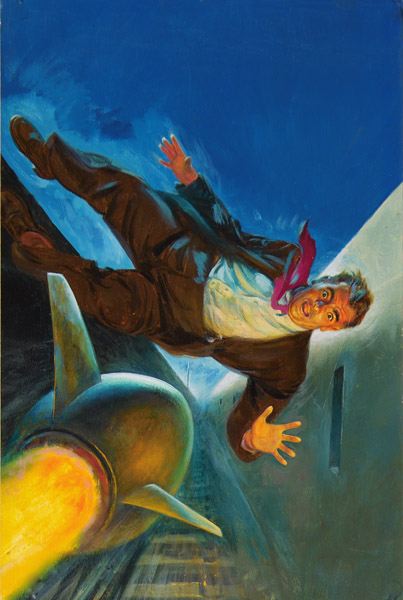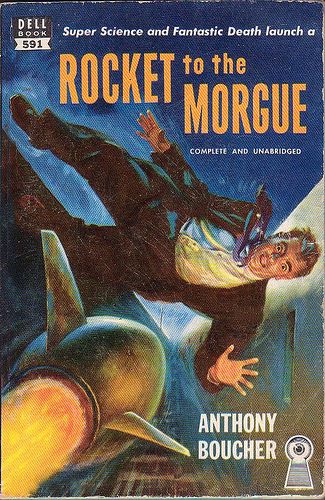 I haven't read the book but apparently it's a mystery novel with science-fiction writers as several of the characters. According to this website the characters are based on writers such as Robert Heinlein and L. Ron Hubbard. I'd like to read it.
Apparently nobody bought it. Maybe I should have bid on it.
I also liked this painting by Tom Adams, another paperback book cover, Brand 99 by Wayne D. Overholser.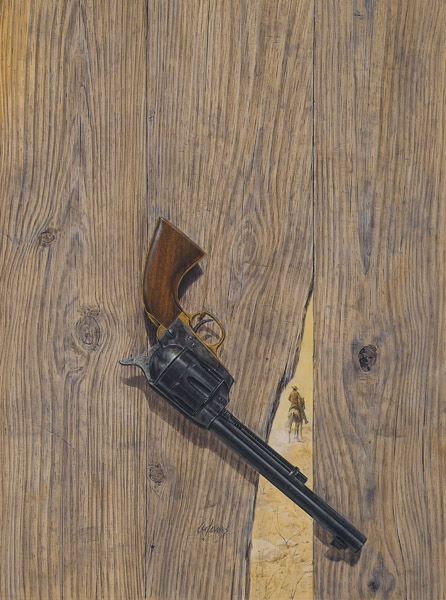 That one went for $862.
I found these two Arthur Sarnoff paintings to be startling and vivid. I enjoyed them in the gallery but I don't think I'd want them hanging in my home.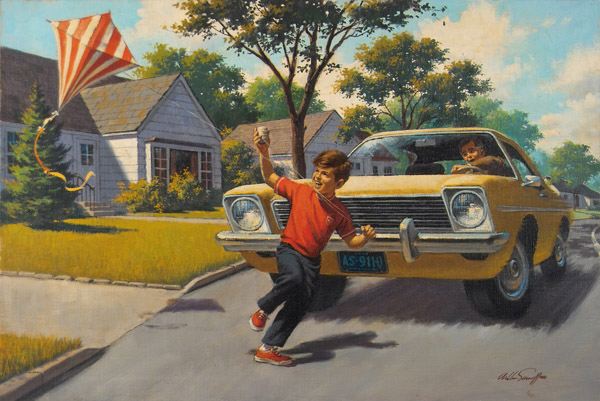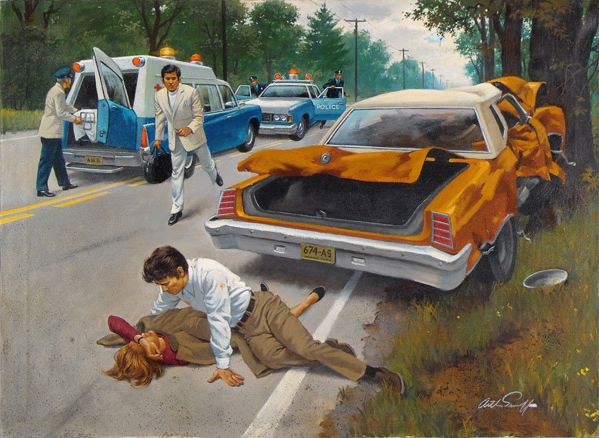 In the same category is this Alwin Schmidt oil painting for a calendar, presumaby one with a fire safety theme.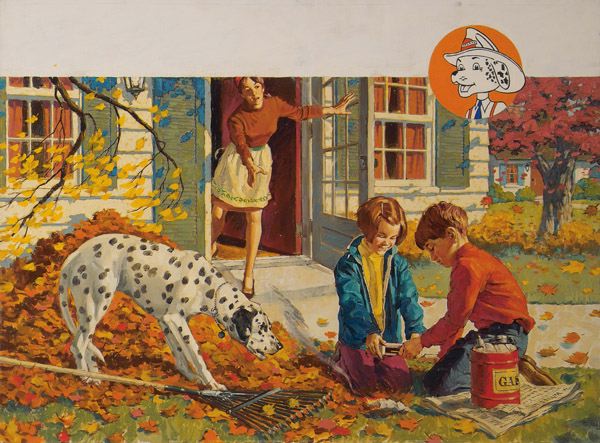 Nobody bought those either.
You can see all the pieces in the auction on the Illustration House website. You can also look at the catalogues for previous auctions.
I like this work by E. McKnight Kauffer, whose beautiful paintings embellish my copy of Green Mansions, for a pre-Helvetica American Airlines ad.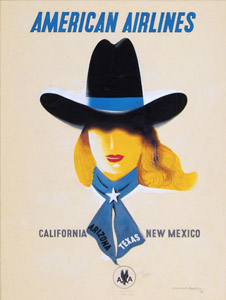 This Clinton Pettee Motor Age cover is also quite nice.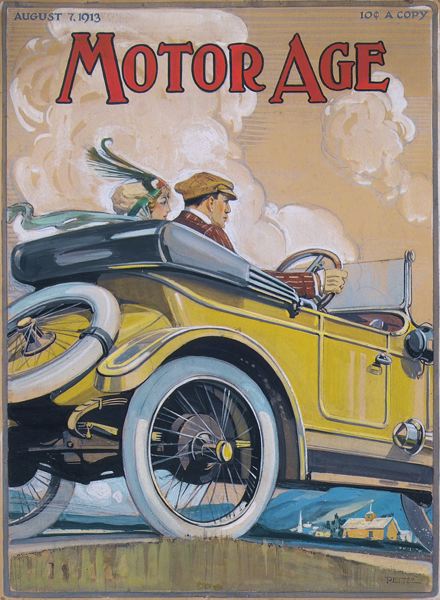 That date of August 7, 1913, ended up being changed to August 28, 1913, for publication.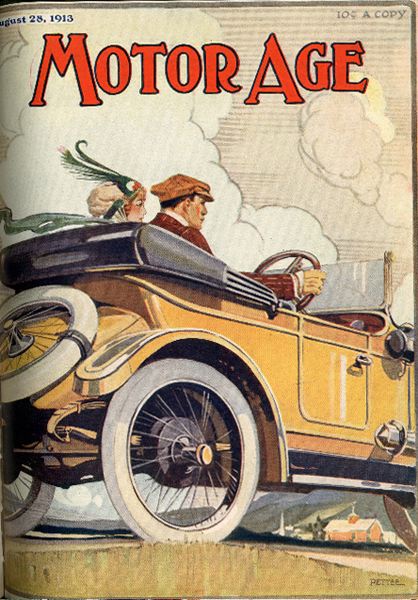 My favorite piece from the previous auctions is this oil painting by Paul Stahr for the December 17, 1932, issue of Argosy.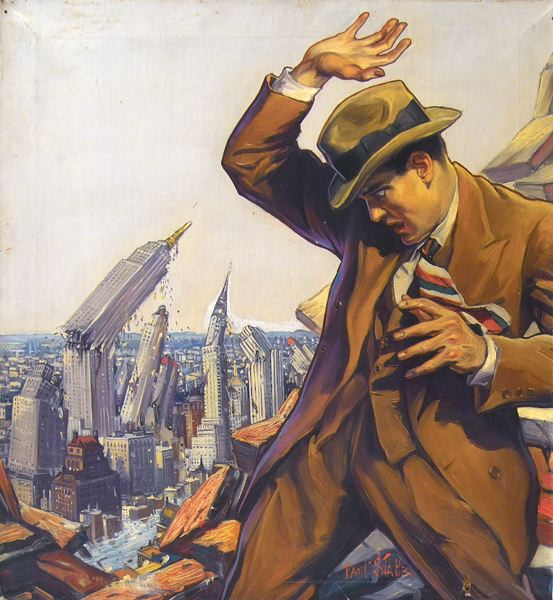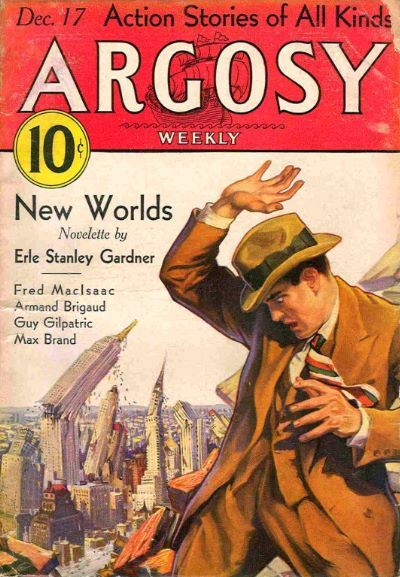 That was included in an auction a year ago. Illustration House's website doesn't seem to say what the purchase price was, but it was estimated to go for $6,000–8,000. "The owner purchased this painting in a Manhasset, New York auction in 1967 for $4."
---