2010 June 21 • Monday
The 118th Soundtrack of the Week is Film India, a CD of music from films by Satyajit Ray, Norman McLaren and Jean Renoir. The composers are Ravi Shankar and Ustad Vilayat Khan.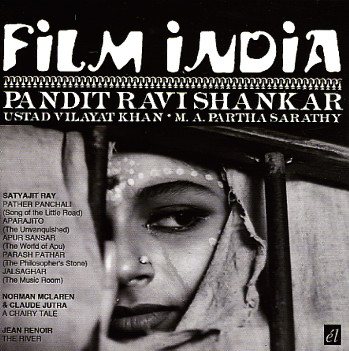 The first three tracks present about 21 minutes of music from Ray's famous Apu trilogy: Pather Panchali (Song of the Little Road, 1955), Aparajito (The Unvanquished, 1956) and Apur Sansar (The World of Apu, 1958). By turns mesmerizing and pulse-quickening, the music is urgent and hypnotic. The isntruments include sitar, tambura, violin, flute, tabla and other percussion.
This is followed by a short piece of music from Ray's comedy Parash Pathar (The Philosopher's Stone, 1958). It's lighter in mood, almost like a children's song.
The other Shankar contribution here is the music he composed for A Chairy Tale (1957), a 10-minute film without dialogue about a man who has trouble sitting on a chair. You can see the whole movie on YouTube here.
It's a fun movie! Shankar's score is roiling and upbeat with very impressive tabla playing.
After this come seven tracks of Ustad Vilayat Khan's music for Satyajit Ray's Jalsaghar (The Music Room, 1958). It begins with an ominous wall of sound. Sitars come in with piercing lines as the fog of the other instruments continues to cloud the background.
Most of the other pieces are simpler and plaintive, making use of languid vocal lines and swirling musical atmospheres. "Return to the Present" has a surprising bluesy swing quality to it. "The Madness and End of Biswambhar" is frightening and suspenseful.
The remainder of the CD gives us nine relatively short pieces of music by Khan for Jean Renoir's Le Fleuve (The River, 1951). It begins with chanting, percussion and flute ("The River Song") and a solo voice piece ("The Boatmen's Song").
"Pastorale" opens with a flurry of percussion before violin and flute come in with a spinning sort of melody. "Women's Diwali Song" is a group of female vocalists, no instruments. "Marriage Music" has a beat that I swear I've heard Joey Baron play a number of times.
---