The eighty-ninth Soundtrack of the Week is The Mechanic, which has music by the great Jerry Fielding.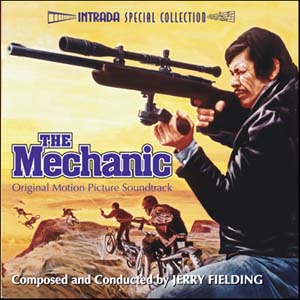 While I haven't seen this movie, the CD cover is encouraging. A quick glance at The Overlook Film Encyclopedia: The Gangster Film tells me that, in somebody's opinion, "[Director Michael] Winner's fast-paced, flashy and superficial handling only serves to underline the thinness of Bronson's characterization of the pipe-smoking, art-loving assassin".
Sounds good to me.
As does the music, which is a surprisingly subdued "twentieth-century classical" sort of score. Hardly a genre I'm familiar with, but I think I hear echoes of Varèse and Feldman, among others. Even the cue with the rousing title of "Speed Boats" has the misty quality of a tone poem.
There's some Jerry Fielding string quartet stuff in here, as well as Beethoven and an achingly sincere redition of "O Sole Mio". Listening to it on a cold, rainy day, as I am as I write this, is a good way to go.
In addition to all that there are also six tracks of big band source music. "Let's Get Together" is Glenn Millerish and "Baja Band—Mexico Jazz" is pleasingly like Herb Alpert (or something). Psychedelic rock is nodded at with "The Party" and a kind of Las Vegas hullygully is achieved by "Beach House Jump". "Smoked Salmon" reminded me of Henry Mancini and "Romping" was swinging West Coast jazz.
---
Stella Stevens also plays the drums pretty well or fakes it even better in The Courtship of Eddie's Father.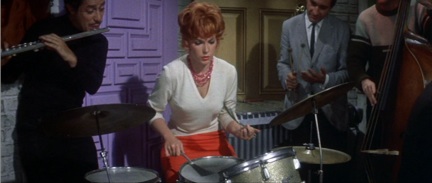 Peckinpah fans will appreciate that depressed widower Glenn Ford takes son Ronny Howard to see Ride the High Country.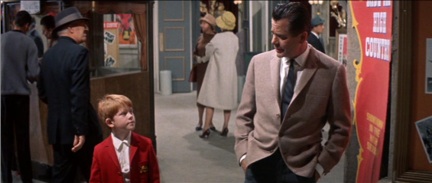 A poster in the background declares it to be the best western of the year.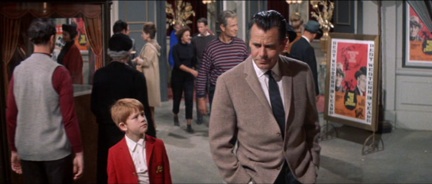 It probably was.
---
Happy Thanksgiving!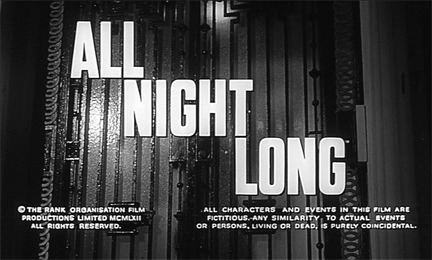 All Night Long was a British movie from 1962 that used Shakespeare's Othello as a template for a drama about jazz musicians. Charles Mingus and Dave Brubeck appear as themselves (as do other real-life players and composers like Johnny Dankworth, composer of the original, pre-Diana Rigg theme for The Avengers), which makes me wonder about the standard disclaimer, visible in the screen shot above: "All characters and events in the film are fictitious. Any similarity to actual events or persons, living or dead, is purely coincidental."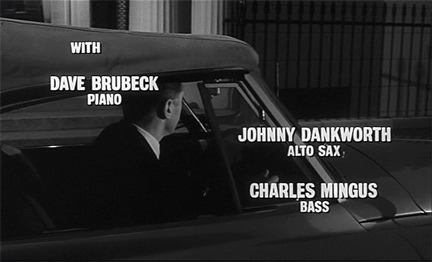 So when Dave Brubeck shows up and everybody says, "Hey, it's Dave Brubeck!" and Brubeck starts to play the piano, it's not meant to be the real Dave Brubeck. It's Dave Brubeck playing a fictitious character named Dave Brubeck, I guess.
Charles Mingus has the first line in the film. He's playing solo bass in a warehouse space owned by Richard Attenborough's character, a wealthy jazz enthusiast.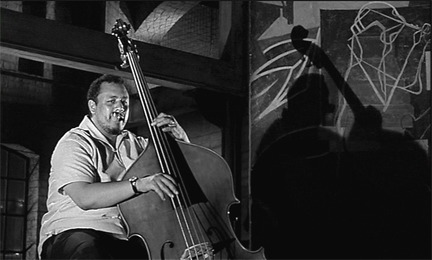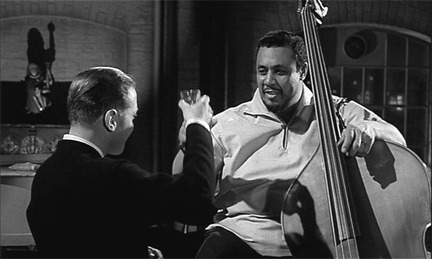 That's Attenborough drinking a toast with Mingus there. Other players soon show up and jam with Mingus.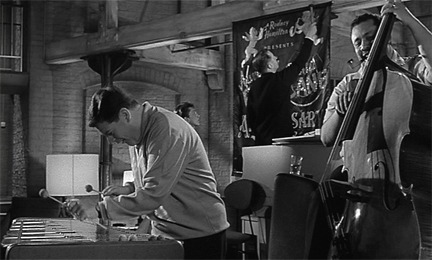 Attenborough is also on hand to welcome the arrival of Dave Brubeck.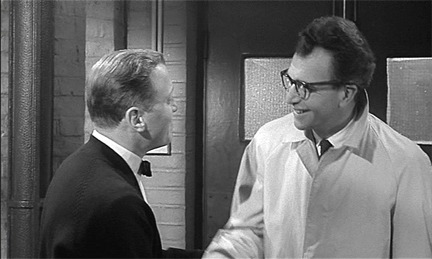 Then it's Brubeck's turn to play something.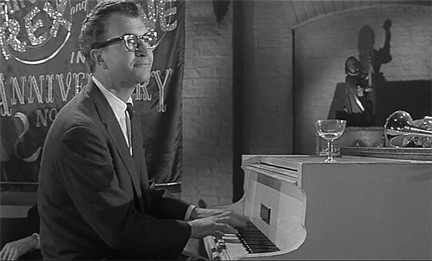 At some point in the second half of the movie, Brubeck and Mingus jam together as a duo.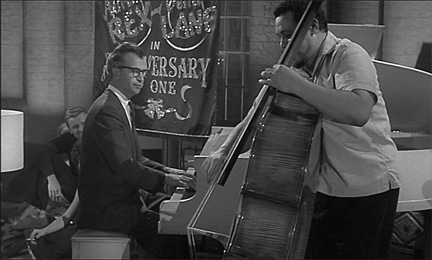 The Iago character is a drummer named Johnny Cousin, played by Patrick McGoohan.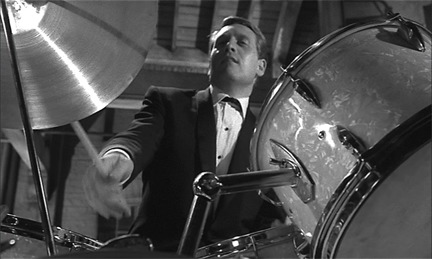 McGoohan takes an impressive drum solo and is either actually playing the drums rather well or faking it even better.
It's a good movie, handsomely photographed and with the live jazz ingeniously serving as a dramatic underscore when required.
I imagine it was inspired by The Man with the Golden Arm. McGoohan's Johnny Cousin is perhaps a "cousin" of Frank Sinatra's golden-armed man, jazz drummer Johnny Machine.
All Night Long was our forty-fourth Soundtrack of the Week last January when McGoohan passed away.
---
Watching as the girl's body was brought out, or what was left of it, Iles said: 'Know that poem, Col — "A refusal to mourn the death by fire of a child"?'
'Poetry's always been one of your things, sir,' Harpur replied.
'I don't refuse to mourn.'
'Well, you wouldn't.'
'Dylan Thomas. Talks about the "majesty" of her death.'
'Many a poet gets away with shit, sir,' Harpur said. 'They like words with y on the end. Give a nice tinkle. That's what interests them. But you — you can be surprisingly tender and sympathetic. I've heard one or two people mention that. Two.'
—Bill James, Easy Streets (2004)
---
The Times Literary Supplement allows certain articles to be read for free on its website. At this moment (but I don't know for how long) one of them is this excellent piece, a review of two books about Arctic exploration. Perhaps right now you're thinking something along the lines of "yawn". Well, just read it.
The article mentions Edwin Landseer's painting "Man Proposes, God Disposes" (1864). It's reproduced in the hard copy but not online. This is it (click for larger image):

---
The eighty-eighth Soundtrack of the Week is this double CD of Cannon for Cordoba and From Noon Till Three, both scored by Elmer Bernstein.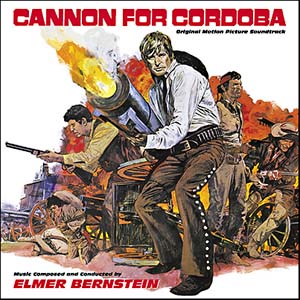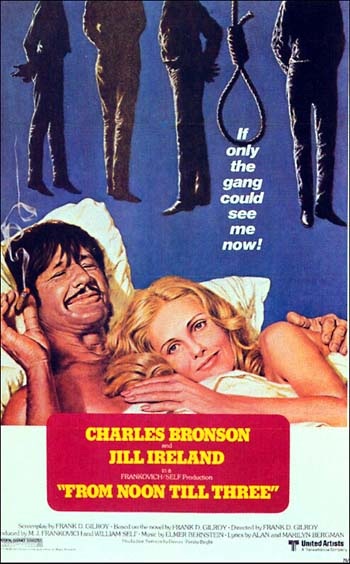 From Noon Till Three is another Charles Bronson/Jill Ireland movie. I haven't seen it but the liner notes suggest that it's an unusual western, about a romance between a bank robber and a widow that somehow becomes a popular legend, complete with best-selling novel and hit song.
The main title, a gentle lullaby in 3/4 time, makes it clear that this isn't The Magnificent Seven. Following that come several atmospheric "suspense" cues, then a bit of more familiar Mexican folk-tinged music.
In general the mood is pastoral, romantic and wistful. The cue "Doing It" seems intentionally to recall Bernard Herrmann's moving theme for The Ghost and Mrs. Muir (a theme Herrmann also used for his Wuthering Heights opera).
There are several versions of the movie's hit song, "Hello and Goodbye", including one sung by Jill Ireland and one performed by the song's creators, who appear in the movie: Elmer Bernstein on piano with Alan Bergman singing.
Bronson does not appear in Cannon for Cordoba. George Peppard is the star of that film, which features a less unusual soundtrack, all driving rhythms and soaring melodies with a lot of Mexican-influenced tunes and obligatory atmospheres of tension.
---
There was a thing in the New York Times last month about how women were a "fickle audience" that Hollywood was trying to attract ("Now Starring at the Movies: Famous Dead Women" by Manohla Dargis).
I think that the "fickle audience" part was a pull quote in the hard copy. Let's correct a basic error here: women are actually the least fickle of moviegoers.
American International Pictures, the hugely successful producers of drive-in movies aimed at teenage audiences in the mid-twentieth century, discovered that you could not go wrong with what they called their "Peter Pan Syndrome" strategy:
a) a younger child will watch anything an older child will watch;
b) an older child will not watch anything a younger child will watch;
c) a girl will watch anything a boy will watch;
d) a boy will not watch anything a girl will watch;
therefore—to catch your greatest audience you zero in on the 19-year-old male.
This is still true. And major Hollywood studios know it and take advantage of it. (Actually, these days they may be focusing more on the 13-year-old male than the 19-year-old male.)
Consider this other article from the New York Times, Sharon Waxman's "Hollywood's Shortage of Female Power" from the April 26, 2007, issue.
She quotes Tom Ortenberg, then president of Lionsgate studio, as saying that "the over-25 female audience" is "dramatically underserved in the marketplace" and, bizarrely, "I don't know why that is". (How could he not know?)
Waxman notes that, "Even though, at first glance, a slate filled with films like Bug and Hostel 2 would seem to be classic male-oriented shriekfests, the reality is that women are avid fans of horror films. (Fifty percent of the "Hostel" audience was female, [Ortenberg] said.)"
Fifty percent, exactly half the audience. See lines c) and d), above, if you still wonder why there are six Saw movies but only one The Devil Wears Prada.
Who's fickle?
---
My brother has informed me that the Flying Wombat was a real car!
---
The eighty-seventh Soundtrack of the Week is Ennio Morricone's Città Violenta (Violent City).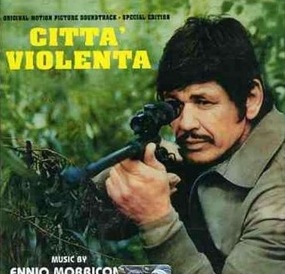 You might have expected Morricone's contribution to Charles Bronson month to be Once Upon a Time in the West. It's one of the greatest soundtracks of all time. But you know about it already and besides, I want to save it for Claudia Cardinale month.
I had been enjoying the score for Violent City for well over a decade before I saw the movie. The music and the cast—Bronson, Jill Ireland, Telly Savalas—raised my expectations perhaps too high. I thought it was a dull Point Blank imitation.
The music is insanely good, though, and I still relish it. Basically you have some of Morricone's trademark feverish modulations, a motif played over and over but regularly ascending in pitch. Accompanying this are two fuzzed out wah-wah guitars (or possibly one guitarist laying down two tracks).
It peaks with the cue "Final Turning Point", where the guitars and drums cut loose and are joined by some hot organ playing. Later on, Morricone adds wordless vocals to the electric guitars, keyboards, electric bass, strings and drums.
---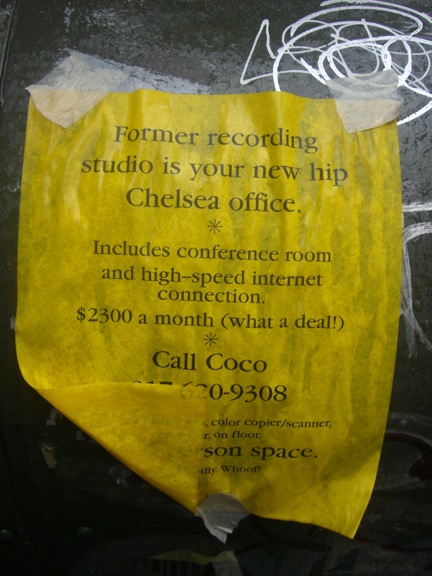 ---
If you like movies like Frank Capra's Lady for a Day, then you'd probably enjoy The Young in Heart.
It's about a family of swindlers sponging off a rich old lady. They pretend to be decent, honest and hardworking—everything they can't stand—in the hope that she'll leave her fortune to them in her will.
This means that the family patriarch must, for the first time in his life, get a job. He finds work as a car salesman and does quite well at it, as you might expect.
When his employers discover that he is not, as he claims, a retired army colonel but actually a hustler who has spent his life cheating people out of their money, they promote him to sales manager.
The thing that struck me, though, is that the car he sells in the movie is my dream vehicle, or would be if it had better road clearance. When you honk the horn it plays Wagner's "Valkyrie" theme.
It gives me great pleasure to present The Flying Wombat!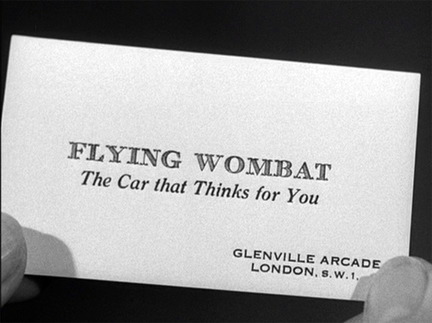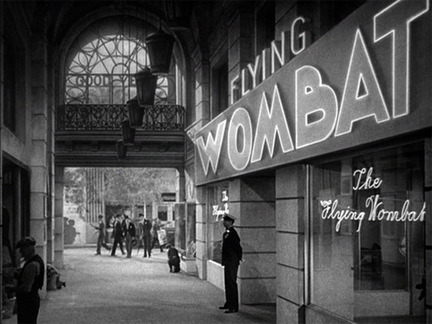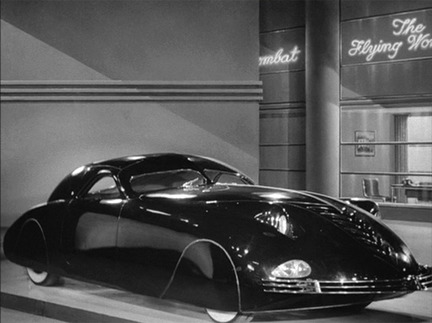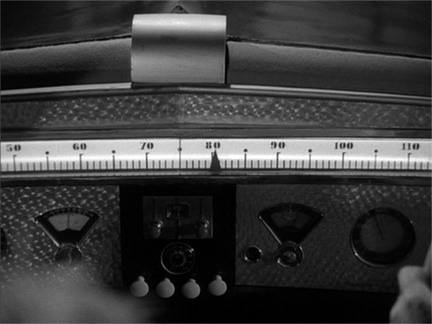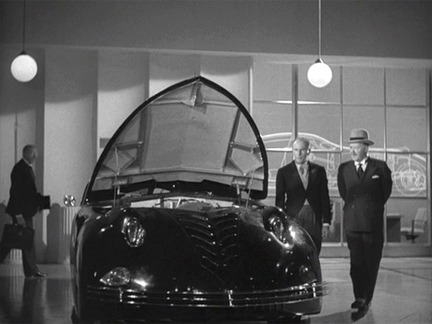 ---
Dexter and I went to Midwood yesterday. Di Fara is closed on Monday and Tuesday, so that wasn't an option. I was intrigued by China Nosh and the "Chinese sub", whatever that might be. It wasn't open, though.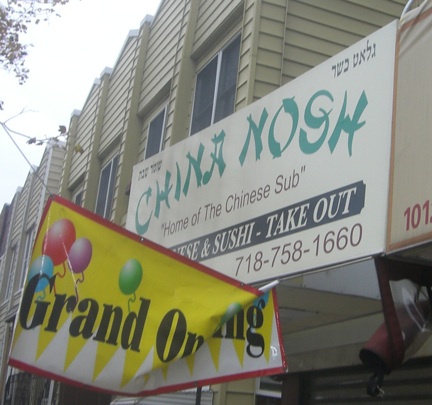 I was also interested in this Russian bakery, particularly the 30¢ "Russian Style" bagel. We didn't go in there, though.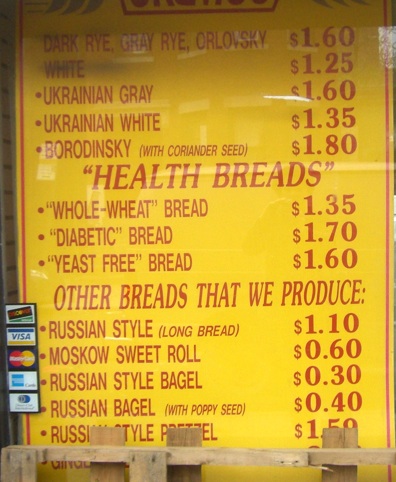 No, we had lunch at a kosher Mexican restaurant, where reggae was playing while the guy behind the cash register read Flannery O'Connor.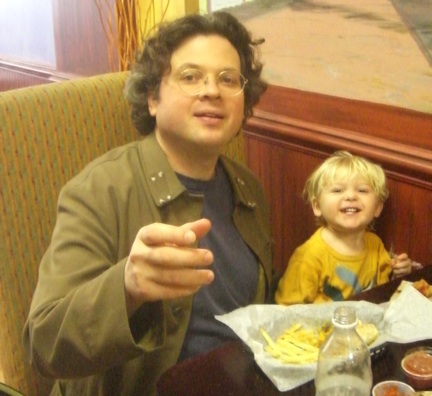 The french fries were excellent.
---
There were a lot of great Halloween decorations in our neighborhood this year. This one was the best that I saw.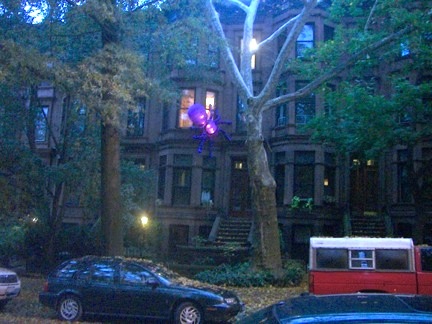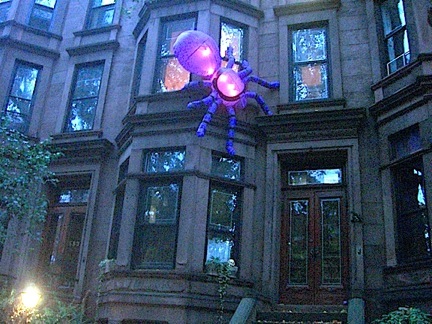 ---
The eighty-sixth Soundtrack of the Week is Charles Bernstein's score for Mr. Majestyk.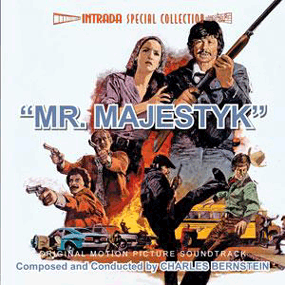 I'd really like to see this movie. I've read the book and, of the half-dozen or so Elmore Leonard novels I've read, it's the one I enjoyed most. As I recall, it's about some guy (Bronson in the movie) who grows watermelons. It's kind of a Thieves' Market (filmed as Thieves' Highway) sort of story, in which what should be a simple bit of free enterprise goes terribly wrong.
For reasons I can't remember, criminals start leaning on Bronson and messing with his melon patch and making it hard for him to hire people to pick the melons for him so he can sell them. Wouldn't you know it, but they kind of picked on the wrong guy. It happens.
Bernstein's music starts out with a theme that manages to combine '70s action music with overwhelming melancholy. The melody is played by trumpet with lots of reverb, accompanied by moody keyboard playing (reminded me of the keyboard intro to The Monkees' version of "Daydream Believer"), great guitar work (acoustic and with wah-wah), just the right touches of strings (adding a kind of "Age of Aquarius" feel) and harmonica (perhaps a nod to that greatest of Bronson movie soundtracks, Morricone's Once Upon a Time in the West), plus the very important deep-pocket percussion.
It's a masteriece. "His Own Man" continues the melancholy with the addition of some spacey sort of noises. "Melon Harvest" has a propulsive guitar part but is likewise infused with sadness. "Danger Lurks" begins as pure tension (almost sounds like free improv) before resolving to the Majestyk theme.
There's a bit of Mexican-flavored music ("At the Cantina", "Cantina Romantica"), country ("Country Juke") and the self-explanatory "Bobby's Truck Rock 'n' Roll". The titles of most of the cues should give you an idea of how they sound: "Stealth", "Contemplation", "Tension Dimension", etc.
---
Alice is Lee Feldman and I'm not.
This is because I stayed home with Dexter while Alice participated in the "Be Lee" concert at Joe's Pub. Ah, well. We both wanted to sing the same song ("Hippy Store"), so perhaps only one of us was needed.
Had I gone it might have been only the second time I sang a song in public. The only time I can remember doing something like that was when I performed, at the Lakeside Lounge with Alice on drums, "The 4 A.M. Coffee Song" by The Ass Baboons of Venus. But that's another story.
You can see Alice as Lee here. You can also see Pete Galub, Greta Gertler and Chris Moore, among others, being Lee. Alice plays drums for some of them.
Speaking of Pete Galub, check out this awesome new song by him. Download it and give him some money for it, why don't you?
---
Happy birthday, Charles Bronson and John Barry!
Bronson can be spotted in the 1970 Japanese movie Stray Cat Rock: Wild Jumbo. On their way to heist 30 million yen from an armored car, young punks in a jeep pass a billboard with Charles Bronson on it.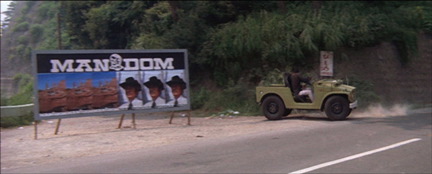 The old wild west of the frontier and the new wild west of the concrete jungle are the domains of "real men", thus "Mandom". That's my interpretation, anyway. I like how it's almost "random".
Was this an ad for a clothing line or something? It's interesting how this juxtaposition of images forecasts Death Wish, still a few years away.
---
This November will be Charles Bronson Month at Gutbrain Records. Bronson's birthday is tomorrow, November 3rd. He would be 88 if he were alive today. So all of November's Soundtracks of the Week will be for Charles Bronson films.
First up, SotW #85 is The White Buffalo, music by John Barry.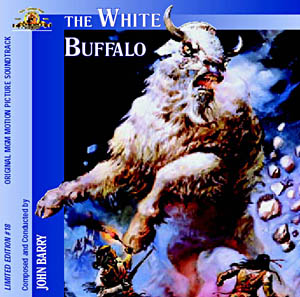 This is quite appropriate, as John Barry's birthday is also November 3rd! He'll be 76 tomorrow.
The White Buffalo is a strange movie. It's one of those movies that attempt something and don't succeed but are more interesting than the many other movies that succeed by attempting less. I don't think of these kinds of movies as being either good or bad but if I have to take sides, I'll call them good.
In The White Buffalo, Bronson plays Wild Bill Hickok, tormented by dreams in which a giant white buffalo stampedes him. He searches for the creature, determined to confront it even if it kills him.
Meanwhile, the buffalo of his nightmares is terrorizing the west. It wipes out Crazy Horse's village, and this other famous wild-west figure pursues the beast for the sake of another kind of redemption.
The music might be Barry's bleakest score, a tone poem of tension and dread, somewhat relaxed in places by a gloomy melody. A theme for Kim Novak's character is romantic and pretty, the lightest part of the music.
Barry experiments with adding electronic instruments to the orchestra here, something he rarely does. There are also many creepy string passages and excellent, sparse percussion work.
---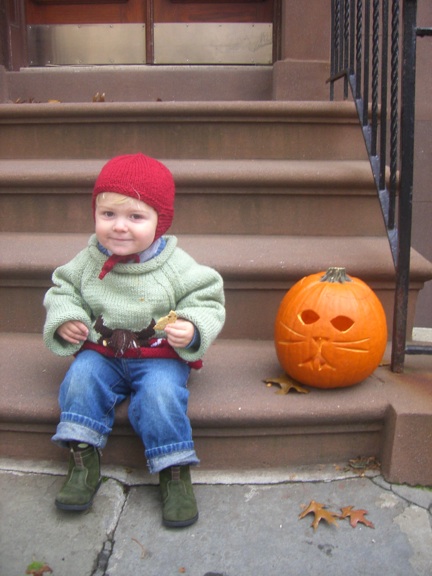 ---