2009 November 30 • Monday
The eighty-ninth Soundtrack of the Week is The Mechanic, which has music by the great Jerry Fielding.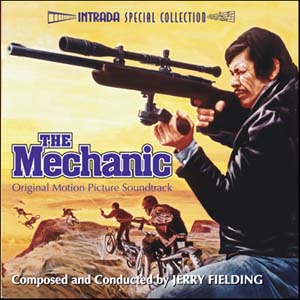 While I haven't seen this movie, the CD cover is encouraging. A quick glance at The Overlook Film Encyclopedia: The Gangster Film tells me that, in somebody's opinion, "[Director Michael] Winner's fast-paced, flashy and superficial handling only serves to underline the thinness of Bronson's characterization of the pipe-smoking, art-loving assassin".
Sounds good to me.
As does the music, which is a surprisingly subdued "twentieth-century classical" sort of score. Hardly a genre I'm familiar with, but I think I hear echoes of Varèse and Feldman, among others. Even the cue with the rousing title of "Speed Boats" has the misty quality of a tone poem.
There's some Jerry Fielding string quartet stuff in here, as well as Beethoven and an achingly sincere redition of "O Sole Mio". Listening to it on a cold, rainy day, as I am as I write this, is a good way to go.
In addition to all that there are also six tracks of big band source music. "Let's Get Together" is Glenn Millerish and "Baja Band—Mexico Jazz" is pleasingly like Herb Alpert (or something). Psychedelic rock is nodded at with "The Party" and a kind of Las Vegas hullygully is achieved by "Beach House Jump". "Smoked Salmon" reminded me of Henry Mancini and "Romping" was swinging West Coast jazz.
---