2009 November 16 • Monday
The eighty-seventh Soundtrack of the Week is Ennio Morricone's Città Violenta (Violent City).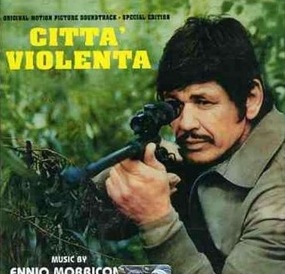 You might have expected Morricone's contribution to Charles Bronson month to be Once Upon a Time in the West. It's one of the greatest soundtracks of all time. But you know about it already and besides, I want to save it for Claudia Cardinale month.
I had been enjoying the score for Violent City for well over a decade before I saw the movie. The music and the cast—Bronson, Jill Ireland, Telly Savalas—raised my expectations perhaps too high. I thought it was a dull Point Blank imitation.
The music is insanely good, though, and I still relish it. Basically you have some of Morricone's trademark feverish modulations, a motif played over and over but regularly ascending in pitch. Accompanying this are two fuzzed out wah-wah guitars (or possibly one guitarist laying down two tracks).
It peaks with the cue "Final Turning Point", where the guitars and drums cut loose and are joined by some hot organ playing. Later on, Morricone adds wordless vocals to the electric guitars, keyboards, electric bass, strings and drums.
---